CLYDE RAY GRIFFIN was the youngest child of Arthur and Helena Griffin and was born 21st May 1913 in Kaponga, Taranaki. He died 30 Dec 1991 in Moss Vale, N. S. W., Australia. He married in 1934 in Burwood, NSW, Australia J

EAN ALEXANDRIA BEASLEY (b: 23 Jul 1914; d: 4 JUL 1988 in Bowral NSW where both she and Clyde are buried).

Clyde like other younger members of Helena's children, was educated at the Seventh Day Adventist College. He completed his teacher training but it is not known if he taught. He went to Australia after he was groomsman for his brother Clarrie in August 1932 and married Jean. They farmed at Meryla Valley NSW. where he operated a sawmill and here Clyde built his home and they brought up their family. Access was by the convict-built Meryla Road which was once the main thoroughfare between Kangoroo Valley and Moss Vale.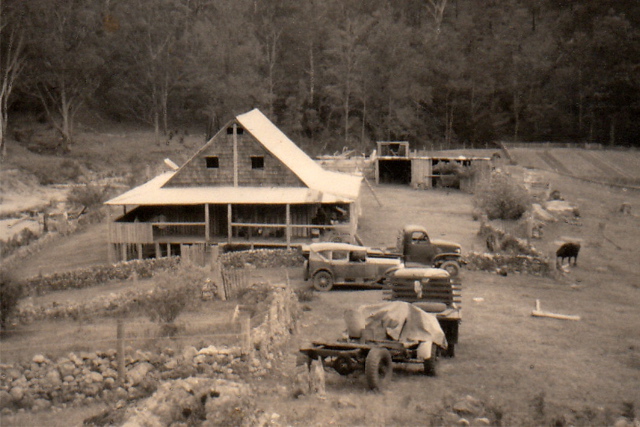 The Griffin Farm house was built near Yarrunga Creek in Meryla Valley abt 1948
| | |
| --- | --- |
| | The above family photo was taken in 1952 in front of the Griffin Farm House. Left to right - Alexander, Joan, Valma, Clyde, Dorren, Jean, Dorothy and Clarence. |
Fire destroyed their homestead and today, the MERELY PASS - GRIFFINS FIRE TRAIL track is for experienced bush walkers - 16 km encompassing a 230m ascent.


Children of C
LYDE GRIFFIN and JEAN BEASLEY are: 
1. ALEXANDER RAY GRIFFIN

2. C

LARENCE (CLARRIE) SYDNEY GRIFFIN was born 20 Feb 1937, and died 10 Apr 1970 in Papua, New Guinea. He married EMILY ELIZABETH BREWSTER. Clarrie was killed in a road accident in a truck in New Guinea Their two children are Linda Jean and John Eric Griffin.

3. VALMA MARIE GRIFFIN married RONALD ERIC COTTERELL. Their children: Eric Robert, Terry Michael, Brian Ronald, Raymond Clyde, Tina Marie and Darryl Timothy Cotterell. 

4. D

OREEN JEAN GRIFFIN married HENRY WILLIAM WATERSON. Their family - Kevin Henry, Karen Doreen, Brenda Lee and Andrew Waterson.  

5. J

OAN LORRAINE GRIFFIN married JAMES HENRY ANDREW. The family - Debbie Lorraine

and Michael James Andrew

6. DOROTHY MAY GRIFFIN married REND ZAMMET. Their children Richard, Wayne and Anbeline Zammet.

Daryl (Change # to @ in address) is documenting his family history - can you help with photos and information - events from his family's past? Dates of living family are not put on this website for privacy protection