Edgar Ebenezer Griffin (1880 - 1951)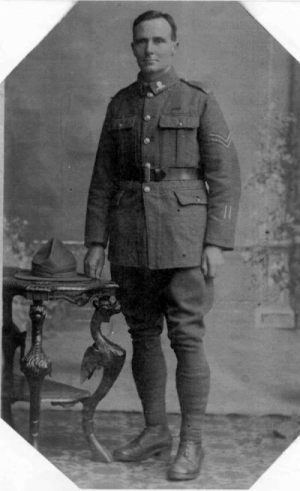 EDGAR EBENEZER GRIFFIN was the youngest child born to Ebenezer and Mary Ann Griffin on 30 July 1880 at Huirangi, Taranaki He was just three years old when his mother Mary Ann died and the responsibility for his care and other young siblings would have fallen on the shoulders of 17 year old sister Ada.
His first school was Tikorangi then the family moved to Waitara where Ada married Henry Rowe in 1890. The family returned to Tikorangi for a short time when work for father Ebenezer ceased at the freezing works and on 18/10/1893 left for Wanganui where sister Eva lived with husband James Hodson and three young family.
Edgar was 23 when he married (1) MATILDA LUCY* WYBOURNE on 06 Jun 1903. She was the daughter of WILLIAM WYBOURNE and MARY GARNER and was born 18 Dec 1886 in Wanganui, (she died 1976 in Gisborne.
In March 1907 the couple's house where they lived at Okoia burned to the the ground - it was one of the oldest homesteads in the district with seven rooms and Edgar and Lucy lost practically the whole all their furniture and only a couch and some chairs able to be rescued from the house.
Edgar Ebenezer Griffin served in World War I, 1914-1918 Serial No.9/929 - Next of Kin: his wife Mrs Matilda Lucy Griffin living at Kaitoke, No. 1 Line, Wanganui, New Zealand which was where he enlisted - the Military District was Wellington
Body on Embarkation 17 April 1915 was with the 4th Reinforcements , Unit Otago Mounted Rifles from Wellington. Rank Trooper. (Transport HMNZT 21 or HMNZT 22 or HMNZT 23 on Vessel Willochra or Knight Templar or Waitomo) for Suez, Egypt . Edgard was a carpenter at Kaitoke
Their marriage ended in divorce in 1923 and Edgar remarried WINIFRED HEALEY in 1936. Winifred was the daughter of LAWRENCE HEALEY and ANNIE and was born 1890. She married Edgar Alexander Swift Fairbrass in 1910 (he b. 1884 - d. 1948)and Winifred died 1942 aged 52 years.
EDGAR EBENEZER GRIFFIN died 05 Aug 1951 at Wanganui aged 71 years and is buried at the Aramoho Cemetery.
Edgar and Lucy had 2 sons:
(1) WILLIAM (Bill) LEWIS GRIFFIN, (b. 01 Aug 1903; d; 10 Feb 1977 age 73, bur: at Aramoho Cemetery) Bill was a farmer at Kaitoke and in 1953 he mar: KATHLEEN LAVINIA HARVEY (b: 19 Mar 1915; d: .17 October, 1977; Bur with husband Bill at Aramoho Cemetery; Wanganui.)
This was Kath's 2nd marriage - her maiden name was Sproule and in 1945 she 1st married Colin Wilson Harvey - their marriage ended in divorce in 1950 at Dunedin (Colin was born 3/3/1903 - in 1951, he remarried to Gladys Helen Middleton (b: 1915; d: 17 May 1973 at Waikari Hospital) he died 25 Oct. 1976 at Long Beach, Otago).
Bill was a farmer, and adopted her son Brian Harvey Griffin.
(2) EDGAR RONALD (GINGER) GRIFFIN,( b. 25 Oct 1907; d. 09 Mar 1987, Mt Maunganui, Tauranga) when he retired was a Rabbit Inspector.
Edgar married HELEN HART in 1935. (b: 01 Jan 1918 d: Tauranga 10 Sep 1985)
They had 7 children:
1 Edgar Ronald (Ginger) Griffin (b: 25 Oct 1907 d: 09 Mar 1987 in Mt Maunganui, Tauranga) mar: Helen (Nell) Hart Born: 01 Jan 1918 in Bulls Married: 05 Sep 1936 Died: 10 Sep 1985 in Tauranga
Nell - Photo on left

Wedding:
At back centre: (Nell and Ginger (scratching head) Gary wearing glasses, Marion bride, Brian groom)
Below are listed Ginger and Nell's seven children.
i Ronald Charles Griffin (b: 19 Dec 1935, d: 29 Dec 2010 in Waipuna Hospice, Tauranga) Mar: 1963 to Elizabeth (Liz) Aston Their family Sarah mar: to Lawrence (Laurie) Johnston with dau. Cloe Griffin
ii Paul Griffin mar: Rachael Watt - their children are Alyca and Caleb Griffin
iii David Griffin mar Geraldine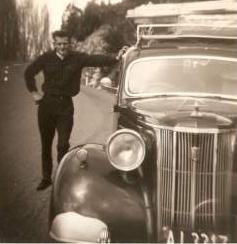 2 William Edgar Griffin (b: 05 Sep 1937 d: 09 Jan 1992 in Mt Maunganui) Mar: Maureen Brister Their family:
i Shane William Griffin mar: Rhonda Atkinson Their family William Paul; Andre and Anna Griffin

ii Glenn Antony Griffin mar: Andrea Joan Crawshaw. Children are Ella Charlotte and Kate Cherie Griffin
3 Rex John Griffin mar Linda Chaildren are John and Deborah
4 Peter Griffin mar: Bridgitte Hodder Their family:
i Troy;

ii Gina mar Richard with family Levi Riachard and Posrche Richard;
5 Brian Harvey Griffin mar: Marian Kenning. Their family are
i Brett Michael Griffin mar: Michelle Amos with dau Abbey Rose Griffin

ii Kurt Jason Griffin mar: Christine McDonald Familt are Jace Mitchell; Leah Marie and Kayla Jade Griffin
6 Maree Ann Griffin mar: James Alan Collier Family are:
i Paul James Collier Born: 24 Feb 1966 in Te Puke Died: Dec 1999

ii Annmarie Cushla Collier mar: Kevin Murray. Family are Mason; Hannah and Gutu Murray

*2nd Husband of Annmarie Cushla Collier: Brett Pye. Their children Mason and Hannah Collier

iii Elizabeth Jane Collier mar: Erin Saunders - children are Jacob; Issac and Joel Saunders
7 Gary Griffin mar; Pamela Riley with family: Lee and Drew