Click Slide menu on left


Click on name to got to page: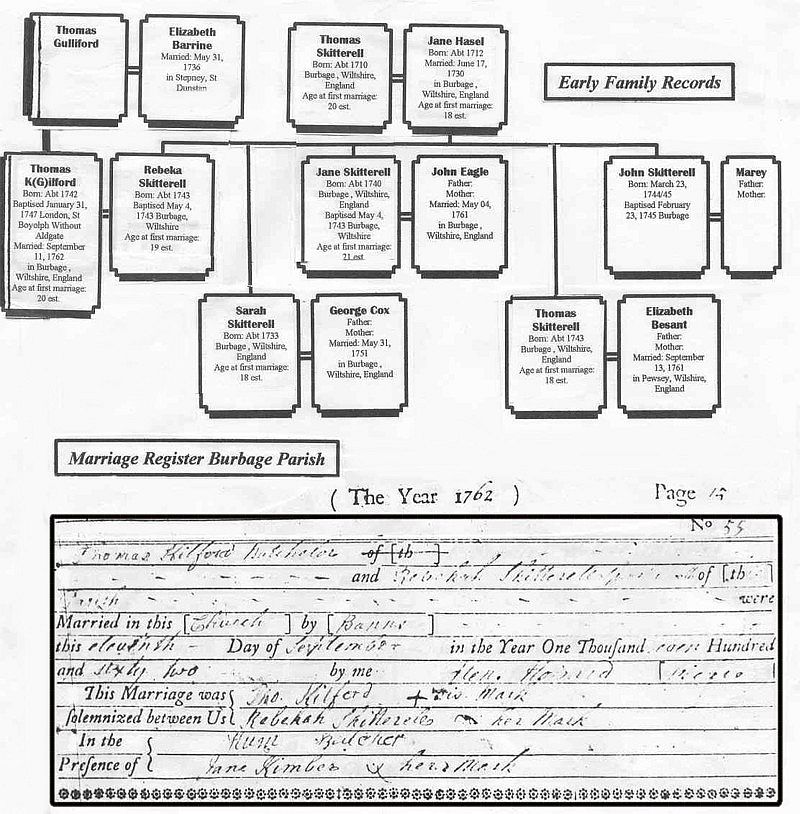 The main occupation in England during the 1700's was farming but most farmers did not own their land - they were poor peasants who paid rent to land owners. Villages were connected by series of dirt roads that became impassible during the wet season. As a result, transportation was slow and trade beyond the village not easy. Most farmers never visited any place further than 25 miles from their birthplace, ever.
Thomas and Rebecca's Children:
a John Guilford (b: 21 Apr 1762 in Burbage, Wiltshire, England; d: 01 Jan 1855 in Burbage, Wiltshire, England Burial: 03 Jan 1855 Burbage Cemetery) He mar: 18 Jun 1787 in Pewsey, Wilshire, England to Jane Jennings (b: Abt. 1763 in Pewsey, Wiltshire, England - her parents Thomas and Jane Jennings; she d: 18 Mar 1842 in Steep, Burbage, Wiltshire Bur: 19 Mar 1842 Burbage Cem)

b Rebecca Sarah Gilford (b: 20 Apr 1778 in Burbage, Wiltshire, England; Bapt: 20 Jul 1778 Burbage, Wiltshire, England) She mar: 13 May 1796 in Burbage , Wiltshire, England to William Beckingham (b: 1764 in Great Bedwin, Wiltshire - his father: Robert Beckingham and mother - Sarah Dubman

c Stephen Gilford (bapt: 21 Jan 1764 in Burbage , Wiltshire, England - he d: 07 Sep 1846 in Easton Royal, Wiltshire, England Bur: 09 Sep 1846 Easton Royal) He mar: 13 Oct 1791 to Jane Kimber (b: Abt. 1767 in Burbage , Wiltshire, England Father: James Kimber Mother: Jane Landsdown ; Bapt: 09 Oct 1768 Burbage, Wiltshire, England. She d: Sep 1852 in Easton Royal, Wiltshire, England