Hidden Slide Menu on Left
Below, Smith Page Index
John Stephenson & Hannah Smith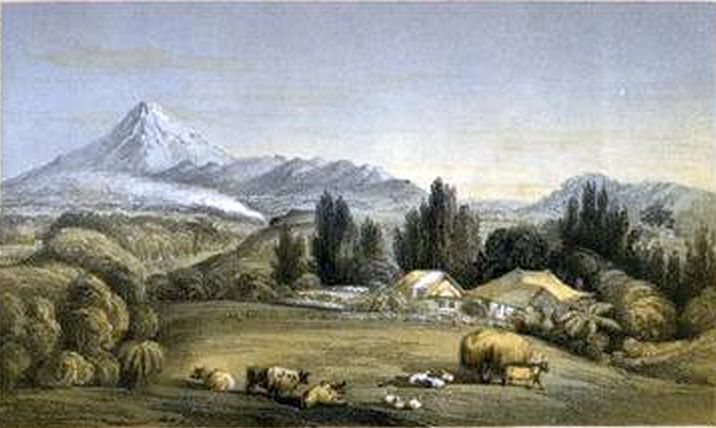 Okoare, New Plymouth; Cottage of J S Smith Esq. Painting by his wife Hannah Smith
John Stephenson Smith was b: 1811 at Garwick, Nofolk, England
Timeline:
01 May 1839 (28Y) Marriage of John Smith to Hannah Hursthouse Lowestoft, Suffolk, and in the early forties lived at Lakeham, Norwich. John was engaged to work for his wife's uncles, William and Charles Jecks, timber and corn merchants whose headquarters were at Nowich with branches at Wisbech, Lowestoft and Beccles - he had charge at Beccles where they had a house on Bridge Street.
11 Jun 1840 (29Y) Birth of S Percy Smith Beccles, Suffolk, United Kingdom
19 Jun 1842 (31Y) Birth of Nora Stephenson Smith Beccles, Suffolk, United Kingdom The family moved to Wisbech where John was put in charge of the Jeck's branch. They lived at the Mart, where a weekly market was held. His work entailed a lot of travelling and closeby were stables where his horses were held. John's mother Elizabeth (dau of John Stephenson of Brothertoft Hall close to Boston) lived close by at Walton Dam and they visited - his father William Smith had died there on 3rd Feb 1938
Early in 1844 the family moved into Norwich, first to a house on Magdalene St, then to a house inSt Georges plain one of the squares of Norwich to a house then to a suburb called Lakenham
06 Jul 1844 (33Y) Birth of Ida Stephenson Smith Lakenham, Norwich, Norfolk, United Kingdom
Hannah's bachelor brother William Jecks moved to Framington Hall abt 4 miles distant (here he later lived with sister Sarah and husband William Stanger and family back from Natal (Wm d: 1 Aug 1864 leaving his money to neices and nephews (Hannah received £1000 ) John's family next moved to Beccles to take over the Jecks business from John's father-in-law Charles Hursthouse The property where they lived here was bounded on 3 sides by navigble waters and the timber yard was sited directly opposite on the other side of Waveney and John Sith and Charles Hursthouse would travel daily to work by boat.

09 May 1846 (35Y) Birth of Frank Stephenson Smith Loddon, Norfolk, United Kingdom
10 Nov 1848 (37Y) Birth of Harry Stephenson Smith, Loddon, Norfolk, United Kingdom 1849 John and Hannah
Brothers John and Charles Hursthouse had immigrated to NZ in 1843 and after Charles returned to England 1848 he convinced John Stephenson Smith to consider going to New Zealand. In 1849 together with the Charles Hursthouse's (Senr and Jnr) Mary Hursthouse and John and Hannah Smith and 5 children, along with George Curtis, wife Eliza and their 3 children they boarded the ship Pekin under the Capt Whitby, a vessel of 600 tons and embarked from London Docks for the voyage to New Zealand.
He was land agent with John Hursthouse,
May 6, 1850 Captain Henry King, Resident Magistrate, forwarded a list of Justices of the Peace and others
willing to act as Trustees for a proposed Savings Bank about to be established. Trustees appointed included J Hursthouse, J S Smith, G Curtis
1851 1851 Age 40 Birth of Nina Stephenson Smith New Plymouth, New Zealand

1853 Age 42 Birth of Ella Stephenson Smith New Plymouth, New Zealand

1856 Electoral roll lived New Plymouth - Settler
1857 Taranaki Herald, 20 June 1857: Dissolution of Partnership. NOTICE is hereby given that the Partnership
here-to-fore subsisting between us the undersigned John Hursthouse and John Stephenson Smith as Land
Agents at New Plymouth under the firm of " Hursthouse and Smith" is this day dissolved by mutual consent.
As witness our hands this fifth day of June, one thousand eight hundred and fifty-seven. (Signed) Jno.
Hursthouse. " J. Stephenson Smith. Witness — Thomas Standish, Solicitor, New Plymouth.
1867 - Trustee Taranaki Saving Bank - 1867; 1870, 1871, 1872, 1873, 1874
1868 - May 30; SMITH, John Stephenson; Purchased Section 20 Waitara West Suburban (7)
1869 - Commissioner of Crown Land and Receiver of Land Revenues,
Crown Lands Office 1870, 72, 73, 74
1869/70 - Commissioner of Last Land Orders TA 1869 P113 1870
1869/74 - Chairman of the Cemetery Trust
1869/74 - Deputy Electoral Returning Officer
1870 - Auditor of the Taranaki Agricultural Society TA 1869 P120
1870 - Chief Postmaster
1872/74 Sheriff Supreme Court
1872/74 Visiting Justices Police and Gaol - Memorial Index St Mary's, New Plymouth

His diaries, covering the years 1863-1869 and 1872, consist of brief entries recounting daily events, land grants and claims worked on.
1874 March 26: Age 63 Death of John Smith, New Plymouth, New Zealand




Taranaki Herald, 28 March 1874: DEATH OF MR. JOHN STEPHENSON SMITH.

There will not be a person in New Plymouth but will read with regret to-day of the death of Mr. John Stephenson Smith, who died on Thursday last, at the age of sixty-two years. It was known to many that he was in failing health, but no one thought a few weeks since that he would so soon be removed from amongst as. Mr, J. Stephenson Smith arrived in this Colony by the ship 'Pekin,' early in 185O, and soon after entered into business in New Plymouth. On the retirement, in 1859, of the late Mr. W. Gray from the postmastership here, Mr. Smith was appointed, which

office he held till 1861. During the war (and afterwards) in his position as postmaster, no inconvenience or trouble did he think too great in his endeavours to oblige tho public. On relinquishing that office in 1864, he went again into business, but was appointed in 1865 Crown Lands Commissioner, which position he held till his death. Mr. Smith was also the Sheriff of the Province, and a Justice of the Peace, He never took any active part in public life, but as a private gentleman he was universally esteemed. His unfailing courtesy and kindness of dispossition were qualities

that endeared him to a very large circle of personal friends, who sympathise with his family in their bereavement. We learn that the funeral will take place on Monday afternoon, at half-past four o'clock, when the settlers will follow the remains of one who was deservedly respected to their last resting place.
Tombstone at Te Henui Cemetery:
Sacred to the memory of John Stephenson Smith b: 1811, d: 1874 and his wife Hannah b: 1814 , d: 1891. Also their daughters: Isa Ann b: 1844 Eng , d: 1916; Nina b: 1851 Okoare (New Plymouth), d: 1862; Dora Isabel b:1859 Okoare, d: 1915; also Mary Hursthouse b 1822 England, d: 1898. Death dau Nora Smith (Gorton) 7/3/1917 aged 74 years

Descendants of John Stephenson and Hannah Smith:
Children are: 1 Maurice Crompton Smith (b: 1864 - d: 1953); 2 Ethel Crompton Smith (b: 1865 - d: 1951) 3 Frank Crompton Smith
(b: 1868 - d: 1906) 4 Bernard Crompton Smith (b: 1870 - d: 1958) 5 Edith Crompton Smith (b: 1872 - d: 1873) 6 Sydney Crompton Smith (b: 1874 - d: 1939)

ii Nora Mary Stephenson Smith (b: 19 Jun 1842 in Beccles, Suffolk; d: 07 Mar 1917 in Bulls Wanganui mar: 02 Apr 1863 in St Mary's Church, New Plymouth to Edward Gorton (b: 1838 in Badingham, Suffolk, England - his Father: Robert Gorton, Mother: Eliza George; d: 1909 in Bulls Wanganui)
Their children are: 1 Ada St George Gorton b: 1864 - d: 1938) 2 Nina St George Gorton b: 1865 - d: 22 Jun 1932) 3 Norman Bannatyne St George Gorton (b: 1866 - d: 1926) 4 Russell St George Gorton (b:1869 - d: 1873) 5 Hilda St George Gorton (b: 1872 - d: 1879) 6 Leslie St George Gorton (b: 1876 - d: 1954) 7 Denis St George Gorton (b: 1879 - d: 1915) 8 Edward St George Gorton (b: 1881 - d: 1918)
iii Ida Ann Stephenson Smith (b: 06 Jul 1844 in Lakenham, Norwich; d: 10 Mar 1916 in New Plymouth aged 72Y)
iv Frank Stephenson Smith (b: 09 May 1846 in Gillingham; England; d: 12 Oct 1922 in Blenhiem aged 76Y; Burial: Omaka, Blenheim) he mar: 07 Oct 1896 in Kaikoura Church to Florence Sarah Parsons (b: 1869 parents George Estcourt and Sarah Parsons, Florence Sarah d: 27 Oct 1942 in Blenhiem)
v Harry Stephenson Smith (b: 10 Nov 1848 in Loddon, Norfolk, England; d: 24 Dec 1932 in San Francisco) mar: 30 Apr 1877 to Medora Sylser (b: 1841 Father: Sir Anthony Sylser; d: 08 Jul 1882 at sea on board SS Zealandia, 41Y)
vi Nina Stephenson Smith (b: 04 Jan 1851 in New Plymouth; d: 08 Oct 1861 in New Plymouth)
vii Ella Maria Stephenson Smith (b: 07 Jan 1853 in Okoare, New Plymouth; d: 24 Mar 1881 in Oriental Bay, Wellington aged 28Y) she mar William Fitzgerald (his Father: Auditor-General J E Fitzgerald) d: 03 Jun
viii Dora Isabel Stephenson Smith (b: 04 Apr 1859 in Okoare, New Plymouth; d: 22 Jan 1925 in New Plymouth)
Images and data used in this site copyright - ©

Please

and replace # with @ in my address. All pages have Sound