We leave at 8.am and pass through
Swansea,
Orford
at the mouth of the Prosser River, and
Sorell
, all popular coastal holiday destinations, towns numbers swelling in season... suddenly our guide Robin warned us driver Smiley must have infringed some road rule - a roadside policeman required us to stop!
We were at the Copping Museum. The many objects gathered for display were all familiar and many were part of our past - the wideranging extent of the collection fascinated all. (click here for my photos!)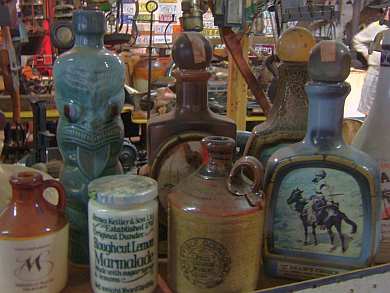 We cross the 100 year old Denison
canal and once-guarded checkpoint of
Eaglehawk Neck.
to arrive at Port Arthur. We board a catamaran and cruise across Mason Cove to the Island of the Dead
however the choppy sea did not allow us to go ashore to see the burial place for all who died inside the prison camps. Of the 1646 graves recorded, only 180 are marked - prison staff and military personnel.
From the water, we could see the layout of the 40 hectare Heritage site - Penitentiary ruins on left, where the various staff houses are sited, now restored and furnished; and in centre, the original timber camp.

Onshore, we are met by a guide who detailed the history of the Port Arthur settlement during the convict era between 1830 and 1877. Standing there - the area with it's immaculately presented grounds, we endeavour to visualise how it would have been in 1830. A tiny timber station, but because it was hemmed in by the sea and only access by land was through a tiny isthmus at Eaglehawk Neck, it developed to become a prison settlement. The buildings were all laboriously constructed by it's tenants - convicts sentenced to work in chain gangs, and flogging by lash was a way of life. Port Arthur
was a hell on earth.

With more convicts came more soldiers to guard them, more bureaucrats to manage them and more wives and children. The settlement became a complex system of barracks and houses, gardens and workshops, places of
worship
and prison buildings.

In the 1830's, ornamental trees were planted at Port Arthur. The avenue to the church was lined with young trees in 1838 provided by the Governor Sir John Franklin. Commandant Champ in 1846 developed the adjacent hop-field into an ornamental garden for the enjoyment of the ladies of the settlement and these were much admired. However after Port Arthur closed, they were neglected and in 1991, work was done to restructure the main path, restore the fountain and replace the pergola and replant flower beds.
Below, our overnight accommodation, the Tudor style "Fox and Hounds Inn".