Press F11 to limit top toolbar
Press again for toolbar to return
Edward Barnard, Watchmaker of Rangiora

EDWARD BARNARD was born 23 Sept. 1852 in Bermondsey, London, and was baptised on 8th. May 1853 at St Mary Magdaline Church in London. At 4 he left England on the "Surge" to travel to Canterbury with his parents Thomas Charles and Maria Barnard and two brothers Charles and William and sisters Sarah and Emma.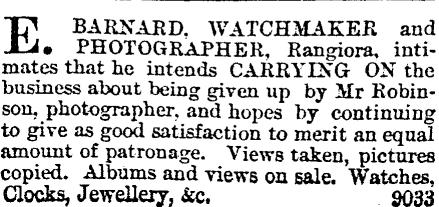 His early schooling was received in Christchurch and with his parents Thomas Charles and Maria Barnard he relocated to Rangiora about 1867. Thomas Barnard purchased the Rangiora Hotel and a shop where Edward was a watchmaker and sold Lyttelton Times papers and received advertisements for the agent James Arthur Poole. He was interested in photography and his photographic studio is listed in Wise's Directory in 1872 and 73 as"Edward Barnard, Rangiora and "Photographer and Watchmaker".
Edward had lived at Rangiora for 7 years, was 21 when he married ELLEN STOTHERT BARTRUM on the 25th February, 1874 at 11 am on Thursday at the Wesleyan Church, Kaiapoi. She was the daughter of GEORGE BARTRUM and SARAH PURSEY and was born 16 Jan 1855 at Heathcote, Christchurch. Marriage witnesses were Ellen's brother Benjamin Packer Bartrum of Rangiora, a wool sorter and Edward's brother in law, John Burt, a Rangiora coach proprieter.
The state of Edward's health must have been known - their marriage lasted just 17 months and almost in preparation Edward made his will and he took this photo of himself. he and Ellen left for Greytown, Wairarapa to be with his parents for the last few months before his death.

An affadavit was made 6 August 1875 by Thomas Charles Barnard of Greytown, Watchmaker, that "I knew Edward Barnard, formerly of Rangiora but lately of Greytown. He was my son and he died at my residence in Greytown on 23 July 1875
Edward had phthisis which caused a wasting of the tissues and he was buried at the Greytown Cemetery
His will left his estate to his wife Ellen Bartrum Barnard. There was a very long shedule of his stock in trade, and was valued with his investments etc at £246. Witnesses to his will were John McIntyre, schoolteacher, Fernside and Alexander Davidson Milne, farmer, Fernside. Edward owed £20-1s-8d to H G Bobart of Melbourne (he was a missionary in Waimate who had returned to Australia)
Ellen returned to Rangiora where she married
John Ivory in 1878.
Bartrum Family