Press F11 to limit top toolbar
Press again for toolbar to return
Ellen Bartrum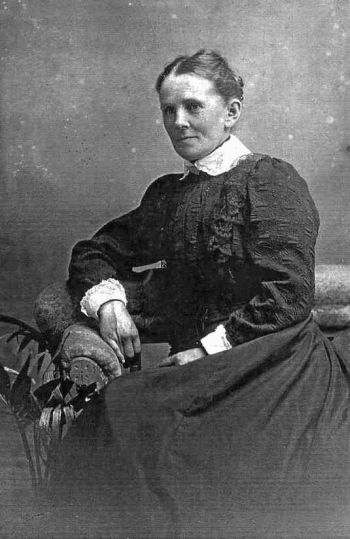 ELLEN STOTHERT BARTRUM, the daughter of George Stothert Bartrum was born 16 Jan 1855 in Heathcote, and died 08 Jan 1938 in St Albans, Christchurch. After the death of her husband EDWARD BARNARD 22 Jul 1875 she returned to her parents home at Woodend, Rangiora where she married JOHN IVORY on 13 Nov 1878 at "The Willows", house of her parents on the Woodend Road.

John was the eldest son of Mr. William Emms Ivory, the proprietor of the Rangiora Nursery and he was born was born 02 Apr 1846 in Middlesex, England. He arrived with his parents to Lyttelton on the ship "Cashmere" in 1855 and the family settled at Rangiora. John was first employed in farming work generally - for three years by Mr. Hamilton Ward, chiefly amongst cattle; by Mr. George John Leech, of Rangiora, for three years, and by Mrs Carter, of Seadown estate, Amberley, for three years. With the growth and development of the Rangiora Nursery, his services became necessary to his father, and John, for about thirty-five years was actively engaged in nursery work, principally in superintending the propagating and the packing departments. He died 10 Feb 1910 in Opawa.

Children of ELLEN BARTRUM and JOHN IVORY were:

i. MARGARET (MAGGIE) ELLEN, b. 23 Sep 1879; d. 01 Apr 1968, Hamilton; m. CLEMENT WHITTINGTON WYCHERLEY in 1905; b. 1879; d. 28 Dec 1969, Hamilton.

ii. GEORGE ALBERT IVORY, b. 13 Feb 1885; d. 19 Nov 1962, Oxford; m. (1) REBECCA CHARLOTTE LUCY BURROWS, 1911; m. (2) GLADYS LILIAN SMITH, 19 Jul 1922; d. 01 Jul 1965.

iii. GRACE MARY IVORY, b. 09 Feb 1884, Rangiora; d. 02 Feb 1986, Christchurch.

iv. WILLIAM EMMS IVORY, b. 11 Apr 1890; d. 20 Nov 1918, Christchurch; m. ALICE ELIZABETH STACEY, 1913; b. 1891, Islington; d. 23 Jan 1970, Christchurch.

This photo was taken abt 1894 - (left to right) George; Ellen, Maggie (back); William (front) John and Grace