Press F11 to limit top toolbar
Press again for toolbar to return
Sarah Elizabeth Clark nee Barnard
Sarah Elizabeth Barnard (b: 17 Apr 1853 in London to parents
William Hooper Barnard
and Sarah Elizabeth nee Kemp. Her bapt: 13 Nov 1853 was at St Peters, Stepney, London. She d: 06 Aug 1938 in 22 Mont Le Grand Rd, Mt Eden, Auckland and bur: on 8 Aug 1938 Hillsborough Cemetery, Auckland)
Alfred Clark was b: Abt. 1851 in London to parents Richard Clark and mother: Amy Ion; He d: 28 Sep 1933 in 22 Mont Le Grand Rd, Mt Eden, Auckland. Bur: 30 Sep 1933 Hillsborough Cemetery - Area 4, Block P, Lot 165.)
Time Line:
(Richard Clark (b:1811 - father Matthew Clark) mar: 6th Jan 1839 in Lambeth, Surrey, England to Amy Ion. Amy (dau of Thomas Ion).
1858: The couple departed for New Zealand with their ten children on the 'Mystery' leaving England on the 15th December 1858 and arriving in Lyttleton, NZ on the 20th March 1859. (Family: Alfred (Alf) Clark (b:1851) Richard Henry Clark (b;1839) Mary Ann Clark (b: 1842) John Clark (b: 1844) Henry Clark (b: 1847) George Clark (b: 1848) Frederick Clark (b: 1853) Amy Clark (b: 1852) Elizabeth Clark (b: 1855) Jane Clark (b: 1858)
1875: Sarah Barnard mar: 5 Apr 1875 to Alfred (Alf) Clark at the home of Sarah's sister, Mary Jane Billman (nee Barnard) and husband David Billman at Arthur Street, Wellington. Mary and David Billman were witnesses for the marriage and the Ceremony was performed by Robert Ward.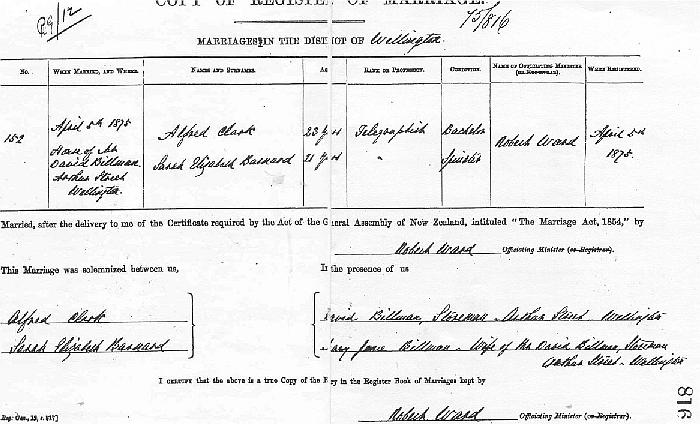 1877-1886 Alfred CLARK Postmaster and Telegraphist Waiuku, Auckland

1887-1894 Alfred CLARK Postmaster Rakaia (South Island nr Chch)
1994 Otaki - Wellington Cycloepedia: P 1093 Mr. Alfred Clark, the Postmaster, has been in charge of the district since May, 1894. Born in Surrey, England, in 1851, Mr. Clark came to the Colony by the ship "Mystery" eight years later, receiving his education in New Zealand. Joining the post-office at Kaiapoi in 1871, as messenger, he has seen service in Wellington, Napier, Taupo, Waiuku, and at other places in the North Island, and at Rakaia in Canterbury. Mr. Clark was married in 1875 to a daughter of Mr. W. H. Barnard, of Carterton, and has four sons and two daughters.
Otaki Post Office, a wooden building, containing public lobby, post and telegraph office, and postmaster's residence, is situated on the road leading from the township to the Otaki Beach. It is over twenty-five years since a post-office was first established in Otaki. The office is connected by telephone with Manakau, Ohau, Levin, and Shannon, and two mails daily are received and despatched north and south. There is a postal delivery by letter carrier daily, receiving boxes being fixed at Mr. Dunn's chemist shop, on River Bank Road, and at the railway station.
1904 - Evening Post > 26 Nov; EKETAHUNA ITEMS; Mr. Alfred Clark, the local Postmaster, has been transferred to Lawrence, Otago, and will be succeeded by Mr. Tregonning, of Ahauru. .
We take the following account of the valedictory social tendered to our new postmaster by the people of Eketahuna from the Eketahuna Express : —
Mr Alfred Clark, postmaster at Eketahuna, who bas been transferred to Lawrence, Otago, was, together with Mrs and Miss Clark, entertained by the congregation of the Wesleyan Church on Thursday evening. The inclement weather militated considerably against the attendance, but despite the prevailing elements between 30 and 40 persons attended to pay their generous respect to the departing guests, all of whom had been consistent and conscientious workers of the Church. The proceedings took the form of song, music and games, and served well the purpose for which they were organised — the expressing of regret and extension of good* wishes.
During the evening the departing friends were the recipients of tokens of esteem. In making the presentations, the Rev. Worboys, upon whom it devolved owing to the unavoidable absence of Mr Thos. Baylies, said the news of Mr Clark's transference had come as a great shock to him, as it was totally unexpected. The Rev. gentleman then referred in eulogistic terms to Mr Clark's many excellent qualities, and stated that he (Mr Clark) had never guaged his services in the cause of God. Mr Clark had always taken a keen and enthusiastic interest in the choir, and members of that body were always cheered by his presence. Apart from the Church, town people would also regret Mr Clark's departure, and miss his genial spirit and kindly disposition. He had also taken a live interest in local institutions and matters pertaining to the welfare of the town, and had acted as Secretary for the local School Committee. They could hardly see him depart without presenting him with some memento in recognition of his unstinted labors for the Church and the town. The Rev. Worboys then handed Mr and Mrs Clark a handsome solid silver cake dish, at the time referring to Mrs Clark's endearing disposition, and hoped they would find the present usetul and a medium through which they would be reminded of their many friends in Eketahuna, The Rev. gentleman also handed Miss Nellie Clark a beautiful bar gold brooch, set with diamonds, in appreciation of her work to the Church and choir.
Mr Clark, on behalf of himself, wife and daughter, thanked the people for their kind gifts. His call to leave Eketatahuna had not come altogether as a surprise to him, though he had not solicited a shift. A vacancy had been made, and though he much regretted leaving, its filling meant promotion and he could not refuse. He stated that he had fought hard to have the local Post Office classed in the second grade of offices, and had he succeeded in his efforts his permanency would probably have been established. He thought this district had a prosperous career before it and that Eketahuna would develop into an important centre. He much regretted leaving, but when duty called he must obey. Those present then rose and sang " God be with you," after which the Rev. Worboys offered up a prayer. At the conclusion of the gathering the departing guests were wished Godspeed and prosperity by all present.
1907: receives news of son Rupert's death
1911: Retired - lived at time of death at 22 Mont Le Grand Rd, Mt Eden, Auckland
1933: Monumental inscription - Hillsborough Cemetery - Area 4, Block P, Lot 165: In Loving Memory of ALFRED beloved husband of S.E. CLARK died 28 Sept 1933 Aged 81 years. Also SARAH ELIZABETH died 6th Aug 1938 aged 85 years.
Obituary : The death has occured in Auckland of Mr Alfred Clark, a pioneer telephgraphist and postmaster in New Zealand, in his 83rd year. Mr Clarke came to New Zealand as a boy in 1859 in the ship Mystery, which had a tragic history and was eventually lost at sea.Mr Clark took passage in the Mystery on her first voyage to the Antipodes and he often recalled the story of her eventful voyage from Tilbury Docks to Lyttleton. No fresh meat or milk was carried and the ship did not call at a single port in the whole five months she was on the voyage. Illness broke out amongst the passengers, and eighteen children died. On reaching Christchurch the passengers rushed to the barracks to secure work. Employment was to be obtained in abundance , harvesting absorbing most of the men. Mr Clark remembered Cathedral Square when it was a swamp, covered with flax and gorse (NB probably toitoi and not gorse), and he saw the foundation stone of of Christchurch Cathedral being laid. Some of his earliest recollections were of the Lyttleton Hills, before they were pierced by the tunnel. At the age of 14 he became a newsboy.
In 1870 he entered the Post and Telegraph Department as a messenger at Kaiapoi, and in 1875 was in the telegraph room at Napier. These were the pioneering days of telegraphy in New Zealand. The Maoris saw in the mysterious wires crossing the bush clad ravines and hills a particularly evil token of pakeha power, and gave the bush linesmen endless trouble. Sometimes it happened that a new section of line had only just been opened for a few days when it was pulled down by belligerent tribes, and it was during Mr Clark's term at Napier that several surveyors were murdered in the Waikato.
Everyone's nerves were on edge and every time the Morse buzzed the operators expected to hear further bad news from the "shifting camps" as the outpost parties of linesmen were known. Mr Clark used used to sleep in those days with a bell beside his bed so that he could be awakened in an emergency. Communication with the outside world was expensive. It cost 1/- to send a letter to England via San Francisco and 1/6d via Suez.
When the telegraph line from Auckland to Russell was opened in 1874, Mr Clark went to Auckland. He opened the Waipu Post Office in 1875, was relieving postmaster at Whangarei and Warkwork, and from 1877 to 1886 he was postmaster at Waiuku. He was then transferred to Rakaia in the South Island and was postmaster at Otaki for three years and at Lawrence, Otago Central for six years.
Sarah's Death Certificate has her place of birth as Sussex, England. Her residence at time of death was 129 Balmoral Road, Mt. Eden, Auckland and she was aged 85. Her mother's maiden surname is given as "Thomas" instead of Kemp. There were four children surviving - two sons had predeceased (Leonard d: 1937 and Rupert in 1906).
The Will states that George William Alfred Clark and Leonard John Clark were the original executors but George acted on his own due to his brother's death in 1937. The Will was dated 3rd October 1933 and Sarah's estate was to be divided equally between the five surviving children.
Children of Alfred and Sarah:
1
George William Alfred Clark (b: 07 Sep 1866 in Christchurch; Occ. telephonistd: 11 Jan 1951 in North River, Waipu, NZ) He mar: 26 Apr 1901 in Wesleyan Church, Wanganui to Helen Signal (b:12 Dec 1876 to parents James Signal and Emily Ann nee Constaut)
2
Leonard John Clark (b: 07 Sep 1879 d: 17 Aug 1937 in Wellington) mar: 5 Jan 1904 in St. John's Methodist Church, Hardy Street, Nelson to Margaret Louisa Evans Wilkins b: 1881 Father: Percy Reginald PARIS Mother: Violet Rosetta CLARK).
3
Rupert Frederick Barnard Clark (b: 02 Aug 1877; d: 27 Nov 1906 at Calliope Dock, Devonport, Auckland Bur: 30 Nov 1906 O'Neils Point Cem.)
4
Wilfred Barnard Clark (b: 23 Apr 1885 in Awhitu, Auckland d: 04 Feb 1953 in 90 Kingston Avenue, Haberfield, Sydney) mar: Agnes Henderson Elder
5
Amy Sarah Clark
(b: 26 Nov 1882 in Waiuku d:10 Nov 1971 Wellington Bur: Karori Cemetery) mar: 18 Aug 1908 in Presbyterian Church, Lawrence to Geo. Stanley* Chisholm (b:5 Jul 1873 Wgtn) Wellington, d:26 Jul 1973 in Brentwood Hosp. Wellington.)
6
Nellie Jane Clark (b: 16 Apr 1889 in Rakaia d: 17 May 1990 in Porirua; Crem. Whena Tapu Cem. 21 May 1990) mar: 1912 at Wellington to James Alexander Norrie(b: 1887 at Gore; d: 27 Jul 1966 in Lower Hutt Crem. at Karori Cem. 30 Jul 1966)