Press F11 to limit top toolbar
Press again for toolbar to return
The Voyage of the "Surge" (3)
7th Oct. Sunday - Wind SSE and SE by S and getting on favourably. sighted some island belonging to America, Norronna (Fernando Noronha) belonging to the Brazil.
8th Oct. Monday - Pressing on, S wind, evenings cooler
9th Oct. Tuesday - Getting on and fine weather.
10th Oct. Wednesday - Wind died away - making little progress, sighted a ship in the distance.
11th Oct. Thursday - Spoke the "Debrida" from London to Acciabo. She came close alongside and her skipper had a talk with ours. He had 6 days later news than we had and informed us that Sebactabol was not taken when he left. 2 other vessels near in sight, one a bark which passed in the evening when the breeze sprung up.
12th Oct. Friday - Heavy showers and light breezes. Made 38 miles in the last 24 hours. Main deck in a mess from timber from hold to allow the anchors, cables and cannon to be put below. Cleared up in the evening. Wind NE and steady.
13th Oct. Saturday - Fine morning. Breeze steady from NE by E before which we run along 6 knots per hour. Sighted three ships during the day. Observation at noon Lat. 13.32 Long. 35W. Hot.
14th Oct. Sunday - Fine day as every Sabbath has been since we started. Service at the usual hour. Some jealousy about the sittings at Church. Mrs P not liked. Crowding decks towards evening. Clouding and overcast and lightening shone bright past midnight.
15th Oct. Monday - Rain in torrents and wind shifted from NE to SE by S. Light and against us.
16th Oct. Tuesday - Wind fresh and high sea running. Course SSW, pitching very rough in evening. Invitations in Cuddy from Mrs P to keep birthday. All went well and some got merry. Bad speeches and worse songs. All in good temper. Broke up at half past ten o'clock. Chief officer ill.
17th Oct. Wednesday - Blowing fresh and the same high sea running Lat. 19.17 Long 34.17. Fine 6 to 7 knots. Passed to the west of Trinidad at 4 p.m.
18th Oct. Thursday - Caught 4 petrels, flying fish found in main chains this morning, length 10 1/2 inches. Length of wing fin 6 inches, shape of body like a young pike. Close to a French bark bound to Rio. Might have spoken her and put letters on board but did not. There appears to be some reason for not giving the passengers the liberty of sending letters home, some opportunities having been lost. Lat. 21.55, Long. 35.4.
19th Oct. Friday - Labouring in cross-seas at night. Some rain. Took in Main Royal and Trysail. Lat. 24.29, Long. 36.2. Steering due South. Saw birds called Cape hens, by others Mollimaukes, about twice the size of a crow. Slender body and large wings. Colour black. Came after the ship. Some passengers tried to catch them, but no go. Wind fine but fresh.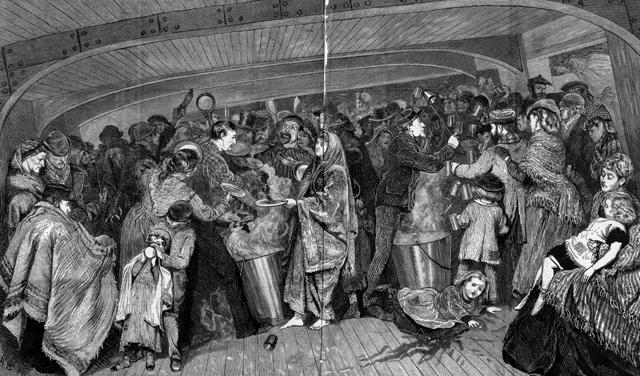 20th Oct. Saturday - Passed a vessel from Cape Horn homeward bound Lat. 27.17, Long 35. Splendid breeze, ship rolling a great deal, course SSE by SE. Cape hens flying about us all day. 7 o'clock evening Main Royal and Trysail bent. Cooler.
21st Oct. Sunday - Lat. 29.29 Long 32.30 by account. Favourable wind and steering by SE by S, 1/4 past 12 o'clock. Raining and looking gloomy. Geale getting better. Garp-Topsail carried away, the jaw of the garp having split.