Bert Guilford (2nd from left) and the Egmont County Road workers (1915c)
Benbow Book - Catherine Lincoln
ALBERT WILLIAM GUILFORD, the eldest son af William and Ann Guilford was born 11 Sep 1870 in Pleasant Valley, Geralaine, and on completion of his schooling at Pleasant Valley, he did Military service with the Geraldine Rifle Volunteers in 1888 and was employed as a farm labourer in the South Canterbury district and when 21 he went felling bush in the Wanganui district. In the harvest season he returned to the South Island for threshing. He continued at this work for five years then bought a team of horses and spent the next five years contracting.
In 1901, he sold the team and for the next 6 or 7 years worked on the Allandale Station before commencing work at Bill Benbow's threshing mill and the timber mill which Bill also owned.
In 1909, he moved north to Tarata where his widowed mother was on the farm after his father William had died in 1906. Bert bought a farm in the district - this farm was later sold to his brother-in-law William Ludemann and he went to work for the Inglewood Borough Council driving a steam roller on the roads.
WW1 - On First Reserves listing; living at Tarata occupation Farmer; Recruiting District Taranaki
He also bought some bare land at Ratapiko on which he had dry stock. During the time he worked for the Council, Bert stayed with his brothers at Egmont Village and in the 1920's bought a farmIet at Frankley Park where he lived with his mother Ann and sister Hettie.
His mother died in 1930 and this farm was sold along with the Ratapiko land and he bought a farm at Waimiha in the King country and lived on this until the early 1940's and after selling, Bert bought three houses in Auckland. On 14th October of 1943, Albert William Guilford (death registered as "Guildford") died aged 74 yrs at Green Lane Hospital, aged 73 years. He was buried at Hillsborough Cemetery, Auckland (Area 12 Block B plot 147)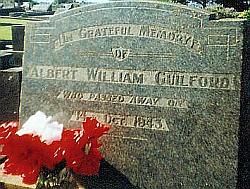 1943 NZ Probates Name GUILFORD Albert William; Place Auckland; Occupation Farmer; Court Auckland; Archives Reference BBAE 1570 1183/43; Probate Number 1183/43; Filed Date 21 Oct 1943; Type Will; Archives NZ - Auckland
Witnesses to will; - Alan Laing Petherick, Builder, Auckland and J S Richard, Auckland Land Agent. His bungalow was willed to friend William Richard of Waimiha, farmer situated in New Lynne and the residue of effects to be sold and converted to a fund to be used for the benefit of sick and wounded soldiers of New Zealand. Estate �4270