Cecil Guilford was the illegitimate son of Ann Elizabeth Guilford of Pleasant Valley and Robert Morrison of Geraldine. He was born 09 May 1889 and Robert's father put Cecil in the care of a nurse and then, when 22 months, he was taken by Minnie Dean to be raised at Winton.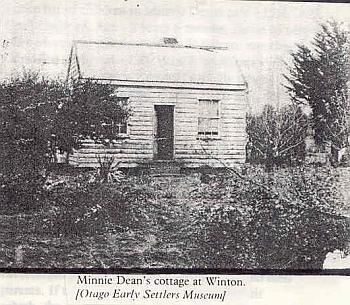 Williamina "Minnie" Dean, branded the infamous baby farmer of Winton became the first and only woman to be hanged in New Zealand after a trial which found Dean guilty of the murder of a baby girl named Dorothy Carter in 1895. (Biography)
She protested her innocence as regards intention and fore-thought before she was executed in Invercargill. After sensational police hunts, inquests, court hearings and finally a Supreme Court trial, Mrs Dean was found guilty of murdering a baby during a train journey. It was claimed that she put the baby in a hat box and buried it in her flower garden.
The story of her life, ninety years later, came under scrutiny during the television series called "Hanlon" named after the lawyer who had defended Minnie Dean in 1895. The case set the country agog with horrified interest.
Minnie Dean, a Scottish woman of respectable background and well educated, turned through misfortune to a business that was a product of the hypocrisy of the times. For payment she took illegitimate babies, whom society condemned as "shameful and sinful" and undertook to find them good homes. With advertisements like this Minnie Dean plied her trade.

This one attracted the attention of a police officer who traced the woman who replied - Jane Hornsby - and from her the trail led to the cottage at Winton (Advert Source - Hocken Library)
Lorraine Hood in her book "Minnie Dean" in 1995, refutes the damning picture of malevolence and brutality painted by the Crown against Minnie who represented her as a "woman who under the guise of benevolent motives, took in these unfortunate infants as a profession, adopted them to give them a good home ani then destroyed them." As they were "nobody's children" negotiations for the collection of children and what happened to them, were always conducted in secrecy. To collect the children for "adoption" largely as a result of advertising, Minnie travelled constantly.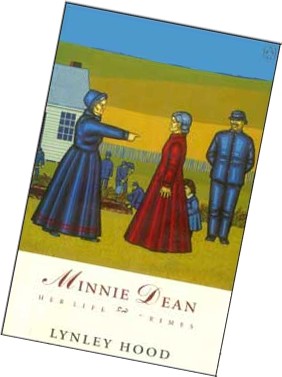 Part of the statement written by Minnie Dean awaiting execution: (P 20)
"The other boy at the home, Cecil Guilford, I brought home on or about the 28th October 1890. I received a premium of £30 for him. It was a legal adoption. The boy's Grandfather (Rbt Morrison snr) and daughter (unknown if this was Ann Elizabeth Guilford) met me by appointment at the Post Office, Timaru. I accompanied them to the Office of Mr White, Solicitor, who received instructions from Mr Morrison to prepare the necessary papers. They had driven that morning to meet me. The boy was about 18 months old and had been in the care of a nurse since his birth. Before leaving Timaru I had to take the child to a draper and buy clothes for him, and when I reached Dunedin, I had to get ointment from a chemist to kill the vermin before taking him home to the other children. When times were hard for me I asked for a little assistance from Mr M. but received an insolent letter from Mr White instead. Since I received sentence, the secretary of the home has received a letter from the boy's grandfather (*a) where-in he states that the child had been given to some woman in Timaru and that the child had been given away without their knowledge or consent, and that they had lost all trace of him until lately and that they wanted him home. That man(*b) professed to be a God fearing man and a Christian. We had lunch together and before beginning the meal, he said a long grace. Be he could stoop to untruthing for all his religion. Since hearing the purport of his letter to Mr Perkins I have not wondered so much at the child besetting sin being untruth telling, it must be hereditary."
(*a) The letter that Minnie Dean refers to, was not, as she believed, written by Robert Morrison but written by William Guilford, Cecil's maternal grandfather.
(*b) Robert Morrison, Cecil's paternal grandfather was head of the Plymouth Brethren Church at Geraldine and the Guilford family of Pleasant Valley were among the congregation.
Minnie: "I have done all for the boy that was possible for me to do and I have cared for him and loved him since the hour I got him. A love that the boy has returned in full (Page 55) Since receiving sentence, I have had every care and consideration shown me. My bodily and spiritual welfare have been well cared for, but the one yearning wish of my heart has to remain ungratified; I have been refused to be let see the children. The thought and hope of being able to see them only once has sustained me in all my bitter trouble. And surely I have been punished enough without inflicting this worst of all troubles on me. What is to become of them now? Who is to love them and care for them as I have done.?"
Minnie Dean had married Charles Dean, an indifferent farmer who went bankrupt. They had moved from Etal Creek to Winton where Mrs Dean bought "The Larches" a 22 acre property with a two storried house with eight rooms and a garden. Disaster struck not long after they moved in. The house was burned down and with no insurance the Deans could only afford a small roughly constructed two bedroomed house with a lean-to built partly from building iron and other material from the burnt out home. Three children slept in the same bed as Mrs Dean and four in boxes in her room. Two slept with Mr Dean in a lean-to and one shared the bed in the kitchen of Margaret Cameron who lived with the Deans. Although the house was not registered as a children's home, the local constable called regularly to keep an eye on her. The police list of children gives references to Cecil being in Minnie Dean's care.
12/3/1891 Cecil Guilford : Age 22 months. Name of Miss Morrison, daughter of Mr Morrison, storekeeper, Geraldine. Amount received: adopted £30. Weekly payments when taken possession of by Mrs Deans: (28 Oct. 1890) 5 months ago. By whom recommended: Mr White, Solicitor of Timaru drew up the papers.

Otago Witness 16 May 1895 Invercargill: By this evening's train Detective Herbert brought from Winton six illegitimate children who had been adopted by Mrs Dean. The eldest is a girl about 15 years of age, and the youngest is a baby about five weeks old. There are also two little boys and two little girls, the whole four being nearly of one age - between five and six years. The children have been comfortably housed in Invercargill pending efforts being made to find their parents. If the police are not successful in their search, the children will probably be committed to the Caversham Industrial school. Great sympathy is felt for the little creatures, and great attention was shown them in the train on the way down here from Winton by the passengers, who provided them with cakes and sweetmeats, and otherwise showed a kindly interest in them. The children seemed quite happy and contented. They did not appear to be well provided with clothing, but were strong and healthy looking, and seemed to be well fed.
Those who have come a great deal of contact with Mrs Dean say she always appeared to have an affectionate regard for the children. All the children who were in her care at the time of her arrest are said to be well mannered, and show signs of having some religious training.
These pages are not written to sensationalise, but rather to affirm that Cecil was one of our special family. Adopted by his grandparents William and Ann Guilford, Cecil was educated with the rest of the family at Pleasant Valley school and when the family moved to Tarata, he was enrolled at the school there in June 1902 and on March 14, 1905, he left to work at home on the farm. His father William died the following year. He and his mother Ann, sisters Dot, Alice and Hetta moved to live at New Plymouth in 1911 where he worked as a bus driver.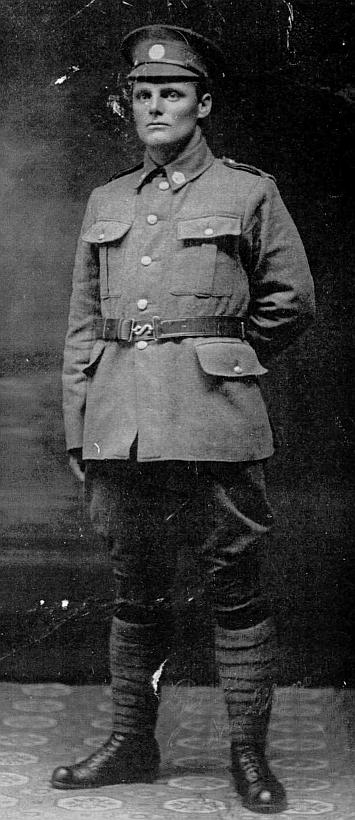 War came and Cecil enlisted and joined the Rifle Brigade of the Wellington Infantry as a Private on October 18, 1915 : Height 5 ft 6"; Weight 160 lbs; Religion - Church of England; Complexion fair; Eyes - grey; Unit 1st WRB; No. 10/3576. He was posted to Trentham for training and left on the "Maunganui" for Suez where he disembarked February 12, 1916. He was almost immediately admitted to hospital, No 4 Annex X Heliopolis on 22/2/1916 with measles. On release sent to Admin. Einer C 1 Camp Ztown on March 9th (W30-34-r3881) He joined Battalion Samalia on the 18th and embarked for France and Egypt where he served in the No 1 Field Ambulance until 24th June and four days later joined the Battalion. He was up on charge for carelessly discharging a rifle and had to forfeit 14 days pay on the 10th October. The following year 1917, Cecil got leave in England on the 5th of August and returned to the battlefield on the 12th, and was attached to the New Zealand Infantry Camp Wing Reinforcement. His ability was recognised and when he was selected for officer's training October 31st. He was with this unit until February 2nd then rejoined the field ambulance. On 8th March he was admitted to CCS sick, discharged on the 21st and rejoined the battalion. Then, on the 25th April he was appointed Lance-Corporal.
THE COST OF WAR: The New Zealand Division had been in the line in the Hebuterne area. There was a major attack by the Germans on April 5th 1918, and then followed a switch to the Lys area in the north. The Germans came very close to success and opened gaps in the Allied lines. New Zealand, Australian and British troops were quickly moved to restore the line, fill the holes and halt the onslaught. Cecil was posted missing in battle. By the end of April the offensive had staggered to a halt but its 40 day fury cost dearly - 239,793 on the British side and 348,300 on the German side. Cecil died of wounds he'd received, on May 4th. Holding the line was a turning point in the war and a few months later a flood of men and materials came from the United States and tipped the balance in the Allies favour.
Cecil's name is on the Somme War Memorial and is remembered on the Inglewood War Memorial along with that of Walter, his brother, who died March, 1918.
Further reading "The Morrisons of Geraldine", a family story to celebrate their 125 years in Geraldine; "Minnie Dean" written by Lynley Hood and "Hanlon" by Ken Catron
Rank: Lance Corporal Regiment/Service: Wellington Regiment, N.Z.E.F.

Cecil d: 04 May 1918 in Somme, France

Son of Mrs. Guilford, of Frankleigh Park, New Plymouth;

Buried France Grave unknown; Commonwealth War Dead - Grevillers NZ War Memorial
Images and data used in this site copyright - ©

Please