Gwendoline Alma and Reginald Jordon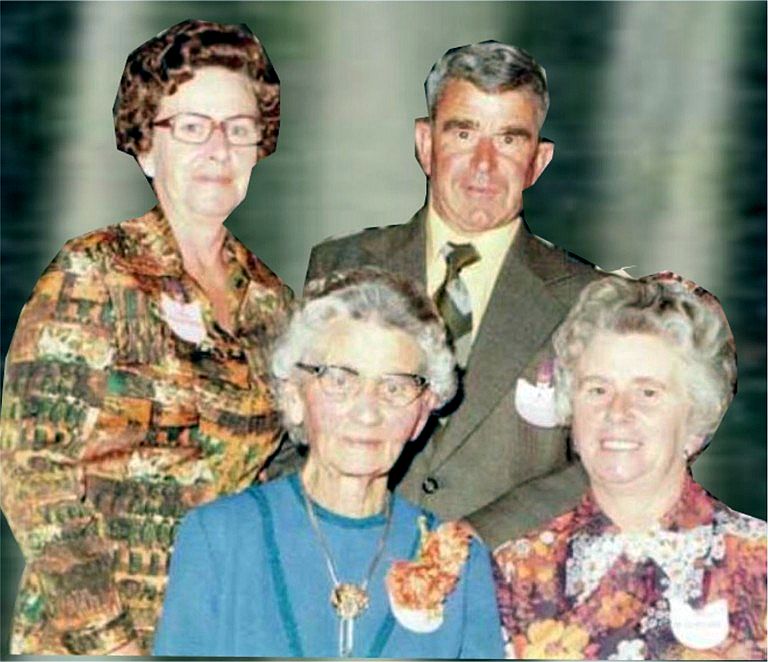 1976 1st Guilford Reunion, Christchurch - Nancy, Patrick. front - Aunt Alice Guilford and Gwen
Gwendoline Alma Guilford (b: 25 Jun 1922 in Inglewood, dau: of Robert Guilford and mother Ethel Kazia nee Annals; she d: 17 Apr 2014 at New Plymouth) Mar: 19 Jun 1943 in New Plymouth to

Reginald John Jordan (b: New Plymouth - his parents - Arthur and Gladys Jordon)
Left, Gwen as a young girl and on right, bridesmaid for sister Nancy
Newspaper report "Going the distance - the Jordon brothers Arthur, Reg and Ted celebrating 60 plus yrs married to Iris, Gwen and Elsie"
Six Decade Marriages run in Jordon family!
It is three out of three for the Jordon brothers, who have all celebrated their 60th wedding anniversaries.
Between them the three couples have notched up 189 years of marriage, and have 15 children, 52 grandchildren and 46 gt-grandchildren.
Middle brother Arthur was the first to the alter, marrying Iris on Aug 13, 1942. The pair ha known each other since they were children. "I have known him since I was 7 and now I am 86. Where has the time gone!"
Reflecting on their time together Iris says the secret to their marriage has been respect and consideration, "My mother told me never to let the sun go down on an argument - I never forgot it"
Younger brother Reg and his wife Gwen mar June 19, 1943 at Fitzroy.
The pair met at a dance in the old Egmont hall. "That night I said to Reg "My Dad's taking me home now" said Gwen. Reg chips in "And I said "No he's not - I am!"
They were married within months. I was only 20 at the time so what was to be my 21st cake turned out to be my wedding cake."
Reg says people in their day got married out of mutual respect. "That was the attraction as well as forming a team and establishing a home."
Eldest brother Ted was the last to tie the knot. His explanation was that he was a better side-stepper than the others! He met his wife Elsie while working on her father's farm. "The first day Ted had walked through a puddle of mud and his boots were sodden" So she set about cleaning them and the rest is history.
Ted vividly recalls that on the day of their wedding - Jun 14 1944 - he was left standing at the alter. "She was 10 minutes late" he says. But Elsie explains that the jolly town clock was ten minutes fast" They say that their marriage has lasted thanks to respect and give and take.
The brothers come from a family of five - four boys and one sister. The sister will be celebrating her 60th wedding anniversary later this year.
They make it sound easy; Fall in love, get married and with a bit of luck, it is possible to live happily ever after.
"It is" says Reg. "All you need is love."
(Src Taranaki Herald. Photo Nic Gibson; Written by Laureen Andreoli
Children of Gwendoline Alma and Reginald John Jordon
1 Peter Robert Jordan mar Shona McDowell Their children:

i Brett Lloyd Jordan b: New Plymouth

ii Julie Jordan mar Shaun Malcolm - their family Casey and Jesse Malcolm

iii Mark Anthony Jordan

2 Roger John Jordan mar Suzanne Colson Their children:

i Deborah Adele Jordan mar Evan Richard Adams Family are Katarina (Kate) Anne and David Roger Jacob* Adams

ii Kelvin John Jordan, Dau is Bonnie Rousell

3 Diane Jordan mar Richard Helms - Family are:

i Rohin Jeffrey Helms b: New Plymouth

ii Kent Richard Helms b: in New Plymouth

iii Carla Elizabeth Helms mar Anthony Paul Fleming.

iv Cory Stuart Helms
Images and data used in this site copyright

Please

Living person's dates not shown for privacy reasons
Descendant input to up-date family pages is welcomed. More detailed information available to family member on request.