The bush at Pleasant Valley was long gone so in 1902, the family led by William now 64 years of age, left for Tarata, east of the Waitara River in Taranaki, to literally start again - developing the land by bringing bush into pasture, setting up a home and forging a new life for those children still needing care.

The area was first known as Ngatimaru and Tarata was named after a group of tarata trees which grew near the hall. The area was serviced by telephone by 1898 and a school, post office and store had opened in 1889.

Road access was essential and much of the construction was done by those first settlers who found it a source of income while they cleared their land and got established. There was only a limited source of

gravel and with the heavy rainfall, the narrow wheels of carts and gigs caused havoc in the wet, winter months.
William beside the Rimu tree he cut

on his Tarata property
The first home, called "The Oaks" on the Guilford property was on the Autawa Road. It was old but William helped by his sons, set about doing what he knew best, pit sawing a huge rimu from which he built his home which they called "Woodlands".
The photo was featured in the Auckland News Jan 24 1904: "William Guilford standing beside his record rimu tree at Tarata. The log, 8 ft 5" in diameter had 10,000 feet of timber sawn from it and was used to build his home called "Woodlands".
(The property was sold after his death and was bought by the Mackie brothers -their descendants still live there today.
| | |
| --- | --- |
| William and Ann at Woodlands | Tarata church |
Ted, Dot, and Cecil started at their new school on the 16th June 1902. Ted completed his schooling on 8/5/1903; Cecil 14/3/1905 and both boys left to work at home.
Myrtle was enrolled at the Tarata School on 12/3/1906 but moved with her mother to New Plymouth after William's death in 30/10/1907 but returned to Tarata to complete her schooling and stayed with Liz Ludemann on 18/11/1912 and left on 21/4 1915.
| | |
| --- | --- |
| Hall at Tarata | Tarata Dairy Factory The heart of the district (2nd right) Wm Guilford |
Most settlers in the area had cows and William became a director of the wooden dairy factory built in 1897, which collected the surplus from a large area - payout in those early days was 6d a lb of butterfat.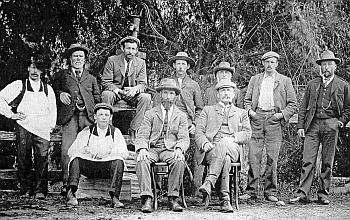 Tarata Dairy Factory Directors (Back 2nd L) William Guilford
Directors meeting were held at the factory or in the sunshine outside and once a year they went to Inglewood to meet with buyers vying for the next year's production of butter for export to England. The factory made use of water from a dam on the Taramoukou River and contracts were let to local farmers for the supply of 70 to 80 cords of firewood to stoke the boiler. View images of Tarata Today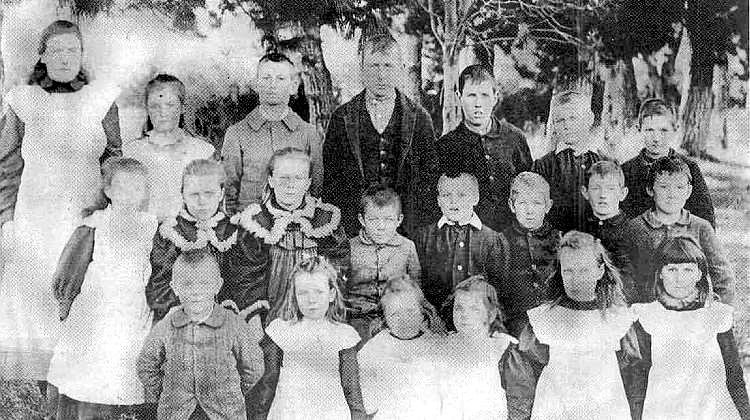 Tarata School - Back row: Edward (Ted) Benbow Guilford (2nd right); Middle Row: Emma Harriet (Dot) Guilford; Cecil Guilford (5th left)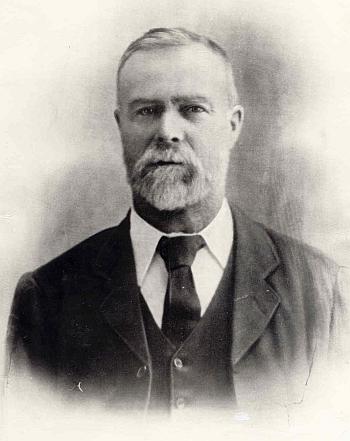 1903 Taranaki Herald: Messrs Tickers and Stevens report the sale of Mr J Crowe's property of 67 acres, Huiroa to Mr Guilford of Tarata, at a satisfactory price.
At first, Church services were held in the school but in 1902, a site was donated and after a canvas of the district for funds, tenders were let and the Presbyterian Church opened in May 1904 with 140 people attending the service.
The following year an organ for the church was purchased. and residents again met and decided to build a better hall which was opened in 1905 and even today it forms a valuable meeting place for the community.
Son George, just 26, died in Oct 1903 and was bur. at the Tarata Cemetery