William John & Elsie May Guilford
At the completion of his schooling at the Pleasant Valley School, Bill went with his parents William and Ann and other family members to Tarata. He later returned to South Canterbury and took up various types of work. For a time he was a rabbiter and in 1912 drove cabs in Timaru and by 1914 he owned his own taxi. The beginning of the following year found him employed as a pastry cook with a cake delivery business when he married Elsie Ross, a shop assistant, at Chalmer's Church in Timaru. William Albert Ross, the brides brother was best man and Alice, Bill's sister came down from Inglewood to be their bridesmaid.
Elsie May Burnett was born at Illabrook to parents Donald Eric Ross, a contractor and Margaret nee McFarlane. Bill again took up driving after his marriage and he and Elsie lived at Pages's Road. Their first child
Ross was born here 1915 and Bill's brother, Frank (Francis Charles) who was a grocer, also lived on Pages Road during this time. In 1919, the William John Guilford family moved to 45 Exeter St., Lyttleton where, for a year, Bill was an employee on the railways and here their daughter Dulcie was born.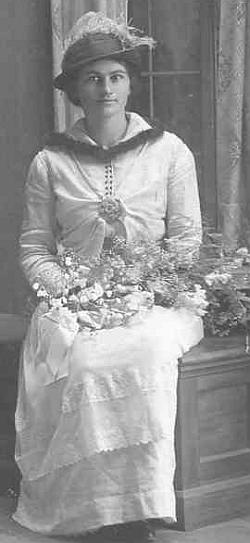 In 1920, Bill and his wife and two children moved north and went into partnership on the farm at Egmont Village with his brother Robert. Because there was insufficient income to sustain both families on the one property, in 1923 Robert and family took up another farm on Union Road at Hillsborough.
There was little time for leisure - the farm was undeveloped - two thirds just felled and covered in blackberry and the other third still bush covered - only 123 acres in all. It was tough times and there was little cash. During his residence at Egmont Village, Mr Guilford was actively associated with every good cause for the betterment of the district. For many years as a member of the hall committee, he rendered valuable service and for his last ten years, he had been secretary of the school committee, of which he proved a very capable officer.

A man of many stirling qualities, and of genial disposition, Mr Guilford endeared himself to all who were associated with him. For the past three years, he has had very indifferent health, while for the past six months, he has been confined to his bed. Bill farmed until about 1931 when he became ill. Ross had to leave school and at 15, took over from his father on the property. Bill did not recover and passed away in 1938. Burial: Te Henui Cemetery, N.Plymouth
Elsie May Burnett Guilford d: 23 Sep 1966 in Timaru Crem: Timaru, Ashes to Te Henui Cem.