Press F11 to limit top toolbar - Press again for toolbar to return
Arthur Edward and May Adlam
| | |
| --- | --- |
| Arthur as a young man | Arthur and May Adlam |
A

RTHUR EDWARD ADLAM (son of GEORGE ALFRED and ELIZABETH ADLAM) was born 06 Jul 1879 at New Plymouth, and died 04 Feb 1953 in Taihape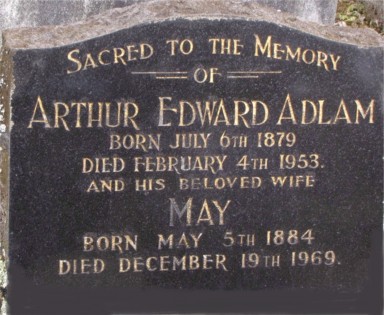 (Interment date 6/02/1953 Taihape Cemetery Area East, Section Lawn Plot 22; Block 2 Row 50)

Arthur was educated at Oakura School (enrolled 26 Oct 1885) and 21 Oct 1903 he married MAY ERICSON. She was born 5th May 1884 in Waipapa Point Lighthouse, the daughter of JOHN FREDERICK and CHARLOTTE ERICSON. May died 19 Dec 1969 in Taihape.

The couple moved to Te Kuiti from Taranaki and Mangamahu abt 1912 and settled on a property at Bennetts Siding north of Taihape and then moved to Ngawaka in 1921 where they farmed until retiring in 1950 to Kokako St.. Taihape.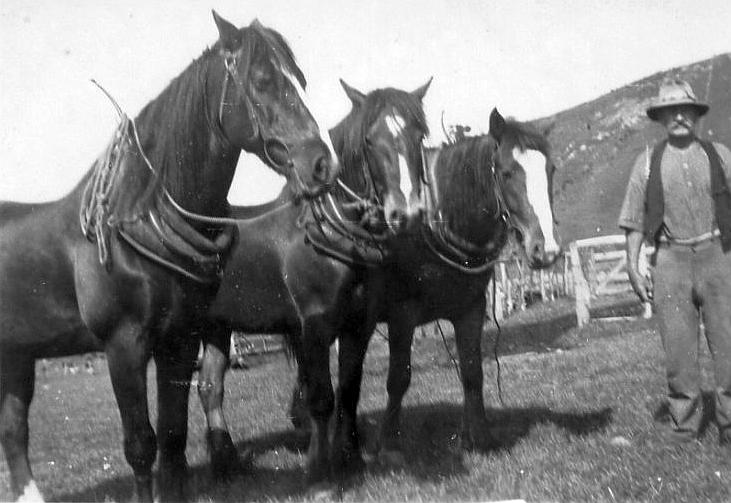 Children of A

RTHUR and MAY ADLAM are:

1. KATHLEEN ADLAM, b: 17 Jul 1904; She taught at Whaka Road School and other places before moving to Whangarei She mar: 16 Jan 1937 ARTHUR CHARLES HARRISON (b. 01 Jun 1894 son of Josephine Mary and William Sellmar Harrison; WW1 (Trooper - Occ. before Enlistment Clerk) he d. 1994, Auckland) Kathleen d: 02 Nov 1984.

2. D

OROTHY ADLAM, b. Oct 1905; d. Oct 1905. 3. MAGNUS (MAC) LOUIS ADLAM was born 26 Apr 1907. He farmed near Te Kuiti and died 1995 in PioPio. He married 21 Dec 1964 to TE REHIA TARE (DOLLY) RUKI. She was born 28 Jul 1932, and died 2000. 
Their 4 Adlam children are Raymond Matther; Magnus Murray, Elizabeth Theresa and Peter James Adlam
4. LOTTIE ADLAM was born 16 Feb 1909 in Wanganui, and died 08 Nov 1997 in Taihape aged 88 yrs. She mar: 7 Apr 1934 at Mataroa, Taihape to ALAN (MICK) HECTOR DOOLE, (son of JOHN DOOLE and MARY ALICE nee Dawkins). He was born 11 May 1907 in Wanganui, and at Wainui was a farmer and stud breeder. He died 20 Mar 1989 in Taihape aged 81 yrs.

Children of L

OTTIE ADLAM and ALAN DOOLE are: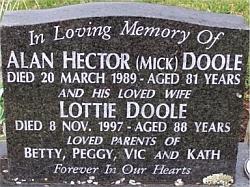 i Elizabeth Charlotte (Betty) Doole Mar: to Michael Wenham - their family Shirley Wenham and David Patrick Wenham

ii Alice Margaret (Peggy) Doole Mar: Colin Thomas. Their children are Margaret, Barry and Peter Thomas

iii Allan Victor* Doole

iv Kathleen (Kath) May Doole
5. M
AY ADLAM was born 10 Mar 1911, and died 26 Apr 1992 in Taihape. She married 1938 CLARENCE (CLARRIE) CELESTINE MICKLESON . He was born 20 Apr 1910 (son of Frederick Lars and Clementina Smith Mickleson) and farmed at Tiriraukawa. He died 27 May 1981. Their family: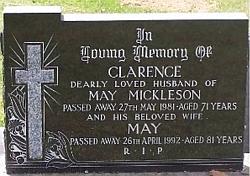 a Terence Edward Mickleson mar: Adrenne Steevens
i Troy Mickleson mar: Leah Abraham

ii Simone Mickleson mar: Neil Adlam - children Suzzanne, Hannah and Luke Adlam

iii Todd Mickleson mar: Kylie Dickie - dau Grace Mickleson

b Vivienne Mary Mickleson mar: Bruce Jones - children Karen Marie, Darryl Bruce and Denise May Jones

c David Mickleson b: 1943 d: 1943

d John Mickleson b: 30 Jan 1943 d: 04 Feb 1943

e Shirley Ann Mickleson b: 1944 d: 2003

f Doreen May Mickleson mar: Eddie Cathro - children are Teresa and Craig Cathro
6. A
RTHUR (ARTIE) NORMAN
ADLAM was b: 19 Sep 1916, and farmed at Tiriraukawa. WW2 Serviceman He mar: 16 May 1946 MOANA AGNES CAMPBELL
(daughter of ORR CAMPBELL and AGNES KINDER) She was born 13 Jun 1919 in Dunedin, and died 19 Mar 1991 in Taihape. Arthur d: 13 Feb 1993 in Taihape.
| | |
| --- | --- |
| | Cell 2 |
ARTHUR ADLAM and MOANA CAMPBELL'S children are: John Gavin*; Arthur Magnus; Edward Campbell; Ivan Stanley and Rosalie Adlam
6. ELIZABETH (BESSIE) SEFTON ADLAM was born 15 Jun 1921, and died 09 Dec 1993. She married BASIL JOHN DEMPSEY Oct 1946. He was born 04 Oct 1917, farmed at Te Kuiti and Pukekohe and died 1998.
The 11 children of E
LIZABETH and BASIL DEMPSEY are:
Colleen Elizabeth; Ngaire John; Mary Ann; Desmond James; Kevin Michael; John Patrick; Geoffrey Anthony; Kathleen Diedre; Yvonne Margaret; Christopher Basil and Leonard Joseph Dempsey