George Alfred * Adlam (b: 15 Apr 1841 in Westbury, Wiltshire, England, the son of Nathaniel Adlam (1803-1863) and Elizabeth Bullock (1808-1881); d: 30 Jun 1930 in 61 Leach St., New Plymouth; Bur: 02 Jul 1930 Oakura Cem) Mar: 15 Jun 1869 in St Marys Anglican Church, New Plymouth to Elizabeth Sefton (b: 20 Mar 1853 in Eire, Antrim, Ireland d: 27 Oct 1943 in 61 Leach St., New Plymouth Bur: 29 Oct 1943 Oakura Cem)
1851 Census Westbury, Wiltshire, England:

ADLAM: Nathaniel; Elizabeth ;Hannah; Nathaniel; Alfred; Job; David; Ruth; Maria Nash visitor, age 19 Edwin "Nash" visitor age 1

Mr George Alfred Adlam, J.P., farmer of Oakura, was not only a New Zealand war medallist, but a veteran who has seen service in many lands.He was born in Westbury, Wiltshire, in 1842, is the son of Mr Nathaniel Adlam, a farmer, and was educated in his native place.
After having been two years in the Cardiff ironworks, he joined the 43rd Regiment and went with his regiment to India. In 1863 he came to New Zealand by the "Lady Jocelyn" and early the following year after some skirmishing at Drury, a detachment of the 43rd was sent to Tauranga where it took part in several severe engagements. The regiment came to New Plymouth in November, 1864, and again saw active service, Mr Adlam having been slightly wounded at Warea. In March, 1836, the regiment being ordered Home, Mr Adlam purchased his discharge and took employment under the late Mr Curtis.

Shortly afterwards he leased a farm adjoining his present property, of about 400 acres of which the better half is freehold. He has his own creamery and butter factory, and from 60 cows produces about 300 lbs of butter per week. Mr Adlam carried on a store at Pungarehu from which he supplied the Armed constabulary and settlers of the surrounding district, buying and shipping butter to Sydney and Melbourne. In this way he became an expert grader and the settlers recently sent him with Mr E M Smith, the late M.H.R., as a deputation to the Government to point out the existing errors in the methods of grading employed by the professional men.
The popularity of Mr Adlam may be gauged by the public offices he has held and still holds. For eleven years he was a member of the Taranaki Education Board, for nine years he served as a county councillor, for seven years he was chairman of the local school committee, for the past six years he has been a member of the Taranaki Charitable Aid Board, and in 1895 was made a Justice of the Peace.

In 1869 Mr Adlam was married to the daughter of Mr John Sefton, of Ulster, Ireland, and of the seventeen children, 8 sons and 5 daughters are living. (Above Src Ref: The Cyclopaedia of New Zealand [Taranaki, Hawke's Bay & Wellington Provincial Districts)

1882 - On the licensing Board for the Omata district

1909 - George A. Adlam, farmer, Oakura, chairman of directors of the Oakura Dairy Company.

At Oakura Cemetery, George Adlam is buried in a large concrete plot - "In loving memory of George Alfred, beloved husband of Elizabeth Adlam, died 30 June 1930 aged 89 years, his end was peace. Elizabeth, wife of the above d. 27 Oct 1943 aged 90 years also Ruth Mary d: 18 June 1893 aged 2 years."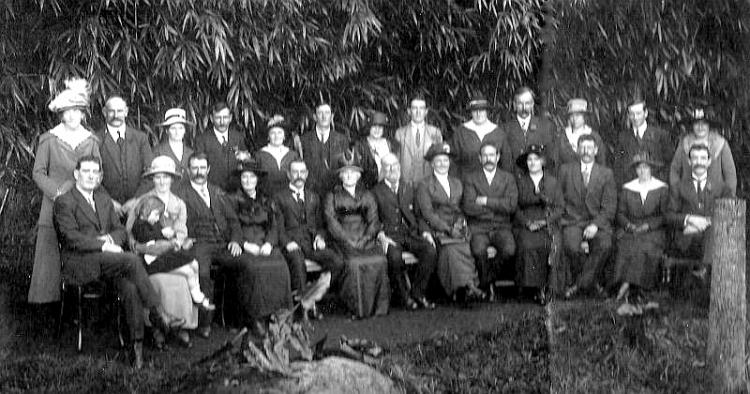 George and Elizabeth Adlam Diamond Wedding 29 June 1929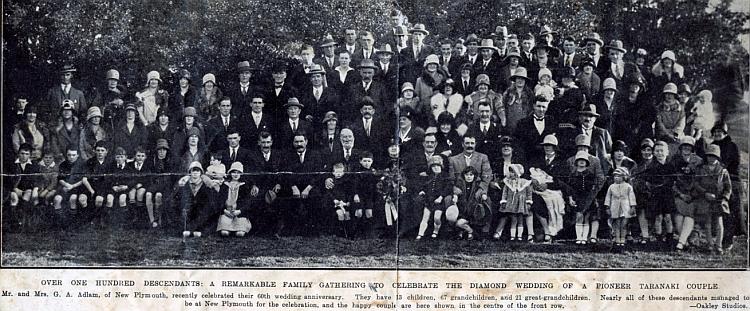 Family of George and Elizabeth Adlam:
1. Alfred John* Adlam (b: 18 Jul 1870 in Oakura d: 23 Feb 1936 aged 65 in Waverley) mar 17 Jun 1896 to Senai Eliza Biggs (b: 24 Jan 1873 d: 05 Jun 1926 Bur: Waverley Cem.) They had 7 children:

(i) Charles Alfred ( b: 21 Oct 1897;d:?) Mar: 05 Nov 1925 to Agnes Mavis Gain Simpson (b: 1894 d: 16 Aug 1966) Their son Ian Charles Biggs Adlam

(ii) Senai Travencore (b: 25 Mar 1899 d: 18 Jul 1967) Spinster

(iii)Margaret Claudine (b: 22 Feb 1901, d: 1985) Mar: 1925 to Hugh Crighton Stuart Hughes (b: 1889 d: 1953) 3 Children: Margaret Marion; Kathleen Mary and Lyndsay Lewis Hughes

(iv) Eileen Moizella (b: 19 Dec 1902, d: 1987) Mar: 24 Oct 1934 to

Walter Lewis Arnold (b: 19 Mar 1906, d: 1984) Their dau: Lesley Jane

(v) Leonora Grace (b: 04 Sep 1904 d: 1951) Mar: 1925 to George Gauld (b: 22 Jul 1899 d: 1978) They had 7 children: Margaret Leonara; Patricia Mae; George Alexander; Graham Mcgillivray; Brian James; David Barry and Beverley Grace Gauld

(vi) Darcy Frederick (b 6 Feb 1906; d: ?) mar: 1934 ? Crawford NSW

(vii) Alexia Evelyn Adlam (b: 18 Aug 1908, d: 1984) Mar: 17 Apr 1944 St. Paul, Wellington to Henry Otho (Harry) Barber (b: 09 Mar 1906 d: 1992) Their 2 children: Judith Alexia and Edward Adlam Barber

2 Frances (Fanny) Elizabeth Adlam (b: 18 Oct 1871 in Oakura d: 13 Mar 1940) mar 13 Apr 1892 to Percy George (b: 25 Oct 1867; d: 27 Apr 1903 Omata; Bur: Te Henui Cem) They had 4 children:

(i)Oswald Percy (b: 22 Feb 1893 N Ply; d: 13 Dec 1962 N Ply) Mar: 1920 to Elsie Myrtle Lobb (b: 1899; d: 05 Jun 1926) Their 3 children: Joseph Alfred; Rex Percy and Ngaire Elsie George

*2nd Wife of Oswald: Mar: 1927 to Bernice Lorraine Pearce (b: 1907 d: 20 Jun 1935) Their dau: Gwenith Doreen George

*3rd Wife of Oswald: Mar: 1940 to Agatha Mary Bowden Their dau: 2 Peggy Mary George

(ii)Beatrice Olive (b: 25 Apr 1894 N Ply; d: 13 Nov 1988 N Ply) mar: 1919 to Cyril Albert Ward (b: 1892 d: 24 Jan 1965) Their 2 children: Lawrence George and Margaret Elizabeth Ward

(iii) Nora Jane (b: 02 Aug 1896 N Ply, d: 1956 in Ak mar: 1924 to James Downing (b: 1893, d: 05 Jul 1972 in Ak) No family

(iv)Alice Mary ( b: 04 Jun 1900 in N Ply, d: 16 Feb 1981 in Hawera mar: 1923 to John Archibald Robertson (b: 29 Jan 1898 in Hawera d: 06 Mar 1978 in Hawera) Their 3 Children: Barbara Catherine; Donald John and Janet Lyndsay Robertson

3 Ernest Albert Adlam (b: 05 Jun 1873 in Takuru, N Ply; d: 26 Aug 1950 Stratford aged 77Y; bur: Kapuatama Cem. Stratford, Taranaki) m: 5 Jul 1904 N Ply. to Jessie Preston (b: 23 Jul 1884 dau. of James Preston (1846-1916) and mother Rachel Spence (1845-1910) She d: 23 Apr 1961 Stratford ) They had 6 children:

i Ernest William Adlam; (b: 28 Nov 1905 in Hawera Mar: 1928 to Dorothy Mabel McDonald (d: 05 May 1983 in Foxton Beach) Son is:(i) William Henry Adlam mar Dawn Mary Scanlon; *2nd Wife of Ernest Wm Adlam: Mar: 1955 to Thelma Sarah Jennings

ii Olga May Adlam (b: 04 Oct 1906 d: 1983) Mar: 1929 to George Allen Tubby (b: 23 May 1907 d: 20 Mar 1971) Their 3 children: Jeffrey Allen; Gerald Ernest and Patricia Ann Tubby

iii Ruth Emily Adlam (b: 17 Dec 1907 in Toko, Stratford d: 1984) Mar: 18 Jul 1928 Stratford to Laurence Mynott Ward (b: 02 Jul 1901 d: 1979) Their 6 children: Ernest Albert; Lawrence Arthur; Stanley Brian; Robert John; Maureen Jessie and Irene Annie Ward

iv Arthur Douglas Adlam (b: 19 Jul 1911 d: 06 Dec 1973 in Hawera; Crem. N Plymouth Plot Garden of Remembrance) Mar: 16 Sep 1936 to Elsie Cordiner May (b: 07 Jan 1916 d: 22 Jan 1967 in Hawera) Their 3 children: Douglas Arthur; Kenneth Ross and Elaine Catharyn Adlam. *2nd Wife of Arthur Douglas Adlam: Mar: 26 Jul 1968 to Phyllis Mary Tyler (b: 30 Jan 1919,d: 2000)

v Frank Percival Adlam (b: 28 Dec 1915; Flight Lieutenant 424403 541 (R.A.F.) Sqdn, Royal New Zealand Air Force; d: 21 Mar 1945 in Surrey WW2; bur: Brookwood Military Cem. Surrey) mar 1935 Phyllis Mary Bell (b: 1920 d: 11 Jan 2000)

iv Jessie Yvonne Hazel Adlam. (b: 09 Mar 1927 d: 2012 mar: Denis Copeland Their 4 children: Neil; Allen; Susanne and Wendy Anne Copeland

4. Helena Maria Adlam

4 Helena Maria Adlam (b: 01 Jul 1874 in Oakura, Taranaki, d: 21 May 1963 Hawera) mar St Mary's Church, New Ply to Arthur Griffin (b: 16 May 1872 in 22 Perservance St. Bermondsey, St James, Surrey) Father: Ebenezer Griffin; Mother: Mary Ann Andrews d: 17 Sep 1956 Hawera, Taranaki Bur: 18 Sep 1956 RSA Section, Hawera Cem.)

Taranaki Herald, 8 July 1896: MARRIAGE: GRIFFIN? ADLAM: On July 6th, at St Mary's Church, New Plymouth, by the Rev . F. W. Walker, Arthur, second son of A. Griffin, Esq., of Wanganui, to Helena Maria, second daughter of G. A. Adlam, Esq., J.P., Oakura

11 children. Alice Madge*; Ernest Arthur; Harold Fred; Alfred George, Eva Elizabeth; Eric Gerald; Clarence Harry; Vera Mary; Elsie May; Rupert Edgar and Clyde Raymond Griffin

5 William Harry Adlam (b: 21 Feb 1876 d: 17 Aug 1949 in New Plymouth) m: 20th Aug 1902 in Registry Office, New Plymouth to Lily Wood (b: 18 May 1881 Father: Reuben Alphonso Wood Mother: Sophia Moyle; d: 11 Mar 1943 in New Plymouth) Their 15 children:

George Alfred; Stanley Ernest; Richard Harry; Sophia (Sissy) Elizabeth; Jessie Mabel; Ethel Beatrice; Alice Mary; Percy Newton ; Raymond Arthur; Ronald Valentine; Nona Lily; Norman Frederick; Isoline Hazel; William David and Lance Nelson Adlam.

6 Caroline Rose Adlam (b: 11 Nov 1877 d: 17 Aug 1952) mar 21 Aug 1899 to Henry Wells (b 1874; d: 21 Aug 1949) Their 3 Children:

i Irene Wells (b: 29 Sep 1901 in Warea d: 10 Jul 1923 in Hawera Bur: 12 Jul 1923 Hawera Cem) Mar: 1921 to Joseph John Slater bn: 1899 d: 1971 Burl: 1971 Te Henui Cem, New Ply) Their Son: Sefton Joseph Slater (b: 09 Jul 1923, d: 1971) mar: 1943 Ethel Althea Adams (b 10 October 1925, d: 2001)

ii Ronald Henry Wells (b: 26 Dec 1905 in New Ply, d: 1971) Mar: 1928 to Alice Annie Bailey (b: 14 Oct 1908, d: 1989) Their 3 Children: Patricia Rose; Charles Ronald and Alison Irene Wells

iii Lois Noreen Wells (b: 17 Oct 1908, d: 1996) mar: 1930 to Donald Howard Stewart (b: 11 Aug 1909, d: 1998) No family