Ebenezer and Mary Ann Griffin
EBENEZER GEORGE GRIFFIN was b: Abt. 1836 in Odcombe, Somerset, England and d: 24 Jun 1898 in Wanganui Hospital fron Kaitoke, Wanganui Ebenezer George Griffin

Ebenezer's father John Griffin, (b: abt 1805, d: bef 1861) was a baker, and his mother Elizabeth was dau: of John and Mary Trask - she was b: 27 Jan 1815 at Merriot, Somerset, England and d: Abt. Sep 1866 at London aged 55Y.

Their children were:
i Ebenezer George Griffin b: Abt. 1836 in Odcombe, Somerset, England Died: 24 Jun 1898 in Wanganui Hospital fron Kaitoke, Wanganui

ii Rebecca Griffin b: 25 Jan 1837 in South Petherton, Parish Sts Peter and Paul Somerset

iii Letitia Griffin b: 1838

iv Tabitha Griffin b: Abt. 1840 Tabitha Griffin

v James Griffin (b: 08 Mar 1848 in Wellington, Somerset; d: 13 Mar 1890 in Lost at sea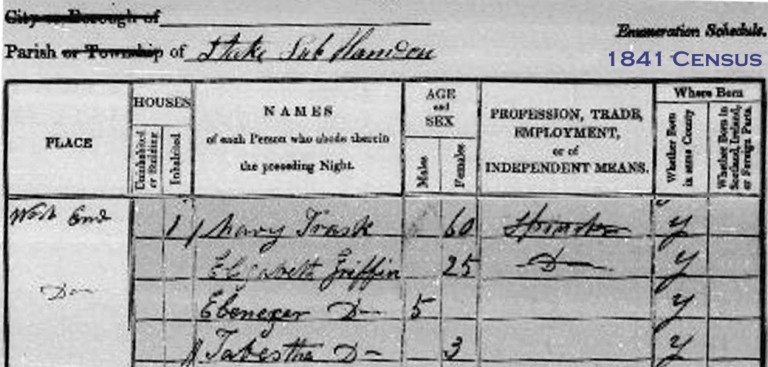 At the time of the 1841 Census: Ebenezer (5y) his mother Elizabeth (25Y) and sister Tabitha (3Y) and living with the children's grandmother Mary Trask (60Y) at West End, Stoke Sub Hamdon, Somerset
At the age of 20 on 26 Aug 1855 at St Barnabas Church, Parish of St Luke's, Parish of St Luke, London, Middlesex, England, Ebenezer married MARY ANN ANDREWS, the daughter of JOHN ANDREWS (Jnr), a coachman and TABITHA nee HUNT. She was b: on 3rd April 1836 in Odcombe, So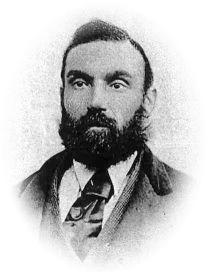 merset, England where she was christened 3 Apr 1836, Diocese of Bath & Wells, Somerset. Mary was a glover and after their marriage, she and Ebenezer lived at Bunhill Hill Row which is in the Borough of Islington, north of the City of London. They both signed the marriage register.
In 1861 Ebenezer aged 23 was a wharf labourer and later in 1871, was a firemen stoker on a steam ship) with wife Mary Ann aged 23, glove maker, their son Theophilus aged 4 born at St Luke in Middlesex, London and infant daughter Alice 2, born Horsleydown, Surrey, next lived with Ebenzer's widowed mother Elizabeth Griffin at 28 Thomas St, St John Horsleydown, Southwark, Surrey. Also in the household was Elizabeth's unmarried daughter, Tabitha aged 21 who is a dressmaker and 3 lodgers.
Map London

29. St Olave Southwark 30. St John Horsleydown
On right - St Olaves Church (Bermondsey was incorporated in the St Olave district in 1870) Likely the church where Griffin children were baptised, it was replaced by offices and warehouses in 1928. )

Bermondsey living conditions in 1850 and 60's : The streets on the river side of Tooley Street were crowded and unhealthy and many of the houses were still made of wood. A cholera epidemic broke out in 1850; followed in 1861 by a great fire which raged for several weeks. Great masses of burning fat floated down the Thames from warehouses and set small craft alight. It was said, for months afterwards, people waded into the river and skimmed off the floating fat.

Victorian Horsleydown was a hardworking community whose livelihood depended on the wharves and docks of the Pool of London. A dockers life in those days was a precarious one. Whether he had work or not depended on the number of ships in the Pool. A few permanent hands known as "Royals" were employed on a casual basis by the hour, but for the vast majority waiting to be taken on was a most degrading business. Then there were the Lightermen who manned the flat-bottomed boats from which ships in mid stream were loaded or unloaded.
In April 1871, when Ebenezer was a fireman on board a ship, the family lived at 22 Perseverance St, Bermondsey Ebenezer 33, Mary Ann, 34, their family, daughters Alice aged 12 yrs , Ada Mary, 5 both at school, and 1 yr Eva, along with son Theophilus aged 14 employed as a printing office boy. Ebenezer's mother Elizabeth, is with them, 55, however she died at the end of that year, death registered as St Olave.

Ebenezer and Mary Ann Griffin immigrated in 1875 to NZ on the 'Mataura' arriving on 11 November, 1875 at New Plymouth where Ebenezer found work as a farm labourer. They settled in Huirangi, Taranaki - Mary Ann's uncle and aunt Simon and Jane had immigrated in 1841 on the "Timandra" to Taranaki were living and the Griffin family joined in community activities held first in the original Huirangi school built in 1873. In 1885 the old school building was purchased by the "Huirangi Institute", and shifted on rollers to its present location to serve as a community hall.
Ebenezer and Mary Ann had twelve children - 3 died before reaching the age of five (Eva, Ambrosine and Ambrose) Age 84 Bur. Waikumete; He did not marry.
2. Alice Griffin b: 16 May 1858 in St Olave, Surrey, London d: Nov 1938 in Woollara, New South Wales; mar. 29 Mar 1880 in Home of J Moir, Wellington, Richard Arthur Woodger ( had a Wholesale and Retail Fruiterer, Greengrocer, Molesworth St., Wgtn before the family moved to Aus) b: 1853 in Camberwell, d: 1926 in Sydney, NSW, Australia. Their children - Arthur Henry and Ada Eva Woodger
3. Ambrose Griffin b: Abt. Sep 1861 in St Olave, Surrey, London. Died abt Dec. 1862 St Olave, Surrey
4. Ambrosine Griffin b: Abt. Jun 1863 in St Olave, Surrey, London. Died infant St Olave, Surrey
5. Ada Mary Griffin b: 16 Dec 1865 in St Olave, Surrey, London d: 15 Dec 1945 in Lower Hutt Burial: 18 Dec 1945 Taita Cemetery, Lower Hutt; mar. Henry Rowe b: 25 Aug 1863 in Waitara; m: 05 Apr 1890 in Waitara (farmer on Junction Road near Inglewood); Father: William Rowe (farmer at Huirangi) Mother: Honor nee Daw b. Abt. 1831 Devon; d: 06 Dec 1947 in Petone Lower Hutt Burial: Taita Cemetery. Family - Henry Victor; Edgar William; Eva and Ocar Trimble Rowe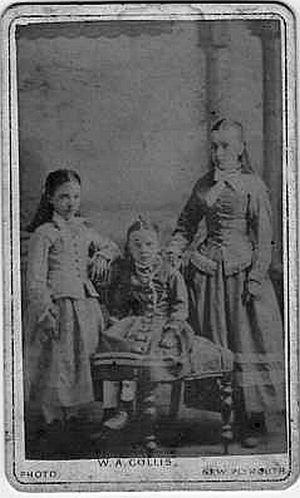 Photo abt 1878 believed to be

Eva, Rebecca and Ada Griffin

6. Eva Griffin b: Abt Dec. 1867; Died abt Dec 1869 aged 2 yrs at St Olave, Bermondsey, Surrey
7. Eva Griffin b: Abt Jun. 1870 in St Olave, Surrey, London d: 20 Oct 1938 aged 68 in Wanganui; mar. James Hodson b: Abt. 1868 in Lincolnshire, England m: 12 Dec 1889 in Registry Office, Stratford (he was a baker, confectioner, grocer, and general storekeeper at Wanganui and had the Silver Grid and Carlton Dining Rooms and started running service cars between Wanganui, Hawera and New Plymouth), Father: Frank Hodson (farmer near New Plymouth); James d: 14 Sep 1944 in Wanganui. They had 11 children - Doris Evangeline; Ida Gladys; Albert Francis (Bert); James Arthur; Kathleen Alice; Eva; Edgar Raymond; Reginald Roy; Bernard Andrews; Elsie Edna and Eric Arnold Hodson
8. Arthur Griffin b: 16 May 1872 in 22 Perservance St. Bermondsey, St James, Surrey d: 17 Sep 1956 in Ngahuru Home, Hospital, Hawera, Taranaki; mar. Helena Maria Adlam b: 01 Jul 1874 in Oakura, Taranaki, New Zealand mar. 06 Jul 1896 in St Marys , New Plymouth, Taranaki; Father: George Alfred * Adlam; Mother: Elizabeth Sefton d: 21 May 1963 in Hawera, Taranaki. Buried Hawera. They had 11 children.
9. Rebecca Griffin b: 11 Jan 1875 in St Olave, Surrey, London d: 29 Dec 1953 in Sydney, Australia Burial: Sydney mar. Howard Hicks b: 1872 in Port Stephens m: 1909 in Sydney Father: George Hicks, Mother: Mary Ann Wenham d: 1919 in Wingham. Their daughter Roslyn Hicks
10. George Griffin b: 29 Mar 1877 in Huirangi, Taranaki d: 29 Jul 1966 in Balmain, Australia
11. Albert Edward Griffin b: 29 Mar 1879 in Huirangi, Taranaki d: 17 Jan 1955 in Waiheke Is. ex Manurewa, Auckland mar. Daisy Perkins b: 1881 m: 25 Nov 1920 d: 22 May 1941 in Takapuna, Auckland
12. Edgar Ebenezer Griffin b: 30 Jul 1880 in Huirangi, Taranaki; WW1 9/929 - Army; (his occupation - carpenter) d: 05 Aug 1951 in Wanganui; mar. (1) Matilda Lucy* Wybourne b: 18 Dec 1886 in Wanganui m: 06 Jun 1903 Father: William Wybourne Mother: Mary Ann Games. Edgar d: 1976 in Gisborne. Their sons William Lewis and Edgar Ronald (Ginger) Griffin. 2nd Wife of Edgar Ebenezer Griffin - mar. 1936, Winifred Healey b: 1890; Father: Lawrence Healey Mother: Annie, d: 1942
Huirangi (click on "satellite" for an aerial view and enlarge) lies about 7 kilometres to the north of Waitara. The Waitara River flows to the east of the settlement and there was poor road access to the area with no bridges in these early days. Crossing the river to Tikorangi was treacherous. The settlers crossed by a ford or by foot over a log and it was not until 1897 that the first bridge the Bertrand Road suspension bridge provided access to the other side - it was suspended on twisted No 8 wire! This was replaced in 1927 using an adapted form of the original design.

The Huirangi school was built in 1872 before the Griffins arrived and in 1885 a hall was built for settlers recreational activities.

This was an uneasy time for settlers. Dispossessed Maori having lost possession of their traditional land sought to show their grievance by ploughing and by passive resistance.

1879: 28 July - (TH) Information was brought in to-day that other natives had commenced ploughing land at Huirangi, and a party of the A.C. force left town at once for the purpose of arresting them. The natives living near Huirangi took their ploughs in bullock drays to a paddock belonging to Mr. W. Rowe, and. commenced ploughing it up. On hearing of the circumstance, Mr. W. Rowe and Mr. G. Andrews went and spoke to them, but finding words were of no avail took the ploughs from them, when the natives all squatted down on tho ground. At about ten o'clock a party of constabulary under Major Tuke, accompanied by Major Brown, proceeded to Huirangi to arrest the natives, arriving at Mr. Rowe's farm shortly before one o'clock, Tho natives were not actually ploughing when they arrived, but so soon as they observed the approach of the constabulary, they immediately yoked the bullocks to the ploughs and commenced operations. There was only one plough and two bullock teams. It would appear that the natives desired to be arrested, actually having flax in their pockets to tie their hands, and said they had no wish to put the constabulary to the trouble of coming again to arrest them. There were eleven natives, and they had only ploughed a small strip of land round the paddock. At one o'clock Major Tuke arrested them and at once brought them into New Plymouth.

HUIRANGI PRISONERS SENTENCED. The eleven prisoners brought in from Huiraugi on Saturday wero charged this morning at the Police Court, for malicious injury to the property of William Rowe, and for conduct calculated to cause a breach of the peace. After the evidence of William Rowe, Henry Rowe, Mr. Stockman, and Sergeant Garland were taken, the prisoners were sentenced to two months imprisonment at the gaol in Dunedin, and were ordered to find sureties to keep the peace for twelve months.

1881: 26 November - (TH) HUIRANGI. The day was spent at the rifle range on Mr. Frederick Andrews' farm, Huirangi, in a contest between the right and left sub-divisions of the company; after which the usual parade, under the superintendence of the Major, in which those evolutions which appear so complex to the utiitiated, were performed, evidently to the satisfaction of the Commanding Officer.
In the evening a dance took place in the school-room. Mr. Henry Rowe (husband of Ada Griffin) as M.C.. carried out the programme in a highly creditable manner, and the dancing was kept up with spirit, enlivened at intervals by songs. The youth and beauty of Bell Block and the surrounding neighborhood contributed to the success of a most enjoyable evening.

1880: 30 November - (TH) HUIRANGI. A very pleasant gathering took place here on Tuesday evening, last. The entertainment consisted of music, singing, recitations, and readings. Mr. Andrews occupied the chair. Miss Griffiths, assisted by Mr. Lawrence, supplied the music. The school children, led by their teacher, sang three pieces during the evening with pleasing effect. Several recitations were also given by them in a highly creditable manner. Readings were given at intervals by Mr. Bluck and Mr. Ambridge, causing intense amusement. Recitations were well given by Miss Richards, Mr. H. Joll, Mr. G. G. Andrews and Mr. G. Giddy. Songs were sung by Mr. H. Rowe, Mr. F. Langmau, Mr. and Mrs. White, Miss Richards, Mr. Johnson, Mr. Ambridge, Mr. Rae, Mr. H. Joll, Mrs. Giddy, Mrs. Griffin and Mr. Wells. The whole was brought to a close by the company rising and singing "God save the Queen," which had a thrilling effect. The programme was rather a long one, but the attention of the audience never flagged. The visitors especially seemed to enjoy themselves; and, taken altogether, the entertainment may be cousidered a decided success. At the close of the entertainment, the seats were cleared away, and dancing commenced, which was kept up with vigour for two or three hours.

1882: 17 June - (TH) Mr. E. Griffin, of Huirangi, met with a serious accident to-day. While riding on horseback, his horse fell, and Mr. Griffin sustained a fracture of the leg above the ankle. He was brought into town, and his injuries were attended to at the Hospital.

(TH) DEATH GRIFFIN - On the 1st December, at Huirangi, Mary Ann, beloved wife of Mr. E. Griffin, aged 46. Respected by all who knew her. Home papers please copy. Mary was buried in the Huirangi Cemetery and her grave marked by a small plain white wooden cross 'Mary Ann Griffin 1883'
1886: 18 December - (TH) HUIRANGI. A very successful entertainment was held on Tuesday evening for funds to fence in the hall site, when the following programme was gone through :? Song, Mr. G. Giddy; recitation, Miss E. Griffin; reading, Mrs. Giddy; song ;Miss S. Rowe; recitation, Miss Knight; reading Mr. Andrews; song, Miss O'Leury; recitation, Miss J. Andrews; song, Miss E. Hall recitation, Mr. H. Purdie; recitation, Miss E Griffin; song, Mrs. Rowe; recitation, Miss Knight ; reading, Mr. Campbell; song:, Mr. G. Giddy; recitation, Miss J. Andrews; song, Miss S. Rowe; reading Mr. O'Connell: song, Miss Hall; recitation, Miss Langman; reading-. Mrs. Giddy; song, Mr. Campbell; song, Miss E. Griffin, reading Mr. Bluck. At the close of the entertainment the room was cleared for dancing, when the young people enjoyed themselves for a few hours longer, and all went home seemingly well pleased with their evening amusement.

1887: 30 April - (TH) ELECTION OF SCHOOL COMMITTEES Huirangi. Messrs . J. Andrews (chairman), JP. Andrews, J. Bennett, W. Giddy, E. Griffin, J. Northcote, W. Rowe.

1887: 21 September - Problems of access - (TH) The contractor for the new bridge having cut away the log that answered for a foot bridge across the Ngataro stream and Mr. Henry Rowe (husband of Ada Griffin) in trying to cross by fording, was nearly drowned, having been carried down some distance by the force of the current, which was very strong at the time. He managed to catch hold of a boulder, and by a hard struggle managed to escape with the loss of his new hat and a good wetting.

1888/89 - Ebenezer supports his children's education by serving on the Huirangi School Committee

In June 1890, a meeting was held at Waitara with a view to getting the freezing works re-opened. Farmers who attended, agreed to guarantee sufficient fat stock to load vessels going direct to England and the Works were purchased in July by Nelson Bros. from Napier. A large number of men were needed and Ebenezer joined the work force and enrolled his youngest children at Waitara for schooling.

In November the first direct shipment of the frozen mutton and beef left by steamer from the Waitara Freezing Works with some butter and flax however, by March 1893, the high price of cattle impacted on the Mount Egmont Freezing Company's works at Waitara. It had been mainly occupied with beef, which it found did not pay to freeze and export because of the high purchase price of the cattle and the low price for frozen beef in England. There were few sheep in the area and new machinery was also needed so, in September, the directors of the Waitara Freezing Works decided to sell. Edgar was without work so the children finished their Waitara schooling and for a short time returned to Titorangi on 18/10/1893 before the family moved to Wanganui.

Ebenezer Griffin died in the Wanganui Hospital on 24 June 1898. He was aged 62. Death certificate said his father was John Griffin, a baker and his mother was Elizabeth Griffin (born Trask) and he had married at the age of 20 in London, England to Mary Andrews.

1898 25 June -(WH) DEATH. GRIFFIN: At the Wanganui Hospital, on 24th June, Ebenezer Griffon, aged 62 years.

Funeral, Notice. Friends are informed that the funeral will leave the residence of his son-in-law, Mr James Hodson, Niblett Street, Wanganui on Sunday, 26th. instant, at 3 p.m. W. Cumberland, Undertaker.

Descendant David Leitch located the site of Ebenezer's unmarked grave at the Wanganui cemetery and May 2017 put in place the plaque below.
Abbreviations: TH = Taranaki Herald WH = Wanganui Herald