At the time of the trial, Rebecca resigned from the hospital. It is not known when she went to Australia to make a new start - the trial had been widely reported even in Taranaki papers... however it is very likely she travelled with her sister Alice and her husband Richard Woodger.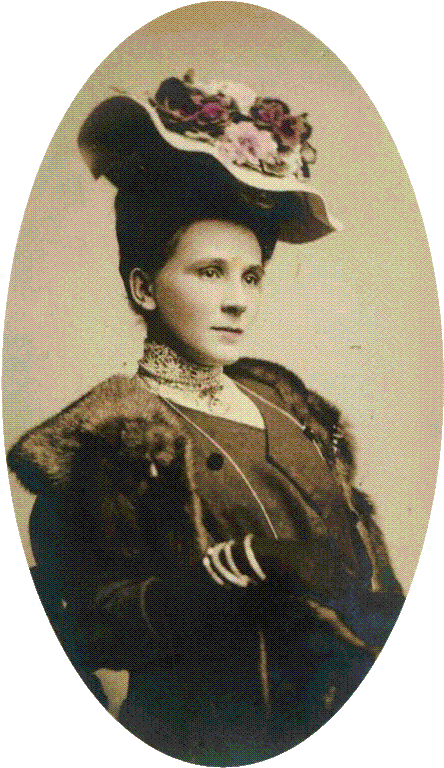 They had a plant nursery outlet at Molesworth Street, Wellington but the financial downturn saw them in difficulties and they sold up in 1899 and went to Sydney with their 2 children.

Sydney Morning Herald - Saturday 13 March 1909
HICKS-GRIFFIN - February 2 1909, at the William street Methodist Church, Sydney, by the Rev L W Briscombe, Howard, son of Mr George Hicks, of Stroud, to Rebecca, daughter of the late Mr E Griffin, of Wanganui, New Zealand ( New Zealand papers please copy}

Howard's parents, GEORGE HICKS and MARY WENHAM

were both born 1872 in Port Stephens. Newspaper reports depict a progressive man - Howard was an apple grower and well respected in his field.

BITTER PIT. FOREST REEFS.-In experimenting in his apple orchard for bitter pit, Mr. H. Hicks has noticed a decided improvement this season as a result of twining several turns of wire round the trunks of tho trees, and preventing the overflow of sap, to which he attributes the trouble, especially with Northern Spy variety, which seems particularly prone to bitter pit. Mr. Hicks says that since he tried the experiment this season's crop have got better and come to maturity

1911- FOREST REEFS.-Some attention which has been given apple-growing, especially in the 'vicinity of Long Swamps, has shown It to be a profitable employment Several have disposed of hundreds of cases -perhaps amongst the best, Mr. H. Hicks who has already disposed of about 600 cases, are Five Crown Pippins, Winter Magento, and Granny Smiths, which have been found to be in a perfect state of preservation after being packed for twelve months. This grower especially will now give more attention to this variety , for the best all round results. The prices, have stood locally at 5/6 and 6/ a case.

1913 MOUNTAIN ORCHARD TROPHY. KATOOMBA.-At the last meeting of the Blue Mountains Agricultural Bureau, presided over by Mr. H. Hicks, and held at Katoomba, a letter was received from the Agricultural Department requesting local orchardists and gardeners to collect specimens of all Insects in the various mountain gardens and orchards, and forward them to the department. The secretary (Mr. le. Wooller) reported that, accompanied by Mr. Bryan, fruit expert from the Agricultural Department, an inspection had been made of the Megalong Valley farms and orchards.

KATOOMBA. -For the Empire Day celebrations today there was a record attendance at the Public school to hear addresses songs and witness the presentations The president of the Parents and Citizens Association Mr H Hicks was chairman and speeches were given by the Major Alderman Goyder Alderman Dash and Alderman Sands Rev Mr Rowsell..............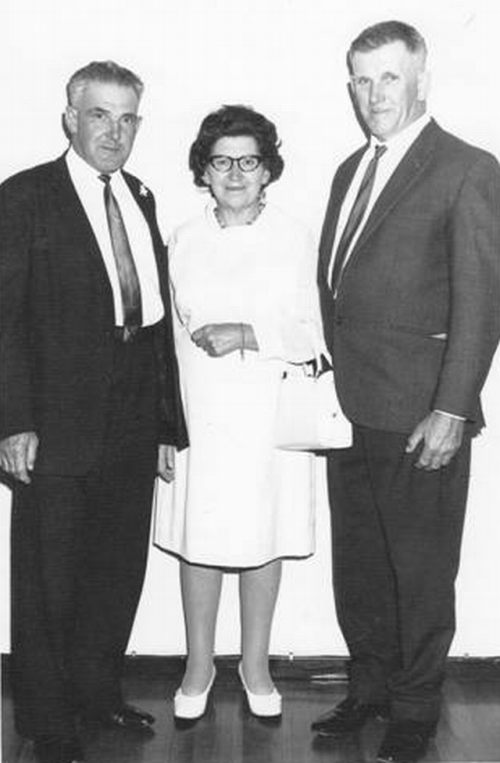 Children of HOWARD and REBECCA HICKS: John (Jack), Roslyn and Rex, (abt 1970)

1. ROSLYN DOREEN HICKS was born 1911 in Drummoyne, NSW, Australia, and died 09 May 2003 in Drummoyne, NSW, Australia. She married FREDERICK ARTHUR* CORY in 1945 at Drummoyne, son of FREDERICK ERNEST CORY and BLANCHE HICKS. He was born 19 Apr 1902 in Maitland, NSW, and died 27 Aug 1979 in Drummoyne, NSW, Australia. FREDERICK ARTHUR CORY (No 134803) was a Leading Aircraftman at East Moree who enlisted on 8 June 1943 at Sydney and served in the Royal Australian Air Force WW2. He married 1945 and his discharge came 11 March 1948 and he was posted to Eastern Area Headquarters. Their son :
(1) FREDERICK PETER* CORY who married COLLEEN.
2. JOHN (Jack) HOWARD HICKS was born 15 Jul 1912 in Walcha, and died 07 Nov 2004 in Paterson. John married OLIVE EMILY STONE in 1940 at Paterson. She was born 04 Jul 1919 in Wingham, and died 30 Oct 1974 in Paterson and Jack and Olive are buried together in Paterson Presbyterian Cemetery. Their children:
1. JOHN LAWRENCE HICKS was born 31 Jul 1940 in Wingham, and died 07 Nov 1992 in Paterson. Cremated - his ashes at Paterson Presbyterian Cemetery (in wall) He married ISOBEL LAWRENCE. Their family David and Peter Hicks
2. ROBERT

(BOB) KEITH HICKS was born in Wingham and married JANICE POTTER. Their sons are (1) Paul Hicks married to Nicole - 3 children; (2) Andrew Hicks

3. R

USSELL RAYMOND HICKS was born in Maitland. He married CHERYL BARNARD. Their children are (1) Jennifer has 2 sons, Grahame and Michael , twins (2) Graham and (3) Michael Hicks

4. D

IANNE YVONNE HICKS was born in Maitland. She married DENNIS RAPSON. Family are Tracey, Shelley, John and Laura Rapson.

5. TERRENCE OLIVER (TERRY) HICKS was born in Maitland. He married CHRISTINE MURRAY and they have two sons Mark and Daniel Hicks

.

6. PHILLIP CLIVE HICKS was born 20 Nov 1952 in Maitland. He married ODETTE PRESLAND - their sons are Jason, Bradley and Adam Hicks.

7. CAROL ANNE HICKS was born in Maitland. She married GEOFF MURRELL (he passed away and is buried at Paterson Cemetery) Geoff and Carol's children are Luke, Adam, Bradley and Sara Murrell
3. REX NEWLYN HICKS (b: 1913 in Walcha, NSW; d: 10 Sep 1996 in Paterson Gloucester, NSW aged 82yrs) In 1936 he was a Dairyman at Wingham, Cowper, and in 1942 he mar: ENA GWENDOLINE (ENID) PAYNE in Taree. (b: 1912 in Taree, NSW; d: 26 Apr 2003 in Gloucester Mount George, NSW aged 90yrs) Rex Hicks bought property in the Gloucester area and was a grazier. They are bur: at the Gloucester Lawn Cem. Family are :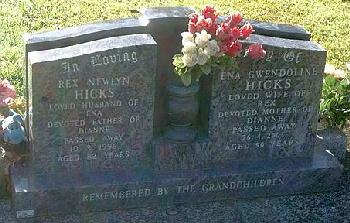 i. D
IANNE HICKS who married ALLAN SHULTZ - Their children are Howard, Sally, Kyllie, Peter and Michael Schultz.
ii. HOWARD HICKS infant son who died.
4. EDGAR HICKS - this son was named after Rebecca's brother but died as an infant and is buried at "Claraville" in the orchard, the homestead of Rebecca's in-laws at Stroud.

5. RUTH WOODS - Rebecca fostered Ruth as a 3 week old baby abt. 1927 and she lived all her life as a loved member of the family She married quite late in life to Gordon Green and they lived at Balmain in Sydney. Gordon predeceased Ruth who passed away in her 70's

After Howard's death, Rebecca opened up her home to boarders and travellers and Rebecca and daughter Roslyn moved to Drummoyne when Roslyn started nursing. Jack and Rex stayed around the Gloucester/Mt George area after their mother moved to Sydney and in 1942 Jack moved to Patersonto work with the Dept. of Railways. Rex Hicks bought property in the Gloucester area and was a grazier for his entire life and he and wife Ena are buried at Gloucester Cemetery.

Details of family descendants were formulated by Rebecca's grand-daughter, Dianne Rapson and we are endebted to Peter Cory of Sydney, son of Roslyn for sending photos. Can you help identify these unknown family images?.

Rebecca Hicks photo Page Rebecca Hicks Ancestry Page