Click Slide menu on left
GUILDFORD ANCESTORS
The following pages contain some records of a family named GUILDFORD, compiled from old letters and other papers in his possession, and from my memory from the years 1850 to 1911.
The family left England for Lyttleton, New Zealand, where they arrived safely on the 7th February, 1851.
They came out as immigrants under the " Canterbury Association" - a Church of England enterprise, in the sailing ship "Castle Eden" ( she being the fifth ship) 53 days after the historic first four ships. This account is written by the last survivor and youngest of the family that was born in England.
Signed - Henry John Guildford, July 1911, Invercargill

ABOUT THE WAY THE SURNAME IS SPELLED:
I was only four years of age when we left England, therefore have very vague recollections of our surroundings and relatives then living and no knowledge of how they spelt their name there but for some years after living in New Zealand, I wrote many letters to relations living in England and Wales, including my paternal Grandfather from whom I received many letters in reply and he wrote his name oftener GUILDFORD than GUILFORD.
My brother James for many years signed himself GILFORD. My father and eldest brother wrote it GUILFORD - and I have always written it GUILDFORD.

THE GUILDFORD FAMILY for considerably more than one hundred years back had lived in and around the village of Easton, Wiltshire, England, but a few years before my time a few of our name immigrated into neighbouring Shires and into Wales. My father and mother lived in Abergavenny, Mommouthshire, South Wales, but had returned to his native place before leaving for New Zealand. Below: 1841 Wales Census.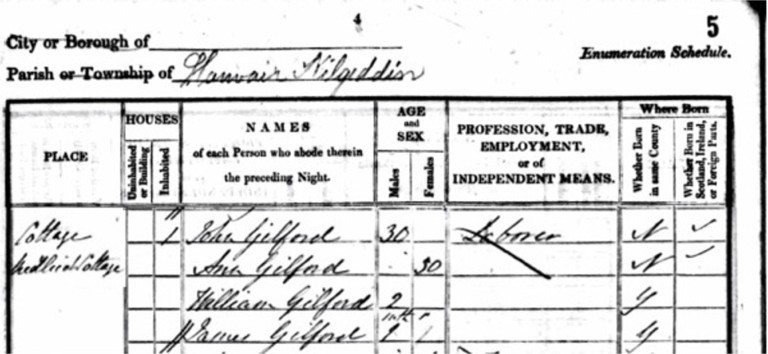 LIST OF FAMILY, DATES OF BIRTHS, MARRIAGES AND SOME DEATHS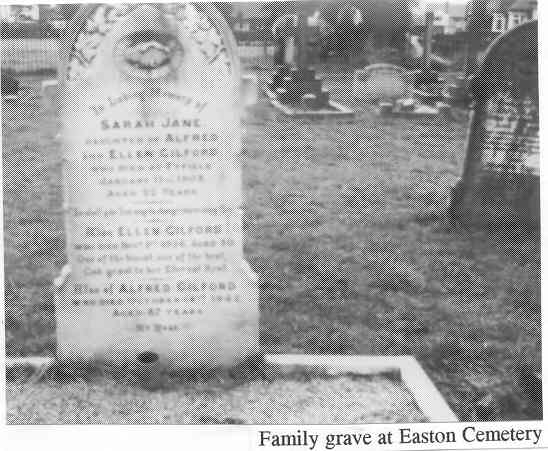 JOHN GUILDFORD, Father, was born at Easton, Wiltshire, England 14th October 1804.
ANN PLANK, Mother, born at Easton, Wilts. England in 1808
MARRIAGE - The above couple was married at Easton on the 5th April 1834 and to them was born
ELIZA, June 13th, 1835 at Easton. Died there Dec. 20th 1835
WILLIAM, October 22nd 1838
JAMES, May 1st 1841
GEORGE, July 3rd 1844. Died Easton 6th August 1847.
HENRY JOHN, November 21st 1846

I am not sure that the above named James, George and Henry John were born in Monmouthshire, South Wales. Some of them were, my memory is not clear about it.
The following are the names and the relationship of those who left England and came out to New Zealand in 1850
PARENTS - John Guildford - Father; Ann Guildford - Mother
SONS - William, James, Henry John
MY FATHER'S UNMARRIED SISTER
ELIZABETH
came to Christchurch, New Zealand, from England late fifties coming out in the sailing ship " Regina". For some years she lived in Christchurch, then went to Nelson, thence to the "West Coast" where for a number of years she carried on a Storekeeping business at Charleston. She was eventually reported to have died in the Greymouth Hospital, but had not communicated with my father for many years. The writer of these lines never heard but that she had remained single to the end.
DEATHS OF PARENTS WHO CAME OUT TO NEW ZEALAND IN 1851 AND ALSO MY STEPMOTHER
JOHN GUILDFORD - Father, died at Wanganui, N.Z. on the 1st June 1895 and was buried there, Aged 84 yrs, 7 mths
ANN GUILDFORD - nee Plank, Mother. At Papanui Road, 14th July 1862 and was buried on the Bank of the River Avon, towards the East Belt, Christchurch, aged 54 years.
EMMA GUlLDFORD - nee Newnham, Stepmother, at Papanui Road, on the 11 October, 1890 and was buried Addington Cemetery, Christchurch.

DEATH OF ONE DAUGHTER AND SONS OF ABOVE AND ONE SON'S WIFE -
ELIZA Died at Easton, England on the 20th December, 1835 and was buried there. Aged 6 months.
GEORGE Died at Easton, England, 6th August 1847 and was buried there. Aged three years.
CATHERINE My brother James first wife died at Wanganui and was buried there.
JAMES Died on the 2nd January, 1898 at Halcombe, Wellington and buried there. Aged 54 years, 4 mths
WILLIAM Died at Tarata, Taranaki on the 30th October, 1906 and was buried there. Aged 68 years.

BORN TO MY BROTHER WILLIAM GUILDFORD AND HIS WIFE ANNIE nee BENBOW at Pleasant Valley
Anne Elizabeth 10/08/1867
Henrietta 15/02/1869 -
Albert William 11/09/1870
Henry John 15/11/1871 ., ,to
Robert 04/08/1873

James 04/08/1874

Francis Charles 09/08/1876

George 26/09/1877

Gertrude Mary 07/08/1879
Mary Beatrice 18/01/1882

Walter 13/12/1883

Alice Mabel 01/01/1886

William John 05/02/1887
Edward Benbow 26/10/1888
Cecil (Adopted ) 09/05/1889

Annie 05/05/1891

Myrtle Eileen(Adopt).18/02/1901

In his younger days my brother William was first employed at Pigeon Bay by the late John Hay. Afterwards at Double Corner Station ( afterwards Motonu ) the property of Robert Caverhill (This would have been John Scott Caverhill). He then, with Tom Lewis and one Hill of St Albans, bought a piece of bush from the Maoris between Kaiapoi and Woodend and started pit-sawing and getting fencing and firewood for sale. After their bush was worked out, he went down to Arowhenua and Pleasant Valley Bushes and followed the like employment until some time in 1859, when he went to Victoria and engaged himself in bushwork and mining. He returned to New Zealand in the end of 1862 and worked again in the Geraldine district for a while. In 1865 he went to Hokitika, West Coast, but did not stay there a year and returned to the Geraldine district and married there in 1866.
BORN TO JAMES GUILDFORD AND HIS WIFE Catherine nee LYNCH
Henry Tracey 23/08/1875
John Stanton Plank. 26/10/1876
Ernest AIbert 23/07/1877
Gertrude Mary 26/08/1878
Gerald Edgar 22/09/1879
James Leslie 01/02/1881
Beatrice Ann Plank 00/04/1882
Ethel May 28/06/1883
Kathleen Maud 26/12/1885
Leonard Seymour 02/06/1886
Herbert William 04/01/1888
Emma May 18/10/1889
BORN TO JAMES GUILDFORD AND HIS WIFE ELIZABETH JOHANNAH nee SCHWASS
Grace Myrtle Schwass 07 /01/1891
Wilfred James 06/01/1893
Winifred Vera 28/11/1896
Donald Bernice 01/10/1896
In his boyhood, my brother James started to work for a Mr Laine who had taken a farm on the banks of the Avon towards its mouth. Next, on Messrs. Kennaways Brother's farm on the Bank of the Heathcote River; following that he worked on Mr John Fisher's farm about the southern end of Windmill Road. Then in the Maori Bush at Kaiapoi; following that he was employed for some years on sheep stations in the Marlborough Province, pit-sawing, fencing and shearing. In 1867 he went down to the Geraldine district following the like occupations for a number of years. There his first marriage took place. He then returned to Wanganui.

HENRY JOHN GUILDFORD left his father's home the end of August 1862. I was a fool of the first water by not doing as my father wished, but being the only child living at home, during my school time, also a sickly one, I had been somewhat pampered and spoilt. Anyhow I had my wish and left a good home and as I knew nothing of work it can be understood that in my attempt to earn a living, I got many knocks, and encountered some very hard times.
My first attempt was going to sea in that good Brig "Mountain Maid". Capt. Vandewood, then trading between Sydney and New Zealand ports but mostly to Littelton. On her I saw enough to put all thoughts of the sea out of my head and eventually left her in Auckland where I was employed in various ways.
Then I went down to my brother William who was then in Pleasant Valley, and started bushwork, at which I was no "Ringer" but kept at this occupation in various parts of New Zealand, often varied by working with carpenters up to and after the time of my marriage in 1875. From then on until the present time I have followed the carpenter trade ( except for a short time sawmilling ) house building, dredge, wharf and bridge building, in many parts of Otago and Southland and the West Coast.go and Southland and the West Coast.
To comment on anyone's transgressions, does not become me - but to the descendants of that John and Ann Guildford who left England for New Zealand in 1850, who, hereafter may read these lines, for information regarding their forebears, or for amusement, I would in these my last days, impress upon them with all the earnestness of my command - ( this same advice and command being as old as sure as the Eternal Hills) to fear God and obey His commandments - for thereby all earthly as well as spiritual welfare is attained. Break them, in any way, as surely will just punishment be meted out to you, in this, as well as in the World to come - The rewards of punishments never fail, for the Laws of God, if maybe slowly, act very surely.

BORN TO HENRY JOHN GUILDFORD AND HIS WIFE JANE nee COWAN
Annie Cowan 18/07/1876 Sandymount
Harry Cowan 10/12/l878 Portobells
Mary Cowan 30/l2/1879 Portbells
Marion Cowan. . . SBC. . . . .18/08/1884 Kennington
Robert Cowan .04/12/1885 Kennington
Colwyn Cowan 10/04/l888 Brunswick
William Cowan 21/04/l890 Brunswick
Elizabeth May 29/03/l893 Brunswick
Jane Cowan 05/06/1895 Otautau
Marion Janet 05.l0.l897 Otautau
Note: Colwyn was born on April 1st, but was registered above.
Our daughter ANNIE COWAN married ARTHUR WESTBURY at Brunswick on the 21st August, by the Rev. Bishell, Presbyterian Minister of Woodlands and to them was born -
Annie Born at Invercargill 7th January 1895
Henry John Guildford Born at Otautau 29th May 1896
Arthur Guildford Born at Otautau 1st April 1898
Frederick William Born at Invercargill 26th April 1900
Our daughter MARY COWAN was married to ANDREW NICHOL ANGUS at Mrs Wilson's residence,
Spey Street, Invercargill on 5th of February, 1901 and to them was born -
Evealine Maud Born in Invercargill 9th May 1902
Margaret Jane Born in Wellington 26th June 1905

Our son HARRY COWAN was married to WILLIAMINA LUCY MENZIES, spinster at Bannockbum, Otago Central, in the Methodist Church on 30th December 1907 and to them is born -
William John Born at Elles Rd. Invercargill 23rd April 1910
Robert Cowan
WILLIAM GUILDFORD, of St. Andrews, South Canterbury, New Zealand - where he and his wife reside. They came from Easton to New Zealand many years ago, and until recent years none of my family has met these people. His father's name was Soloman and his mother's maiden name being Lucy Kimber. They lived and died at Easton. This Soloman had three brothers viz. Stephen, who died at Eversley, seven miles from Easton, and left a family of sons. William who lived at Milton, one mile from Easton. John, the St. Andrews Guildford's recollect or knew nothing of this uncle's where-abouts and it is just possible that this lost sight of John Guildford, was my father, thus making Wm. Guildford of St. Andrews, mine and my late brother's first cousin. William Guildford of St. Andrews wife's maiden name was A. Stroud and she has a first cousin now living near Wrey's Bush, Southland, New Zealand, a farmer whose name is Thomas Stroud.
SOMETHING ABOUT MY COUSIN EDWARD PLANK - In December, 1879, I was living near Dunedin, Otago, and paid my two brothers and father a visit. Some eleven years had passed since we had seen one another. My father and stepmother were then living in the old home near the North Town Belt, Christchurch. In this house my mother had died and later my stepmother. My brother William and family were living at Pleasant Valley, and my brother James and his family were living at Geraldine, both in South Canterbury. My brother William was on a visit to my father, and one evening my brother took me to see a Mr and Mrs Edward Plank. They were living near my father. This Edward was a nephew of my late mother, and not so many years out from England. This cousin was then and for several years after, working at the Exeter Nurseries, Papanui Road, he being a Gardener. He died in Christchurch, but I have recently heard that his widow is still living somewhere in Canterbury. It was on
this visit in 1879 I last saw my father, stepmother and brother James.
RELATIONS NAMED EDWARDS - There are some people now or lately in New Zealand, of this name. our relatives. They had been in communication with my father before coming out., if ever they came, writing him on the 20th February 1886 from Stockton-on-Tees, and from Toll Bar Cargo, Fleet Lane, Old Orsmesby, Middlesbro', Yorkshire on 16th March 1887. These are English addresses. I have never seen or heard of any of them, only from letters and dates in my possession. In my very young days I remember hearing my father speaking of a widowed sister of his, named Edwards and her family. They lived at that time at Gospart near Southampton, England. I was too young to recollect any particulars about them, but wrote and received letters from them in my schoolboy days.

FAMILY NAMED KIMBER - Fellow passengers from England were a family of this name. There was father, mother, two daughters and several sons. The eldest son's name was James and he had lost the sight of one eye. For some years they lived about the "Lincoln Road" and afterwards were farming at Tai-Tapu, a few miles from Christchurch. Some of the family are yet thereabouts. They came from near our people in Wiltshire and I am under the impression that some of the Kimber and Guildford families in England had intermarried. To wit, the St Andrew's Guildford's mother was a Kimber.
SHIPMATES - All through the Fifties and probably longer, Shipmates were thought a lot of, and on visiting one another were treated more as very dear relations than as casual visitors. Of course shipmates with whom this friendly intercourse was kept up by my parents, I can well recall the following: Mr and Mrs H. T. Leake and one daughter, who for several years kept a shop in Lyttelton and afterwards in Columbo Street, Christchurch; Mr and Mrs Samuel Treleran and family sometime of Papanui and later Flourmillers at Rire Styx. Mr and Mrs Samuel Jackson and family who lived between Riccarton and Lincoln Roads, abour half a mile back from Hagley Park's western boundary; Mr and Mrs Robert Hamlett and their son and daughter who lived at Kaiapoi and the Kimber family mentioned above.
SOME OF OUR EARLY HOMES NEAR CHRISTCHURCH - As said before, our family consisted of Father, Mother and three sons, landed at Littelton on 7th February, 1851. Our first abode -like many others in those days was a sod hut, thatched with rushes. It was on the site of a small creek that ran into the river Avon between the present Hospital and the Old Plough Inn site on the western side of Hagley Park. I think the first baker's oven for Christchurch was built out of a high clay bank of this creek near its entrance to the River. The oven was used by the elder Mr Inwood whose bakery afterwards was in Cashell Street next to Mr McAnderson's Foundary. This same Mr Inwood built a flour mill afterwards on the Avon, about where Hereford Street crosses it.
SECONDLY - A four roomed wooden house ( built by a Mr George Woodman, a carpenter) of timber cut in the Papanui Bush. It was built on a piece of land my father bought, situated on the west side of Papanui Road, about ten chains north of the end of St Albans Lane. Here we lived eight or nine years. It was then sold to a Mr Purdie, a nursery gardener. Our nearest neighbours being a Mr and Mrs John Ashby, Mr and Mrs Henry Wyatt and Mr and Mrs John Horrell and their families.
THE THIRD HOME - My father had then bought one acre of a subdivision of land sold by the late Edward Jerningham Wakefield three chains or so north of the Town Belt, on the west side of Papanui Road. ( These belts I understand are now called Avenues.) On this land was a two-storey wooden house built by Mr Rastrick & Sons, whose home was adjoining. This was the home of many years. In it my mother and stepmother died.

In his old age my father ( who was well to do ) lost nearly all he had by advancing many thousands of pounds to one Christian, and a large, though a less sum, to one Sarginson. I may not have got the last name right, anyhow, between them. It was in two transactions, no connection between them. They left the old man nearly a pauper, he being 80 years old. This happened before my stepmother's death. My father struggled through a somewhat miserable time after his wife's death, then went to live with my brother James in Wanganui, and there continued until his death.
ABOUT THE THREE SONS - The two elder ones went to work as soon as they were able, not a great time after our arrival in the Colony. Myself, the youngest, got what schooling came my way in Christchurch but left my Father's house to start out for myself, about a month after my mother's death in 1862. None of the three sons was much about his father's home after leaving it in their boyhood - they were wanderers, each went his own way, seldom hearing of each other. In the course of time they all married, and so had home interests of their own.
MY FATHER'S SECOND WIFE was the maiden sister of Mrs Jane Kitchenman ( Emma Newnham ) The man Kitchenman was a Gardener, and his address used to be East Belt, near Ferry Road. There was a family of one son and several daughters of these Kitchenmans, nephews and nieces of my stepmother's. One of these nieces had the misfortune to marry a man called Christian, one time a schoolmaster. He then became a wholesale Confectioner in Christchurch - was I heard, too big for his boots, and eventually cleared out leaving his wife and family with no provisions - and his many creditors sorrowing. I am not sure that his family heard from him since. This was the man who had the greater share in swindling my father.
MY FATHER'S SECOND MARRIAGE - He married 8th January 1863 to Emma Newnham, Spinster, who was born on the 25th July 1815, in London, England, I think. This marriage took place at the residence of her Brother-in-law, Kitchenman, then living at St Asaph Street, Christchurch.
MY BROTHER WILLIAM - married on the 23rd August 1866 to Annie Benbow, Spinster, born on 5th February 1849 at Weston, Burford, Shropshire, England at her father's home. She was the eldest daughter of Mr and Mrs Wm Benbow, who with their family had a farm near Temuka, South Canterbury. The marriage was solemnised by the Rev. Mr Brown, Anglican Minister of Geraldine.
MY BROTHER JAMES FIRST MARRIAGE - was on the 17th August 1874 to Catherine Lynch, Spinster, whose age was then 18 years. The wedding took place at St Anne's Church of England, Pleasant Valley near Geraldine, South Canterbury, the Rev. James Preston being the officiating minister.
MY BROTHER JAMES SECOND MARRIAGE - was on 6th April 1892 at his residence at Eastown, near Wanganui to Elizabeth Johannah Schwass, Spinster, the Rev. Reginald Herman being the Minister. She is the daughter of Ernest Schwass and his wife, Sophia Rose, they being farmers at Halcombe, Province of Wellington. She was born at Motueka, Nelson.
MYSELF - HENRY JOHN GUILDFORD - married on 8th October 1875 to Jane Cowan, Spinster, at the house of Mr John Reay, Owaka, Catlins River, Otago, by the Rev. Wm. Bannerman, Presbyterian Minister ofWarepa. She was born at Mearns, Renfrewshire, Scotland on the 1st May 1854 and is the second daughter of Mr and Mrs Robert Cowan, Dairy Farmer of Sandymount, Otago Peninsula near Dunedin.
ABOUT THE COWAN F AMILY - They came from The Mearns, Renfrewshire to Dunedin, Otago by the ship "Lady Eggidia" and landed at Port Chalmers on the 27th January 1861. Relations of theirs, names Inglis and Brown had preceded the Cowans to New Zealand and lived on the Peninsula. The following is the names of the Cowans that came out together
Robert Cowan, Father - born Pollockshire, Scotland, 25 December c. 1824; Died 20th June 1912 Dunedin Aged 88
Jane Cowan, nee Barrie - born 25 December 1822, Paisley. Died Sandymount, Otago 12th May, 1908
The above couple were married on 31 st December, 1844 and to them were born the following
Son William - Accidently killed in Wanganui in sixties.
Daughter Mary - Married William Geary, Farmer, Portbells
Daughter Jane - Married Henry John Guildford, Carpenter, Owaka.
Daughter Hannah - Married Daniel Weir, Farmer, Owaka Valley
Daughter Marion - Married Robert Weir, Farmer, Sandymount The above two Weirs were brothers.
Daughter Janet - Married M Davis, Farmer, Sandymount. She was born on the voyage.
Daughter Ruebena - Born and died at Andersons Bay