(1763 - 1865)
JOHN GUILFORD (THOMAS (KILLIGREW) GILFORD2, THOMAS1 GULLIFORD) was b: 1863 to parents Thomas Guilford (b: 1737 in Burbage, Wiltshire, England and mother, Rebecca Skitterel and bapt: 21 Apr 1763 in Burbage, Wiltshire, England
John d: at Burbage aged 93Y and was bur: 3 Jan 1855 at the Burbage Parish Church.
JOHN GUILFORD, occ: labourer, mar: 18 Jun 1787 in Pewsey, Wiltshire, England to JANE JENNINGS .

Jane Jennings was bapt: 2 dec 1764 at Manningford Bruce, Wiltshire to parents John (Job) Jennings (1740-1826)and Elizabeth nee Jackson (1742/-).

With no proof that John was a tenant farmer, his working on the land from an early age, meant he would have been very knowledgeable about the many aspects of agricultural work in the Burbage area where they lived and capable of tackling a wide variety of tasks as well as reading the weather, improvising solutions to problems, and using natural resources to feed his family.

The farm labourer's tasks included ploughing, harrowing, rolling, sowing seed, tending and weeding a variety of crops, harvesting with scythe, sickle and spade, and laying up and threshing during the winter. The animals had to be herded and milked, and give skilled help at lambing and shearing times. There was cutting, drying and stacking hay, as well as trimming and laying hedges or building drystone walls, fencing and making gates, making or mending roofs of thatch, tile or slate, and pointing brickwork. Ditches, culverts, drains, ponds, farm roads and tracks all had to be made and maintained. In autumn stubborn invasive weeds needed to be skillfully eradicated by fire, and every item needed in the home had to be constructed on days when the weather was too poor to work outside. Not every agricultural labourer possessed, or needed, all of these skills but the seasonal nature of most work demanded that he be versatile and, naturally, the more capable he was the better wages he could command.

The children would scare birds, pick stones, plait straw, and weed fields. The older girls were expected to assist their mother in handicrafts, cooking, cleaning, raising chickens and other household chores, whilst boys from about the age of seven would work beside their father in the fields. Schooling, except for an hour of Sunday School, was almost unheard of for labourers until at least 1870, as even if a charity school existed they could not be spared to attend it.

Men working on the farm traditionally wore linen smocks, a dress-like garment with plenty of fullness allowing movement. They were made in a number of colours, and often had elaborate embroidery on the sleeves and neck openings. The smock was an outer garment worn over a shirt (which doubled as a night shirt), waistcoat and breeches fastened with a button, buckle or tape beneath the knee. Stockings, boots, sometimes gaitors and a hat completed the ensemble. Until about 1840 long trousers were only worn by sailors and very poor shepherds.

His wife Jane, would have been responsible for their poultry, brewing and dairy produce and she would accept paid work of this kind outside her considerable domestic duties whenever she could. This might also include picking stones, weeding vegetables, fruit picking or binding sheaves and stooking at harvest. (Src: "England Agricultural Occupations (National Institute)
An account of the Hemp Wheels Bought by Thomas Bright Gale and John Church 1794(?) - [WRO 831/13] Background Information: Under the Poor Law Act of 1601 the parish Overseer could collect rates for the relief of the poor. One of several ways the monies could be spent was in providing materials with which the poor could be put to work. The year 1794 was one of considerable hardship throughout the land and so, presumably to relieve some of the burden on the Poor Rate payers, it was deemed beneficial to spend a considerable amount on the provision of these 73 spinning wheels (plus the hemp needed to go with them). Seventy families received this aid and this is possibly about 30% of the households in the parish at the time. The wheels would only be given to those physically capable of operating them and so excluded the very aged or infirm, it gives an indication of the level of destitution at this time.
John and Jane Guilford's children: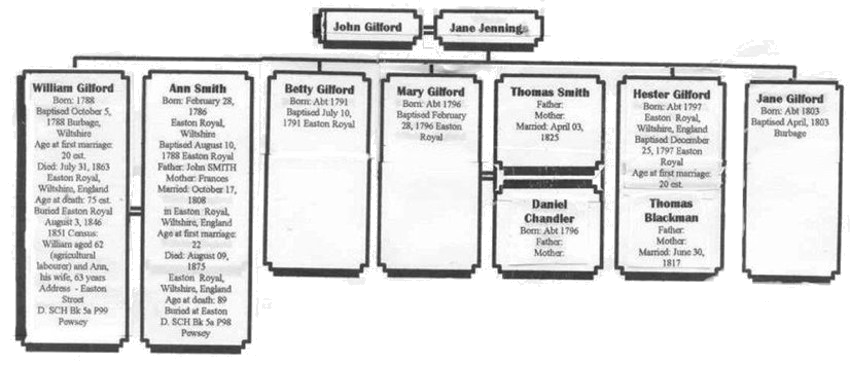 John Guilford's Timeline:
John age 1 - Bapt: Burbage, Wiltshire, England Apr 21 1763 - his parents Thomas Guilford b: about 1737 in of Burbage, Wiltshire, England and mother Rebecca Skitterel
1764 John age 1 - Birth of Brother Stephen Gilford(1764–1846) Bapt 12 Jan 1766 Burbage
1868 John age 5 - Birth of Sister Rebecca Gilford 20 July 1778 at Burbage
1787 John age 24 - Marriage on June 18 1787: John Guilford occ: labourer; mar: at Burbage, Pewsey, Wiltshire on 18 Jun 1787 to Jane Jennngs (b: 2 dec 1764 to John and Elizabeth Jennings of Burbage (1763–1842)
1788 John age 25 - Bapt; of son William Gilford (Guilford) (1788–1846) on 5 Oct 1788 at Burbage, Wiltshire, England
1791 John age 28 - Bapt: of dau: Betty Guilford 10 Jul 1791 st Burbage - she d: 1796

1796 John age 33 - Bapt: of dau: Mary Guilford 28 Feb 1796 1798 John age 35 - Bapt: of dau: Hester Blackman (born Guilford) 25 Dec 1798 at Burbage,Wiltshire. 1802 John age 39 - Bapt: of daughter: Jane Gilford/Guilford 1 Apr 1804 at Burbage, Wiltshire 1808 John age 45 - Marriage of son: William Gilford/Guilford at Easton Royal on 17 Oct 1808 to Ann Smith of Easton Royal. 1810 John age 47 - Death of Father Thomas Gilford(1742–1810) bef. Dec 1810 1810 John age 47 - Death of Mother Rebecca Gilford nee Skittrell (b: 1743; d: 25 Dec 1810 at Burbage) 1817 John age 54 - Marriage of daughter: Hester Guilford 30 Jun 1817 to Thomas Blackman (b: 22 Feb 1795 in Burbage; he d: 06 Aug 1853 in Devizes, Wiltshire. 1825 John age 62; Marriage of daughter: Mary Guilford to Thomas Smith Burbage, Wiltshire, England on Apr 3 1825 - he d: 20 Sep 1829. 1825 John age 84; Marriage of daughter: Mary Smith nee Guilford to Daniel Chandler at Burbage on 8 Jun 1837

1841 John age 78 - Census June 6 1841 Steep, Burbage, Wiltshire, England with dau Mary and husband Daniel, 45, Butcher,b WIL, Mary Chandler, 45, b WIL, John Guilford,78, Ag Lab, b WIL, wife Jane Guilford, 75, b WIL, Mary Guilford,,14, b WIL, Thomas Major 3, b WIL

1842 John age 79 - Death of wife: Jane Guilford (b: Jennings - 1763–1842) on 18 Mar 1842 Bur: 19 Mar 1842 Burbage Cem. 1846 John age 83 - Death of son: William Gulford/Guilford Easton Royal, Wiltshire, England on July 31 1846 1849 John age 86 - Death of daughter: Hester Blackman (born Guilford) Burbage, Wiltshire, England on June 19 1849

1851 John age 88 - Census: John Guilford b Burbage, Wiltshire, Occ: Pauper Living with Daniel CHANDLER (son-in-law) age 55, Head Mar Labourer b Burbage Wiltshire; his dau Mary Chandler Mar 55 Burbage Wiltshire; Thomas Major


1855 John age 92 - Death at Burbage, Wiltshire, England on Jan 1 1855 and bur: on Jan 3 1855 Burbage Cem. Descendant input to up-date family pages is very welcome - more detailed information available on request.