1825 - Mary mar: 3rd Apr 1825 in Burbage to Thomas Smith (b: 24 Jan 1796 in Burbage, son of Thomas and Sarah Smith)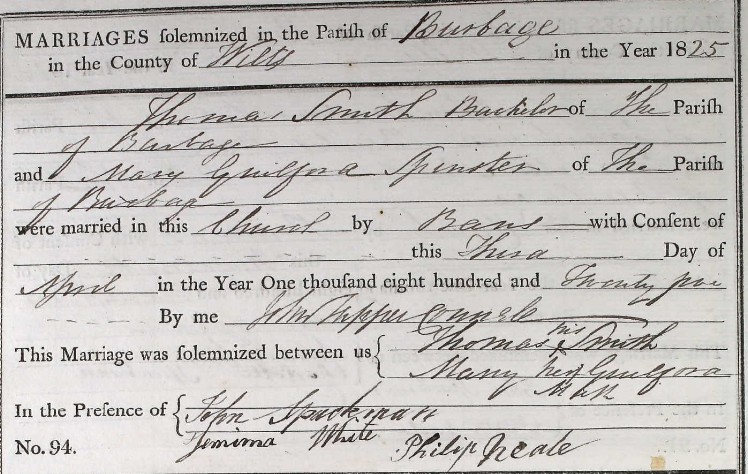 1826 - Their son John Smith was bapt 03 Dec 1826 at Burbage.

John was only 3 years of age when his father Thomas d: 20 Sep 1829 at Steep - he was bur: at Burbage

Mary married (2) Daniel Chandler on 08 Jun 1837 in Burbage Wiltshire, son of William Chandler and Mary. He was b: 1794, and d: 09 Jan 1864 in Devizes.
Daniel's family: b:of Sister Ann Chandler(1796–) Burbage; b: of Sister Mary Chandler(1798–) Burbage; d: of Brother Walter Chandler(1788–1798) Burbage; b: of Sister Elizabeth Chandler(1800–) Burbage; d: of Father William Chandler(1752–1834)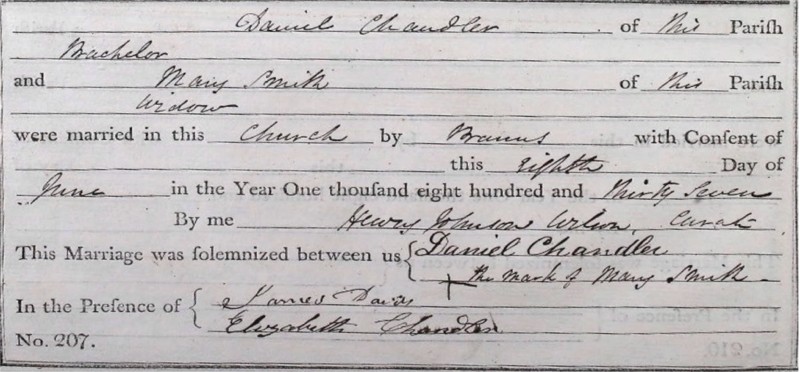 1841 Census - Household: Daniel Chandler Head 45Y b: Wiltshire; Mary Chandler wife 45Y b:Wiltshire; her parents John Guilford 75Y b; Wiltshire; Jane Guilford his wife 75Y b:Wiltshire; Mary Guilford (dau of Mary's sister Jane14y, she was brought up by their parents; b. Wiltshire; Thomas Major M 3 Wiltshire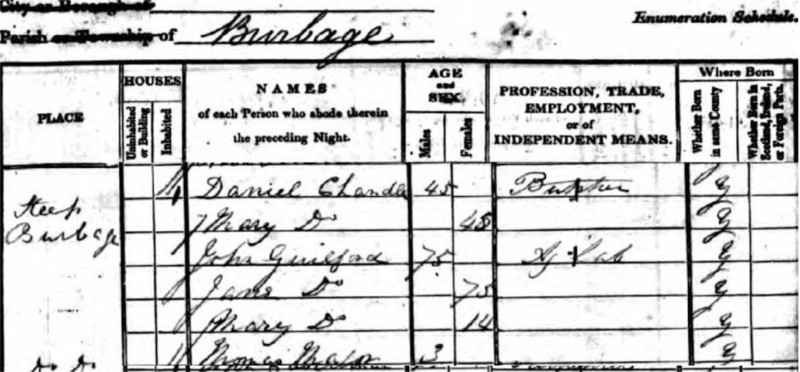 1851 Census: Residence 1851 • Burbage, Wiltshire, England Daniel 55Y; wife Mary 55Y; Mary's dad John Guilford 88Y pauper; Thomas major nephew 13Y
1861: Daniel and Mary Chandler are living at Stibb, Burbage, pauper

Daniel: Burial: 11 Jan 1864, Burbage

1861 Mary Living at Stibb, Burbage,married age 68, pauper, born Burbage.
1871 Living with sister Jane at Stibb, Burbage, Wilts age 77, widow, annuitant, born Burbage
Died - 16 Jun 1879 aged 85Y; Burial: 18 Jun 1879, Burbage 85Y
- - - - - - - - - - - - - - -
Mary and Thomas Smith's son, JOHN SMITH born 03 Dec 1826 in Burbage. He married RACHEL COLE 09 Oct 1851 in Burbage Wiltshire, daughter of HANNAH COLE. She was born 1829.
Marriage 9 Oct 1851 • Burbage, Wiltshire, England to Rachael Cole (1829–1873)
Birth of Son Frederick Smith(1852–1909) b: 1852 • Burbage, Wiltshire, England
Birth of Son Alfred Smith(1855–) abt 1855 • Burbage, Wiltshire, England
Birth of Daughter Mary Ann Smith(1860–) abt 1860 • Burbage, Wiltshire, England
Birth of Son Thomas Smith(1863–) abt 1863 • Burbage, Wiltshire, England
Birth of Daughter Sarah Smith(1865–) abt 1865 • S Savernake, Wiltshire, England
Birth of Daughter Elizabeth Smith (1869–1934) abt 1869 • S Savernake, Wiltshire, England
1871 Census; Residence South Savernake, Wiltshire, England; 1871 Name: John Smith Age: 45 b: abt 1826 Head; Spouse's Name: Rachel Smith 42; Alfred Smith 16; Thomas Smith 8; Mary A Smith 11; Sarah Smith 6; Elizabeth Smith 2; Rachel's mother Hannah Cole 65
1873 Death of Wife Rachael Cole(1829–1873)
1881 Census Name: John Smith Age: 53 Estimated birth year: abt 1828 Head b: Burbage, Wiltshire; Address: Hatt Gate No 1, Widower Occ: Gardener (MD); Household Members: Mary A. Smith 20; Elizabeth Smith 12
1891 Census Name: John Smith Age: 64 Head Occ: Farm labourer Birth Year: 1827; Child: Elizth Smith 22 b: Burbage