Click Slide menu on left
JOHN GUILFORD was the son of William Guilford and Ann Smith, was b: Oct 14, 1810 in Easton Royal, Wiltshire, England. He d: June 01, 1895 in Wanganui Hospital and was bur: June 4, 1895 at Old Wanganui Cem.
He mar: ANN PLANK Apr 5, 1834 in Easton Royal, Wiltshire, daughter of THOMAS PLANK and JANE STONE. She was b: July 24, 1808 in Burbage and with their three sons, they immigrated to New Zealand in 1851. Ann d: July 14, 1862 at Christchurch Hospital from her home Papanui Road, Christchurch and was bur: in the Methodist section in Barbadoes Street Cem.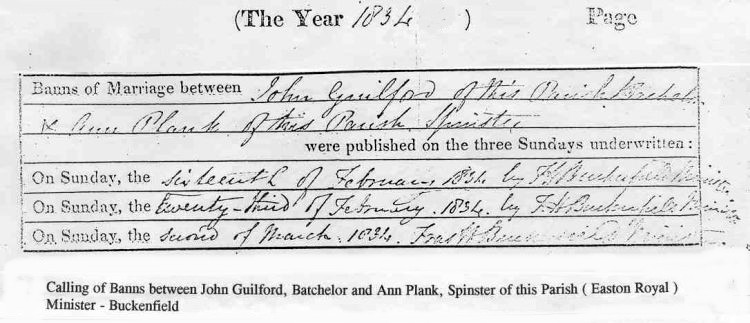 Holy Trinity Church, Easton Royal, Wiltshire
Children of JOHN GUILFORD and ANN PLANK
1. ELIZABETH (ELIZA) GUILFORD b. June 13, 1835, Baptism: July 5, 1835 Wiltshire; d. Dec 20, 1835, Easton Royal, Wiltshire.
2. WILLIAM HARRISON GUILFORD was b: Oct 22, 1838 in Abergavenny, Monmouthshire, Wales, and d: Oct 30, 1906 at Tarata, Taranaki where he was bur. He mar: ANN BENBOW Aug 23, 1866 in "Ladymoor" Waitohi, Temuka, daughter of WILLIAM BENBOW and MARY POSTON. She was b: Feb 05, 1849 in Nash, Salop County, and d: June 29, 1930 in New Plymouth where she was bur: July 2, 1930 at Te Henui Cemetery. Their 18 Children
3. JAMES GUILFORD was b: May 01, 1841 in Abergavenny, Wales. He mar: (1) CATHERINE (KATE) LYNCH August 17, 1874 in Pleasant Valley, Geraldine, the daughter of HUMPHREY LYNCH and was baptised May 22, 1857 Kilnamartery, Macroom, Cork. Kate d: Oct 19, 1889 in Wanganui and was bur: Old Town Cem., Heads Rd, Wanganui.

They had 12 Children

James re-married Apr 6, 1892 at Eastown, Wanganui to EMMA ELIZABETH JOHANNAH SCHWASS

, daughter of CHRISTIAN SCHWASS and ANNA ROSE. Emma was b; Nov 9, 1865 in Upper Moutere, Nelson, and d: Sept 28, 1945 at Auckland and was bur: at the Waikumete Cem. She and James had 4 children.

She later remarried in Oct 1925 widower Thomas McKean who had 2 children.

4.GEORGE GUILFORD b. July 03, 1844, Easton Royal; Baptised Aug. 4th, 1944 Easton; died August 06, 1847 and bur: August 8th, 1847 Easton Royal
5.JANE GUILFORD b. July 03, 1844, Easton Royal; d: at birth
6. HENRY JOHN GUILDFORD was b: Nov 21, 1846 in Easton, Wiltshire and d: May 22, 1912 in Kew Hospital, Invercargill. He was bur; May 25, 1912 at St Johns Cemetery, Invercargill. He mar: JANE COWAN Oct 08, 1875 in Owaka, Catlins, daughter of ROBERT COWAN and JANE BARRY. She was b: May 01, 1854 in Mearns, Renfrewshire, Scotland, and d; Dec 8, 1932 in Dunedin, Otago. Bur: Dec 11, 1932, Andersons Bay Cem., Dunedin. Their 10

Children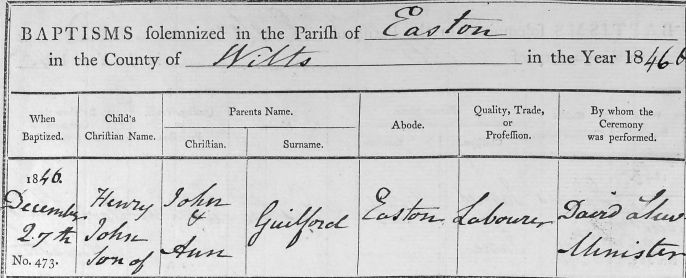 7. LUCY GUILFORD b: Nov 21, 1846, Easton Royal, and d: Sept 1850, Brighton, England just before the family left for New Zealand.
Images and data used in this site copyright - ©

Descendant input to up-date family pages is welcomed - more detailed information available on request