Click Slide menu on left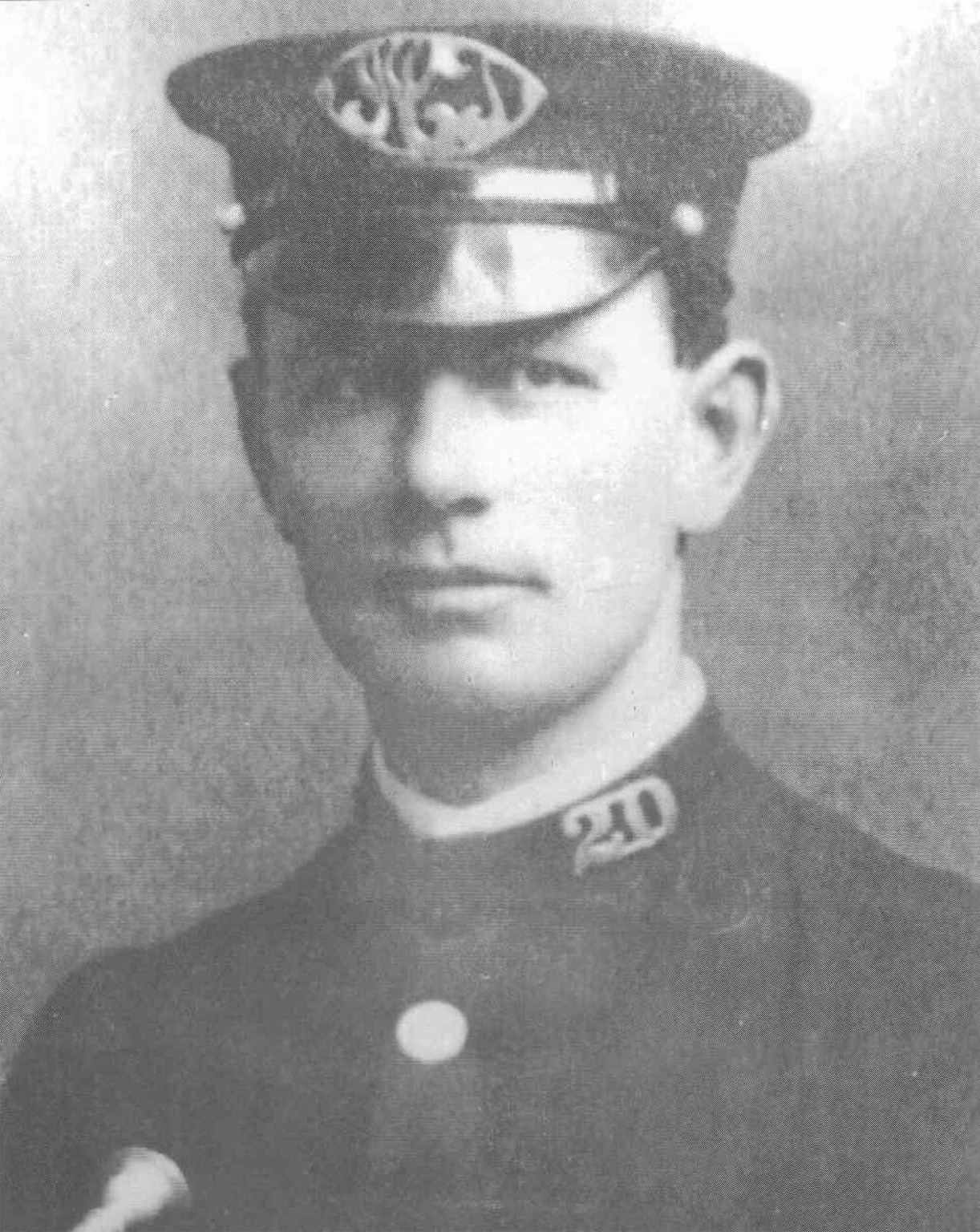 ROBERT COWAN GUILDFORD was b: to parents Henry John and Jane Guildford on 04 Dec 1885 at Kennington, Invercargill, and d: 21 Nov 1918 from the inflenza epidemic at Kew Hospital, Invercargill aged 32Y. He was bur: the followng day at St John's Cemetery, Invercargill.
Robert mar: feb 21 1909 to MAY LLOYD in Invercargill. She was b: 10 May 1888 in Makarewa, Otago to father Richard Lloyd (b: 04 Jan 1863 in Spring Bay Tasmania, Australia; he d: 31 Mar 1940 in Dee St Hospital, Invercargill) He came to Invercargill 1874 where he mar: 18 Feb 1884 to Sarah Ann Collinson (b: 06 Aug 1867 in Woodeaton, Oxfordshire, England; d: 14 Feb 1954 in Waikiwi, Southland). Their Lloyd children were:
1. Richard Lloyd (b: 14 Oct 1884 in Makarewa, Otago; d: 21 Feb 1965 in Invercargill 80Y) Mar: 13 May 1912 Ann Jane Hunter (b: 1882; d: 1942)

2 Sarah Ellen Lloyd (b: 30 Sep 1885 in Makarewa, Otago; d: 1890 in Invercargil)

3 May Lloyd Mar: Robert Cowan Guildford

... *2nd - 1920 partner of May Lloyd was Prosper Butler Harpur (b: 23 Nov 1894 in Catlins; d: 23 Jun 1978 in Christchurch 83Y Bur: Rangiora

... *3rd Husband of May Lloyd: Mar: 04 Jun 1922 to John Stewart Thomson (b: 02 Apr 1892 in Stewart Island (Jun 17 1888?) d: 07 Dec 1935 in Invercargill)

4 William Thomas Lloyd (b: 14 Apr 1890 in Makarewa, Otago; d: 24 Jun 1915)

5 Edith Mary Lloyd (b: 13 May 1891 in Winton, Otago; d: 1918) mar: 1914 to George Miles Turnbull

6 John Henry Lloyd (b: 25 Jun 1893 in Winton, Otago; d: 05 Aug 1893)

7 Francis (Frank) Elias Lloyd (b: 03 Aug 1894 in Invercargill; d: 09 Nov 1964 in Dunedin) Mar: 09 Feb 1918 to Lucilda (Lucy) Swintn Diston

8 Caroline Ellen Lloyd (b: 08 Feb 1895 in Winton, Otago; d: 30 Sep 1980 in Dunedin) Mar: 1923 to James Lowe Wilson

9 Myra Susan Lloyd (b: 11 Jan 1897 in Winton, Otago)

10 Victoria Elizabeth Mabel Lloyd (b: 30 Mar 1898 in Winton, Otago; d: 1942) Mar : 1930 to Richard John Moyle

11 Cecilia Frances Lloyd (b: 29 May 1899 in Otautau, Otago; d: 1986)

12 Retha Collinson Lloyd (b: 1900; d: 1983) Mar: 1921 to Allan McDonald

13 Alice Unita* Irene Lloyd (b: 1902; d: 1997)

14 Lorna Lillian Lloyd b: 04 Sep 1903; d: 1965)Mar: 1922 to Frederick Buchanan Snr

15 Edith Evelyn Phyllis Lloyd (b: 1905; d: 1993) Mar: 1947 to Leslie Vernon Unwood .

16 Cyril Geoffrey (Jeff) Collinson Lloyd (b: 09 Jan 1908; d: 25 Feb 1989 in Invercargill, Southland 81Y Bur: Hastings) Mar: 1931 to Queenie Matilda Alsweiler (b: 27 Jun 1908 in Invercargill; d: 1998 in Invercargill 90Y)
In 1911 on Invercargill electoral roll; Robert (occ: blacksmith) and wife Mary Guildford are living at Nelson St, Trafalger
1913: Residence Sydney St, Nth Invercargill; Robert is employed as a motorman with the Invercargill Tramways; WW1 - 1915: category Second reserves; In 1918 he was elected Employers Union Vice president.
Horse drawn trams operated in Invercargill between 1881 and 1912 and then, Invercargill became one of eight New Zealand cities to operate an electric tram service.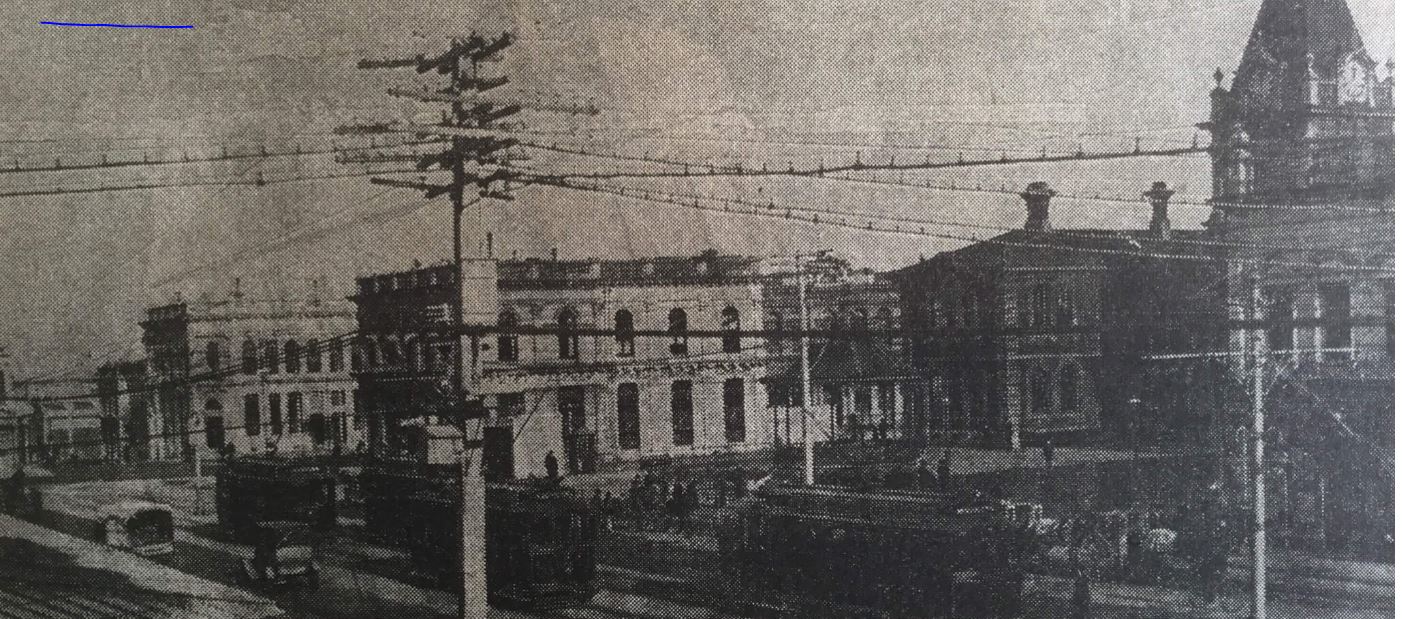 The construction began in January 1911 when two lines of 4 ft 8 inch standard gauge track were laid and opened on 26 March 1912, The network operated as two routes: Route A ran between Georgetown and Waikiwi and Route B between North and South Invercargill. and served the suburbs of Waikiwi, North Invercargill, Georgetown and South Invercargill. Ten trams were manufactured by Boon and Co of Christchurch..(Source: Stuff News 2009)
In the central business district, the system was single tracked with many double track passing loops past the Yarrow St junctiont and the Tweed St junction about a mile from the Post Office towards South Invercargill. The tram operators had to follow a working timetable that told them to the minute when they would pass another tram on one of the passing loops. Automatic points had been installed at the other major junction at Yarrow St but not at Tweed St. Passenger loadings were heavy on the Friday late shopping nights with two trams running on each of the four routes plus special short workings between Mary St on the North Invercargill line and Earn St on the South Invercargill line. There were no automatic points at this junction. Trams passed the junction in both directions and some trams turned on to the Georgetown line every eight to 10 minutes. The hard-working tram operators who drove the trams and took fares with the aid of the famous Denver fare box had to jump out and manually change the points to travel to Georgetown or South Invercargill.
| | | | |
| --- | --- | --- | --- |
| | | | |
DEATH: 1918 Southern Cross: Guildford: At Invercargill, on Thursday, Nov 21, 1918, Robert Cowan, dearly beloved husband of May Guildford; aged 31 years. (Private internment).

1918 On Nov 21 at Invercargill Robert Cowan second beloved son of Jane and the late Henry John Guildford; aged 32 years Deeply mourned

Bur: 22 Nov 1918, St Johns Cemetery, Invercargill; Classification General Block 17 Plot 35A

Southland Times 27 Nov 1918: 1918; The passing of the late Robert C Guildford occured after a short attack of influenza following upon a cold. He was a man, straightgoing, conscientious and highly respected by all who knew him . "Bob" as he is almost universally called, was a tramway employee and a prominent member of the 8th Regimental Band. The funeral took place on Friday last and was attended by Mr E G Foster, Inspector Glancefield and a large number of tramwaymen and members of the Garison Band. At his work he was considered one of the most efficient men in the service, and besides having the whole-hearted respect of his superior officers, he was a general favourite on the trams and will be missed by many patrons of the cars, especially women and children whom he was always ready and anxious to assist. He had been in the tramway service since 1913. His band activities dated from 1911 and the dependability which characterised him in other walks of life was evident here. His sudden demise from influenzia, following so closely upon the close of war, seems particularly hard in view of the immense amount of patriotic work he had done. He was keenly looking forward to the return of "the boys". He leaves a widow and five children. He was the son of Mrs H J Guildford living at Lauder

Southland Times 5th Feb 1919: MUNICIPAL THEATRE. TO-NIGHT: WEDNESDAY And TOMORROW (Thursday). The Merrymakers. KOSTUME KOMEDY KOMPANY. PROCEEDS FOR GUILDFORD BENEFIT. No Early Doors. Doors opened 7 p.m. sharp. There are a few seats left, both in Circle and Stalls, which can be booked at Begg's for To-nights Entertainment.

Southland Times 6th Feb 1919 AMUSEMENTS. MUNICIPAL THEATRE. TO-NIGHT TONIGHT The Merrymakers KOSTUME KOMEDY KOMPANY. PROCEEDS to GUILDFORD BENEFIT. The Merry Makers played fo a PACKED HOUSE. Last Night. ONE VERDICT Carried Unanimously SPLENDID. IF YOU DON'T SEE THE MERRY MAKERS then you MISS A TREAT.

Southland Times 3 Oct 1919: EIGHTH REGIMENT BAND: RECORD OF WAR WORK. "At the commencement of the war the 8th Regiment Band determined to leave no stone unturned in doing its share of war work," says the Band's annual report. "From the First Reinforcement to the Twenty-eighth, which left in March, 1917, the members played the recruits to the station, the express leaving at 6.10 am. They also played in the Theatre at the send-off the previous evening. Soon after the early express ceased to run the Reinforcements left by the mid-day express. This was a more satisfactory arrangement. It is gratifying to record that the Band never failed in giving the boys a fitting send-off. The parades, by the way, were not compulsory. During the running of the Queen Carnival in the early war period, the Band paraded thirty-five times, assisting not only the Army and Navy, whom it represented, but also the other sections. During that time the Band journeyed to Winton, Otautau, Woodlands, and Bluff, arriving home early in the morning. Later on the Band attended recruiting rallies, patriotic concerts, garden fetes, sports, etc., welcomed returned soldiers, and sending off recruits, including the Sixteenths, which were played away from Dunedin, and the Fourteenth Mounted, which left Bluff. When the war commenced there were fifty members on the roll, and at present thirtyeight names figure on the roll of honour. It is worthy of note that the Band rarely turned out with less than thirty men during the war. This was due to the consistency, patience, and determination of the Bandmaster, Lieutenant Lithgow, who accomplished splendid work. During one period, when players were becoming scarce, he attended the Band room four times a week, teaching two different classes of beginners, as well as carrying on with the Band. Another member who has never omitted to do whatever he could in keeping the Band in a financial position, and who specialised during the war in looking after those on active service, was the worthy secretary, Corporal J. Stewart, who saw that the Band earned enough money to send each member on service a tin of eatables, and also that every member on leaving Invercargill was presented with either a wristlet watch, safety razor, or some other useful article. Special mention must be made of Bandsman J. Cox, who has seen thirty-five years continuous service, and is still to-day one of its most active players. The honorary members must also be complimented on their support during this period, when their assistance was most needed and greatly appreciated. Amongst the many duties of the Band is the very sad one of attending military funerals. This it has been called upon to do oftener than in times of oeace. as some of our brave men have returned only to make the great sacrifice, whiles others have passed away in the various camps in New Zealand. The Band had the sad duty of playing the late Dr McNab to his last resting place, and also for the memorial service for the late Lord Kitchener. It also records with regret the loss of three of its members on active service, Bandsmen J. Darragh, Clark, and Barlow and also Bandsmen P. Gardiner and R. Guildford, who passed away during the influenza epidemic. In the death of the late Lieutenant-Colonel J. E. Watson the Band lost one of its best followers and supporters, a man who was looked upon as a father to the Band. His proudest moments were when he headed his Regiment with the Band playing his favourite march, "Waldmere." Almost as suddenly as it started the war ceased, and from the surrender of Bulgaria till the declaration of peace the Band once again had been called upon to go through a busy time. In conclusion, we find that during the five years, from August 4, 1914, till August 4, 1919, the Band paraded 790 times of this number 299 were for patriotic purposes."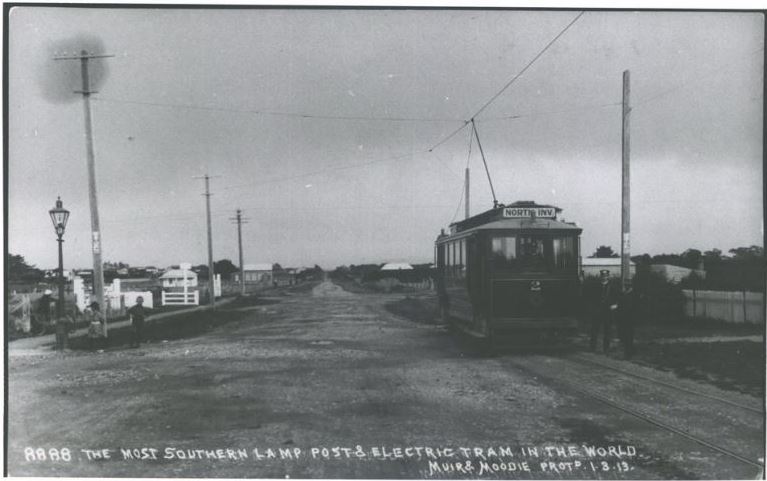 Children of ROBERT GUILDFORD and MAY LLOYD are:
i. MAY LLOYD GUILDFORD (b. 23 Apr 1910, Invercargill; d. 15 Dec 1962, Invercargill 52Y) mar: 1949 to JOHN (JACK) FRANCIS STORRIE b. 04 Aug 1916; d. 11 Feb 1972, Dunedin 55Y.

ii. ROBERT (BOB) COWAN GUILDFORD (b. 15 Apr 1911, Invercargill; d. 08 Dec 1967, Martinborough, Wairarapa).

iii. IAN RICHARD (GILLY) GUILDFORD (b. 11 Mar 1913, Invercargill; d. 29 Jan 2003, Eltham, Taranaki) mar: 1946 LUCY (PAT) CATHERINE GREY b. 04 Jun 1915; d. 24 May 1980, Eltham.

iv. DAPHNE ELLA GUILDFORD b. 04 Apr 1915, Invercargill; d. 23 May 2009, Auckland.

v. AVON COLLINSON GUILDFORD, b. 22 Jun 1916, Stewart Island; d. Influenza epidemic 07 Dec 1918, Kew Hospital, Invercargill aged 2 1/2Y., bur: with his father St Johns Cemetery, Waikiwi, Invercargill
Images and data used in this site copyright - ©
Descendant input to up-date family pages is very welcome - more detailed information available on request.