Alice Humphris (B: 20 Mar 1889 in Waitaki, Waimate to father Valentine John* Humphris and mother Jessie Jack Rodger; she d: 18 Jul 1936 in Waimate; Bur: 20 Jul 1936 Old Waimate Cem.)

Alice mar: 26 Oct 1910 to William Harper (b: 29 Oct 1885 in Oamaru to parents William John Harper and mother Johanna nee Conroy; d: 05 Mar 1973 in Timaru; Bur: 06 Mar 1973 Old Waimate Cemetery)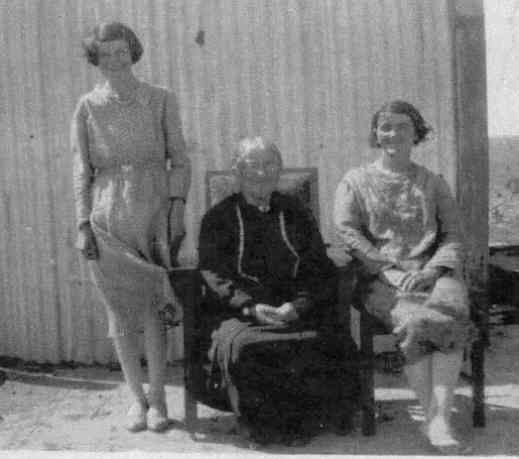 Three generatons: Granddaughter Veda Alice Harper, Jessie Humphris nee Rodger and daughter Alice Harper
Their children:
i. Mary Ellen Harper Born: 03 Feb 1911 in Makikihi Died: 30 Dec 1995 in Timaru Burial: Waimate Old Cemetery with parents Alice and William
ii. Eric Roger Harper Born: 17 Feb 1912 in Makikihi Died: 15 Mar 2002 in Timaru Burial: Timaru Cemetery Married: 1938 Gladys Mary Sullivan Born: 06 Jul 1913 Died: 30 Aug 1976 in Otaio, South Canterbury Burial: Timaru Cemetery Their 3 daughters are:
a. Patricia Mary Harper Born at Waimate maried William G (Bill) Edgerton Their children are are Michelle Patricia; Brent William; Karen Lynette; Paula Tracey; Kelly Joanna and Tracey Petrina Edgerton

b. Noeline Alice Harper Born: Waimate mar at Timaru to Richard John (Dick) Brennan Their family is Kevin Richard; Marie Noeline; Nicola Mary and David Brennan

c. Shirley Anne Harper Born: Otaio, South Canterbury mar. Bryan John Abraham b. Waimate Their family are Craig Eric; Carol Joy; Lynette Kerry d. aged 6 wks 13 Oct 1972; Phillip Blair and Vaughan Richard Abraham
*2nd Wife of Eric Roger Harper was Amy Merania Tullett b. 23 May 1900 Mar. 1980 d. 1998
iii. Veda Alice Harper Born: 03 Dec 1914 in Makikihi Died: 16 Sep 2004 in Timaru Burial: Timaru Cemetery mar. 1935 John James (Jack) Robb Born: 24 Jun 1903 in Hawera, his parents David and Alison Robb; he d. 03 Aug 1954 in Timaru. Their children:
a. Lillian Robb Born: Timaru mar 1959 at Waimate to Douglas Frank Bailey b. 20 Jan 1906 He d. 19 Oct 1984 Their sons - Alan Douglas, Gordon Frank and David Ross Bailey

b. William David (Bill) Robb mar. Jannette Audsley Family are Harold; Christopher James; Alison Lynette; Wendy Marie and Matthew David Robb

c. Donald Robb Born Wairau, Marlborough mar. Valerie Joan Brown have 2 children - Lianne and Mark Damian Robb

d. Alan Robb Born Wairau, Marlborough mar. Janice Mary Thomas have 2 children - Andrew John and Tanya Michelle Robb

e. Robert John (Bobby) Robb mar. Noella Frances Westphall have 3 children - Hamish Gareth; Charlotte Emma and Bridget Amy Robb

f. Kenneth James (Jimmy) Robb
iv. Jessie Mabel Harper (b: 20 May 1916 in Makikihi; d: 19 Aug 2015 at Blenheim aged 99Y) mar: 1946 to Thomas Vincent Healy (b: 03 Apr 1915 to parents Michael and Catherine Healy. He d. 17 Mar 1978 in Wairau Hospital, Blenheim and bur. 20 Mar 1978 Fair Hall Lawn Cemetery, Blenheim. Their family:
a. Josephine Cecilia Healy Born in Christchurch

b. Gerard Vincent Healy Born in Wairau, Marlborough mar Anne Christine Batchelor Their 2 sons are Christopher Vincent and Benjamin Thomas Healy

c. Frances Mary Healy Born in Blenheim mar Edward Stafford Coster in Hamilton. They had 2 sons Cory Stafford and Morgan Richard
v. Cyril Henry Harper Born: 04 Aug 1918 in Waimate Died: 07 Jul 2004 in Ashburton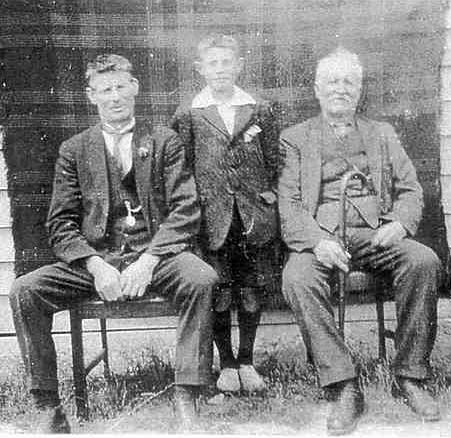 Three generations - William, Cyril and William John Harper
vi. Norman William Harper Born: 1920 in Waimate Died: 16 Aug 1923 in Waikaka, Gore where he is buried.
vii. Cecelia Anne Harper Born: 18 Oct 1923 in Gore Died: 07 Nov 1982 in Gisborne buried Taruheru Cemetery. Gisborne; mar. Charles Henry Russell born 17 Nov 1908 in 224 Bury Rd., Rochdale, England mar. Oct 1946 in Tokomaru Bay, East Coast. His parents: Phillip Russell and mother Sarah nee Bamford. He d. 06 Jul 1991 in Gisborne bur. 6 Sep 1991 Ruatoria RSA Plot. Their children -
a. Dorothy (Dot) Alice Russell Born Waipiro Bay, East Coast mar. Gisborne to Robert Francis Schimanski b. Te Awamutu - his parenst Reg and Cleata Schimanski. Their family are Karen Marie; Michael Joseph b. Tokoroa mar. to Jan - dau is Michelle; James (Jimmy) Robert mar Madeline Griselda Shore - sons are Daniel and LeviSchimanski; Luke Andrew Charles b. Tokoroa; Ivan Francis mar Angky Marsusi b. Indonesia - daus. Tania and Gabriel; Helen Marie; Tokoroa; Jeanette Marie b. Wellsford; Anna Marie b. Wellsford

b. Patricia (Patty) Anne Russell b. Waipiro Bay, East Coast mar Donald Eric Smith at Gisborne bur. Napier. Children Terrence James and Denise Anne Smith b Wairoa.

*2nd Husband of Patricia (Patty) Anne Russell mar Brett Howard Ingham Their children Kim Stewart and Kurt Alexander Ingram b Auckland

c. Kathryn (Kathy) Mary Russell b. Waipiro Bay, East Coast mar. at Auckland to James Holwill b. London to parents Cyril Holwill and Marjorie nee Bolton. Died 20 Aug 1989 at Gisborne Bur. Taruheru Cemetery, Gisborne. Their children - Kevin Joseph b Auckland mar. Kerrianne Gibbs; Rachael Anne mar Tim; Erin Elizabeth b Gisborne; Mathew James; Lisa Kathryn Holwill

*2nd Husband of Kathryn (Kathy) Mary Russell: James Langmer

d. Timothy Charles Russell Born Waipiro Bay, East Coast
viii. Lucy Margaret Harper Born: 23 Sep 1926 in Gore Died: 09 Apr 2009 in Timaru; Married Ray Lester Boyd their children:
a. Marilyn Agnes Boyd mar. Barry Francis Hollands have 2 girls Sonia Maree and Karen Rachel Hollands

b. Valerie Margaret Boyd mar. Alan Ronald Dunn Their sons are Christopher Ronald; Matthew Johnathan; and Steven Timothy Born: 1980 Died: 1998 in Timaru

c. Carlyle (Lyle) James Boyd mar Mary Therese Wilson Their children are Hannah Renee; Rebecca Jayne and Alexandra Boyd

d. Stuart Raymond Boyd mar Jackie - their family Tara and Isaac Boyd.
ix. Sister Dorothy Madeline Harper (Sister of Mercy) Born: 23 Aug 1928 in Gore Died: 31 Aug 1996 in Blenheim