Charles and Jessie Trezise
CHARLES TREZISE and wife JESSIE JANE VALENTINE nee HUMPHRIS married April 29, 1908 and they lived from 1914 at the Tara Settlement, Waihurunga near Makikihi.
Invitation to Charles and Jessie's wedding at the

home of Jessie's parents at Waitaki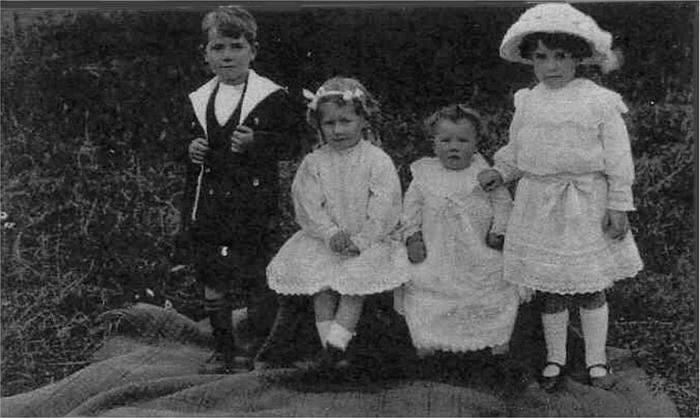 Charles and Jessie's children - Joseph, Sylvia, Hazel and Annie Trezise (abt 1914)
Evening Post, 13 March 1914, Page 2 LAND BALLOT TARA AND LANSDOWN SETTLEMENTS. TIMARU, 12th March. A good deal of interest was taken in the ballot at Waimate to-day for two Crown settlements, Tara 3623 acres of second-class land in eight sections, and Lansdown, 2070 acres of first-class land in nine sections.
For Tara there were 98 applicants, 60 going in for one lot, and for Lansdown 76; Most of the sections fell to South Canterbury and Oamaru people, one Leeston resident and one Mosgiel resident being the farthest away. The results of the ballot were as follows, (the numbers applying are in brackets.) Tara Estate (second-class land) No. 2, 450 acres, rent £84 16s 8d : Jessie Tresize, Morven (8)
The following year, in July 1915, both Charles and Jessis died of influenza within days of each other. They were buried at Waimate Cemetery and their six children - son, Joseph aged 6 and five daughters Betty 3 days, Dulcie 1 year, Hazel 2 years, Sylvia 4 years and Annie aged five years were without parents.
Jessie died at Nurse Storey's Nursing home at Waimate. Having had influenza for a week and pneumonia, her baby was induced three days prior but Jessie succumbed to cardiac failure.
After 10 days of influenza Charles developed pneumonia affecting both lungs and died at Mrs Henderson's Nursing Home, Waimate. They are buried at Waimate Old Cemetery 716 G
Children of CHARLES TREZISE and JESSIE HUMPHRIS are:
i. JOSEPH VALENTINE TREZISE, b. 28 Nov 1908, Waimate; d. 21 Jul 1971, Oamaru Public Hospital; m. FRANCES CHARLOTTE MOOREHEAD; b. 02 Dec 1905; she died 13 Jul 2002.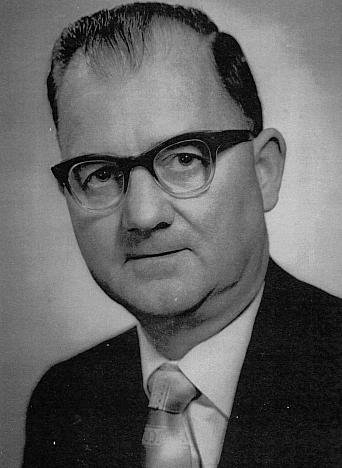 They had two Dunedin born children, Olga Valentine Trezise who married George Edward Tyler who have children, Karen and Mark Tyler and son, Errol John Trezise.
JOSEPH was first admitted to the Makikihi school in Febrauary 1914 and following his parent's deaths in 1915, Joe and sister Annie were brought up by Rod and Edie Menzies of Morven.
Obituary: Joseph Trezise entered local body affairs as assistant to the county clerk at Waimate and for 20 years, from 1935 he was town clerk of St Kilda and it was in June 1955 that he was appointed town clerk at Oamaru. He was an executive member of the New Zealand Institute of Town Clerks and Municipal Treasurers for 12 years and spent four of thewm as secretary. He was elected vice-president in 1968 and served as president for 18 months. A justice of the Peace, Mr Trezise served overseas in World War 2 and was active in RSA affairs being an executive member and vice president. He served on the Oamaru Airport Committee and Civil Defence organisation and was secretary for both. He was interim secretary for the first six months of the Oamaru Licensing Trust, served on the North Otago Progress League and for two years, was a member of the North Otago Bowling Centre. Joseph Trezise was a past president of the Phoenix Bowling Club, an elder of Columbo Church and a member of the Masonic Lodge. He was local agent of the Patriotic Fund Board and organiser for the annual appeal for the blind. Their home was at 26 Greta Street Oamaru and at Oamaru Public Hospital, aged 61 years, Joe died 21 Jul 1971. He was cremated at Andersons Bay and his ashes were interred Burial Plot 12
ii. ANNIE CHRISTINA TREZISE, born 05 Dec 1909, Waimate; and both she and brother Joseph were brought up at Morven by uncle and aunt Rod and Edie (nee Trezise) Menzies after their parents died in 1915.

Annie Christina was 43 years old when she married John Douglas MacIntosh in 1953 and they had no children. Doug was born 4 July 1907 at Oamaru, the son of Duncan and Catherine (nee McKay) McIntosh. This was his second marriage - his first was in 1932 was to Tui Margaret Jane Geary. She died in 1940 and their two children were John and Susan. Doug was an Insurance inspector and Annie and he lived at 135 Stenhope Crescent, Dunedin. He had retired when his death occured 19 Feb 1985 and he was cremated on 22 Mar 1985 Anderson's Bay Cemetery. Annie died 18 Jun 1983 aged 73 Years. Her cremation 21 Jun 1983 at Andersons Bay Cemetery.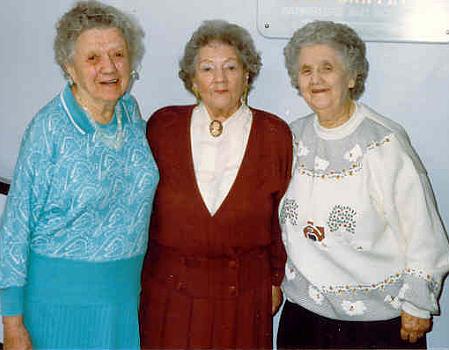 Left: Trezise sisters - Betty, Molly and Gwen; Right: Gwen and Dulcie
iii. SYLVA GWENDOLINE (Gwen) TREZISE/PATERSON, b. 28 Dec 1910, Waimate and was fostered from 10 Jul 1915 and formally adopted on 17 Jul 1917 by James Crawford and Margaret McFarlane Paterson of Lincoln.
James Paterson was born 16/9/1870 Largs Scotland son of John and Agnes (nee Crawford) Paterson. James studied at Glasgow University for his MA and after assisting various ministers in Scotland came to New Zealand 1902 and was ordained 8/9/1902 at Flemington, Christchurch as a Presbyterian minister. He served from 1907 at Maheno, at Albury 1914 and was at Lincoln when he and Margaret took Sylvia into their family. He went next to Owaka 1924 but ill health caused him to resign the following year and he died at Oamaru after a long illness on 16/7/1933 aged 62. "He was of a quiet and somewhat reserved nature, a man of gracious personality, true piety, exact scholarship and genuine Christian character". Margaret Paterson died 22/2/1962 aged 85 years
GWEN PATTERSON married CHARLES HENRY DEAR on 9th March 1943, Victoria, Australia. Their children are:
i. MARGARET PATERSON DEAR mar. Stanley (Stan) John Whitfield Their daughter Andrea Louise Whitfield
ii. GWEN MARY DEAR mar. Werner Joseph Scherubl. Their children 1. Carol Ann Scherubl mar to John Lloyd and 2. Wendy Scherubl mar Greg Cartwright with family Savannah Michelle and Zachery Joseph Cartwright
iii, JOHN DEAR
iv. HENRY CHARLES DEAR mar. Cheryl Hayes v. SHIRLEY JUNE DEAR mar. Douglas Turner. Their children are Rachael Heather, Katrina Jane and Anita Shirley Turner
vi. HEATHER JOYCE DEAR mar. John Charles McKenzie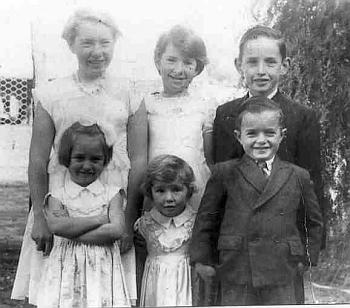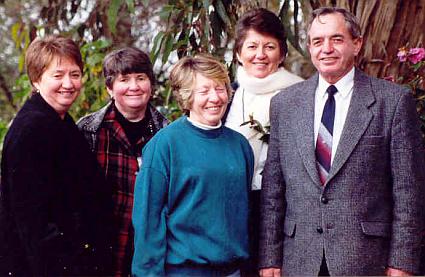 | | |
| --- | --- |
| Left at Back- Margaret, Gwen, John; Front: Shirley, Heather and Henry Dear | Shirley Turner, Gwen Scherubl, Margaret Whitfield, Heather McKenzie and Henry Dear |
iv. HAZEL (MOLLIE) VERONICA TREZISE/SIMPSON, b. 19 Jan 1913, Innes Street, Waimate
Mary Hazel (and sister Elizabeth Jessie Tresize) were adopted on 20 Jan 1916 by George Smith and his wife Elizabeth Margaret Simpson. Hazel was renamed Mary Hazel Veronica Trezise by her adoptive parents and nicknamed Molly.
In 1939 MOLLY SIMPSON married LESLIE FREDERICK (NORMAN) GERRIE. He was born 07 Jan 1913 and died 16 Apr 1992, Dunedin. Molly, a widow, moved to a Christchurch resthome in 2001 and she died 4 Mar 2011.
Daughter of Molly SIMPSON and LESLIE GERRIE was YVONNE MARGARET GERRIE, born 1940, Dunedin. She married ROBERT DUNCAN WILSON in 1963 and she died 29 Mar 2000 in Dunedin. Their two daughters are Penelope Lisa and Jacqueline Kaye Wilson
v. DULCIE LILIAN JESSIE TREZISE/HALLIWELL, b. 03 May 1914, Makikihi, Waimate.
Dulcie's adoption was registered 13th September 1918 to Herbert Theodore and Mary Barnwell Halliwell. Herbert was born 16/7/1880, the son of Ellen and George Halliwell of Kohukohu. He married Mary Barnwell McFarland in 1913 and was a Solicitor of Hawera. He died 1944 aged 81 years and Mary, his wife died the following year aged 78.
DULCIE HALLIWELL married FREDERICK GEORGE STABLES in 1940. Fred was born 25 December 1913 and died 30/7/1999. Dulcie died 31 Jul 1992.
Their two Auckland born daughters are BEVERLEY MARY STABLES m. ..PHILLIPS and VALERIE JUNE STABLES m. DESMOND JOHN DWIGHT
vi. ELIZABETH (BETTY) JESSIE TREZISE SIMPSON, b. 10 Jul 1915, Nurse Storeys Nursing Home, Waimate.

Her adoption was registered on 20 Jan 1916, (with sister Mary Hazel Veronica) to George Smith Simpson and Elizabeth Margaret Simpson, Business manager and lived at 56 CARGILL STREET, Dunedin. George was born 1863 in Scotland, an accountant and came to New Zealand in 1912. He died 3 June 1938 aged 75 years and his wife died 29 Mar 1939, the year following, aged 71.
Betty married ALFRED VIVIEN MESSENT ARTHUR in 1938 and she died 28 Mar 1995 aged 80. Fred was born 10 July 1914 and died 9 June 2001 aged 87 years.
Their family:
i. Alfred Trevor Arthur mar Margaret Hall
ii. Noel Wayne Arthur mar Helen May Waters
iii. Merilyn Anne Arthur mar Phillip James Harnett
iv. Ivan Lawrence Arthur mar Yvonne Ruth Dawson
Images and data used in this site copyright - ©
Please
and replace # with @ in my address. All pages have Sound