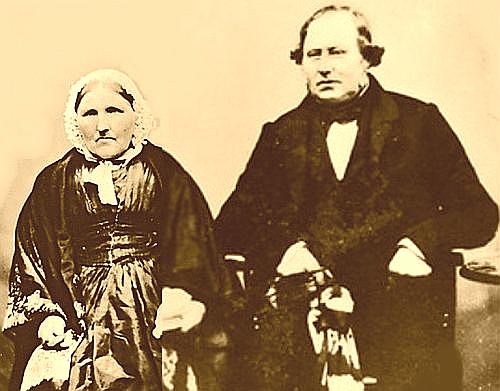 John and Frances Perry
John Perry was b: 03 Aug 1795 in Wendron, Cornwall, the son of John Perry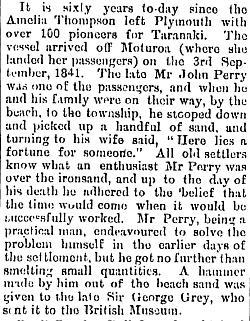 and Elizabeth Thomas. He was a carpenter by trade and d: 04 Aug 1879 aged 84 yrs at New Plymouth where he was bur: 07 Aug 1879 at Te Henui. He mar: 30 Oct 1820 in Wendron to Frances (Fanny) Pascoe (b: 31 Jul 1798 in Wendron and d: 16 Jul 1872 in New Plymouth aged 75 yrs and bur: 19 Jul 1872 Te Henui cem.) They immigrated to New Zealand on the "Oriental" in 1841
In 1848, Mr. John Perry, carpenter, and an old settler of the province, made an attempt to smelt the iron sand by erecting a small furnace, on the banks of a small stream, which flows into the Huatoki river on the Carrington Road. Mr. Perry was encouraged in this work by Governor Grey, who promised him a lease of the sand, if his experiments were successful. Mr. Perry found a great difficulty in the fineness of the sand, which made its way to the bottom of the furnace before the fire could operate upon it with sufficient power to smelt it. Some small quantities of iron were, however, produced by him, and forged into small articles by Mr. Wood, the blacksmith.
After this, Mr. C. Sutton made some experiments in the same direction on the town cliff, near to Mount McCormick, but was unsuccessful.
Their children:
i John Perry (b: 1821) John chose to remain in Wendron where he mar: 19 Dec 1843 to Fanny Pascoe (b: abt 1823; d: 14 Mar 1870 aged 47 yrs and bur: 15 Mar at Te Henui Cem.) They immigrated later arriving on April 5 1857 on the "Cashmere" Capt. G. Pearson from London with 5 children. John d: 02 Jun 1860 at New Plymouth aged 39 yrs. Their family:
i Jane Pascoe Perry (b: 2 Apr 1844 Cornwall, d: 25 Jul 1921); mar: 4 Aug 1870 to Edwin Thomas Harrison (b: 11 May 1845, d: 1929) Their children

1 John Perry Harrison (b: 1872, Bur. 1920 Te Kuiti) mar: Mary Stewart in 1898
2 Louis Edward Harrison (b: 1873, d: 18th March 1899 aged 26)
3 Frank Ernest Harrison (b: 1875, Bur. 1928 Fielding) mar: Elsie Robinson Fletcher in 1906. She d: 1988 age 102
4 Arthur Henry Harrison (b: 1876 d: 22 Feb 1901 Naausport South Africa, age 24. Commemorated Fielding Cem. L03.04
5 Thomas William Harrison (b: 1878 d: 1961 aged 83 Fielding Cem.)
6 Alice Mary Harrison (b: 1878, d: 1966 Bur. Te Henui Cem.) mar Charles Edward Honeyfield in 1902. He d: 1927 aged 56 Bur: Te Henui Cem.

ii Bennet Pascoe Perry (b: 1846 Cornwall, d 1904 aged 58 Bur. Terrace End Cem. Palmerston Nth)

iii Elizabeth Perry (b: 1849,Cornwall. d: 1 Dec 1910 Fielding ) mar 1867 to David Henry* Rutherford (b: 20 Oct. 1841, d: 30 Dec 1902 at Colyton, Fielding) Their c

hildren:

1 John Perry Rutherford (b: 1867, Fielding; d: 1940 aged 74) Occ: Stock agent at Feilding, mar: Kate Farley 1895
2 Kate Annie Rutherford (b: 1868, d: 1937) mar: 1894 to William Torr Oakley (d 1942 aged 77) Occ: Farmer

3 Emily Rutherford (b: 1870, d: 1943 aged 73) mar: 1890 to Richard James Stewart (d: 1944 aged 82)
4 Minnie Alice Rutherford (b: 1871) mar 1897 to Horace Dixon
5 Walter Henry Rutherford (b: 1872) Occ: Farmer Fielding; mar 1896 to Jessie Fergisson McInnes
6 Mary Ellen Rutherford (b: 1874) mar: George Blandford Healey in 1901 (d: 1925 Feilding)
7 Olive Mary Rutherford (b: 1876) mar: Alexander Brown in 1903
8 Amy Elizabeth Rutherford (b: 1877) mar: Alexander McDougall in 1901
9 Florence Mabel Rutherford (b: 1879) mar 1914 Gordon Swaine Babbage
10 May Ethel Rutherford (b: 1881) mar: 1906 to James Northcote
11 Frank Wilfred Rutherford (b: 1883) Mar Annie Stewart 23 Apr 1907 at Dannevirke (father John Stewart, Dannevirke)
12 Percy Clive Rutherford (b: 27 Sep 1885) mar: 1905 to Isabella Louisa Laing
13 William Horace Rutherford (b: 1888, d: 1959) Occ: farmer Kiwitea, Foxton Bch; mar: Harriet Wise Hicks on 24 May 1911 at the Wesley Church, Fielding (father John Edward Hicks)

14 Leonard Norman Rutherford (b: 1895


iv Francis Perry (b: 3 Mar 1852 Cornwall, d: 1929 aged 77; Bur. Terrace End Cem. Palmerston Nth)
v Frances Perry (b: 1856 Cornwall, d: 1946 aged 90)
vi Sarah Ann Perry (b: 1 Sep 1860 New Ply. d 1945 aged 85)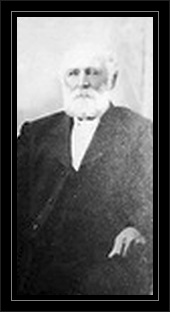 Bennet Perry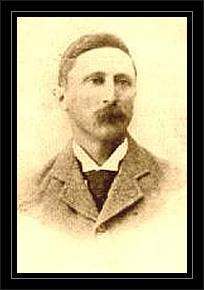 William Perry
ii Bennett Pascoe Perry

(b: 28 Apr 1822 in Praise Cowan, Cornwall; d: 25 Dec 1894 MI Masterton Cem) mar: Mary Ann Masters,

a daughter of Joseph Masters (Masterton was named after him) Their children were born at "Penrose" Taratahi, Masterton. Mary d: 1895
1 John Pascoe Perry (b: 1859, d: 1947 aged 89, MI Masterton Cem.) mar: Edith Ann Perks 1887

2 Bennet Pascoe Perry (b: 1861, d: 1929 aged 70, Bur. Anderson Bay Cem. Dunedin)

3 William Perry (b: 1863, d: 20 May 1956, aged 93, Bur. Masterton Cem) mar: 1891 to Margaret Jane Bridson

4 Joseph Walter Perry (b: 1864, d: 1963 aged 98, Crem. Karori Cem. Wgtn) mar: 1906 Catherine Maud Drummond

5 Frances Edwin Perry (b: 1866, d: 1949 aged 80, Bur. Martinborough Cem) mar: 1899 to Ellen Lillie Amelia Nicholls

6 George Henry Perry (b: 1868, d 1949 aged 78, MI Masterton Cem) mar: 1896 Ann Elizabeth Rawlings

7 Fanny Sarah Perry (b: 1870) mar: 23 Dec. 1876 St. Matthew's Church, Masterton to Raymond White Marshall (d: 1916 age 72, Bur. Karori Cem.)

8 Mary Masters Perry b: 1872 mar: 1881 Charles Frederick Gawitt

9 Ellen Perry (b: 1874)

10 Jessie Gertrude Perry (b: 1875, d: 1889)

11 Elizabeth Perry (b: 1876)

12 Katherine Ann Perry (b: 1878) mar: 1899 Walter Edward Charles Tylee

13 Alice Lethbridge Perry (b: 1880) mar: Sep 1895 at Taratahi to Mr. Alfred Avery of the Wellington Government Insurance Department

14 Florence Perry (b: 1882)

15 Julie Perry (b: 1884)
iii William Perry b: 1824 in Crowan, Cornwall, d: the same year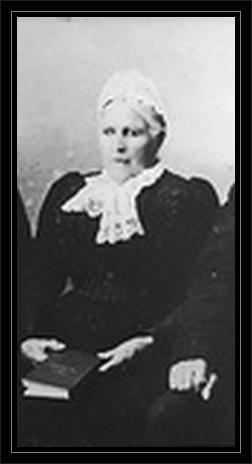 iv Mary Palfrey Perry (b: 09 Apr 1826 in Crowan, Cornwall, d: 23 Nov 1913 aged 86, MI Omata Cem.) mar: Thomas Harrison


(Birth: 11 Apr 1822; d: 16 Apr 1893 aged 71 yrs; MI Omata Cem.) His father, Alfred Valentine Harrison and third wife Jane emigrated to New Zealand on the "William Bryan" in 1841. along with his second son, Thomas. His eldest son William, with his wife and two children followed a year later on the Timandra. The family lived for a time at Waiwakaiho and Thomas and William went to farm at Poutoko, Omata. Their family;
1 Edwin Thomas Harrison (b: 11 May 1845, d: 11 May 1929, MI Fielding Cem.) mar: Jane Pascoe Perry 1870 (d 1921 aged 78 Bur. Fielding Cem.)

2 John Perry Harrison (b: 15 Feb 1846 d: 1920 Bur. Te Kuiti Cem.) Mar: Caroline Sarah Hunter in 1898.She d: 1918 Bur. Old Te Kuiti Cem.

3 Elizabeth Harrison ( b: 31 Jan 1848, d: 1848 New Plymouth)

4 Thomas Harrison (b: 15 Dec 1848) mar: Mary Cruikshanks 1907

5

Frederick (Frank) Perry Harrison

*** (b: 11 Dec 1850, d; 1921, MI Masterton Cem) mar: Maria Dixon 1872

6 Bennet Perry Harrison (b: 9 Dec 1852; d: 11 Nov 1938 age 86, Manaia Cem.) Mar: Sarah Hooker in 1879. She d: 1939 aged 80, Bur. Manaia Cem.

7 Valentine Harrison (b: 12 Jul 1855, d 1912; Bur. Hawera Cem.) mar Emily Mitchell in 1877. She d: 1926, Bur. Hawera Cem. aged 71

8 Elizabeth Ford Harrison( b: 1857, d: 1925) mar

Thomas Bayly Penwarden

in 1875

9 Mary Jane Harrison (b: 19 Aug 1859, d: 1 Apr 1941) mar: Richard Arthur Northward in 1880

10 Charles Harrison (b: 14 Sep 1861) mar: Lavinia Dillon in 1890

11 William Alfred Harrison (b: 25 Jul 1863) mar: to Jessie Imlah Reid in 1901

12 Herbert Harrison (b: 21 May 1865, d: 19 Dec 1925) mar: Harriet Mary Jeffries in 1897

13 Kate Annie Harrison (b: 27 Feb 1869) mar: Matthew William Thomas Merry in 1897

14 Frederick (Fred) Harrison (b: 30 Jun 1870) mar: Ellen Maria Bishop in 1897

Frances Perry

Elizabeth Perry

Edwin and Sarah Perry
v Frances (Fanny) Perry (b: 22 Jul 1827 in Crowan, Cornwall, Bapt: 22 Jul 1827, d: 23 Feb 1888 in Turakina, Taranaki; Bur: 25 Feb 1888 Turakina Cemetery) mar: 26 Aug 1851 in New Plymouth Wesleyan, Taranaki to George Yates Lethbridge (b: 14 Nov 1820 in Ermington, Devon Occ: 1855 Butcher / Farmer (Father: Richard Lethbridge, Mother: Louisa Mary Yates) d: 03 May 1902 in Turakina Bur: 05 May 1902 Turakina Cemetery)
vi Elizabeth Perry (b: 1829 in Crowan, Cornwall d: 9 Jul 1918 age 89, Bur. Te Henui Cem) mar: 1852 to Samuel Ford (b: 1806, d: 1860 aged 54 yrs)
Their children: Charles Ford; Norman Ford; Kate Ford; Frances Ford and Emma Ford
vii William Perry (b: 25 Jan 1835 in Crowan, Cornwall d: 10 Oct 1865; Age 32 Bur. Te Henui Cem. New Plymouth)
viii Frances Pascoe Perry (b: 25 Nov 1837 in Crowan, Cornwall d: 04 Jun 1870)
ix Walter Perry (b: 1839 in Crowan, Cornwall d: 11 Jun 1914 aged 75 Cem. Masterton) mar 1865 to Sarah Dixon
Mr Walter Perry, one of the pioneer settlers of the Masterton district, had arrived at New Plymouth with his parents in 1841, he died aged 75 years. He served in the Maori war in Taranaki, and was one of the first members of the Maeterton Borough Council
x Edwin Thompson Perry (b: 27 Mar 1841 at sea d: 06 Jan 1922) mar: 13 Dec 1864 in New Plymouth to Sarah Keturah Ford
31 Mar 1922: Hawera 7 Normandy Star: "Fifty-one" writes: Just a few lines in remembrance of Taranaki's pioneer settlers. The William Bryant landed the first pioneer settlers at Moturoa on March 31, 1841, followed six months later by the Amelia Thompson. Of the William Bryant's passengers I cannot say anything, but I think there are one or two still alive. Of the Amelia Thompson I call to mind Mr. William Dawson Webster, who was born on the voyage out; Mrs. R. Jury (nee Miss Grylls), and Mr. John Grylls. Another birth took place on the Amelia Thorny , son—Mr. Edwin Thompson Perry, who died a short time ago in New Plymouth. Both infants were awarded i names commemorative of the voyage— i Dawson after the. captain, and Thompson after the ship. The foundation of Taranaki was well and truly laid by as 'sturdy a band of pioneers as ever sailed from the shores of the Old Country' and to the few who are left of the first voyageurs I take off my hat.