Hidden Slide Menu on Left
Below, Smith Page Index

Bernard Crompton Smith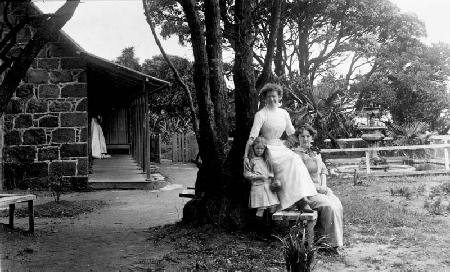 Richmond cottage, New Plymouth
Bernard Crompton Smith was b: 1870 in New Plymouth to parents Percy and Mary Ann Smith - he d: 13 Feb 1958 in Havelock North aged 87Y.
Taranaki Herald, 15 Mar 1907: At Wellington, Wednesday Mr Bernard Crompton Smith, son of Mr Percy Smith, was admitted as a solicitor of the Supreme Court
Marlborough Express, 16 Jan 1909: Picton is at last to have a resident lawyer. Mr Bernard Crompton Smith, solicitor, of Wellington, who has decided to practise his profession in that town, was trained in the office of Messrs Martin and Atkinson, of Wellington, whose senior partner is one of the leading authorities on local government law in New Zealand, and whose books on that and other legal subjects are known throughout the country. Mr Smith is a nephew of Mr Stephenson Smith, of Blenheim, Commissioner of Crown Lands, and is son of Mr Percy Smith, of Now Plymouth, late Surveyor-General, the widely-known authority on Maori, his history and traditions. Local golfers will welcome .Mr Smith as an enthusiast
Oct 1911: The second chamber concert given by Miss Rachel
Richmond
(piano), Miss M. Donaldson (violin), and Mr. F. R. Johnstone ('cello) takes place this evening in the Sydney Street Schoolroom, and lovers of music will do well not to miss it.
Rachel Crompton-Smith was a teacher and in 1901 she advertised "The new term at Miss Rachel Richmond's Pipitea Preparatory Sohool and Kindergarten, Wellington, will open on Tuesday next"; in 1908 she is teaching at the Fitzherbert Terrace Boarding and Day school - Bernard Smith's mother, Mary Ann (wife of Percy Smith) is headmistress.
Bernard mar: 07 Apr 1912 in St Pauls Cathedral, Wellington to Rachel Mary Richmond. She was b: 1876 to parents Henry Robert Richmond and mother Emma Jane Parris; Rachel died 1967 in Havelock North
Evening Post, 18 April 1912 Mr and Mrs Bernard Smith (the latter was Miss Rachel

Richmond

)

have taken a house in Remuera.
Rachel started the small St George's School together with her husband Bernard Crompton-Smith at Havelock North in May 1916. The school was co-educational, which was most unusual at the time. Although not a Waldorf School in the true sense, Rachel Crompton-Smith was guided by her increasing knowledge of the education.
A second pioneer of Waldorf Education was Hedwig Julie Weiss who was b: in Basle in 1892. She had heard Rudolf Steiner lecture many times before arriving in New Zealand as a governess. In 1939 she founded a kindergarten based on Waldorf principles at Lower Hutt near Wellington. Later in life she founded and then taught at Hohepa
in Napier, to this day New Zealand's only curative education establishment for children with special needs.
ST. LUKE'S, HAVELOCK NORTH. (Hastings Standard, 1920-05-05)
PAROCHIAL MEETING. The annual parish meeting of St. Luke's, Havelock North, was held in the schoolroom last evening. The Vicar, Rev. Canon Lush, presided over a fair attendance. The Vicar, in his report, said how he would like to see a mother's hostel in the village. He referred to the fact that the Rev. Hall had left them after four year's work amongst them, «nd wished him every blessing. He thanked the members of the choir, and organist and Mrs. .John Nairn for her ever ready help with the organ. To the Rev. F. E. Simcox and Messrs. B. Crompton-Smith and J. I. McLean for helping with the services . Last year's vestry was re-elected as follows: Vicar's Warden, Mr. W. J. Rush; Peoples' warden: Mr. Bernard Chambers; Vestry, Messrs. CromptonSmith, Chas* Ellison, Reginald Gardiner, Dr. Felkin, C. O. Tanner, W. A. Meads, W. Gray, J. McLean, and Messrs. Cushing and Hellyer for Clive. Mr. Crompton-Smith gave a short account of the Church school recently opened. Various other church matters were discussed and the meeting closed with the benediction.