Hidden Slide Menu on Left
Below, Hursthouse Page Index

Charles and Mary Hursthouse
The following notes have been condensed from "HURSTHOUSES and Related Families" by J E Barrett. (14 October 1978) They give an account of some the descendents of Isaac and Mary Jecks, and are of general interest about emigration and early settlement in New Zealand.
John Hursthouse was born at Croft 1st Jan 1745 (d 1806) married 12 Jan 1769 in Worlaby By Brigg, Lincoln to Sarah Hannah (bapt. 8 Apr 1744 Worlaby By Brigg, Lincoln, daughter of John and Amy Hannah; she died 1782) John and Sarah lived at Tydd St Mary's, Lincolnshire and Charles Hursthouse was their last child and only surviving son. John was called "Squire Huttis" by the people and compiled this family tree.
The Hursthouse's home at Tydd St. Mary is depicted in two views, front and back. The family tree was drawn by Mr. Burgess of Fleet in 1796. The house was of the hall type with two cross wings with hall between and the drawings were made by Donald and Elliot Smith on 15th. July 1742. It was most probably built in the 16th. century, but later modernised by the insertion of central dormer windows, in line with the front door into the hall, and five new windows on both the ground and first floors. Chimneys show on the parlour wing and at the opposite end of the hall, while, at the rear, the cross wings protrude.
2020, the house today still exists and is known as Tysdale Manor Sale brochure
of the property sent by Carole.
Great grandson S. Percy Smith said his mother Hannah was told by her father Charles Hursthouse that John Hursthouse was a very clever man, an excellent speaker, full of reparteee and no country dinner was considered complete without him. He lived at the family home at Tydd St. Mary, which he much enlarged - a man of education and refinement and this was illustrated in a clearly written letter to his son Charles when at school at Enfield near London dated 1794. (S.P.H. saw the old house in 1849 when he was taken there by his Aunt Rachel)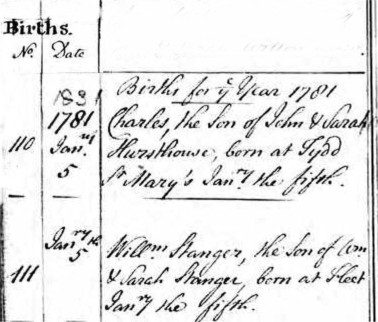 Children of John and Sarah Hursthouse
1 John Hursthouse b: 1770; d: 1770
2 Hannah Hursthouse b: 1771; d: 1821
3 Matthew Hursthouse b: 1773; d: 1773
4 John Hursthouse b: 1775; d: 1775
5 Jane Hursthouse b: 1777; d: 1777
6 John Hursthouse b: 1778; d: 1778
7 Charles Hursthouse b: 07 Jan 1781 in Beccles, Tydd St Mary, Lincolnshire; d: 22 Jun 1854 in Okoare, New Plymouth, NZ
Charles was educated at Mr Bricknells School, Ponders End, North London and farmed his father's estate at Tydd St Mary which during his father's time had become a large property. Allen in his history of Lincolnshire (Vol 1 p.386) says: "Sir Clement Trafford was formerly Lord of the Manor but it has been recently purchased by Chas, Hursthouse Esq." (Thought to be before 1833) Charles was well educated and cultivated but was considered financially irresponsible (statement source - Jecks Family) He was a man fond of science, flowers and trees and in Tydd undertook an enormous amount of planting which earned him public tribute. He owned land, had a business as a timber merchant in Suffolk and made a great deal of money during the French War.
Charles mar: 15 Oct 1806 at the Hemingford Grey Parish Church, Huntingdonshire to Mary Jecks. She was aged just under 21 years so consent of her father was needed and they were married by special licence (Mary was born: 10 Nov 1785 in St Peters, Wisbech; her Father: Isaac Jecks, Mother: Mary Bloomar)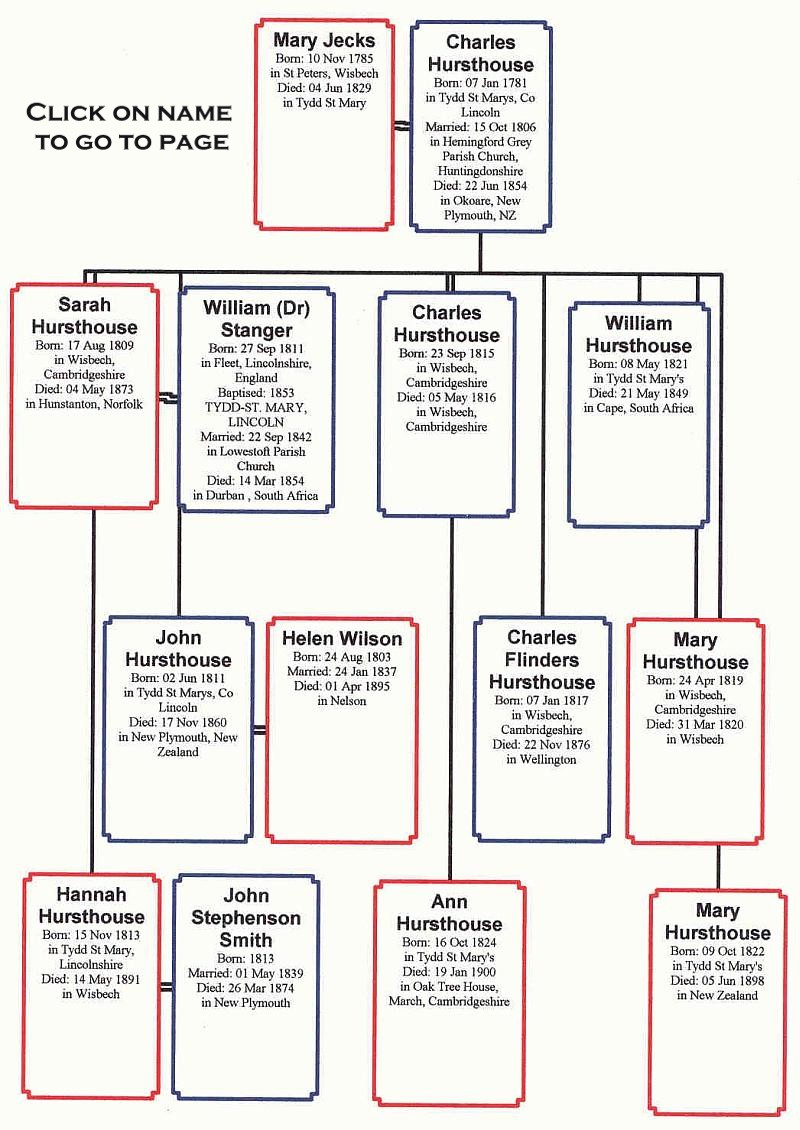 The Hursthouse family returned to Wisbech at 2 yearly intervals for the christening of 6 of the nine children and Sarah, Hannah and Charles jun. were also baptised together on December 7th, 1819 at Dr William's Library, Redcross Street, Cripplegate, London, EC1
Mary died at the Hursthouse home at Tydd St. Mary aged 43 years on 4th Jun 1829 and she was buried at Tydd St Mary's cemetery on June 9th.
"May, my wife, died on Thursday morning, having been confined to her house for 7 months and her bed, 11 weeks. Her complaint was lingering consumption, aged 43 1/2. My dear girls, beware of colds, coughs etc.. C. H. 4th June 1829
The money Charles had made during the Napolionic wars was lost in the depression that followed in the early 1820's and at the time of Mary's death, Charles's finances were at their lowest ebb. In 1824 after borrowing 3,600 Pound for the mortgage from his father-in-law Isaac Jecks, he was forced to sell part of his estate, Tydd Hall to the Rev. W Tennant for 9,999 Pound- it had a mortgage over it and other properties for 14,000 Pound.
Isaac Jecks's death in June 1841 and the distribution of his estate freed some of his grandchildren from the industrial and economic distress of Britain in the early 1840s.
The Hursthouses had already discussed emigration towards the end of the 1830s, and Charles Hursthouse Jnr had travelled to Canada, Australia and America to investigate prospects. He had reported unfavourably on all three countries. Eventually the family decided on New Zealand, settling in New Plymouth, Taranki, on the North Island. The reasons for their choice of that country in preference to the older and more flourishing of Britain's colonies were explained in a letter from Charles Hursthouse: "We do not go to make a fortune but to found a home where we can have abundant employment and where we may all live at health and at ease."
The first members to leave were 31 year old John Hursthouse, wife Helen, and their three children, brother Charles and cousin Thomas Newsham came to New Zealand on the ship Thomas Sparks in 1843.
Charles lived at Tydd until after disposing of his estate, he was employed by his brothers-in-law, Wm and Chas. Jecks, timber and commercial agents and went to live at Lowestoff before going to Beccles to live with his daughter and her husband Stephenson Smith until he, daughters Mary and Hannah with their husbands and children eventually came to New Zealand aboard the 'Pekin' in 1850.
He passed away at New Plymouth on 22nd Jun 1854 at Okoaro, the home of daughter Hannah Smith.