. The uncertainty in England and h
voyage the ship called first at Nelson, then arrived at Wellington on March 11 1843 where it discharged it's passengers and freight before sailing on to Valparaiso.

It is unsubstantiated but descendants believe Thomas and cousin Charles Hursthouse walked overland to New Plymouth taking the opportunity to view first hand their new country - their walk was duplicated in January 1850 by next family arrivals, George Curtis and John Stephenson Smith.
1843: In May the census included Thomas Newsham - this gives us a very accurate insight of New Plymouth just a few months after his arrival. The total white population is 1090 with 690 living in the New Plymouth township and 400 settlers in the surrounding country (in total = 616 males and 474 females - males under 21 formed half the population.) Social class distinction records "upper class" as being 28 capitalists cultivating their own land, 6 leasing land, 215 letting land to farmers, 3 lawyers, 3 medical practitioners, 2 clergymen( both were Dissenters yet there were 401 C of E and
nine Catholics) 13 Government or NZ Company employees (Thomas was one as employed in the police) 2 schoolmasters and 28 surveyors . In all, 117, and 2 schools (one for the "wealthier class" attended by 3 pupils and the other, for the poorer folks children attended by 25; 250 acres of land had been cleared and under cultivation and those settlers had 102 grazing cattle, 849 sheep, 332 swine, 1063 head of poultry 24 miles of road had been constructed and 32,0031 acres had been surveyed - a considerable achievement in just two years!
In 1844 Wakefield wrote (Ref. "Adventure in NZ") "The approach to New Plymouth was through plains almost entirely covered with fern, some as high as 10 ft, then through scattered groves of timber and gentle undulations into valleys and watercourses crossed by several wooden bridges until at last, the line of a road through fern. We passed three or four neat houses with fields indicating a European settlement and a rough suspension bridge being constructed with chains supported on the round trunks of four large tress; then "smiling gardens, neatly hedged and ditched; a forge, a row of labourers cottages and some cob houses in various stages of progress."
Thomas was employed with the police - the first New Plymouth jail was built in of wood and was replaced by a stone jail in 1842 in James Lane, off Devon Street. In 1846 McLean took over as police Inspector and he established a small policing unit and had Maori constables of sufficient tribal standing valued for their specialist knowledge and ability to mediate between the races.
15 Oct 1845: Mr Wickstead sold a suburban section to Mr Newsham and on 10th Sep 1846 Thomas
married MARY LOUISA LETHBRIDGE in Wesleyan Chapel, New Plymouth, the daughter of RICHARD LETHBRIDGE and LOUISA YATES - the family arrived 7th Nov 1841 on the "Oriental.


Mary was born in Ugborough, Devon where she was baptised on 14th Sept 1828.
In 1847 the native owners of the Omata district offered expansion to settlers south of the Sugar Loaves by the possibility of opening up 2000 acres of open land so after much investigation, the purchase from the Taranaki tribe was made with final payment in Sept 1849. It was opened for purchase in 1848, among purchasers was Thomas Newsham. Later, a further Crown grant issued by Governor Grey in Apr. 1850, was added to this area - 12,000 acres plus a 4000 acre "Tataramaka Block" - this enabled settlers to obtain firm title to their holdings.
The main community sprung up around the flat lowland area and at its centre eventually was a school, a bakehouse, a brewery , an inn and a general store. A wooden church was built by Methodist preacher Rev Rbt Ward and erected on land given by Mr Wicksted in the heart of the village and the Anglicans built theirs at the top end of the Waireka Road.
On Oct 16 1848, the shock of an Earthquake was felt at 2 o'clock by most of the settlers in the district... "A very strong South East wind had set in - it increased with much violence until on the 16th at 2am it was followed by a shock of an Earthquake, the strongest that has been felt and longer in its duration than any previously remembered by the European population in the Town of New Plymouth. The principal stores in the place were completely levelled to the ground, the large Methodist Chapel which was opened for worship in Sept 1843 and had been capable of seating 100 and also many houses. The visitation lasted for 8 days." (Source: 19th Century Earthquakes) [Diary entry of 4 Nov: "The Schooner 'Carbon' arrived this afternoon from Wellington bringing information of the dreadful effects of the Earthquake at that place on the 16th")
Omata settlers immediately after taking possession, started clearing their land and constructing their first shelter, usually a basic slab hut and by 1859, ten years on, it was reported "There is no part of New Plymouth in which cultivation has been carried on so thoroughly in the first stages as in the Omata district and the appearance of an active and industrious population is very cheering."(Sketch below "Building a whorry" (whare) by
William Strutt
.)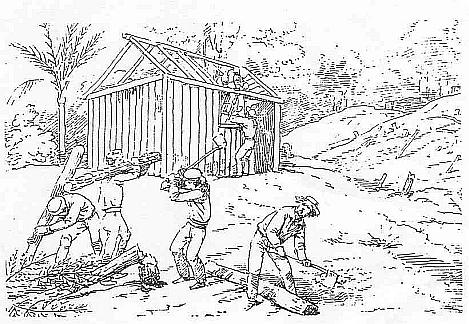 Beyond the Wawakaiho there was wilderness except for Davy's, Smarts and Nairn's farms. The only draughthorse in the settlement was Lightfoot, the property of William Richards however Dalby's bullock Redmond would suffer himself to be harnessed to a cart with shafts and assist in performing a little cartage when required.
1850 was a wet year but all were busy clearing bush and cropping with wheat. Thomas continued to be employed as a policeman and was considered an efficient officer when he was living in town, but now he was no longer visable, he incurred numerous complaints that being stationed at Omata, the Government were now paying him for attending to his private affairs and he "did little policing except to walk to the Barracks in town weekly on a Saturday for orders and back again." Halse asked Thomas in June 1850 if he had any intention of leaving the force. His answer was recorded "that he had replied with a smile that he was quite happy with the present arrangement!" In October thefull pay of one constable became divided by the employment of the Maori officer Hakopa and we find in Sept 1851 Thomas refusing (unless he was put back on full pay) to go to Whanganui with a dispatch for the Governor-in-chief - his name had been put forward as no one else was available and was the only one with the knowledge (another reason behind his selection was possibly "the trifling duties he was required to perform at Omata!".
Police personnel Nov 8 1851: Private R Cock Government Boats), Private J Dunn (Town and general duty) Private T Heale, Private J Johnson, Private Hakopa, Private T Newsham (at Omata) Serg Major H Halse, New Plymouth
4th August, 1852, the Taranaki Herald, the first newspaper published in the province, was started by Mr. William Collins.

1852 Thomas set up a store and also he became an agent for various requirements of the farming sector - sheep dipping compound for cure of parilitical insects in the fleece, cattle needs and people's requirements - eg cards, bills(posters) advertisments etc. printing jobs done by the Taranaki Herald and advertised stock for sale on behalf of various customers eg Oct 1853 - a well bred mare with her first foal.." "One Fine Strong Ox, three years old, and a Yoke about Two years and Six months old. A Small quantity of Grass Seed mixed with Clover. Hay end Oats for Sale...etc.

New Zealand's first parliamentary elections were held in 1853. The right to vote was defined according to sex, age, nationality and the possession of property in New Zealand. 'Aliens' (people who were not British subjects) were specifically excluded, as was anyone who had been convicted of treason, a felony or serious offence, unless he had received a free pardon or completed his sentence.

In January 1854; FOR SALE: "OMATA PLOTS of GROUND suitable for Business Purpose, situated on the estate of Mr. T. Newsham in the most favoured part of the beautiful block of Omata are offered for lease on the most liberal of terms. They possess for the most part a direct Frontage on the Great Southern Road and from their eligibility as building, for parties wishing to follow the trades always required in an active and progressive settlement, are well worth the attention of Old or New Tradesmen. Plans may be seen, and particulars obtained from HURSTHOUSE & SMITH.

A meeting of Omata settlers was held at Mr. Tom Newsham's and as a result of these deliberations, a day of horse racing was held at Omata on Jan 25 1854.

It was a long hot summer - one of summer fires and settlers lacked grass for feeding stock.

In August 1854: TO BE LET: with immediate possession, an eligible cleared FARM at Omata, Section No. 6, late in the occupation of R. Greenwood, Esq., with Dwelling House and other Buildings. For particulars, apply to the owner Mr. T. Newsham, or to HURSTHOUSE & SMITH.

Winter cold and dark; 3 June 1854 "THE Undersigned General Dealers have agreed, from Monday next, to close their establishments — (Saturdays excepted) from the Ist April to 30th September, at 7 o'clock p.m., and from Ist October to 30th March at 8 o'clock p.m. They feel assured that their customers and fellow settlers will cordially accede to a measure which, will release them from the many serious inconveniences which they at present suffer inconsequence of needlessly protracted hours of business - TOM NEWSHAM.P. F. HOSKIN, J. HOSKIN. Mrs A. KING. C. HOMEYER. GEORGE EDWARD DUNCAN. W. R. KING. WILLIAM LAKEMAN. JOHN CROCKER. THOMAS IBBOTSON. WILLIAM BLACK. WILLIAM GRAY. JAMES YEMS. ROBERT GILMOUR. JOHN GILMOUR. THOMAS COLRON. J. C. SHARLAND

Maori opposition to Taranaki land sales was gathering strength and brought heightened uneasiness among all settlers. The Puketapu feud was raging and everyone in the settlement had firearms and well aware of their vulnerability, went into a state of greater preparedness. There was resentment against the Government when Colonel Wynyard advised settlers to organise their own defence.

PROCLAMATION. In pursuance of the authority in me invested by the ' Militia Act, 1858,' I, Thomas Gore Brown, Governor of the Colony of New Zealand, do hereby make and ordain the following Regulations respecting the training and exercise, arms and accoutrements, clothing and equipments, of a Company of Volunteers enrolled in the district of Taranaki, under an order in Council dated the thirteenth day of January, One Thousand Eight Hundred and Fifty-nine.

1. The Company shall be called 'The Taranaki Volunteer Rifle Company,' and shall consist of one Captain, two Lieutenants, four Sergeants, four Corporals, and ninety-two Privates.

2. The arms will be a rifle and bayonet, with accoutrements to be issued by the Adjutant to each volunteer, the value of which, for determining the amount to be paid in case of loss or damage, is hereby fixed at 'six pounds six shillings.

3. The Company shall be divided into the following local subdivisions, viz., the Town, Grey, Omata, Bell, and Hua, and each volunteer shall belong to such one of the sub-divisions as he shall think fit.

4. Drill shall be local and general. The several sub-divisions shall meet for local drill as follows : The Town at some place within the Town of New Plymouth or Town Belt; the Grey at some place within the Grey Block ; the Omata at some place within the Omata Block ; the Bell and Hua -at some place within the Bell or the Hua Block. Such places of meeting and the times thereof to be from time to time fixed by the Captain of the Company.

5. The general drill shall be at such times and places as the Captain of the Company shall from time to time fix for that purpose, subject to the approval of the Governor.

6. Provided always that the time required for attendance on general drill shall not exceed forty-two hours within the year.

Given under my hand at Government House, at Auckland, this thirteenth day of January, One Thousand Eight Hundred and Fifty-nine. "T. GORE BROWNE."

All males in the population were sworn in as special constables. In August 1855 the "Duke of Portland" arrived from Auckland with 250 rank and file of the 58th regiment and along with officers detachments of Artillery and sappers and several field pieces and in September the ship returned from Wellington bringing 210 officers and men of the 65th Regimant. Marshland Hill in New Plymouth was levelled and settlers erected a barracks of galvanised iron brought in from Melbourne.

During the year the Taranaki Maoris cut a line 10ft across the northern face of the ranges adjoining Mt Egmont which they call Iringanui and faces were cut on all prominent trees along the line believing that retaining these ranges would preserve them from the dominence and encroachment of the Pakehas.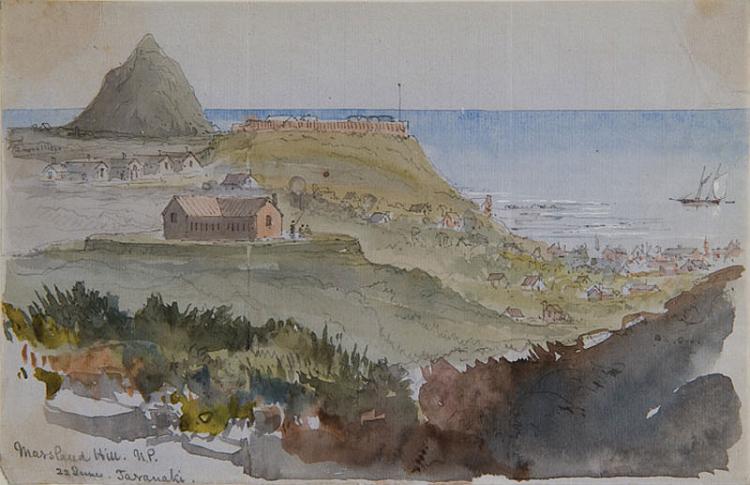 In Nov 1856: TOM NEWSHAM, Omata has for FOR SALE Or EXCHANGE for cattle — AN extra strong colonial built CART with Fowler and Fry's patent wheels and axles. Also— a Drummond's Patent four gallon CHURN;

In February 1858 the Taranaki Militia was called out for training and Chas. Brown was appointed Captain. Each man was given an old smooth bore, musket, a bayonet and pouches and belts of an ancient date. They were drilled by soldiers of the 65th under Major Lloyd who had settled at Omata. He was superceded by Lieutenant Stapp - this duty was found very irksome by settlers many of whom had never handled a musket or a ball cartridge in their lives but was patiently submitted to by the majority.

20 March 1858 Mr F. U. GLEDHILL auctioneer; an extensive selection of CATTLE, offered for sale, on the farm of Mr Tom Newsham of Omata "Advantageous terms available to purchasers."

13 February 1858 OMATA, TO BE LET' for a Term of Years, the DWELLING HOUSE and Premises in the occupation of Mr Gully (the artist), known as the OMATA STORE, with about 5 1/2 acres of rich Land adjoining. A good Business as a general Store has been there carried on, and which is capable of being greatly improved. Also, for a Term of Years, ALL that Farm containing 50 acres, situate at Omata being section No. 8, with the Farm House and Outbuildings thereon in the occupation of Mr Newsham. The above is in a high state of cultivation, well fenced and cross fenced into suitable enclosures of arable and pasture land, and but four miles from New Plymouth. Mr Newsham, the owner, will show the property, and for further particulars apply at the offices of Mr Standish, Solicitor. New Plymouth.

Trouble was seen to be eminent and settlers built the Omata stockade close to the village. Most settlers moved with their families into New Plymouth where the population increased overnight from 930 to 2560. Many took the most portable of their valbles goods and left the rest to fate; others took their perishable goods to town and buried those unlikely to be seriously affected by the earth and farmers returned during the day to tend their stock. The crowded town - all dwelling houses, warehouses and places of worship were filled with fugitives and their affects and this meant conditions were unhealthy and with acold and wet winter, there were many deaths. Evacuation to Nelson was resisted by some who stayed on living in a town virually under seige.
At Omata on the 27 March 1860, three men were murdered - Samuel Ford, a saddler and merchant of New Plymouth, S Shaw and H Passmore, Omata farmers. They were on their way to different parts of the block were shot down by natives concealed behind a furze hedge near the Primitive Methodist Chapel and were afterwards tomahawked. Mr Ford was on his way to see some sheep on Mr Grayling's farm and had that morning ridden out to Moturoa with Mr George and purchased six of his bullocks. Mr Passmore was out with his bullocks and cart for the purpose of obtaining some puriri fencing. His bullocks were both shot in the head and the yoke was taken off and thrown in the hedge. Shaw was with Passmore and on his way to his farm to milk his cows. Mr Gilbert saw a body lying on the road and returned to the stockade and a party was sent and found the three corpses within a few yards of each other.Then two boys, Pote and Parker were reported missing and were found tomahawked. The 65th regiment and 102 volunteers under Lieutenant Blake proceed to Omata with the intention of rescuring any settlers who remained in the district. Settlers abandoned their farms, the men gathering at the stockade to fulfill their militia duties and for safety.

Afternoon Aug 17 1860: All houses in the village were ignited - Miss Shaw's school, Newsham's large store, Ware's Omata inn - the village now has completely ceased to exist
The Omata district suffered more grievously than any other in terms of material damage. Maori forces completely controlled the neighbouring countryside - there was scarcely a home or substantial building that was not either burned to the ground or vandalised to such an extent that the application of a torch could hardly have been a worse fate. The store, bakehouse, library of more than 600 volumes, wheelwright's shop, school, about half a dozen houses and inn were all just a few hundred metres from the stockade - brewery, barns, woolsheds, stables, a total of 71 homes and their farm buildings - all lost. It was to be seven years before farmers were able to safely return to their properties.

From about 1862 to 1864 buildings were erected in New Plymouth's St Germain's Square which was later dubbed Poverty Square, in order to provide temporary accommodation for the family refugees returning from Nelson where they had sought temporary escape from the Land Wars. Conditions were terrible in overcrowded shelters. Today on the site of St Germaine Square stands New Plymouth's Conferance centre and Exhibition Hall.

Thomas found employment immediately after the wars as a Tide waiter -- Customs inspector ie one who waited on the tide to ascertain and collect duty due on goods brought in and who watched the unloading of ships.
1 Oct 1864 - Freehold Property at Omata. FOR SALE A FARM on the Great South Road, 50 acres, opposite the Omata Block house, securely fenced and sub-divided. 50 acres, with frontage on the new South Road from Omata to Poutoko, 35 of which are in grass, the whole nearly perfectly fenced. The site of the Omata Village, acres more or less. The whole unincumbered property. Apply to T. Newsham. LICENSING MEETING. 22 April 1865 The annual Licensing Meeting for the Province took place on Tuesday last, in the Resident Magistrate's Office. The Bench, consisting of Josiah Flight, Esq., R.M. (Chairman), William Morgan Crompton, Thomas King, George Cutfiold, Samuel Popham King, Esquires, J.P.s, assembled at twelve o'clock noon, and the proceedings were conducted with closed doors until half-past two o'olock, when the Resident Magistrate announced the following decisions : — Tom Newsham, Omata Inn, Omata. Postponed till 27th June, when if the building is completed with proper accommodation the license will be granted.

1869 LICENSING MEETING.
Renewal of licenses. COUNTRY DISTRICTS. Omata — Omata Inn, Tom Newsham
Omata Inn

The first Omata Inn was built in 1854 - a two story building with 2 up-stairs bedrooms. It was burnt down in 1860 when the Maoris destroyed all Omata. Thomas Newsham erected Omata's 2nd inn on land he had purchased from Major Lloyd It was part of the 500 acre Crofton block and the hotel was on the northern corner of South Road and Beach Road. On 27 June 1865 he received his licence and after his death in 1874, son Fred ran it before leasing to first to Richard Julian and in March 1888 the licensee was Mr Paul, a New Plymouth Brewer and on a night of gales it was completely destroyed by fire.

15 February 1873 FANCY FAIR AT OMATA. These are popular and well-established social institutions for raising money for religions or charitable purposes and the settlers of Omata held one when funds were required for the erection of a church in their district. However, none of the usual sameness, the one at Omata on Wednesday last, was novel as was held out in the open air. The Omata people deserved congratulations on the success that attended their labours for it is far pleasanter to be in the country amongst the green trees than to have to pass two or three hours in a dusty and almost suffocating atmosphere in doors. The weather at day break the sky was overcast, with heavy rolling clouds - not at all promising, however "Old Sol" after many fruitless efforts, managed to break through the clouds, and cast his brightest smiles upon the busy scene of preparation. The countryside could not resist the temptation to take part in the proceedings and resulted in a large throng of visitors from the town, and a greater display of life at Omata than has ever taken place in this usually quiet little village. Every kind of conveyance from a light carriage to a bullock dray was brought into requisition. The first sight that was obtained of the fair was on reaching the school-house at the junction of the Omata and the Waireka Roads, From here, on looking down the hill, was seen tents erected, flags flying, swings in motion in Mr. Newsham's paddock, and a large concourse of people. Late in the afternoon, Mount Egmont uncovered the goodly prospect spread around of hills, and dales, and woods. It was really a very pretty sight, and was alone well worth the visit. On entering the grounds the first objects that caught the eye were the booths, which were constructed at the south-west corner of the paddock, and formed an angle. They were erected by Messrs. H. J. Crompton, Crawford, Qursed, Harrison, Rogers, F. Smith, Curtis, Berridge, and others, and were very convenient for the purposes intended. The southern wing, in which the tea was to be partaken, was about forty feet long, and provided temporary tables and forms, capable of seating fully seventy persons at a time. The other portion of the booth was fitted up with stalls, in which were displayed a number of useful articles, as well as pretty trifles. The interior presented a very tasteful appearance, having been decorated with evergreens, ferns, and flowers. At the end was the post-office and telegraph station, from which numerous "important missives" - unfortunately unpaid - were issued during the day. Miss Laura Brown was postmistress and telegraphist for the day, and most ably performed the task allotted to her. The stalls, were presided over as follows : The toy stall by Miss Hay, assisted by the two Misses Harrison. The centre stall by Mrs. Humphries, and Miss Allen, assisted by Mrs. A. Bayly, Mrs. Newsham, Mrs. Brown, and Miss Syme; and the third stall by Mrs. Crompton, Mrs. Curtis, and Mrs. Mace. A large portion of the goods wore of a useful kind, although fancy and ornamental wares were not wanting, and were sold at more moderate prices than is usual on such occasions - amongst them for were some models of churches and houses, the work of Mr. Thomas Harrison, sen., which were really very perfect, and could not escape observation. The refreshment department was presided over by Mrs. Berridge and Mrs. Brind, and was liberally supplied with pastry and confectionery of a most excellent description and can verify their quality from actual test, having partaken of some of the delicacies that lay so temptingly before the visitors. During the afternoon, the proceedings were enlivened by the performance of the Amateur Brass Band, under the leadership of Mr. Townsend. Away from the booths, and on various portions of the grounds, games were improvised, and the sports were kept up with much zest until dark. The swings that were erected were kept in constant use during the afternoon, and afforded much amusement to the young people. At about four o'clock tea was announced, when over seventy persons sat down to partake of the refreshments that were most liberally provided for the occasion. The tables were presided over by Mrs. Curtis, Mrs. Humphries, Mrs. and Miss Mace, Mrs. Oliver, Mrs. Messenger, and Mrs. Harrison, who were most energetic in their endeavours to supply the demands made upon them for tea, etc. The insufficient number of knives and forks to meet the requirements caused some amusement, for no one could refrain from laughing at the difficulties that were occasioned in consequence. In one instance we saw a gentleman attempting to carve a ham with his pen-knife. As soon as one party at the table had finished, their places were filled by fresh persons; still, things on the heavily laden tables did not seem to diminish, for as fast as one dish was cleared, another filled with fresh eatables replaced it. Everything on the table was of excellent quality, and in great abundance. Mr. G. Curtis, Sen., and other members of the Committee were very active in disposing of the tickets for the tea, of which over three hundred were sold. There were between four and five hundred persons present during one time of the day; and amongst the visitors we noticed the Hon. D. McLean, his Honor F. A. Carrington, Esq., Colonel St. John, Rev. Archdeacon Govett, and Rev. N. H. Brown. Everything happily tended to the success of the whole affair; the accessories, the booths, the music, were all perfect, and the weather was exceedingly fine - in fact, everything was done for the comfort of the visitors, and fullfilled the wishes of the promoters. The sum of £130 was taken during the day, which will go a good way towards carrying out the object for which the fancy fair was held ; and we feel sure that the Committee and all concerned must feel gratified with the success their arduous labours have met.

Taranaki Herald, 7 March 1874:

Death of Mr. Tom Newsham.— After an illness of some months, Mr. Tom Newsham, of Omata, died on the 8th February. He was one of our oldest settlers, having been one of the first who arrived in this Province.
Thomas died of cancer of the throat and was buried on Feb 8th, 1874 at Waireka Cemetery, Omata, aged 52 years.

No will for Thomas but because a landowner, he had a deed of transfer. It was very lengthy, hand written in small neat hand writing, full of legalise dated May 12 1866. George Curtis and John Stephenson Smith were named executors. Everything was left to his wife Mary Louise. On her death it passed on to her children in equal shares or held in trust until the sons were 21 years of age or the daughters married. Consisted of £1000 left from William Jecks (1864 probate), 4 shares in NZ Steam Navigation Co., Land Lots 8, 21 and 29 Omata, 2 horses, 1 pair of working bullocks, 2 cows, 1 heifer and 200 sheep and lambs.

Click here for Thomas and Mary Newsham's Family