Hidden Slide Menu on Left
Below, Hursthouse Page Index
Helen Maria & Alexander C P McDonald
Helen (Nellie) Maria Hursthouse was b: 8 Mar 1838 in Norwich, Norfolk, England and travelled to New Zealand on the "Thomas Sparkes" in 1943 with her parents
John
and Helen Hursthouse. She became wife of Charles Alexander Phipps Macdonald and was mother of Flora and Norman Macdonald. She d: 17 Sep 1863 at Auckland aged 25Y
In 1847 Governor George Grey requested the UK to send men to defend Auckland NZ against the Maoris uprising. The Pensoner Fencibles were retired soldiers from the British Army who had served his country overseas - usually in India or Malta, had got sick or hurt yet was still fit enough to be in the army but unfit for active service. As an incentive, in return for for seven years service in NZ, they were offered free passage for themselves and their families, a pension ranging from 6d. to ls.3d. a day, plus an acre of ground on the outskirts of Auckland and a cottage - there

was an immediate response.
Alexander was the eldest of 6 children born to father Captain Alexander Macdonald, a Scottish army surgeon mother. His parents were first cousins who were descended from the 17th Chief of Keppoch (an ancient Scottish clan) who was killed at Culloden in 1746. Alexander Macdonald Snr was Capt of the 30th Regt
NZ Fencibles
. The MacDonald family left Cork, Ireland for Auckland on the ship
"Sir Robert Sale"
on 10th June 1847 with the first consignment of passengers from Southern Ireland
On arrival at Auckland, all passengers were taken to St. John's College for a meal to welcome the settlers to their new country. The promised wooden cottages had not been built so they remained on board until 22 November and during this time the men were employ

ed unloading the goods brought out on the ship.

Two temporary sheds 100 foot long, with earthen floors were built - they leaked in heavy rain - others moved into temporary native houses (raupos).
On 19 November 1847 Captain Alexander MacDonald of Howick was appointed Justice of the Peace (NZ Government Gazette, 1847, p. 187).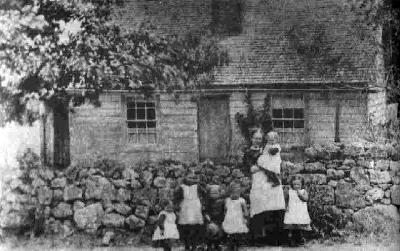 Double Fencible cottage built in 1847
Auckland Public Library Photograph Collection
The cottages built were mainly double units with a separate entrance door, two small rooms and a tiny attic for each family, and a common middle brick wall and chimney.
Howick was the largest of the fencible (the word is derived from defencible) settlements set up to protect Auckland.
The need of timber for the cottages created a temporary scarcity but by 1848 there were 50 wooden dwel1ings and 180 raupo huts and a year later the number of wooden dwellings had grown to 162, and only 32 raupo huts, ready by May 1851 for the 2nd and 3rd detachments
Daily Southern Cross, 15 January 1848: GOVERNMENT GAZETTE of Tuesday, Jan. 11, 1848: Capt. Alexander MacDonald, Royal New Zealand Fencibles, Howick.
The regiment was free to work for anyone or do what they liked during the week but if needed, had to muster immediately to protect Auckland against the Thames or Waikato Māori or by the French (who had taken control of Tahiti and New Caledonia from the natives by force). Their military duties consisted of six days drill in spring and six in the autumn and attendance at Church Parade every Sunday in full Military Kit to collect their pension. They were armed with muzzle-loading "Brown Besses". Only once was it found necessary to stand to arms in readiness for an emergency. It happened in 1851 and Captain MacDonald called a muster and the force was assembled on the hill overlooking the Howick village however no shots were fired. The alarm was called as a native war party had landed at Mechanics Bay, Auckland, to avenge an insult rendered to a chief whose slave had been imprisoned for stealing. Bloodshed was averted, and after receiving presents, the party returned to Thames. Later, in 1863, the stockade was built.
Hawthornden Homestead was built in 1848 for fencible officer Captain Alexander MacDonald. The original building burned down, to be replaced by Green Gables which later became known as "Keppoch Lodge" a name derived form his original Scottish Clan Macdonald of Keppoch. This was acquired by Colonel S.P. Peacocke in 1859. The house today is still in its original surroundings, in Tanglewood Place, off Sale St. Howick. Historic walk through Howick.
Alexander (Snr) owned several plots of land and held a Depasturing Licence for 80 cattle 1849, then 30 cattle in 1851 at Howick. He was elected Warden of Howick in 1851 and a house was built for him named Keppoch Lodge, a name derived form his original Scottish Clan Macdonald of Keppoch
Men found employment on public works, others found private employment. Each cultivated their own land, growing their own food and selling the surplus in Auckland. "Howick Butter", taken by the women by boat to Auckland in cabbage leaves, was a prized delicacy. Fare was spartan, as a 200 lb bag of flour cost £5, and farm wages were 2s. to 3s. a day(Src: Prichard Family")
13 March 1852: Captain Alexander Macdonald appointed his son "A Macdonald" to act as Treasurer and Secretary to the Wardens:
NZ'er: 12 March 1856: Death: Capt Alexander MACDONALD; Staff Officer of Pensioners; at Howick, on Monday night, 10th March 1856, aged 56 yrs, from disease of the heart,
NZ'er; 2nd May 1860: Colonial Secretary's Office, Auckland, 28th April 1860; Appointment in the First Battalion of the Auckland Regiment of New Zealand Militia: Ensign A C P MACDONALD; Date of Commission 26th April 1860


Archives 1863/1229: Jun 30: Applying for a commission as Captain in the Militia ( A. C. P. McDonald, Auckland).
Marriage: 6th Dec 1860: Helen mar: at St Mary's, Auckland to Alexander Charles Phipps MacDonald - the marriage was followed by one at the Roman Catholic Church.

Percy Smith was best man at the wedding of his cousin Helen Hursthouse - she had been living with the Smiths at Parnell after the general exodus of settlers from Taranaki. He wrote about Helen Hursthouse and her husband:
"Helen grew up to be a pretty and lovable woman. She married in Auckland to Charles Alexander Phipps MacDonald who was then a clerk in the Colonial Secty. Dept. He was eldest son of Capt. MacDonald who came to NZ in charge of a company of Imperial Pensioners. ACP MacDonald was a fine, good-looking fellow, with a military air, an exceedingly good-natured - too much so, for his acquaintances used to make use of his availability to their advantage - very popular. On removal of the seat of Government to Wellington in 1865, he became Under-Secretary of the Colonial Dept and died in Wellington in * 1871 (* the yr was 1874)
Helen and Alexander's 2 children:
1.Flora Hursthouse Macdonald (b: 17 Feb 1862 in Parnell, Auckland d: 29 May 1926) mar: 12 May 1887 in Bishopdale Chapel, Nelson to Maurice Wilson Richmond b: 26 Apr 1860 in Nelson Occ: Barrister and later a Professor of law at Victoria College d: 26 Feb 1919
Helen Macdonald died at Auckland Sept 1863 - Percy Smith wrote:

Helen MacDonald died in Auckland and was bur: in the Presbyterian Cemetery, Symond's St. Her final illness (shortly after the birth of her 2nd child) was in a large measure due to nervousness and fright about the Maori War which was raging about Auckland".
Symonds St. Cem. Headstone Auckland Library:
In memory of Helen Maria MACDONALD wife of A C P MACDONALD of the Colonial Secretary's Office and eldest daughter of the late John HURSTHOUSE. Deeply loved and lamented. Born Norwich 8th March 1838 Died Auckland 14 Sept 1863
Also
Kate Emma HURSTHOUSE
youngest daughter of John HURSTHOUSE Born New Plymouth 25th Sept 1845 Died Auckland June 1st 1863
Daily Southern Cross, 29 June 1865: The electoral rolls for the districts of Parnell and Newton were revised yesterday- the following objections were raised and sustained: A.C.P.Macdonald, household, left the province
Taranaki Herald, 11 April 1864: Mr Alexander C P Macdonald who has for many years been chief clerk in the Colonial Secretary's office, has been gazetted as Assistant Under-Secretary for the Colony.
Date: 13 Apr 1865 - Widower Alexander McDonald: *2nd Mar: to
Catherine Mary Williams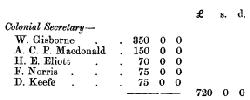 Gazette Cost
of the Removal of the Seat of Government from Auckland to Wellington:
1866: Civil Service Commissioner's Report: Appendix to the Journals of the House of Representatives...Chief Clerk ACP Macdonald salary £350
Daily Southern Cross, 6 Jan 1871: A,C.P. Macdonald, Esq., had been appointed Deputy Clerk of the Writs.
1874/11371 Macdonald Alexander Charles Phipps 39Y
Daily Southern Cross, 22 Aug. 1871: Births: MACDONALD: On August 11, at Wellington, the wife of A.C.P. MacDonald, Esq., of a daughter.
BIRTH. McDonald: On the 22nd April, at Manners-street, Wellington, the wife of Mr Alexander McDonald, of a daughter.
(3): Ida McDonald;

b: 22 Apr 1871 in Manners St. Wellington d: Abt. Sep 1938 in Hastings Sussex
Taranaki Herald, 11 Apr 1874: Mr. Alexander C. P. Mcdonald who has for many years been chief clerk in the Colonial Secretary's office,has been gazetted as Assistant Under-Secretary for the Colony.
Evening Post, 30 July 1874:The remains of the late Mr A. C. P. Macdonald were yesterday followed to their last resting place by nearly three hundred gentlemen, although no public notification of the time fixed for the funeral had been given
Wanganui Chronicle
, 30 Jul 1874: Colonial Secretary's Office: Death of Mr A. C. P. Macdonald: The Wellington journals notify the death of Mr A.C. P. Macdonald, Under Secretary for the Colony, who, although but 39 years of age when he died, was one of the oldest members of the Civil Service. Mr Macdonald's death will be much lamented. He was very popular amongst his brother officers to whom he was a sort of book of reference in matters connected with the departments; for his 20 years' experience in the service, most of which, we believe, had been spent in the Colonial Secretary's office, had made him acquainted with pretty well all that had been done at head-quarters since the initiation of Responsible Government. The Government will not find it easy to replace Mr Macdonald. The deceased gentleman was twice married and leaves a widow and three children.
New Zealand Herald, 1 August 1874: Another of our respected settlers has passed away." Mr. A. C. P. Macdonald, well known to many of our old settlers, died at Wellington on Monday, the 27th. At the time of his death he held the official position of Assistant Under Secretary. Deceased entered the Government service upwards of twenty years ago, during the whole of which period he served in the Colonial Secretary's Office. Mr. Macdonald. leaves a widow and three children. He was the eldest son of the late Captain Macdonald, Commanding Officer of Pensioners
at Howick, and brother to Mr. Angus Macdonald of the Union Bank of Australia. His age was about 40 years. He was a gentleman very much respected by all who knew him, and his loss is especially regretted by those brother officers with whom his duties brought him into daily contact. Mr. Macdonald resided in Auckland for many years, but was transferred to Wellington on the removal of the seat of Government.