John Hursthouse was b: 02 Jun 1811 in Tydd St Marys, County Lincoln, the eldest child of Charles and Mary Hursthouse. He was bapt: at St Peters, Deadmans Lane, Wisbech, Cambridgeshire and d: 17 Nov 1860 in New Plymouth, New Zealand Bur: Te Henui Cem, New Plymouth
He mar Helen Wilson on 24 Jan 1837 in Hampstead Church, London. She was the daughter of William and Jane Meriah Wilson of Stockton on Tees, and was nearly 8 years older than John being b: 24 Aug 1803 in Stockton-on-Tees and had been governess to his sister Mary and Ann.
Helen and John Hursthouse rented a house in Thorpe St Andrews with their three small children, Helen Maria b: 8 Mar 1838; Mary Blanche* 12 Jul 1839 and Charles Wilson b: 26 Jul 1841.
As early as 1836, because of grave doubts for the future of the family business at Norwich, John's younger brother, Charles Flinders Hursthouse, sailed for North America with a view to emigration. He returned to state that neither Canada or the United States offered such advantages to people of their class and station as the British colonies at the Antipodes which were already established, or were being projected on Wakefield lines. The opinion of this self-confident young man was to instigate a succession of departures from England until all the associated families made their homes in New Zealand.
(Below 1841 Census: their address Foundry Rd; John Hursthouse Age: 30 b. Licolnchire; Merchant; Helen Hursthouse 35; Helen M Hursthouse aged 3; Mary B Hursthouse aged 1 plus their 3 servants
Advice was sought from William Stanger

. (In 1842, William married Sarah Hursthouse, sister of John and Charles. He was a geologist to the African Civilisation Societies Expedition in 1841 in the steamers Albert, Wilberforce and Sudan and they penetrated 320 miles up the Niger to establish a farm settlement at the junction of the Chadda and Quarra. River fever carried off 82 men and forced the expedition to withdraw to Ascension Island. Dr Stanger worked the engines of the Albert down to the sea.)

John Hursthouse had a small sum of money bequeathed by his grandfather and he and brother Charles joined funds and after the passage was paid, expected to have about 500 Pound in funds to purchase land either at Port Nicholson or Wellington for farming. John hoped to get a surveying appointment on arrival. Helen Hursthouse hoped to take a servant as their passage was free with a family and the only cost would be wages. Accompanying them was a friend, Charles John Newbegin.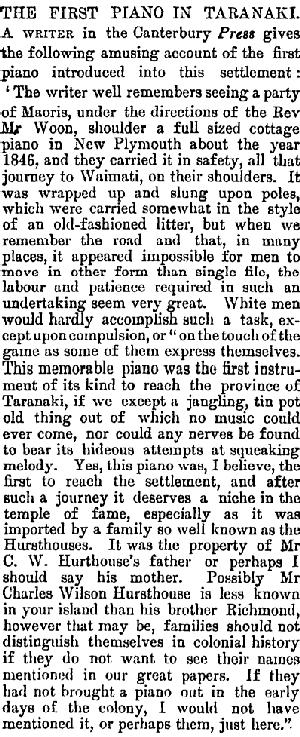 On the 14th March 1842, John Hursthouse announced their decision to sail in July to New Zealand on the "Thomas Sparks" - John, wife Helen, his children, his brother Charles Flinders and his cousin Thomas Newsham.
During this period until late in 1843, John kept a diary relating first to his life in Norwich, the voyage and from letters it was learnt John also chose to emigrate because he disliked commercial life. His father, prior to financial failure, had a business as a timber merchant in Suffolk, England and then, along with sons John and Charles Hursthouse and John Stephenson Smith, were reduced to being employed by his brothers-in-law Charles and William Jecks who were coal and corn merchants and timbers importers with premises in St Georges Plain, Norfolk. The diary gives an account of the voyage with not-unsurprising accounts of sickness, flying fish and bad food.
20th June: There were two vessels at St. Katherine Docks which would be bound for New Zealand. Stern cabins would cost 350 Pound. Intermediate cabins would have saved 100Pound for John, Charles, Helen and the 3 children but they were deemed to be extremely uncomfortable and their use could lose caste on their landing at Wellington.
26th June 1842: John and Charles proceeded on the vessel "Thomas Sparks" to Portsmouth where Helen and children met them. Hon. Petre and his wife the occupy corresponding cabin to them.
14th. Oct: The "Thomas Sparks" arrived Cape of Good Hope after a reasonably good passage until two days off the Cape then on the 3rd, all they were all but wrecked. The wind prevented them from taking the right and safest channel and they struck upon a reef of rocks called Whale Rock and were there all night in a tremendous gale of wind on a lee share in the most imminent danger. In the morning they got off and anchored off Cape Town but the vessel had so much damage she was obliged to unloaded and they had to face the thought it probable that possibly 2 months would be required for repairs. The passengers were found to be pleasant people but the Captain was anything they might have wished - a bullying, ill-tempered man occasionally getting tipsy and when drunk, almost mad.
A ship wreck in South Africa and an uncomfortable, memorable voyage - the reality of sea travel was there for those who were later to follow. From Wellington they made their way by coastal steamer to New Plymouth arriving on the 29th of May, 1843.
TARANAKI DURING THE FIFTIES The chief characteristic of Taranaki during the Fifties was its small, compact area. Of the two and a-half million acres which was the area of the Province, less than ninety thousand acres were in the possession of Europeans. New Plymouth was the chief town, the suburban villages being Bell Block, Omata, and Tatarainiaka. The village capital of the Province was snugly planted on the margin of the beach, embosomed amid gently rising hills, and watered by the Huatoki, Mangaotuku, and tributary burns. It had its granite church, several chapels, its rustic mills and breweries, snug, unostentatious hostelries, stores, and primitively built shops. The people did not affect town airs, therefore to a stranger, the place had a robust look about it; and as a writer says, "was famed throughout the colony for its troops of happy, rosy-cheeked children, pretty women, honey, fine mutton, and dairies of Devonshire cream." Another said: The appearance of the settlement from the sea is varied and beautiful. The taste for sylvan scenery and quiet rustic beauty was gratified by the combination of stream and forest, glade and valley, pastures and trim fields, dotted with cattle or yellow with corn; whilst, for the Salvator Rosa eye, there is the snow-crested Apollo of mountains Mount Egmont, showing up from a sea of forest 8000 feet into the brilliant sky."
There came excitement in 1849 with the arrival of extended family members to Taranaki giving additional support. John took an active part in affairs affecting the people - he made a submission advocating trial by jury rather than rely on a decision at a trial made solely by one magistrate - a position seconded by George Curtis
; he joined forces with John Stephenson Smith in a joint landagent firm and advertisements revealed an active undertaking with clients as far afield as Wangnaui on their books; the, together, they sent 10 tons of
iron sand
on the ship "Joseph Fletcher" to Norfolk for assessment of it's mineral content; John acted as steward and later as a judge at race meetings; he was appointed
trustee
for the New Plymouth Savings Bank; but then came the first indication that things were no longer happy. The Real estate firm publicised that the partnership would be dissolved in June 1857 - a relflection of John's deterioration in social opinion.
John Hursthouse purchased 150 acres of partly cleared land on Carrington Toad, half the area was freehold and the other on lease - and this became the family's home. It was said he would willingly have sold out for 800 Pound. His wife, Helen Hursthouse, like every other English female, pined for England, for society left behind and suffered an extremely unhappy life coping with an abusive alcoholic husband. She brought up their children, ran their farm on Carrington Road, and to make ends meet, walked daily to and from New Plymouth to run a school for extra money.
In Jan. 1860 in a decision backed by family, Helen left John and excalating war, and fled to Nelson. From Nelson she wrote in May: "Before I left you, I told you I would forgive you, John, but i said then and repeat it now, that I never will live with you again unless you give up all spirituous liquors."
"Nelson Colonist": DIED - On 17th November 1860 at Taranaki in his 50th year, John HURSTHOUSE Esq, formerly of Tydd St. Mary's, Cambridgeshire.
John Hursthouse's death at 49 yrs was said to be due to "illness from exposure and hardships due to service in the militia at the beginning of the Maori Wars" however the reality was his death was caused by chronic dyspepsia due to alcohol. He was bur: at Te Henui Cem.
Helen's joy in life would have come in the knowledge of her children's success and distinguished careers and with their marriages came grandchildren. There came also extreme sadness when all her three daughters died in a short span of 18 months.
Michael is a descendant and Hursthouse researcher - click here to contact him.
Images and data used in this site copyright - �

If you have anything of genealogical or historical interest to add to this site, please