Hidden Slide Menu on Left
Click Below: John Prosser's Family
John Prosser & Jane Hughes
John Prosser, was Samuel and Caroline Prosser's first child. He was b: 27 Apr 1839 in Fulham, Middlesex, London - an entrepreneur who during his lifetime was a goldminer, owner of Livery stables, hotelier, farmer and showman. He died aged 86 yrs on 06 Nov 1925 in 96 Daniell Street, Newtown, Wellington and was buried 07 Nov 1925 at Karori Cemetery Plot No: 143 H
Census 1841: Kensington district: Fulham, London: Household Members: (Name and Age) Samuel Prosser 24; Caroline Prosser 20; John Prosser 2 b: Middlesex)

Census 1851: District St Luke; Whitecross Street; Household Members: (Name and Age) Samuel Proper (Prosser) 34; Caroline Proper 30; Name: John Proper 11 Errand Boy born: Tutlam, Parsens Green; Civil parish: St Luke Old Street County; Middlesex; James Proper 9; Samuel Proper 7; William Proper 2; Thomas Proper 4
John left as an assisted British immigrant with his family, his grandfather Robert, uncle Edward, Aunt Charlotte and her 2 children on the ship "Hornet" in 1857. The family lived at 23 Little Bourke Street, in Prahran, Melbourne where Samuel, was a cab driver. They started running mail coaches to Malvern Hills and here Samuel's sons learnt their skill at horsemanship. Despite his son's doing most of the work, the family experienced years of financial hardship with an alcoholic father and the business failed. John left Melbourne in 1861 one of 193 passengers for Otago with his uncle Edward Chambers to try their luck at the Dunstan Gold Rush. - for Otago.

He returned to Melbourne and with brothers James, Samuel and William aged 11 yrs left again on 15/9/62 on the ship "Result" in a fore cabin.(Ages not as stated - Chas is James)

Otago Daily Times: 5 February 1862




They spent a short time at the diggings and then, in conjunction with David Marks, a coach builder at Dunedin, the brothers started the White Star line of expresses in 1863 taking stores to needy gold miners.

In March 1863, mother Caroline left Melbourne with her sister Charlotte to join her sons. Listed as Chambers, they were in the Fore of the boat "William Jackson" which left Melbourne 3.3.1863 for Otago - born in England - Caroline 32yrs (she was actually 42 years) married, Charlotte 30 yrs married, Charlotte 8 yrs, James 7 yrs, Betsy 3 yrs, infant 1 female, infant 1 female.

The Imports per "Mary Miller" from Melbourne for John Prosser: 2 Dobbin Carts (11 Jul. 1863)
Early in 1864, four prospectors discovered a rich deposit of alluvial gold in the Whakamarina River near Havelock. (It is in the Marlborough County 16 miles south west from Havelock at the top of the South Island near Blenheim on the route to Nelson)
By May there were 4000 miners on the location. The lack of success at the Otago alluvial fields caused many diggers to flock north and the Whakarmarina soon boasted 6,000 men working around a canvas town. There were many rich surface pockets but few steady workings.
On the banks of the Wakamarina
From Nelson some thirty two miles,
A splendid goldfieldís been discovered,
Where dozens are making their piles;
They work on the bars of the river,
And in many a crevice, Iím told,
With their knives they can pick out the nuggets,
A nice easy way to get gold.
Iím waiting for fresh information
If the gold is all there you will see
Iím off to the golden location
The Wakamarina for me.
The gold rush could not be sustained long and many miners were next attracted to the new fields on the West Coast. The Prosser brothers were said to have been successful, but it is unknown whether their success could be attributed to luck at the diggings or because they ran
packhorses
carrying supplies to the miners.
The Prosser brothers went to Wellington mid-1865 and their widowed mother and younger siblings joined them from Melbourne. A partnership was formed with Messrs Hannah & Pearce stabling horses on Lambton Quay and the White Horse hotel, Lambton-quay (next door to the Town Board office) and their business soon expanded.
1865 21 Dec: HANNAH, PROSSER, and PEARCE'S Livery and Letting Stables, (Late Billman's), Opposite the Crown and Anchor Hotel (this was opposite Wellington's Queen's Wharf). "Saddle Horses, Cabs, and Carriages, always o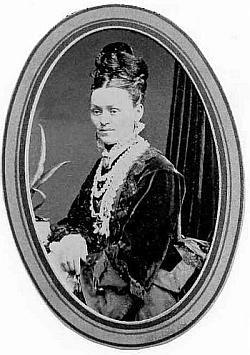 n Hire. "
22 Feb. 1866: "We observe that the stables adjoining the New Zealander Hotel, Manners St., have changed hands, mine host of the New Zealander, Mr. P. A. Chavannes, having entered into arrangements with Messrs. Hannah, Prosser and Pierce, the proprietors of stables adjoining the offices of the Mutual Investment Society and Town Board. Now at the New Zealander, livery stables, carriages and saddle horses are procurable at five minutes notice, and an omnibus will meet every steamer upon arrival. Under the care of Messrs. Hannah, Prosser, and Pierce already so favorably known for their punctuality civility, and attention, we are sure that our country cousins will patronise those stables, even without the knowledge that they possess the best loose boxes in the Colony for thorough-bred and entire horses."
John became married to Jane Hughes, the daughter of Father: Henry Hughes, Mother: Winifred Clark. She was born 15 Mar. 1850 at Porirua. (She d: Mar 1903 at Southland Hospital, Invercargill and was Bur: 02 Mar 1903 Eastern Cemetery, Invercargill)

Intention to Marry: 22 Dec. 1866: Wellington: John Prosser, bachelor, livery stable keeper, aged 27 years residing in Wellington, in residence there "abt 18 months" to Jane Hughes, spinster, no occupation, aged 17 years, residing in Wellington 17 years; with consent of Henry Hughes, father. To be married at St Peters Church, Te Aro, Rev. A Stock. (Photo: St. Peters Church

)
17 Jul. 1867: PROSSER'S WHITE HORSE REPOSITORY LIVERY AND LETTING-STABLES. John and James PROSSER beg to inform their friends and the public that they have become sole proprietors of the White Horse Repository, and will carry on the
business as usual. Carriages, buggies, and every description of vehicles lent on hire. Saddle and harness horses always ready. Carriages provided for Weddings. J. & J. PROSSER, Lambton Quay (John and James Prosser)
10 Aug 1869: TO LET. THOSE commodious livery stables, lately occupied by Messrs Prosser Bros., Lambton Quay. For particulars apply to MR E. W. MILLS, Lambton Quay.
12 Mar. 1868. Prosser's Stables: Tuesday morning the floor of a loft above Prosser's livery stables fell in under the weight of the grain stored there. The superstructure falling into the stable seriously injured a horse that was standing in his stall, and to put him out of pain the poor animal was killed.
The owner of the
Crown and Anchor Hotel
Wellington 1867 was Charles Merritt and the Prosser family added this to their enterprise. (
Old Wellington Hotels
)
1868 Advert: 12 Oct. NOTICE. A COACH will leave Prosser's stables for Porirua Ferry every Sunday morning at half past nine o'clock, leaving at half past three same day. Fares : Single Tickets- 3s; Return - 5s

1871 Advert: 9 Feb. PROSSER'S CROWN AND ANCHOR HOTEL, Lambton Quay, Wellington. The Best Colonial Ale always on Draught. A Billiard Saloon attached, with First-class Table. J & J. PROSSER, in thanking the public for their past favors during the last six years, beg to notify that they STILL CONTINUE to carry on their Livery and Letting Business. Carriages for Weddings, Balls, Picnic Parties, &c, &c. Good Roadsters always on hire. J. & J. PROSSER, Proprietors.

Wises Directory 1872 - 1873 Wellington Province
Prosser J, Proprietor; Crown and Anchor Hotel & Livery Stables Lambton Quay (James)
Prosser S Coach Proprietor Lambton Quay (Samuel)
Wises Country; Prosser - Postmaster Porirua Road (William)

During this period, all 5 Prosser brothers were involved with the day to day operation of a network of transport which expanded to cover the region and shrewdly coupled this activity with accommodation for travellers and some sale of horses - but, Jul. 27th 1874 came the death of their mother Caroline while brother Samuel was licensee at the Crown and Anchor. Then in 1876 renewal of it's license was opposed by the police "Because the building was rotten and the accommodation insufficient" despite the applicant stating a new house was about to be erected, the license was refused.
23 Apr 1874: LICENSING COURT, COUNTRY LICENCES Hutt District; Granted: John Prosser, Whitewoods Hotel, Hutt.
21 Jan 1875 Telegraph Hotel TO LETó The Telegraph Hotel, Otaki. Apply to John Prosser, on the premises, or to T, & W. Staples, Thorndon Brewery.
Telegraph Hotel, Otaki: FIRE. Dec 5 1875: Between half- past two and three this morning Prosser's stables were found to be on fire, and in about two hours were burned to the ground. The groom who was sleeping on the premises fortunately was soon awakened, and succeeded in removing tbe coach horses and harness in safety, and part of tbe stock of the livery stable was removed. One single buggy and a number of other articles were destroyed. The principal sufferers are Mr. Ross, who had his tools, about £20 worth, totally destroyed, the groom, who escaped only with his shirt, and Mr. John Prosser as the building is stated to be insured in the National for £250, which is considerably below the cost. so will be a considerable looser.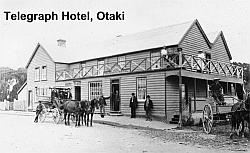 The origin of the fire is unknown, but when seen it appeared to be issuing forth some straw in the building. "Unfortunately the building was not insured; but, strangely enough, it was only yesterday morning that Mr. Prosser interviewed Mr. Wanklyn, agent in this district for the National Company, about insurance. They could not however, agree as to the amount for which the building was to be insured, and no transaction took place."
1879/80 Egmont County Roll - John purchased the Leasehold Hawera Part Block 12 Freehold; Residing Wellington; Occ. Settler Otakeho, 72 acres
1880 - Manaia - Opunake Mr J Prosser, Hotelkeeper, Hawera paid £81.0.0 Harbour township of Manaia
Section 21, Block 5, Area 53 ac. Price £6-5-0
Section 22, Block 5, Area 57 ac. £5.0.0
Click here
for years 1880 to 1890