Bayly Index

Hidden Slide Menu on Left Side of Page
Thomas and Susanna Bayly
Thomas Bayly was b: 24th June 1804 in East Peake, Cornwall. He was the eldest son of John Bayly (1775 - 1849) and Ann (baptised Nanny Bassett on 3 Dec 1783 in Bridgerule, Devon, daughter of John and Thomasine Bassett; d: 1881) Thomas was bapt: 22 Jun 1805 at Tetcott, Devon, and d: 19th Aug 1879 in Waitara, Taranaki, New Zealand. He was bur: on the 22nd at the New Plymouth Te Henui Cem.

Thomas mar: 12th Jan 1830 in Clawton, Devon to Susanna Metherell. She was bapt: 14 Oct 1806 at Ashwater, Devon - her parents were Roger and Priscilla nee May Metherell; she d: 7 Jul 1869 - bur: 10 Jul 1869 at Te Henui Cem.
Thomas and Ann with their 5 children sailed from London 25 March 1841 on the barque "Amelia Thompson" and arrived at New Plymouth, New Zealand 5½ months later on 3rd September, 1841 with 187 Devonshire emigrants delayed by a call at Salvador, Bahia, Brazil for four days then onward to Wellington for a fortnight stop. The 447 ton vessel was named after the owner's wife.
New Zealand House, 5 Octagon, Plymouth March 15 1841. A list of persons whom the Plymouth Company of New Zealand have arranged to embark for the New-Plymouth Settlement in New-Zealand, as Steerage Passengers, per Ship Amelia Thompson, William Dawson, Commander, James Evans. Surgeon - Superintendent. William Brydges, Secretary
Embarkation order Name Age Sex Sp Ch Occupation Remarks
Bayly Ann 4Y F
Bayly Elizabeth 10Y F
Bayly Isaac 11mths M
Bayly Susan 35 F Wife
Bayly Thomas 36 M Yeoman ;
Bayly Thomas 8 M
Bayly William 6 M
Reported: At New Plymouth, by 1842 there was quite a cluster of immigrants' houses - the Henui river had been bridged, and several houses had been erected on its banks. A cutting on the east side of the river had been made, and a road formed to the Waiwakaiho river, which was crossed by a ferry boat. For about six miles from the town, clearings had been made, and houses erected by those who had started farming. Messrs Flight and Devenish, Pierce, Paynter, Edgecumbe, the Bayly brothers, and several others, had made a good show, for they worked early and late.
The first actual collision with the natives occurred in July, 1842, and the incident is so important that it may well be told in Mr. Wicksteed's words. Writing to Colonel Wakefield, he says: "You are aware that a considerable number of natives have lately been liberated from the Waikatos, who, some years ago, over-ran the Taranaki district, and carried off a large number of its inhabitants as their slaves. The manumitted natives are now returning to this district, and not having been parties in the sale of the land to the Company, now complain that they have neither potato ground, nor utu in money or recompense. In point of fact, however, the native reserves are sufficient for a population twenty fold larger than that likely under any circumstances to belong to Taranaki; and I cannot discover among the malcontents a single person who, according to the custom of the natives, has, or had, the right to sell the land. On the contrary, many of those who did sell the land distinctly warned me not to enter into any bargain or treaty with those returned. Not being encouraged by me to expect any utu, some of these natives had recourse to violence, and entered a section on the Mangaoraka, belonging to a peaceful settler named Pearce, burned his cottage, and destroyed some raupo he had for thatching. They then proceeded to the next section where Messrs Bayly had put up their tents, and were commencing farming operations. They were very furious, brandishing their tomahawks, and attempting to tear down the tent; but the Baylys, very resolute and strong men, resisted, and a short scuffle or wrestling match ensued between one of the brothers and a native, who acted as champion for the assailants. Twice Bayly threw the Maori, but was thrown himself the third time; whereupon the natives crowded round him, and one apparently was going to cleave his skull with a tomahawk, when a bystander levelled his fowling-piece at the native, who then gave way. There were about thirty natives and six white men. A parley ensued, and they agreed to refer the case to me. Accordingly the mob of natives came to my house two days after, and there I told them my determination to put the white settlers on their land, and to call upon the police magistrate to send any native who broke the peace into prison.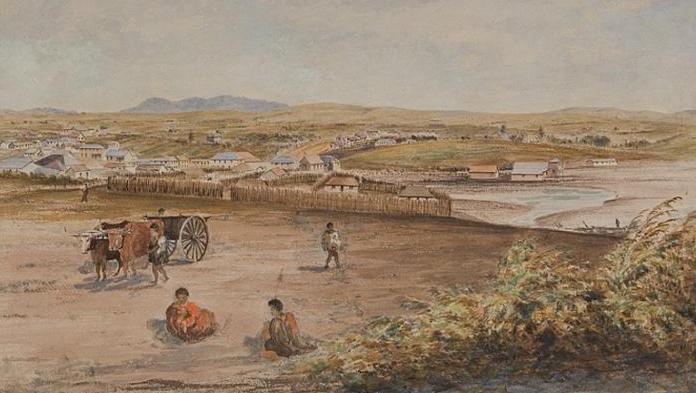 Thomas and Susannah's children:
1 Eizabeth May Bayly bapt: 12 Aug 1830 in North Tamerton, Devon; d: 1849; Age: 20Y at New Plymouth
2 Thomas Bayly was b: 29 Jan 1832 in North Tamerton, Devon and was 9 years
old on arrival in 1841 at New Plymouth - later the family moved to Kaipakopjko - here Thomas passed the early days of his life. He took up land at Tataraimaka and on 5th Feb 1855 mar: at the Primitive Methodist Chapel, New Plymouth. Anne Rundle who was b: 22 Dec 1833 in Cornwall (Her family - parents Richard and Ann Rundle also travelled on the "Amelia Thompson") and was highly respected throughout North Taranaki, especially in and around Waitara, where for so many years she had her home She d: 14th Apr 1919 aged 83Y.
The outbreak of the Taranaki war in 1860 compelled Thomas to leave his farm and join the Militia with other settlers to help to subdue the uprising and with his brothers also entered into contracts for supplying meat to the troops. He was in the Wanganui district for some years after and in 1876 returned to Taranaki purchasing land at Waitara where he lived for 15 years until his death on Oct 8th, 1891 aged 59Y.
Thomas Bayly was a shrewd man of business and his land speculations in the early days made large sums of money. He always took a great interest in local affairs, and for many years was Chairman of the Waitara Harbor Board, the Raleigh Town Board, a member of the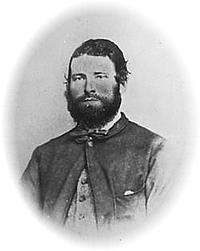 Taranaki and Clifton County Councils, and was connected with several local enterprises. He became a large landholder, possessing extensive tracts of country at White Cliffs, Mimi, Waitara, and in the back country and, just before his death sold a large portion of the Toko Block, near Stratford. He was amongst the first who started the dairy factory system in this district, and the two factories were at East and West Waitara. He was instrumental by his enterprise in getting the Freezing Works erected; and had been connected with every steam company with vessels trading to Waitara. On several occasions he stood as a candidate for a seat in the House of Representatives. He held the
commission as Justice of tho Peace, and often presided in the Waitara Resident Magistrate's Court. His uniform kindness of manner were qualities stemming from genuine good nature and true kindness of heart. Thomas was an active member of the Sir Donald McLean Lodge of Freemasons, and. was connected with other social institutions in Waitara. He earned for himself the character of being an able and honorable man of business, and was sorely missed at Waitara, as well as in New Plymouth, where he was well known so well. The natives, whom he befriended, demonstrated their grief at his demise, for on the day of his death, a number visited the house of mourning to take a last view of the mortal remains of one they esteemed so much, and as they retired from the chamber of the dead exclamations in Maori of "He was a good man" were repeatedly uttered. Thomas's death followed some months of declining health and he left a wife and grown up family of nine surviving sons and two daughters to mourn the loss of a kind and affectionate husband and father. Their Children:
3 William Bayly: b: 08 Apr 1834 in Devon, like most of the early settlers Mr Bayly followed farming and dealing pursuits. When the Maori rebellion broke out, William with the other settlers served under Major Brown, taking his share in the defence of his adopted home. At the battle of Waireka, on March 28th, 1860, he received a bullet in his shoulder, which was never extracted and which he carried to his dying day - for his services he received the New Zealand war medal. On the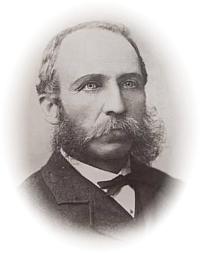 conclusion of the war, Mr. Bayly bought a farm at Stony River, and made a trip to Great Britain and the Continent, going by the old Panama route and on his return, in 1870, established himself as a farmer and grazier. During the troublesome time of Te Whiti's ploughing mania, between 1879 and 1881, he was captain of the Okato Rifle Volunteers on the Frontier. His Stony River farm contained about 710 acres; and he also had 1900 acres at Warea, 570 acres at Rahotu, and 306 acres at Waiwakaiho. In 1878 he started a butchering business in New Plymouth, and had no less than three shops —the Central, West End, and East End Meat Bazaars. Being a big land owner in north Taranaki, especially in the Okato, Warea, aud Rahotu districts, William was able to fatten stock for his own shops. He took an active interest in local politics and bcame the fourth Mayor of New Plymouth taking office on the 21st of December in 1881, until the 17th of December, 1884. In 1886, he again became Mayor, and held office till the 19th of December, 1888. During his term, he took great interest in completion of the waterworks and devoted much attention to the finances of the borough and readjustment led to a considerable saving. William served on the Harbour Board and in other ways advanced the welfare of the district, was president and vice-president of the Taranaki Jockey Club, and took a great interest in all athletic matters. He contributed to the success of the Moturoa Freezing Works in 1895 as a shareholder and director and in 1901 the province's dairy companies purchased the company and established the Taranaki Producers' Freezing Works Company Ltd. Ill health from asthma was to confine William Bayly to his residence, Te Marama, Bell Block until his death on 6th July 1902 aged 68Y.
(Newspaper report - 30 Oct 1858)
William married twice - his first wife was Margaret Hay b 1838c England and they married 10 Jan 1859 at the residence of brides father, James Hay
at Tataraimaka. She died of fever after the birth of their daughter Elizabeth (Bessie) Mary Bayly (b 4 Sep 1860, d 14 Apr 1941) Margaret was originally buried in the Primitive Burial Ground on Devon Street West and was moved to Te Henui 26 Sep 1902. (Her father Mr. James Hay, died on the 27th Nov. 1862, at Nelson, suddenly from disease of the heart, late of Langlands, Tataraimaka, aged 58 yrs.)
William's second marriage was at Nelson on 26 Feb 1869 to Deborah Grace Mason Hill (b: 04 Dec 1845 in Nelson; d: 11 May 1912 in New Plymouth.) They had four children:
i Constance Deborah Bayly (bapt: 7 Oct 1871 at New Plymouth, Taranaki d: 1948) Mar: 22 Jan 1902 in New Ply to Arthur Lewis Hempton (b: 1873, d: 1944 Bur Te Henui Cem)

ii Caroline (Carrie) Maggie Bayly (bapt: 7 Nov 1874 at New Plymouth, Taranaki; d: 1958) Mar: 30 Dec 1914 at St. Mary's N. Ply. to Robert Percy Giblin (b: 1870 to Parents - William Giblin and Emma Beatson; d: 1950, Crem Wanganui Aramoha )

iii Bertha May Bayly (bapt: 7 Nov 1877 Taranaki d: Aug 1944, Crem. Waikumete Cem) Mar: 25 Mar 1903 in New Plymouth to James Noble (b: 1885 d: 1966 Waikumete Cem)

iv William Mason Bayly (b: 1881 in Taranaki d: 1940) Mar: 1910 to Florence (Pat) Patterson (b: 1885; d: 1965 in Auckland, Crem. Purewa Cem)

William and second wife Deborah with the matching headstones. On the other side of William lies the headstone of first wife Margaret. On side of William's headstone - inscription to daughter Bessie AKA Elizabeth Mary Bayly.

Photographed by Bayly descendant and researcher - Sarah Knowles
4 Ann Bayly was born 1837 North Tamerton, Devon. She d: 1st Jun 1920 in New Plymouth. In 1871 she mar: James Brown Lawson a native of Scotland who was b: 1831 and arrived in Taranaki about 1851. He was for some years clerk to Mr Ritchie, solicitor, of the Magistrate's Court and Registrar of the Supreme Court. During the war Mr Lawson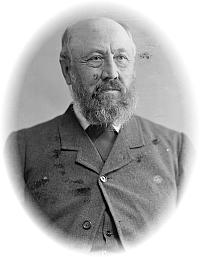 held the position of Quartermaster-Sergeant in the Taranaki Militia and later Mr Lawson was appointed Clerk to the Superintendent of the Province and then to the Provincial Council and on the abolition of the provinces in 1875 he was appointed Clerk to the Taranaki County Council, a position he held for a long term of years. He was retired at Inglewood and d: in railway accident on 30 Aug 1901 aged 70; Bur: Te Henui Cemetery.

Their children:
i Hamilton Douglas* Lawson (b: 1873 New Plymouth; d: 1910 aged 37Y at New Plymouth, bur: Te Henui Cem.)
ii Percy Sempill Lawson (b: 1876 New Plymouth, d: 7 Dec 1921 Auckland) Mar: 1905 to May Baker Gabb; their infant son Percy d: 12 Sep 1905, bur: Te Henui Cem.
iii Jessie Glover Lawson (b: 1880 New Plymouth, d: 1969) mar 1904 James Clement Webster (b; abt 1886; d: 1950)
5 Isaac Bayly was b: 1840 in Holsworthy, Devon, the third son of Thomas Bayly and was born on the borders of Cornwall and Devon, England, and was brought to New Zealand as an infant, in the ship "Amelia Thompson". Isaac Bayly mar: 19 Mar 1870 at the home of the bride's parents James and Hannah Dingle, New Plymouth to Hannah Veale Dingle. She was b: 1842 and died: 1940 in Auckland
Isaac worked on farms for some years in North Taranaki before moving to the Hawera district, for eighteen years where he took an interest in connection with the work of local bodies and was chairman of the Hawera County Council from 1884 -1889, and for about twelve years following was at the Mahia Peninsula, about forty miles out of Gisborne, Poverty Bay. He was appointed JP 1878 and visited England -first in 1879, when he journeyed by way of San Francisco and New York, to Liverpool; and again in 1902, when he travelled by Cape Horn and Monte Video, returning by the Cape of Good Hope and Hobart. He still retained his interests in the Gisborne district, but after his last trip to England, he and wife Hannah settled in New Plymouth where he represented the district of Grey and Bell for four years in the Taranaki Provincial Council. A member of the Taranaki Chamber of Commerce, he was also known amongst flockowners as a breeder of Lincoln sheep. In the early days, during the time of the Maori troubles, Isaac Bayly served five years in Major Atkinson's Bush Rangers. Subsequently he served as captain of the cavalry corps, and from 1879–80 he was captain of the Hawera Infantry, and had 110 men under his charge. He retired from the volunteers at the time of the settlement of the Parihaka trouble. In 1908 he and Hannah retired to live at Auckland where he died in 1927 and was cremated at Purewa Cemetery.
6 Priscilla Bayly b: 03 Apr 1843 in New Plymouth; d: Jul 1913 in Palmerston North She mar: 1871 to Jerry Hayr Siggs who was b: 1839 and d; 9 Oct 1919 He is bur; at Taihape Cemetery with Priscilla. Their Children:
1 Harry Bayly Siggs (b: 30 Dec 1874 in Patea; d: 1904 in Palmerston North)

2 Ada May Siggs (b: 1 Oct 1877 in Hawera; d: 1924) Mar: 1903 to Arthur George Fleming Lawson (b: Abt. 1879; d: 1950)

3 Jerry Hugo Siggs (b: 1 Oct 1877 in Hawera)

4 Letitia Bayly Siggs (b: 5 Aug 1879 in Patea; d: 1952 in Gisborne) Mar: 1906 to Herbert Aubrey Hawthorne Barton b: 1881 (his Father: William Alfred and Mother Harriet Clara Barton ) He d: 1942 in Gisborne

5 Percy Robert Siggs (b: 8 Aug 1881 in Hawera; d: 1963 in Napier) Mar: 1924 to Margaret Jane Walters (b: 1883, d: 1941 in Taihape)
7 Emanuel Bayly was b: in New Plymouth in 1846 and d: 06 Aug 1923 in Wellington. He found ready employment as a drover in the early 1870s moving stock for settlers through difficult terraine eg. "Between 80 and 90 head of cattle were driven up from Whanganui by Messrs. C. Messenger and E. Bayly, and 244 have been been brought up by Bayly, Western, and Hoskin without the loss of a single head."

At Hawera, Emanuel owned a 50 acre freehold property section 142 situated close to Hawera which offered first-rate opportunities for dairying and he married Miss Martha Josephine Howard of Wanganui on the 19th May 1874 at the residence of Mr A. C. Campbell, Campbelltown, Wanganui, by the Rev. Joseph Berry. He sold at Hawera December 1880. This later report outlines the dangers of rural travel then - he and wife Martha were driving from Opunake in August 1885 and had reached the Mongahanui bridge when they saw the coach coming, so pulled off to one side. Both he and the coach were without lights and it carried away his off wheels, and passed on without knowing what had been done. Emanuel and his wife were landed on the ground with serious results that he returned to Opunake for a new conveyance despite receiving serious injuries which meant his assent into a new conveyance was "a disagreeable proceeding." Martha was also injured, but three months earlier she had serious injuriess from which she had not yet quite recovered when in a similar accident when her horse shied at the coach lamps, and she was thrown off.

1888 Emanuel was innovative.

Wanganui Chronicle, 22 May 1891 Egmonth Farmers Report - Hawera, May 20, On Friday, the 15th inst, by instructions from Mr E. Bayly, Pihama, who is giving up dairying, we held a clearing sale at the factory of his dairy stock, &c, amidst a large attendance of buyers. The cows, numbering nearly 200, were a choice lot, and elicited keen competition from buyers, prices for the best of them running as high as £6 15s, the others making from £3 5s to £5 2s 6d. Hacks made up to £12, two expresses £19 each, and other articles sold proportionately well.

Hawera & Normanby Star, 23 April 1892 LAND SALE.
The Farmers' Union offered sections by order of Mr. E. Bayly to-day. They are situated on the Glover road, opposite Egmont Farmers' Union yards. Lot 8 stores with house, elicited bids up to £590, and was passed in for £660; lot 4 acres was knocked down to Mr. Jos. Scott at £57 10s per acre; lot of 8 acres was knocked down to Mr. Fantham, at £60 per acre; lot 2 acres was passed in at £45 per acre; lot 2 acres was passed in at £40; lot 2 acres was passed in at £85; lot 8 acres with shed and sheep-yard on was passed in at £87 per acre; lot 8 acres - passed in at £88; lot of three acres 1 rood, was knocked down to Mr. J' T. Quin £88. A section, eighth of an acre at the corner of Wellington and Olive Streets was withdrawn at £16. The attendance was large, and bidding spirited, though but few sections were sold on account of owner's reserves not being reached.

8 SUSSANAH METHERELL BAYLY

(b: 16 Mar 1849 in New Plymouth, and d: 10 Oct 1941 Age: 92Y in New Plymouth. Bur: 13 Oct 1941 Cem: TE HENUI) She mar: age: 25Y on 19 Feb 1874 in New Plymouth to JAMES LEWIS PERRY (b: Jun 1849 in Monmouth, Monmouthshire, Wales, and d: aged 83Y on 29 Apr 1932 in New Plymouth. Bur: 30 Apr 1932 TE HENUI )
Hawera & Normanby Star, 30 October 1880 ARCHITECTS.- Designs are requlred for an English Church in Hawera to seat about 150 people; cost not to exceed £400 (Designs, to be sent to the undersigned not later than 20th November. For further particulars, apply to. W-..G.- White, Bank of NZ. JAMES L. PERRY, Churchwarden)

1888 James appointed JP Manaia

13 Aug 1892 TENDERS for the Sale or Lease of Mr. J. L. Perry's Farm, on the Rainie Road, containing 350 acres, will be received up to 12 o'clock noon on THURSDAy Sept Ist, The highest or any tender not necessarily accepted. For full particulars, apply to the office of the Egmont Farmers' Union, Limited. JAMES L. PERRY.

Poverty Bay Herald, 26 Nov 1904 EXTRAORDINARY VACANCY; JAMES L PERRY being the only candidate nominated for tlie above named vacancy, I hereby declare him duly elected as Member of the Waimata Road Board. E. B. MARTIN, Returning Officer. Waimata Valley.

24 Jan 1906 FLOCKS OF THE EAST COAST. TWO MILLIUN SHEEP IN THREE COUNTIES. COLONY'S LARGEST FLOCKOWNER. The annual sheep returns for the year ending April 30. .James L. Perry, Waimata Valley - 2794.

28 Jul 1906 WANTED: Good General Servant for Mrs James L. Perry, Waimata. Apply Mrs Wilfrid Perry, Whataupoko.

Notes: James was at Poverty Bay 1906 and purchasing sheep at Gisborne 1908; Competing successfully on romney classes in A & P Shows Last Address: 89 Vivian Sreet, New Plymouth (Farmer-Retired)
Children of S
USSANAH BAYLY and JAMES PERRY are:
i. E
DWARD JEVON HERBERT PERRY (b. 1888; KIA Served Machine Gun Corps; Rank Lance Corporal; Place of Death Somme, France; d: 31 March 1918) He mar. 1912. to LOUISA HENRIETTA SPOONER,
ii. ALFRED LEWIS PERRY (b. 1888; Occ; before Enlistment Farmer; served WWI, 1914-1918 - Serial No. 31345; d. 1954); mar: 1922 to ETHEL DAISY HERBERT (b. 1883; d. 1957 aged 74Y).
iii. W
ILFRED HERRICK PERRY (b. 1877; d. 1942 65Y) mar. 1903 to MABEL BROWNE (b. 18 Jan 1889; d. 1978.)
iv. H
ERBERT PERCY PERRY, b. 1875.
v. M
ARY MAUD PERRY (b. 1881; d. 1961 aged 79Y); mar: FRANCES GEORGE CARTHEW, 04 Sep 1907,
Holy Trinity Church, New Plymouth; (b. 11 Feb 1871, New Plymouth, Bapt: 02 Apr 1871, New Plymouth; d; 1948 aged 77Y; Bur: 20/07/1948 Cem: Taruheru Gisborne; Inscription: In loving memory of FRANCIS GEORGE CARTHEW, 1871-1948; MARY MAUD CARTHEW, 1881-1961)
Poverty Bay Herald, 4 Sep 1907: ORANGE BLOSSOMS. A wedding of considerable local interest took place to-day, when Miss M. M. Perry, only daughter of Mr J. L. Perry, Waimata, was united inthe bonds of holy matrimony to Mr F. G. Carthew, of New Plymouth. The service, which was a choral cne, took place at Holy Trinity Church, the Vicar, the Rev. Dawson Thomas, officiating. The bride, who was given away by her father, looked, very pretty attired in a white embroidered muslin dress, with the orthodox veil and bouquet. Miss Caplin, the chief bridesmaids wore a white muslin dress and a white hat, and the two little bridesmaids, Misses Constance Perry and Elma Carthew, pale blue silk muslin dresses and bonnets lo match, The bridegroom was attended by Mr Alfred Perry; brother of the bride. Mrs Perry, the bride's mother, wore a black silk dress relieved with cream; Mrs Wilfrid Perry, grey tailor-made costume Mrs E. J. Carthew, cream costume, and hat to match; Mrs Humphrey Bayly, black silk voile, relieved with White"; Mrs H. A. Barton, white Eton costume, white hat trimmed with black feathers. As the bride and- bridegroom walked down the aisle Mr Sidebottom played the wedding march. A large gathering lined the pathway, and the bridal party left the church amidst showers of rice, and were conveyed' to the residence of Mr Wilfrid Perry in four carriages, each drawn by a pair of greys. Numerous friends awaited their arrival at the house, where another loyal reception greeted them. A sumptuous wedding breakfast was partaken of, during which eulogistic speeches were made. The happy couple leave for their future home m New Plymouth by the Miowera this evening. The bride's travelling dress is a blue cloth tailor-mads costume and white felt hat.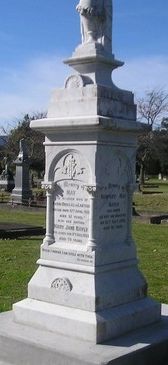 9. HUMPHREY MAY BAYLY (b: 11 Sep 1851 in New Plymouth, and d: 15 Sep 1943 aged 92Y in Gisborne. Bur: 16/10/1943) He mar: 02 Jul 1877 in Auckland to MARY JANE HUNTER(b: Abt. 1854, and d:05 Dec 1933 aged 79Y in Gisborne; bur: Makaraka Cem.).
Inscription:
In memory of MAY, the beloved wife of Harry Douglas de LAUTOUR, passed away 15 April 1913 aged 32 years; also her mother, MARY JANE BAYLY, who joined her 5 December 1933 aged 79 years.
In memory of HUMPHRY MAY BAYLY who joined his wife and daughter on 15 September 1943 aged 92 years.
Humphrey Bayly was one of Wairoa's most prominent farmers and one of the largest land owners in Gisborne & Northern Hawkes Bay. . His farming background predominantly in the Wairoa and Gisborne district included the setting up of Angus cattle and Romney sheep studs and the supervising his family' s land at Cricklewood and Tahaenui, which included one or two blocks in the Gisborne area.
He was president of the Wairoa A & P Society, as well as a member of the Electoral College (and chairman) of the NZ Meat and Wool Boards, and a member of the Wairoa County Council and the Angus Breed Society. He was a keen horseman in his younger days.
Poverty Bay Herald, 10 Jan 1903: Humphrey Bayly, who reached town last night, informs us that the fires spread over practically tlie whole of his property. He believes that not an acre escaped. It is impossible to state what the losses of stock have been, but it is feared that they have been heavy. Doubtless there would be places where sheep would be able to find shelter, but sheep are so stupid and have no idea of saving themselves. Mr Bayly states that he and his two men spent two days fighting the flames and endeavoring to save the homestead. The fire got up close to the house and burned the outhouses and woodpile. All the furniture and contents of the house were removed, but many of the things were afterwards burned by the grass around them catching fire. Thursday night's experience is one that Mr Bayly wishes never to have repeated. All night long he and the men with him were hard at work carrying water and beating out the flames. They became thoroughly exhausted by their efforts and almost suffocated by the dense smoke so much so that on Friday morning, when the fire in the immediate vicinity having burned out and the house appearing to be safe, they came away, being unable to stay longer. Mr Bayly had difficulty in finding his way to town, his eyes being so severely affected by the smoke, and the glare of the roads made them extremely painful. Apart from the loss of stock, the fire will necessitate the resowing m grass of the whole of his property, and it throws back settlement on the property for some considerable time. Mr Bayly states that some Natives left his place on Wednesday for Boat Harbor with a load of wool and were to have returned, but the fire was so fierce that they were unable to come back, and are probably detained there. Mr Bayly thinks that the fire has also been over Mr Harry Bayly's property, but as the wind was blowing towards Gisborne the damage there is expected to be less severe than at Paritu. (Two days later - est 2-300 sheep lost)
1917 Poverty Bay Herald, 1 June 1917: ART UNION PRIZE WINNERS. Third: 150 sheep, valued at £150.— No. 34,408, Humphrey Bayly, Gisborne.
Children of HUMPHREY BAYLY and MARY HUNTER
are:
1. M
AY BAYLY (b: 02 May 1880 in New Plymouth. She mar Apr 1904 in Holy Trinity Church, Gisborne to SIR HARRY DOUGLAS DELAUTOUR son of CECIL DELAUTOUR and SARAH. He was b:1880; Attended Christs College, Canterbury
Poverty Bay Herald, 20 April 1904: The contracting parties were Sir Harry Douglas DeLautour, fourth son of Mr C. A. DeLautour, and Miss May Bayly, only daughter of Mr. Humphrey Bayly, of Paritu. The marriage ceremony was performed by the Rev. Herbert Williams. Miss Winnie Bayly and the Misses Cecil, Marjorie and Phyllis DeLautour were bridesmaids. The bridegroom was attended by his brother, Mr O. B. DeLaulour. The" church was beautifully decorated for the occasion. Members of the choir were present, aud hymns suitable to the occasion were sung, whilst Mr Sidebottom played the "Weddiug March" most effectively on. the organ. The bride, who was given away by her, father, looked very handsome in a white sjlk voile trimmed with faggoting chiffon and silk medallions, with handsome wreath and veil. Miss Winnie Bayly,' cousin of the bride, was attired m a pretty cream silk frock, with hat to match, and carried a basket of flowers; Miss Cecil DeLautour, sister of the bridegroom, wore a cream silk frock, with silk hat. The Misses Marjorie and Phyllis DeLautour, sisters of the bridegroom, wore cream dresses trimmed with old gold ribbon,, and hats to match.- Each of the bridesmaids carried, a basket of flowers, and all wore dainty gold brooches presented by the bridegroom.
Children of M
AY BAYLY and SIR DELAUTOUR are:
i. C
ECIL DOUGLAS DELAUTOUR, b. 1906; mar. 1928 to ADA MAY KEMP
ii. HARRY MAURICE BAYLY DELAUTOUR, b. 1911; mar. 1932 to MIRIAM MOORE MURPHY 
2 HUMPHREY BAYLY (b: 1906 d: Jan 1985 )
Mar: 1930 to DIANA ARMSTRONG is:
i. J
OHN BAYLY.