Hidden Slide Menu on Left
Below, Bayly Page Index

William and Elizabeth May Bayly
William Bayly was Chr: 26 Aug 1807 Tetcott Devon and married Elizabeth May Metherell on 08 Jul 1834 in Ashwater, Devon. She was Chr: 11 Oct 1814 in Ashwater, Devon (Father: Roger Metherell Mother: Priscilla May) and died 22 May 1899 in Waitara.

Their family:
William became a Taranaki pioneer when he arrived with his wife, Elizabeth, along with brothers Thomas and James, their wives and children at Taranaki on the "Amelia Thompson" in 1841. To commemorate this, New Plymouth's western boundary was surveyed in 1842 and the access from Ngamotu Beach to the original highway to the new settlement was named Bayly Rd.
By 1852 William Bayly was growing wheat near Motoroa on his property named "Blagdon Farm" named after Blagdon where they last lived in Devon)and his standing in the community led to nomination and successfully election onto the Taranaki Provincial Council in 1853 and 57 representing the Bell district.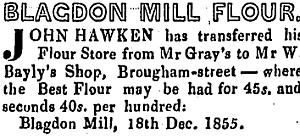 In 1855 Joseph White, a cattle dealer owing creditors, passed his business to a syndicate of New Plymouth businessmen - Wm Bayly, Francis Gledhill, Charles Hetley, Henry Jones and John Morgan. The newspaper ran monthly advertisements for Wm Bayly selling at his farm livestock, sawn lengths of red pine timber and various smaller bush and cleared land blocks he owned.
In June William gave information to farmers on costs and negligable profit he found selling wool and his farm was advertised to let. William Bayly was again elected to Provincial Council in 1857 and at meetings took an active part in decision making of finance matters affecting the province.
In 1859 a surprising decision was made, hinting all was not well and William advertised the sale of his total property hinting he was to leave NZ but this sale did not eventuate. War intervened and post war, cash-strapped, William despite numerous advertisements unsuccessfuly endeavoured to let or find a sale for his land and animals. His actions involved all his family in his court proceedings which culminated in his bankruptcy - first auction in Oct 1870 and in March 1871 the farm was subject to a mortgagee sale. Photo - Wireka Veterans
William Bayly died aged 67 years on 12 Jan 1874 in Hawera
Taranaki Herald 13 Jun 1855

Taranaki Herald 27 Nov 1859

1870

1871

1871