Bertha Davey's Ancestors

J

OHN DAVEY (b: 1791 Heavitree, Devon; occ: carpenter; son of John Davy and Agnes Hill ; d: 1874 Devon) He mar: 10 Jan 1828 to MARY ANN JENNINGS (b: 20 May 1808 Clyst, Honiton, Devon - daughter of OLIVER JENNINGS and SARAH MELHUISH who mar: 3 Feb 1807, Clyst, Honiton); she d: 1891 in Devon

1851 Census Residence: Sth Wonford, Exeter, Devon; John Davey 51Y wife mary Ann 43Y John Davey 17Y Mark 10Y Scholar; Luke 8Y, Herman 5Y Mathew 3Y

1861 Census Residence: Ringswell Cotts; Heavitree, Devonshire; John b abt 1799 Heavitree; age 62Y Mar; Carpenter; wife Mary A 53Y b: Clist Honiton; Luke 18Y Ag Lab b: Heavitree; Michael 7Y Scholar b: Heavitree;

1871 Census Heavitree, Devon: Residence Wonford, East Ringford Place, Heavitree; John - Head; Carpenter, age 71Y, Wife; Mary Ann 63Y b: Clist Honiton; Herman Ag Lab son 26Y Heavitree; George Son age 19Y ag lab b 1846 Heavitree; Michael son Ag Lab 17Y Heavitree

Children born at Hevitree, Devon to JOHN DAVEY and MARY JENNINGS were:

i. T

HOMAS DAVEY, (b. 12 Oct 1828).

ii. MARY DAVEY, b. 1830.

iii. SELINA DAVEY, (b. 1831 Heavitree, Devon) mar. 1853 to WILLIAM CLAYDEN at Richmond, Surrey (b. 1828) Their family:
(a) Louise Clayden (1856- )

(b) Fred Clayden (1859-1915)

(c) Selina Clayden (1862- )

(d) William Clayden (1863-1890)
iv. JOHN DAVEY, b. 26 Jun 1832.

v. T

OM DAVEY, b. 1836

vi. H

ERMAN DAVEY (b. 1838, d. 20 Apr 1848)

vii. M

ARK DAVEY, (b. 1840; d. 1895, Devon.)

viii. L

UKE DAVEY, b. 1845; d. 1922, Devon.

ix. M

ATTHEW DAVEY, b. 1846.

x. G

EORGE DAVEY (b. 01 Aug 1851, Heavitree, Exeter, Devon, England; Immig: Ship: Hereford; departure date: 17 Apr 1874; arrival date: 14 Jul 1874 Lyttelton; Occ: Carter of Temuka; d. 05 Jun 1939, Temuka; Bur: 7 Jun 1939, Temuka)
Timaru Herald, 2 Aug. 1887: A special meeting of the Temuka Fire Brigade was held on Thursday evening last. In addition to general business certificates of long Service were presented to the following members Lieut. McGentleman 12 years service, Foreman A. W. Surridge 7 years, Branchman A. Clinch 7 years, Fireman 0. Carr 7 years, Fireman W. Weir 7 years, Fireman G. Davey 5 years, Fireman J. Beri 6 years. The certificates (very fine specimens of colour printing representing scenes in the duties and experiences of firemen) were presented by Captain D. Henry, who congratulated the members on the interest they had taken in the brigade.
1889 Timaru Herald, 27 May 1889: "10s. REWARD. LOST: On the 13th inst., a BLACK AND WHITE COLLIE answers to the name of Bob." Anyone returning the same to the undersigned will receive the above Reward. GEORGE DAVEY, Carrier, Temuka"
Timaru Herald, 9 Nov 1893: Magistrate's Court, Temuka, Tuesday, C. A. Wray, Esq R.M., presided. Tho only business was a civil case, Job Brown v. W. L. Duncan, claim £111756 i. Mr Salmond appeared for the plaintiff and Mr White for the defendant. The principal matter of dispute was claim for loss on certain potatoes. It appeared from the evidence thnt plaintiff agreed in June, 1892, to purchase 7 tons of potatoes at 25s per ton to square defendant's indebtedness to him. Plaintiff was to get delivery at any time and find sacks. The potatoes were not delivered until November and were then consigned to Timaru for shipment. The purser of the steamer refused to take delivery as they were in bad condition and subsequently they were sold by Messrs Maslin and Potts for a nominal sum. Plaintiff claimed for loss incurred. For the defence it was alleged that the purchase was a distinct one by Brown and delivery was taken at Temuka. Evidence was given by Mr George Davey, a carrier, and Mr James Guild, that the potatoes were sound when taken from the pit although somewhat grown. Judgment given for plaintiff for £1 10s l0d with costs.
1894: Geo Davey served for several years on the Temuka School Committee
1911: Residence: Occ: Farmer Main Road, Temuka, Canterbury, New Zealand
Timaru Herald: 1939: Temuka – PIONEER PASSES The death of Mr George Davey at the age of 88 removed one of the foundation settlers of Temuka - one who was widely respected in South Canterbury.
Born on August 1, 1851 at Heavitree, near Exeter, Devonshire, England, Mr Davey arrived at Lyttelton in the sailing ship "Hereford" on July 14 1874, and trans-shipped to the "Beautiful Star" for Timaru. There on the following day with another shipmate and life-long friend Bisdee, of Milford, he came ashore in a surf boat, and after spending a night in the accommodation house at Timaru, they came to Temuka by
Hammond
's stage coach. Mr Davey's first night in Temuka was passed in the former Magistrate's Courtroom near the site of the present railway station.

The first work that Mr Davey undertook was the planting of the Temuka Domain, a work that was more or less in the form of assistance to Immigrants at the time. On leaving this, he took occupation at Riverslea, then owned by Mr Cox. Mr Davey had vivid memories of the difficulties that faced the pioneers and was wont to tell how he had to struggle across wild country to Riverslea through deep snow. At this stage Temuka was merely a rambling township with a growing sense of civic pride which led to the erection of a brick kiln on the section immediately opposite St Peter's Anglican Church in King Street. It was from this kiln that Mr Davey carted some of the bricks for the erection of the present Crown Hotel in the town. While engaged in this work

Mr Davey built himself a hut near where the Insulators Limited is located, and it was not long before the Government of the day charged him 1 for hut tax. This was never paid as this law was soon repealed. Incidentally it is thought that he was the oldest ratepayer in the Temuka Borough.

In his occupation as carrier he snigged timber from the Arowhenua Homestead station for the erection of both the old Opihi and Temuka railway bridges, as well as for the old Arowhenua Hotel.
Temuka, looking north, New Zealand, by Muir & Moodie studio, maker unknown
As a foundation member of the Volunteer Fire Brigade, Mr Davey gave yeoman service to the cause of fire fighting which was then more of a problem than it is today because of the greater number of wooden buildings. A member of the brigade for 23 years he retired in 1902 and took up residence as an original lessee from the Government on a farm at Rautiwiri on the Main Highway. He was a vestryman of the Anglican Church in the early days, besides being a staunch supporter of the Temperance movement. He took an active interest in cricket and often played in the Temuka team. One remarkable fact about the life of Mr Davey was that he not only assisted with the work of the development of Temuka but also was a helper in the building of modern London having worked in the laying down of the first underground sewerage system before coming to New Zealand.
Mr Davey was twice married and is survived by four sons – Messrs Arthur Davey; Frank Davey (Kakahu); Henry G Davey (Opunake) and Charles Davey (Auckland) and one daughter – Mrs S Trumper.
| | |
| --- | --- |
| George Davey mar: (1) on 27 Mar 1878 at Temuka to MARGARET COLLINS (b. 1860 to parents Sarah and Patrick Collins; d. 08 Jan 1884, Temuka) | |
George and Margaret Davey's family: 
a SBC Davey (b/d: 15 Oct 1878)

b William Thomas Davey (b: 07 Jul 1879 in Temuka; d: 26 Jul 1879 in Temuka)

c Joseph Davey (b: 29 Aug 1880 in Temuka Occ: carrier; d: 29 Nov 1898 in Temuka Bur: 01 Dec 1898 Temuka Cem.)

DEATH. Davey: On Tuesday, Nov. 29th, at Temuka, Joseph, the eldest son of George Davey (the result of an accident); aged 18 years.

Timaru Herald, 2 Dec 1898: FUNERAL - JOSEPH DAVEY.
The funeral of the young man, Joseph Davey, who met with such a sad fatal accident at Temuka on Tuesday last by being run over by a dray loaded with shingle, took place yesterday afternoon, the procession being one of the longest which has ever gone to the Temuka cemetery. The deceased was a private in the Temuka Rifles and his body was laid to rest with full military honours. The band played the Dead March, and a file of his comrades constituted the firing party. The volunteers, under Lieutenant Whitehead, mustered strongly, and there was a large attendance of towns people and country residents, The greatest sympathy was shown for the deceased's parents and friends, in the loss of one who was a loving son and esteemed comrade.

Timaru Herald, 16 Dec 1898: An example of prompt payment on a life insurance policy, and also of the occasional high return for small investments in such policies, is afforded by the case of the young man Joseph Davey, who met with an accidental death at Arowhenua the other day, by being run over by a dray. He insured his life with Mr J. Kudd, of the Government Life Department, on 16th September last for £150; was killed on 29th November; the claim was sent to Wellington on the 7th inst., and deceased's father received a cheque for £150 on the 13th. Of course only one premium, a small amount, had been paid.

d Arthur Davey (b: 14 Dec 1882 in Temuka; WW1 Serviceman; Link to Timaru Museum d: 19 Sep 1948 in Timaru Hospital Bur: Temuka Cemetery) Occ: Postwar - Farmer; Mar: 1938 in Temuka to
Gertrude Frances Stokes (b: 1889 d: 26 Jan 1968 in Temuka)
Press, 31 Dec 1917: Mr George Davey, North road, Temuka, has received word that his son, Private Arthur Davey, was admitted to a hospital in France on December 4th, suffering from a severe gunshot wound in the left leg. Private Davey left with the 27th Reinforcements.

Admitted to hospital at Bethnal Green, Brockenhurst, England, and in New Zealand to Timaru and Burnham Hospitals.Discharge Date 28 April 1920

Campaigns Polderhoek
Military Awards British War Medal (1914-1920) Victory Medal
| | |
| --- | --- |
| *2nd Wife: George Davey mar: 15 Aug. 1885 to Maria Jane Finlay (b: 14 Jun 1859 in Ballinabarny, Wicklow, Ireland to Father Richard Finlay and mother Susan Hill; she d: 17 Jan 1927 in Temuka) | |
George and Maria's children: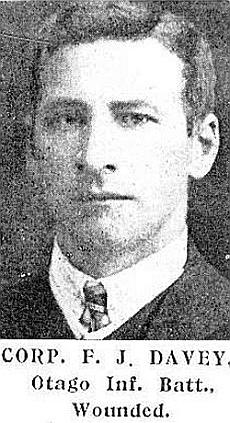 a Francis James Davey (b: 27 Nov 1886 in Temuka to George DAVEY & Maria Jane FINLAY; Link to war Service WW1 Corporal AWMM; Otago Infantry Regiment; Mar: 28 May 1913 in Pihama to Jane Maria CAMPBELL (b: in Drumlane, Ireland d: 18 Dec 1913 in New Plymouth Hospital)NOK his infant daughter - Miss Jane Davey, c/o G. Davey, Main North Rd., Temuka; Their Daughter:
(i) Margaret Jane (Jean) Davey b: 08 Dec 1913 in Opunake, mar: John Edward McDonald (b: 30 Sep 1918 Father: A J and O McDonald; Occ: Fire Service; d: 1992) Mar: 23 Jul 1942 in Blenheim; Their daughter - Pam McDonald

Francis drew a farm in the Servicemen's Ballot in July 1916 at Otunui Landing, 16 miles south of Taumarunui on the banks of the Wanganui River; Residence 1948 Kiri Road, Te Kiri; d: 21 Jul 1948 aged 62Y in Taumarunui Hospital; Bur: 22 Jul 1948 Manunui)

*2nd Wife of Francis James Davey: Mar: 02 Apr 1917 in Registry Office, Wellington to Alice Fanny Corbett (b: 23 Jul 1892 in New Plymouth - her Father: Henry CORBETT and Mother: Alice Susan WATTS She d: 06 Sep 1948 in Kakahi) Their children:

(1) Arthur Wallace Davey (b: 17 Jul 1918 in New Plymouth; Occ: Railways; d: 29 Jul 1995 in Upper Hutt, Wellington) Mar: 10 May 1947 in Wellington to Sybil Aileen Hunt (b: 12 July 1924 in Upper Hutt, Wellington; d: 2000) Daus. are Allison Davey and Pauline Davey

(2) Henry George Davey (b: 04 Jan 1920; d: 2000) mar: 1951 to Jocelyn Thorley Clarke their Family:

(a) James Clarke Davey mar Karen Frances George - children are: Rebacca Ann and Joshua Samuel Davey

(b) Ruth Davey mar: Harry Haerengarangi Mikaere - Family are: Riana Maree; Jocelyn Anne; Samuel Te Oru Mikaere and Martin Henare Mikaere

(c) Michael Corbett Davey mar: Maxine Grodon: Their children - Mark Montegue; Michelle Frances; Craig William and Anna Marie Davey

(d) Anthony Richard Davey mar: Karen Elizabeth Bloor Their Family: Daniel Richard; Kim; Robert Ashley and Scott Angus Davey

(e) Peter John Davey mar: Gillian Mary Heslop - Two daus are Sarah Jane and Catherine Anne Davey

(3) Joan Davey (b: 18 Jun 1921 in New Plymouth; d: 28 Feb 1986 in Pukekohe, Auckland) Mar: 14 Feb 1947 in Pukekohe to Alexander Roy Thomas LAWRIE (b: 2 Apr 1917; d: 1984) They have 3 children - David Alexander; Euan Charles and Allison Mary Lawrie.

(4) Edith Elizabeth Davey (b: 6 Sep 1922; d: 2005) mar: Malcolm Duncan Neilson (b: 1919; d: 1963 49Y) Their 5 children are Brian Robertson, Ian Arthur, Gordon Andrew, Stuart Mackenzie and Beverly (Leigh) Frances Neilson.
b Bertha Davey (b: 19 Jul 1888 in Temuka d: 16 Aug 1956 in Temuka Bur: 19 Aug 1956 Temuka Cemetery) Mar: 03 Jun 1912 in Anglican Church, Temuka to Samuel William Trumper (b: 06 Nov 1880 in Geraldine d: 24 Jun 1960 in Temuka Bur: 26 Jun 1960 Temuka Cemetery)
c Percy John Davey (b: 01 Sep 1889 in Temuka; d: 31 Mar 1890 in Temuka)
d Thomas Davey (b: 04 Sep 1890 in Temuka d: 24 Jan 1891 in Temuka Bur: 26 Jan 1891 Temuka Cem)
e Henry George Davey (b: 03 Sep 1891 in Temuka; d: 03 Jun 1985 in Palmerston North (Serviceman WW1 unfit for active service but was fit for Home Service. Link to Timaru Museum Being a carpenter he was placed in the Ordnance Company. After hostilities ceased the Company was kept on at Trentham to make coffins for the influenza victims in the Wellington Area, as the undertakers at that time could not keep up with the demand.) He mar: Oct 1919 in Presbyterian Church, Opunake to Anna Sophia Coffin (b 1895 to parents Sophia Doretia and Alexander Bathurst Coffin; d: 1936 aged 40Y)
Hawera & Normanby Star, 23 Oct 1919 MARRIAGE. DAVEY - COFFIN: At the Presbyterian Church, Opunake, by the Rev. J. C. Mill, Henry George, second son of Mr and Mrs George Davey, Temuka, Canterbury, to Anna Sophia, youngest daughter of Mr and Mrs Coffin, Opunake.

f Charles Davey (b: 04 Dec 1892 in Temuka; d: 1 Dec 1955) Ret. Motor Camp Proprietor; Mar: 1942 to Grace Johnson (b: 5 Apr 1909; d: 1982)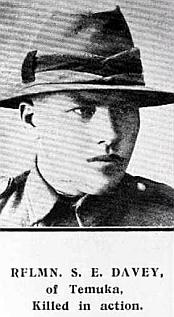 g Stanley Edward Davey b: 09 Nov 1893 in Temuka d: 15 Sep 1916 in France WW1 Cemetery: Caterpillar Valley, Longueval, Somme, France: Link to Timaru Museum
Press, 29 January 1909: JUNIOR CIVIL SERVICE EXAMINATIONS TINS. Canterbury passes. No 632 Stanley Edward Davey, Timaru

Press, 30 September 1916: THE FALLEN AND WOUNDED.Mr George Davey of Winchester road, Temuka. received advice yesterday from the Minister of Defence that his son, Private Stanley Davey was killed in action on the l5th inst. Private Davey was 22 years of age, and was born in Temuka. He was educated at the local High School, where he passed the Civil Service examination, after which he was appointed to the Native Land Department, and was stationed in Wellington for three years. He enlisted in Temuka. and left New Zealand with Lord Liverpool's Own.
STANLEY EDWARD DAVEY Date of Death September 15, 1916 SERVICE NO 24/734 RANK Rifleman REGIMENT NZRB CAUSE OF DEATH Killed in action WHERE DIED France NEXT OF KIN Son of George and Maria Jane Davey, of Main North Rd., Temuka, New Zealand. CEMETERY/MEMORIAL FRANCE - CATERPILLAR VALLEY CEMETERY, LONGUEVAL

Click on poppy - link shared by Rosealeigh and son Chris