Robert and Annie Elizabeth Guilford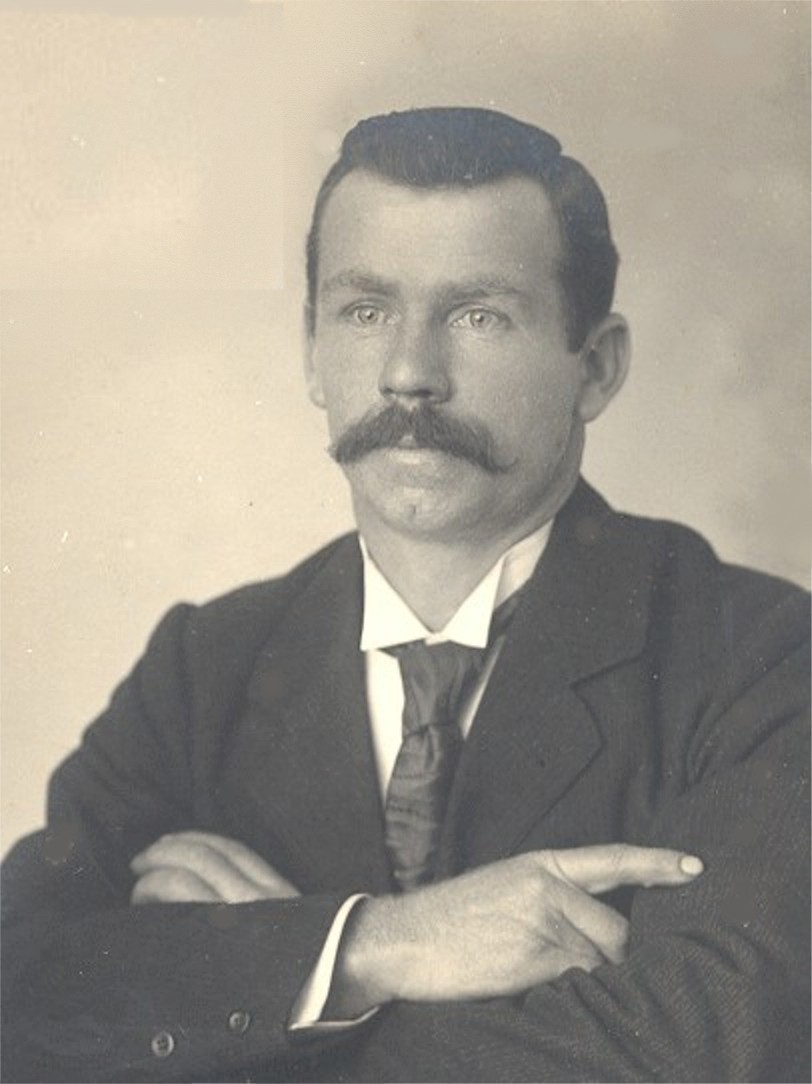 Robert Guilford was b: 4 Aug 1873 in Pleasant Valley, Canterbury to William and Ann Guilford. After leaving the Pleasant Valley School, Robert worked as a farm labourer in the South Canterbury district and in 1892, shifted to the Wanganui District of the North Island where he was bush felling, fencing, and land clearing for three years before moving up to the Urewera Country and was engaged there road making for a short time. These days entailed bush felling and all requirements were taken in on a pack horse. In 1895 Robert shifted back to Wanganui clearing land for pasture for a year before returning to the Geraldine district to farm work - and it was then that he first started shearing.
In 1901, he again moved to the Wanganui District doing farm work and shearing, before returning to Canterbury.
On the 24th August, 1905, he mar: Annie Elizabeth Greenall the daughter of John Greenall and Ann Gibson nee Rhoden of Pleasant Valley, Geraldine.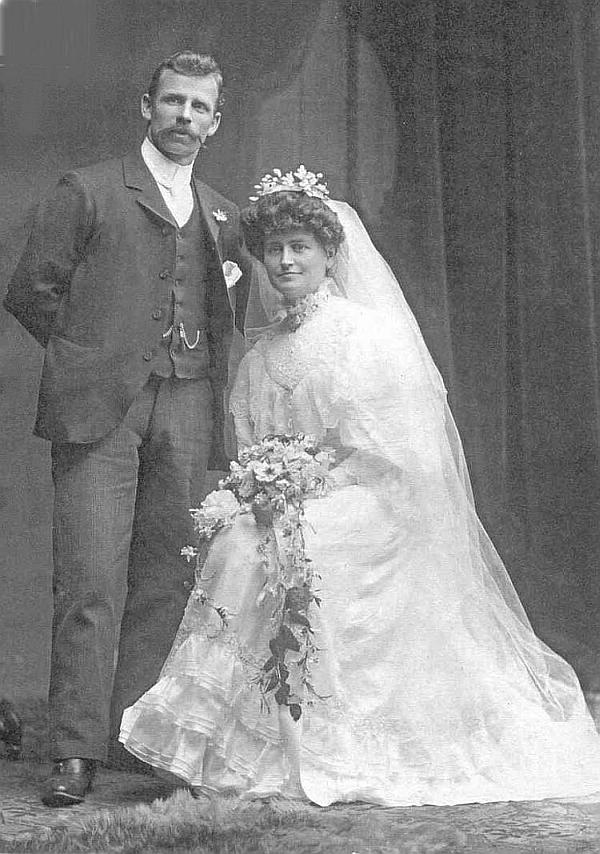 The story goes that Annie's father, John Greenall (b: abt Sept 1846 in W Derby) was banished from family because his family was Catholic but he married outside his faith in June 1870, West Derby, Lancashire, to Annie who was protestant (Born: 07 Mar 1846 in Madeley, Staffordshire Bapt: 05 Apr 1846 Madeley; she d: 30 Nov 1916 in Temuka Burial: 30 Nov 1916 Geraldine Cemetery) They immigrated to NZ with John's brother Thomas. The two brothers were sponsered by Dunedin Engineering firm of Reid and Gray.

The Greenalls left from London 2 Nov 1875 on the "Carona" and disembarked at Riverton on 5 Feb 1876: Passenger list: John Greenall 29; Ann G Greenall 29; Thomas Grenall4; Charles G 2; Ellen 5m; John's brother, Thomas Greenall aged 17

John's younger brother Tom stayed in Dunedin and later had a blacksmith business in Riverton.
In 1881 Oamaru Electorate; John GREENALL; was living at Oamaru; his occupation - Wheelwright
He next moved north where he and his son Thomas had a blacksmithing business at Winchester and then farmed at Pleasant Valley. He d; suddenly on 25 Sep 1898 - was said to have opened the gate for his wife and daughter to go out driving and they found him there on their return. He was bur: 27 Sep 1898 at the Geraldine Cemetery. John and Ann's descendants were:
1 Thomas Greenall (b: Abt. Mar 1871 in Litherland, England; d: 10 Feb 1929 in Southbridge) Mar: 1901 to Sarah Ann Lewis (b: 20 Dec 1871 in Blannant, Geraldine d: 27 Sep 1950 in Southbridge) Sarah's father was Joseph Lewis b; in 1831 in Glamorganshire, South Wales, mar: Margaret Jones came to New Zealand in 1862 by the ship "Echunga," landed at Timaru, and worked at Temuka for the late Mr. John Hayhurst for some time, after which he went into the bush, contracting and pit sawing. Later he bought twenty acres of land on the Geraldine Road, and took to farming and contract work. farmer, "Blannant," Geraldine Road, Winchester about 300 acres, sheep and cattle. Sarah was one of a family of eight.

2 Charles (Charlie) Edmund Greenall (b: 19 Mar 1873 in Litherland, England; d: 02 Jan 1940 in Levels) Mar: 1906 to Harriett Hill

3 Ellen Greenall (b: 1875; d: 21 May 1938 in Hilton Bur: 23 May 1938 Temuka Cemetery) mar: 1900 in St Annes Church, Pleasant Valley to David Elliott Lewis (b: 1867 in Blannant, Geraldine, son of John and Margaret Lewis, d: 05 Aug 1937 in Hilton) They had 4 children

4 John Alfred Greenall (b: 1877 d: 07 Oct 1955 in Christchurch Bur: 08 Oct 1955 Ashburton Cem) Mar: 13 Jun 1906 to Marion Forrest Liddell (b: 1904 d: 04 Jan 1983 in Tinwald Bur: Ashburton Cemetery)

5 William George Greenall b: 1880 Went to the Australian Goldfields and died there

6 Annie Elizabeth Greenall (b: 09 Nov 1882 in Woolston, Canterbury; d: 11 Jul 1906 in Geraldine Bur: 13 Jul 1906 Geraldine Cemetery) Mar: 24 Aug 1905 at Ladymoor, Waitohi, Temuka, to Robert Guilford who had leased a farm at Kakahu
MARRIAGE: GUILFORD - GREENALL: On August 24th, 1905, at St. Ann's Church, Pleasant Valley, Gernldinc, South Canterbury, by the Rev. Staples Hamilton. Robert Guilford, second son of W. Guilford, of Tarata. Taranaki to Annie Elizabeth, second daughter of the late John Greenall of Geraldine.
GUILFORD—GREENALL. A wedding of much local interest was solemnised at St. Anne's Church, Pleasant Valley, on August 24th, 1905. The Rev. Staples Hamilton officiated. The contracting parties were Mr. Robert Guilford and Miss Annie Greenall, youngest daughter of the late Mr J. Greenall, both of Pleasant Valley. The weather was perfect, and a great many friends and relatives of the bride and bridegroom were present at the Church, which was prettily decorated for the occasion, with greens and primroses. The bride, who was given away by her brother, was attired in white ivory silk; both bodice and skirt were vety full and were, trimmed with white guipure lace and insertion with ruches of chiffon and drops, and finished with a deep belt and long streamers of white ivory ribbon. The bride, of course, wore the orthodox veil and orange blossoms, and carried a bouquet of primroses and orange ljlcssoins. Tlie bride attended by a sister of the bridegroom and a friend, who wore cream voila dresses with chenille spots, trimmed with cream lace and insertion and red chiffon sashes. Each wore cream straw hats trimmed with tulle and ostrich feathers, and carried bouquets of holly and red camellias. The bridegroom was attended-by Mr. C. Greenall, as best man. As the bridal party were leaving the church the Wedding March was beautiiully rendered by Mrs Sercomhe. After the ceremony the bridal party and friends drove to the Residence of the bride's mother where the breakfast was spread in a large marquee; the tables being tastefully decorated with ferns and camellias. After the usual toasts the. happy couple left amidst showers of rice and good wishes en route for Christchurch where the honeymoon was. spest. The brides traveling dress was a navy blue cloth costume, white felt hat trimmed with navy blue velvet, pale blue ribbon and buckles. In the evening a social dance was held in the school which was most enjoyable. The presents were numerous and both handsome and useful.

Annie Elizabeth Guilford died 11 Jul 1906 in Geraldine at the child birth of her twins - she was bur: Geraldine Cem, Section ANGLICAN Block A Plot 562 Beam Plot 562)

Twins were Robert who d. at birth 11 Jul 1906, bur: at Geraldine adjacent to Beatrice and Mother Annie nee Greenall; and Beatrice Ann Guilford was b: 11 Jul 1906 in Geraldine, she d: 20 Jun 1907 in Geraldine and was bur: 22 Jun 1907 at Geraldine Cem with her mother.

Robert Guilford's farm was at Kakahu Waihimomona; Geraldine; Farmer - There were access difficulties and the council was requested "there was a need of planks across the creek between Waihimomona and the Kakahu stock bridge".
| | |
| --- | --- |
| | |