ARAH BENBOW on 25 Dec 1877 in St Mary's Church, North St, Timaru, 2nd daughter of WILLIAM BENBOW and MARY POSTON.

Sarah was born Abt. 1856 in Whitton, Burford, Shropshire, and was 8 when her family immigrated to Canterbury on the Huntress. She attended the private Epworth School and later the Temuka Public School. She learnt dressmaking at R Browns in Temuka and also at Gabities's and Plant at Timaru. (Ladies! Admire Sarah's intricate workmanship of her skirt made for her Christmas Day wedding.)

1879 "Timaru Herald" March 26: Birth: MATTINGLEY - On March 10th, at Mount Pleasant, Temuka, the wife of Thomas Mattingley, of twins, son and daughter (they sadly died at birth)

Src. Benbow Bk: Sarah regularly received £1 a month from England thought to be some kind of remittance money from her mother's Postom family. Thomas made his living from poultry - raising chickens and eggs for sale. (p48)

1880 "Timaru Herald", 12 Aug: LEASEHOLD FARM. JONAS, HART AND WILDIE have been instructed by Mr Thomas Mattingley, to Sell by Public Auction, at their Sale Rooms, Timaru, ON MONDAY, the 16th INST., The Goodwill of the Lease, for 4 Years, of a 100-acre Farm, at a low rental, and situated on the Te Moana River, Pleasant Valley. Part ploughed, part in grass. With a good House and Stable on the property. Sale at 2 o'clock. JONAS, HART, AND WILDE, Auctioneers.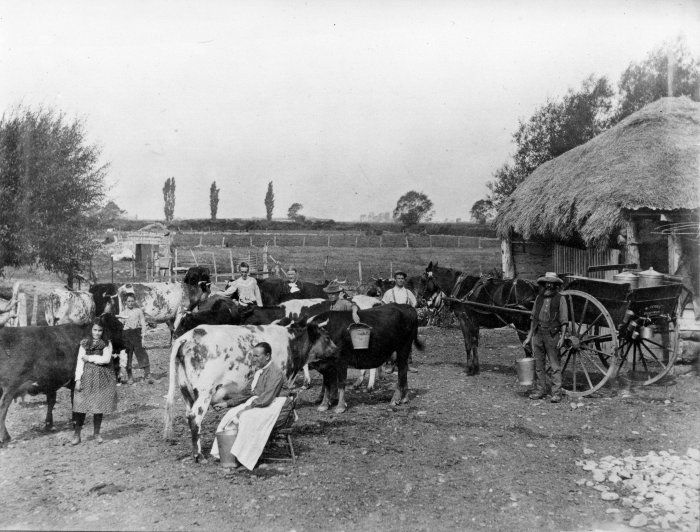 Src: Group alongside dairy cows, Temuka, late 1890s. Shows a woman milking, milk pails and milk cans. Photo by son Ernest Cecil Mattingley
Timaru Herald, 10 July 1888: CIVIL CASES. H. W. Williams v. T. Mattingley, claim £1 3s 11d. The defendant admitted the claim, and asked for time. It was arranged that payment should be made within one month. (NZ was in grip of a depression)
1893 Pareora Electorate; Sarah Mattingley exercised her vote in NZ's first womans' electoral roll; living at Arowhenua, occ. Household duties
1894 "Timaru Herald" 15 Jan: TEMUKA FLORAL AND HORTICULTURAL SOCIETY. The annual show of the above society which was held on Thursday last in the Volunteer buildings, Temuka, was most successful. In spite of threatening weather there was a capital attendance in the afternoon, and in the evening the place was literally crowded: Crochet work, Mrs Mattingley ; plain sewing, children under 12, Miss A Mattingley, button-holes, for girls under 15, Miss A Mattingley;
1896 - Timaru Herald, 8 June: At the meeting of the Canterbury Land Board on Thursday, Leases in perpetuity were granted in exchange for perpetual leases to Thomas Mattingley, section 886, Arowhenua "foliage Settlement" 1 acre 1r. 57p.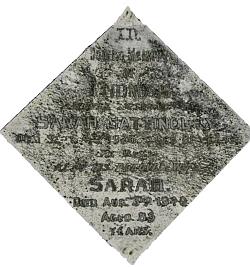 1905 -1906 Age: 62 Residence Geraldine, Canterbury,
1911 - Electorate: Temuka; Surname: Mattingley Given Name: Thomas Occ: labourer and Sarah Occ: married; Residence: 15 Cross Street Temuka;

1914 to 1926 - Residence Timaru, Canterbury, New Zealand
(Catherine Lincoln - Benbow Book) Granddaughter Ngaire remembered Thomas as always having large peppermints in his pocket along with his tobacco pouch - the tobacco flavoured peppermints tasted great!
Thomas died 04 Sep 1926 at Timaru aged 83 Yrs. Interment 6/9/1926
Cemetery Timaru Cemetery Section GENERAL Block E2 Plot 604

Widow Sarah Mattingley passed away on 3 Aug 1940 at Waimate aged 86 Yrs and was bur: 6/8/1940 at Timaru Cemetery. Their children
These beautiful photos of Thomas and Sarah sent by gt-gt-granddaughter Sophie.