William Charles and Edith Benbow
Front: (left) Wm Johnathan Joshua; (right) Reginald Whitcliff
William Charles Benbow (b: 12 Feb 1864 in Georgetown, Temuka d: 12 Aug 1921 in Timaru Hospital Bur: 16 Aug 1921 Temuka Cem.) Mar: 05 May 1886 in Temuka to Edith Stringer (b: Jan 1867 in Milton, Oxfordshire d: 16 Jul 1922 in Temuka Bur: 18 Jul 1922 Temuka)
1911 - Electorate: Temuka Number 423: Surname: Benbow Given Name: William Charles
Residence: 54 Hornsby Street, Temuka Occupation: mill owner (In Temuka Municipal Brass Band)
Ashburton Guardian, 6 May 1912: TIMARU, May 5: Last week Mr W. Benbow, of Temuka, met with a painful accident. A dray in an open paddock was being loaded, when the horse became restive and bolted, and in attempting to check its career, Mr Benbow tripped and the vehicle passed over his back. Fortunately the dray was empty and no bones were broken, but he was somewhat severely injured.
Ashburton Guardian, 20 Dec 1918 SPEED LIMIT BREACHES. On charges of exceeding the motor speed limit fines were imposed as follows: (on traffic bridge) William Chas. Benbow (Temuka),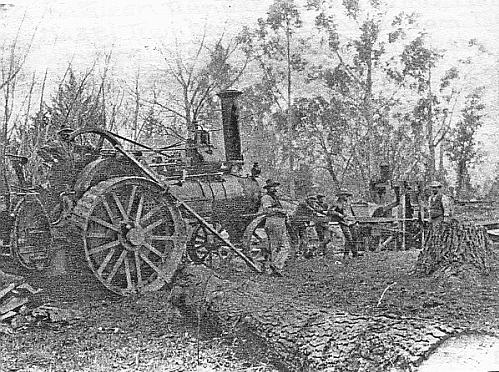 William Benbow's Garrett Traction Engine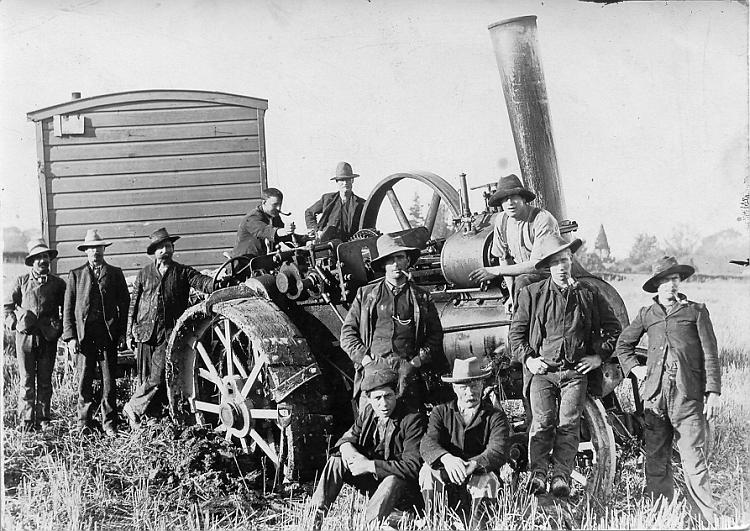 Photographed at Pleasant Valley before 1902 when the Guilford family left for Tarata. Third from left is William Charles Benbow with his Garret traction engine - can you name any of these men? None appear young enough to be his 3 sons who worked with him for many years. Seated in front are George and his father William Guilford.
THE GUARDIAN NEWSPAPER, TEMUKA 1921 - WILLIAM C BENBOW
It is with regret that we record the death of Mr William Charles Benbow, which occurred at the Timaru Hospital on Thursday last.
The late Mr Benbow was the son of old pioneers, the late Mr and Mrs William Benbow, and was born at Georgetown, Temuka, in 1864. He was educated in the Temuka Public School and on leaving school, took to a farm life, going to work at first for the late Mr S McCullough, Waitohi. Then he went to the Geraldine district, and worked for a time in a sawmill at Raukapuka. For some years he followed the calling of an engine driver on various mills and in 1904 started on his own account with a threshing and sawmilling plant. This business he carried on until the end of his life,
having a large connection.
He was always fond of music and was amember of the old Volunteer Drum and Fife Bank. In 1911 he joined the Municipal Brass Band, and was one of its staunchest members. For many years he acted as its secretary and it was only at the last annual meeting of the Band a couple of months ago that he relinguished-:the latter position as he had been ordered a lengthy holiday by his medical adviser. From that date his health grew steadily worse, for he was suffering from a complication of complaints. A few days ago he was taken to the Timaru Hospital and there he passed away on Thursday last.
The late Mr Benbow was a man of integrity, a good neighbour and friend and earned the respect and esteem of all who knew him. He leaves a widow and three sons - Messrs William, Reginald,
Herbert and his adopted daughter, Alice.

THE LATE W.C. BENBOW: THE FUNERAL; The funeral of the late William Charles Benbow took place at Temuka on Sunday afternoon, and was largely attended, friends coming from all parts of the district to pay their last respects to one whom they had highly esteemed in life. The deceased having been a member of the Temuka Municipal Brass Band for many years and for a long period its secretary, the Band, under
Conductor Jos. Dephoff, and the Salvation Army Brass Band, under Bandmaster J.P. Rive, were present, Mr Jas Allfrey being the drum major. As the long cortege made its way to the cemetery, the combined bands played "The Dead March" and on reaching the cemetery gates they lined the way from the hearse to the gates, playing sweet music as the bearers with the coffin and the mourners passed between them. The burial service of the Salvation Army was read by Commandant Armstrong. During the service prayer was offered by Bandmaster Rive and addresses were delivered by Envoy Andrews and Bro E Butler. During a short service at the house "My Horne is There," was sweetly sung, and at the grave side several other hymns were sung, the bands accompanying.
The bearers were four nephews of the deceased, Messrs T and E. Mattingley, Ben. Trumper and Frank Guilford. The floral tributes of sympathy included wreaths from the wife and sons, members of the Temuka Municipal Brass Band nd Mr and Mrs Trumper (artificials), the employees, Mr and Mrs D McInnes, Andrew and Mary Armit, Mr and Mrs Burtenshaw, Mr and Mrs Thomas, Bob and Louie, Mr and Mrs Swap
William and Edith's family:
1 William Charles Benbow (b: 24 Jan 1887 in Geraldine d: 06 Mar 1887 in Geraldine)
2 William Jonathon Joshua Benbow b: 27 Apr 1888 in Geraldine d: 05 Aug 1936 in Timaru Bur: 07 Aug 1936 Temuka Cem. Married: 1911 Alice Maria Looker b: 26 Apr 1889 in Rangitata d: 20 Mar 1970 in Christchurch Bur: 23 Mar 1970 Temuka Cem
3 Reginald Whitcliffe Benbow (b: 02 Mar 1890 in Geraldine; d: 08 Jul 1970 in Temuka Bur: 09 Jul 1970 Temuka Cem) he mar: 1914 to Agnes Cain (b: 28 Sep 1883 at Seadown; d: 12 Sep 1946 at Temuka)
4 Lesley Herbert Benbow (b: 23 Nov 1892 at Geraldine; d: 1978 at Rotorua) mar: 1917 at Temuka to Catherine Bertha Walsh (1880 at Epson, Surrey, England, she d: 1953)
5 Alice Victoria Benbow (b: 11 Jul 1900 in Geraldine d: 18 Dec 1988 in Porirua, Wellington Bur: 20 Dec 1988 Crem) Mar: 26 Jun 1925 in Temuka to Lawence Hartley Hopkinson (b: 20 Nov 1901 in Temuka d: 31 Dec 1980 in Temuka Bur: Temuka Cem)
(Left to right) Wm Johnathan Joshua; wife Edith; William Charles Benbow (seated with dog Bruce, son Lesley Herbert; Reginald Whitcliff
Photocopying was the technology of the 70's and lacked today's clarity. Your help is needed to update that valuable documentation. Please, if you hold original photos of family members, could these be scanned and sent to give clear images of photos scanned from the 1974 Benbow book by Catherine Lincoln.
| | |
| --- | --- |
| | Under construction...can you help? |
To conform to the Data Protection Act all pages have been altered to exclude details for living people other than the name. Images and data used in this site copyright - ©

If you can help, have comments, alterations, corrections, amendments etc. please