Click Slide menu on left
WW1 Military Service - Walter Guilford
| | |
| --- | --- |
| | |
Walter Guilford was born 30 Dec 1884, one of a family of 18 children brought up by his parents, William and Ann Guilford, at Pleasant Valley, Geraldine where he was educated.

Walter remained in South Canterbury when his parents moved to Tarata in Taranaki May 1902 and undertook work locally. The Ashburton Guardian reported on 20 September 1910: "The formalities in connection with the purchase of Mr Brookland's farm at Winchester under the Land Settlement Finance Act, 1909, are now completed, says Mr Buxton, M.P. This is the first purchase in the South Island under this Act. The area purchased is about 400 acres and the Association consists of S. W. Trumper, junior, W. Guilford, W. T. Bill, Arthur Davey, and George Duke".
1912 - Wises Post Office Directory; Walter Guilford; Farmer
1914 - Temuka electoral roll; living at Temuka; farmer

In the early war period, men volunteered for service, but then numbers dropped. Men of military age found increasing social pressure with posters and patriotic rallies to "do their bit". To fulfill obligations to Britain, the Government introduced conscription and this accounted for about a third of WW1's service men. A ballotting system had men gazetted for each intake and were given a month to appeal. Farmers were burdened by a strong sense of duty and obligation to his land. The agricultural work force got no recognition that their war effort was in the fields of New Zealand needed to feed the nation. With no one to take over his operation so it could be maintained in his absence, Walter decided to sell up.


Four days later, Walter was in Dunedin where on 17 Apr 1916 at the Dunedin Registry Office he married Jane (Jeanie) Helen Love with her sister, Jeanette Love as witness. (Jeanie was b: 1878 in Ida Valley, Otago to parents Robert Love and mother, Margaret Collins nee Potter) Two days later, with his bride, Walter was back in Temuka to act as best man at his brother Robert's wedding.

Walter was one of 15 recruits who were farewelled at a standing room only gathering at the Temuka Drill Shed in early May 1916. They were commended for their patriotism and fine spirit, and were wished a safe return after victory.
Walter left Timaru by the express for Trentham on 3 May 1916, after being entertained in the Stafford Tea Rooms by the Timaru Ladies Patriotic committee, then falling in and being addressed at the Drill Shed, sadly not to return. Jean was living at Sherborne Street, St Albans in Christchurch when Walter commenced his army service on May 3rd.
Army details Height 5 ft 10"; Weight 180 lbs; Religion Methodist; Eyes blue; He received the required vaccinations prior to departure August and early September 1916 with the 16th Reinforcement. He was admitted to Wairarapa Hospital on 2 June 1916 suffering from influenza.

Walter's practical skills were utilised on arrival in Europe - between 8th January 1917 and the 9th March, he was attached to the railway construction gang and then rejoined the Battalion. On April 5th he was attached to the 2nd Anzac burying party - the grimmest duties of the war was to bury one's comrades.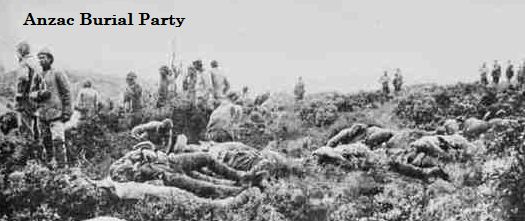 Life was spent in trenches, existing in what was often a lice-ridden, rat infested hole in the ground waiting for a stray shell or sniper's bullet to take its toll. Routines involved "stand to arms" inspections, cleaning of rifles, repairing the barbed wire of the entanglements which lay between the frontline and No Man's land - an area that ranged from 20 metres to over 800 metres across and stretched 720 kilometres from the Belgium coast to the Swiss frontier. Daylight raids were carefully planned dashes across No Man's Land after a short artillery and mortar barrage and night raids slow and secretive. Casualties were high among New Zealand soldiers who built an impressive reputation of dependability to perform under all conditions.

Walter was hospitalised and rejoined the Battalion 15/5/1917 and in the beginning of October, he was moved to 2nd Arm Reg. Comb. On the 24th February 1918, the New Zealanders moved away from the front for a long overdue spell of rest and retraining in the St Marie Cappel area, 40 kilometres to the rear. Three months in the front line over a harsh winter, after six months of bitter fighting had left , everyone exhausted. So, for most of March 1918, the New Zealand division rested and trained in the Etaples area.

The combined effect of rest and exercise was a boost to their physical condition and boosted morale. There were hints that an expected new German offensive was inevitable. The war had been going badly for Germany, and now with some troops arriving from the United States, action must be taken before significant numbers followed. It was their last chance to inflict a crushing defeat on the Allies.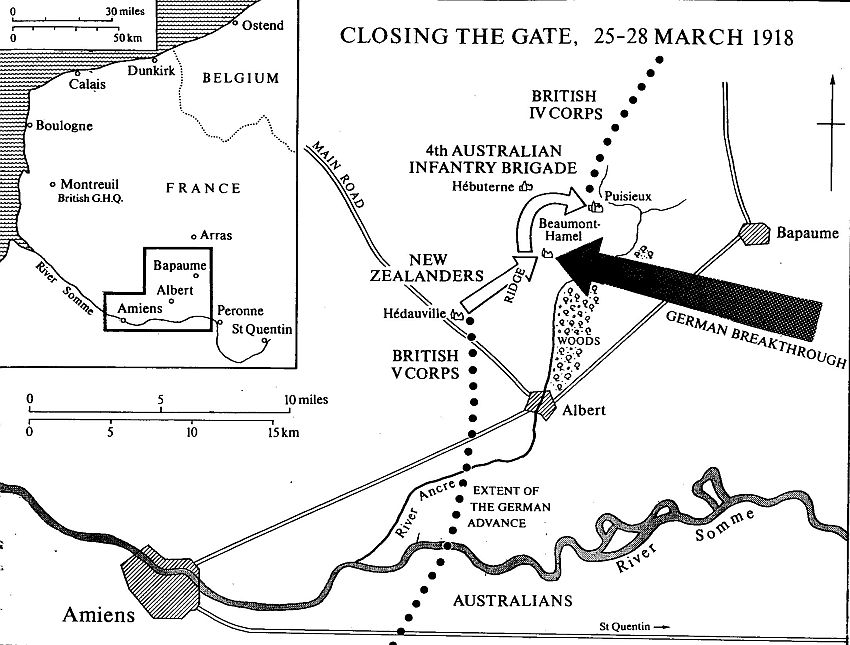 The German offensive started on 21st March with a five hour ferocious artillery bombardment and almost half of the entire strength of the German Artillery on the Western Front was involved. Deeper than usual, the attack hit assembly areas, communication trenches, brigade and division headquarters and wrecked havoc on rear areas and forward defences. The intention was to demoralise and confuse, not the usual aim which was to obliterate all defences. The infantry followed these attacks to combat any resistance offered. In the lead, trained storm troopers moved forward into the British lines as quickly and deeply as they could. Behind them, the remaining troops followed to mop up any remaining pockets of resistance.

21st March,19l8, the German forces attacked along a 80 kilometre front from St Quentin in the south to Arras in the north. Here the British 3rd and Sth Armies encountered the main thrust and were outnumbered four to one and started to buckle and fall back. The situation became desperate - the Sth Army was smashed and the line was in tatters. In the south, New Zealand had joined the Australian 3rd, 4th and Sth divisions and 32nd Division there was now only tenuous contact with the French and in the north, the army was in retreat. This left the way open for the Germans to break through in strength, and split the British and French Armies. This would force the British to pull back to the north to maintain access to Channel ports while the French would need to move south to block the approaches to Paris.

The New Zealanders had to close the gap by establishing a line between the villages of Hamel and a distance of over 4 kilometres. In this offensive, Walter Guilford lost his life on March 23rd 1918.
| | |
| --- | --- |
| Record of service | |
| Attached Railway construction gang | 8/1/1917 |
| Rejoined Battalion from Railway construction party | 9/3/1917 |
| Attached 2nd Anzac Caple Burying party | 5/4/1917 |
| Attached to Working Battalion | 24.4.1917 |
| Rejoined Battalion from hospital | 15/5/1917 |
| Moved to 2nd Army Reg Comb | 2/10/1917 |
| Killed in Action | 27/3/1918 |
| Buried Anchonvillers Military Camp | 4 L 57 a.q. 9a 3 |
| Rev R J Watson Plot 1 Row 1 Grave No 33 | |

Soldier: In Action: Walter's photo taken in the field in France

Click here for wife Jeanie's page
Walter had not long rejoined his battalion after leave in UK when he was killed in action at the Somme.

ROLL OF HONOUR: 39 Apr 1919: Word was received by Mrs Walter Guilford last week of the death of her husband at the front. The late Private Guilford was well-known in the Geraldine and Temuka districts. He was a son of Mr W. Guilford, formerly of Pleasant Valley, but then of Inglewood, North Island. He was about 36 years of age, and at the time he enlisted was farming at Winchester. He was a steady, hardworking man, much respected by all who know him, and great sympathy will be felt for his widow and little child. He left with the 18th Reinforcements.

Walter's brother, Cecil, died of wounds just over five weeks later. Walter's medals,his plaque and scroll (1921) were sent to his widow - Jeanie was living back in her hometown of Ophir.
Walter's name was inscribed on the Winchester War Memorial which was unveiled in a touching ceremony on 23 May 1920. The proceedings opened with the Lord's Prayer, followed by the singing of the hymn "Lead Kindly Light" and the laying of wreathes by the school children as the names were read. Several tributes were paid to these brave men who had given their lives in order that others might live in peace.
In July 1920 at the largest gathering ever seen in the Victoria Hall, Winchester, when district soldiers were welcomed home and presented with medals, and those who had made the supreme sacrifice were remembered by the presentation of certificates to their next-of-kin - Walter was one of these men. His wife, Jeannie, died on 17 June 1939 in Auckland, survived by their only child, Edwin (Eddie) who was born after Walter had embarked.