Alice Mabel Guilford was b: 01 Jan 1886 in Pleasant Valley, Geraldine to parents Ann and William Guilford and d: 10 Oct 1980 in Taranaki Base Hospital aged 94 Years. She had lived at 252 Coronation Avenue, New Plymouth with son Cecil. She was Bur: Oct 13, 1980 at Awanui Cemetery, New Plymouth. Click here for Page2
Alice mar: 06 Jan 1920 at Wanganui to Leonard Seymour (Tom/Toge) Guilford b: 02 Jun 1886 in Wanganui; A farmer and Horse Trainer, he saw service WW1 He is pictured below with his family WW2. He d: 03 Aug 1965 in Wanganui where he was Bur: 05 Aug 1965 at Aramoho Cemetery, Wanganui.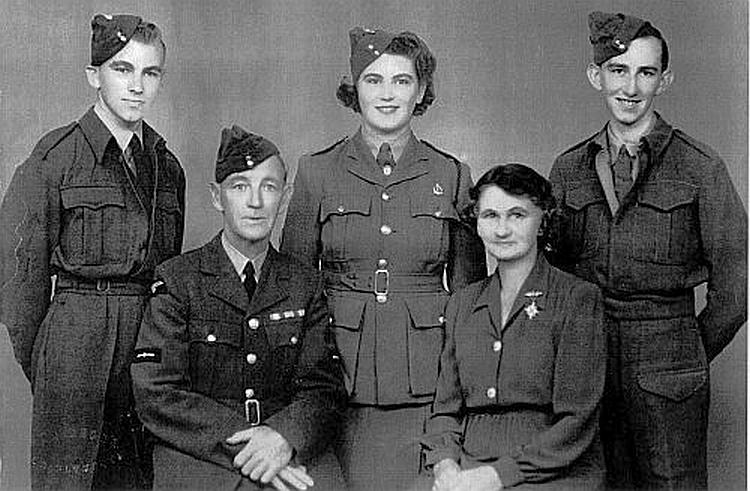 Leonard Seymour, son of James Guilford married his cousin Alice Mabel Guilford, William Guilford's daughter. They were much loved by two Guilford lines and after Leonard's death at Wanganui Alice retired to New Plymouth where other family members were based.
10 December 1894: Aramoho School. Successful pupils at tbe late examination: Std 1: Boys: Leonard Guilford; Std V: Girls: Ethel Guilford
1911 - Joshua Guilford (Toge) Groom, 51 Proctor st, Papanui, Christchurch
1911 - Thomas Guilford; Alma Rd; Jockey
1914 - Grey River Argus , 27 April 1914,- AUCKLAND, April 25. The concluding day of the Avondale Jockey Club's Autumn meeting was held to-day. Heavy rain fell through out the night, and morning, but the weather lifted in the afternoon though the tracks were heavy. Results :— HANDICAP HURDLES, 150 sovs, two miles: T. J. L. Guilford's KING TRY, (9.0) Tilsley 1st
1914 - Wanganui Electoral roll; living at 10 Nixon Place; bushman
WW1 1914-1918 - Full Name Leonard Guilford; Serial No. 8/1873; First Known Rank Private
Next of Kin E. Guilford (brother), Waimiha, via Taumarunui, New Zealand; Marital Status Single
Enlistment Address 10 Nixon Street, Wanganui, New Zealand; Military District Wellington; Body on Embarkation 3rd Reinforcements; Embarkation Unit Otago Infantry Battalion; Embarkation Date 14 February 1915; Transport HMNZT 17, Vessel Maunganui or Tahiti or Aparima
1915 - Evening Post, 8 October 1915: SICK AND WOUNDED - HOW THEY ARE FARING "LAST NIGHT'S REPORT. In the hospital and progress report issued last night Wellington men, and others with next of kin residing in the Wellington district, were mentioned as under: — Admitted Sth Northern General Hospital, Leicester. OTAGO BATTALION. Pte. Guilford, Leonard, 8/1873,
Their children:
1 Unnamed Infant Guilford b: 22 Jun 1920 in Taumarunui d: 25 Jun 1920 in Taumarunui Bur: Taumarunui 26th June 1920
2 Kathleen Anne* Guilford b: 02 Jul 1921 in Tauramanui d: 28 Dec 1997 in New Plymouth Crem AWANUI: 30 Dec 1997 Married: 07 Apr 1948 in St Mary's Church, New Plymouth to Sydney George Mackay Colson Div.
*2nd Husband of Kathleen Anne* Guilford: Mar: 1956 to Maurice Thomas O'Connor b: 1921 d: 29 Oct 1999 in New Plymouth Crem: 01 Nov 1999 AWANUI
3 Leonard Cecil* Guilford b: 02 Sep 1924 in Tauramanui, Cecil d: 01 Nov 2006 at Roseneath Resthome, Inglewood
4 Bruce Norman Guilford b: 04 Oct 1925 in Tauramanui d: 02 Mar 1955 in Wellington Bur: Aramoho Cemetery Wanganui.