Gertrude Mary & Ernest Albert Guilford

Gertrude Mary Guilford was b: 7 Aug 1879 at Pleasant Valley, Geraldine to parents William and Ann Guilford and d: 29 Apr 1939 in 19 Lewis Avenue, Wanganui Bur: 01 May 1939 Aramoho Cem
.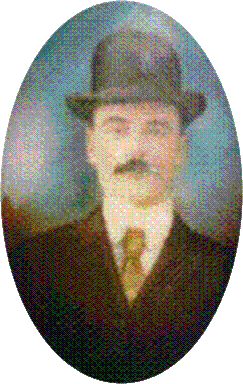 Gert mar: her cousin Ernest Albert Guilford on 22 Dec 1907 at the Registrar's Office, Marton. He was b: 23 Jul 1877 in Geraldine to parents James and Catherine Guilford and d: 24 Dec 1966 in Wellington Bur: Aramoho Cem. Wanganui, Dec. 27 1966.
This insight into the life of Gert and Ernie Guilford was written by their grandson, Horace George Guilford (4/4/1997)
My grandfather, Ernie moved to Wanganui sometime before the end of 1882 with his father James and mother Catherine, and his four brothers Henry, John, Gerald and Bob. It must have been a great experience for an eight year old, to move from a backwoods into a town with all that industry going on at the Railway workshops where James was able to get employment as a timekeeper. Two girls, Ethel and Kathleen and brother Leonard were were born in Wanganui.
But life can be cruel - in 5th April, 1889 his youngest brother Herbert was killed by a train engine and his mother was to die late that same year after giving birth to his sister Emma May. Ernie's father remarried in 1892 to Emma Schwass.
Times continued tough - in 1893 the CBA bank defaulted on its payments as did two other banks. In his early teens Ernie had a job in the workshops cleaning engines. James, his father had acquired five acres of land at Eastown where they milked some cows. Ernie told me he left his job at the workshops because his father was always finding fault with his job. Some time later Ernie and his brother left to clear bush in the Waitotara area where, after several months, they collected their cheques and cashed them at the Railway Hotel at Waitotara, where they stayed for a few days. They bought new clothes and went to a dance with some locals at the hall. When they got home they found that their beds had been "apple pied". Ernie was always fairly quick and a bit mischievous; so down into the kitchen they went and acquired a handful of baking soda which they placed in the maid's commodes. Can you imagine the squeals later!
In 1900 he went down to the South Island and must have struck up a friendship with his cousin Gertrude, who later became his wife. (Their daughter Eileen Myrtle

was born Feb. 1901)
On the 27th February 1901 Ernie attested at Wellington for the Boer War, enlisting in the 7th New Zealand regiment (No 4167) under Lieut-Colonel Porter. He was one of 600 officers and men who sailed from Wellington in the steamship "Taranto" on the 6th April 1901 for South Africa. He gave as his next of kin, his 16 year old sister Kathleen Guilford of Aramoho, and his address then as care of the GPO at Gisborne.
During the war, he was attached to the quarter-master's store, which he said was a covered wagon. Whenever they came into town to get provisions, the men would usually go on the "booze and whatever." He said that chewing tobacco was cheap - you could buy 12 sticks for a shilling and whiskey was quite cheap too, so Ernie would spend all his pay on buying such. Three days out, they would be short of supplies and the men would be paying him a shilling for a stick of tobacco. He said "I made more money from my dealings than I ever did from my pay at the war." On the 16th September 1902, he was discharged and decorated with the Transvaal Bar.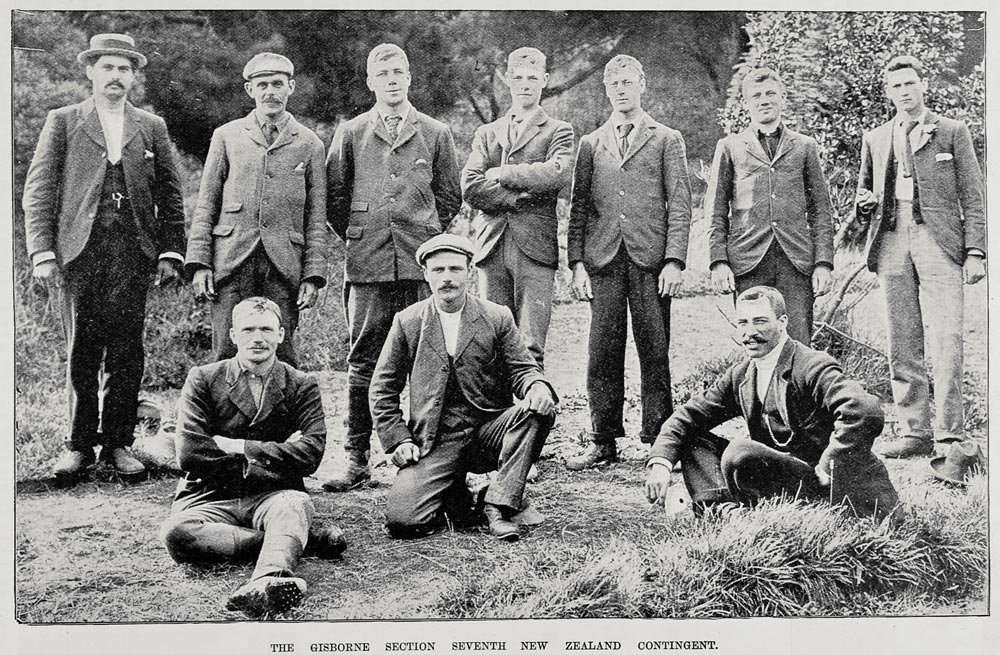 The Gisborne Section Seventh New Zealand Contingent. Back row: J. Hanlon, C.J. Denny, T.F. Carlyle, N. Law, P.W. Teasdale, W. Parker, W.L. Cato. Front row: D. Buckley, E.A. Guilford, Sergeant T.R. Porter. Source 'Sir George Grey Special Collections, Auckland Libraries, AWNS-19010322-5-2'

On his return, Gert joined Ernie and he worked felling bush at Te Porou, then Gisborne where their daughter Stella was born 1905. After the death of William Guilford, Gertrude's father, Ernest married his cousin Gert in 1907 at the Marton Registry Offoce. Later at Te Kuiti, Ernie was felling bush and pit sawing and in 1911 to 1916, the family was at Tangitu, where he built a house. At a social at Te Kuiti, when the toast of "The Man on the Land" was being honoured, Mr E. Guilford, a settler trom Tangitu, remarked that what the "cow cockie" wanted was roads. "In my district," he said, "The road was all mud pools, and settlers had to literally swim out to get to civilisation." Work difficult to find so the family, now increasing, moved around a lot.
Ernie had skills at organisation and getting things done. Above, he is officiating as starter for the chopping and sawing events at the Tangitu Sports held at Mapiu on New Years Day 1912. He also acted as handicapper and starter for the horse events which brother Bob won" best gentleman rider, best hunter, high jump and second as best trotter." Page 119; Bush Track to Highway
Gert and Ernie lived at Aberfeldy and Upokongaru and were for several years sharemilking at Rangiruru, Te Puke before moving to Waikanae in 1922, where Ernie was a plate layer for the railways. 1924 found them back at Wanganui with Ernie working as a storeman. They lived at various addresses over the years, among them 49 Patapu Street, Wanganui East and Wanganui is where sons Walter and Douglas went to school.
In 1924, Hazel who was only six, died of Peritonitus. Ernie was doing contracting work at Lismore and Pipiriki but times were very hard and in November the children were taken out of school and they joined their father up the river cutting bush.
In 1928, Gert and Ernie had the Fern Lodge Boarding House. The photo, one of the few remaining (above right) was taken out the back. For me, the look on their faces tell it all. How did Ernie break the news to Gert that brother Bob's wife Mabel had died and the 10 children were coming to stay for a few days... Can you imagine something like 20 children and boarders in the same house?
In 1929 the family moved to milk for Frank Parson's who had quite a big herd of cows and 2 or 3 farms. They had mastitus in the herd so they needed a big family to milk them by hand. I was shown by Frank Parson's son where the cowshed was and where my grandfather and his family used to milk the cows.
So, what was my grandfather Ernie like? When Uncle Mick, his eldest son bought a motor bike, it had a belt' drive so to start it, you had to push it and jump aboard. My Grandfather never sat back - he liked to try things so he had a go. It wouldn't start so Mick advised him to use more throttle. He did and the bike shot out from between his legs and left him sitting on the ground.
The 1930's found New Zealand in a massive slump. Ernie went up the back of the Whirionga and worked for Bill Bruce and later, went to the Lakes district which was on the Wanganui side of Waverley.
My grandmother went there to live. She was a devout Christian and the second packhorse that went in, carried a treadle sewing machine on one side and the portable organ on the other. Conditions were very rough. About 1938, they left and did farm work at Meremere for Griff Williams but Grandmother's health declined, and she spent time at Hawera Hospital. They moved back to Wanganui where Gert died at Lewis Avenue.
I was only four and my only memory I have of my grandmother is when she must have been on her deathbed. My father said they never had much money but any time they went to school, they were often the only children with lining in their trousers. Gert would keep all the flour and salt bags, wash and unpick them for use to line any shorts she made. How did she find time to milk the cows, do general household cleaning, washing, baking and looking after all those children? And there was still time to teach them about the Bible and sing Psalms in the bush or wherever they were.
I got the opportunity to know my grandfather, after his wife's death. He would have been about 62 years of age and would come down in his Model A Ford on a Saturday morning to see my father. He moved around between family - he got on well with them and they liked him. I was nine when we were living at Whakarmaru. The war had finished and my father was up there leasing a piece of land and had his own herd of cows. The soldiers started to return and Ernie went to meet them. All my Aunties and Uncles came to Whakamaru and had a big party to welcome their return. Reg and Ted had gone early and had been prisoners of war at Crete and Greece.
Ernie was a man of few words - he had a lot of one line pet sayings which suited almost every occasion. He never had a bad word to say about anyone and said "If you hadn't anything nice to say about anyone, don't say a thing." He had many faults but was a decent human being to my way of thinking.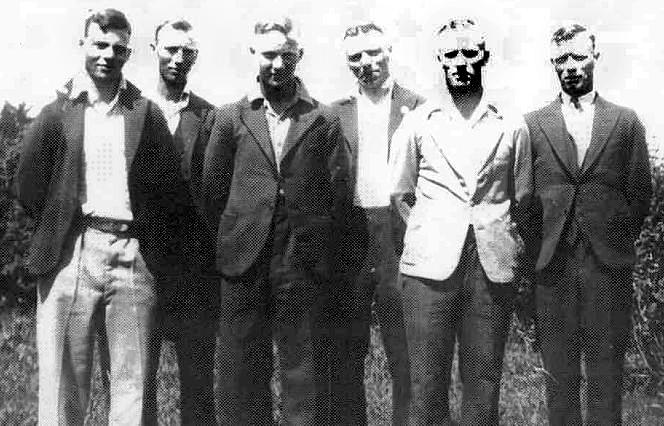 Above - Walter, Doug, Neil, Horace, Mick and Jack. Absent at war were Reg and Ted
During the 1950's he worked at the Patea Freezing Works. My Uncles and Aunties often talked about how he had a whistle for them all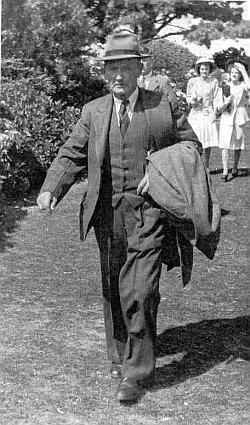 when they were children. When I asked him about this, I was told, "Yes, I did, and what's more, if I had to whistle twice I went looking for them and if I went looking for them, it wouldn't happen again for a while. There were 12 of them and either I ruled the roost, or they did. One way or another, I didn't have to whistle twice, or go looking and we got on very well."
About 1955, Ernie came to live permanently with my parents. His youngest son Neil died 1960 at Te Awamutu and many of the family went to the funeral. The next year, my parents shifted to Rotorua so Ernie went to stay with my mother's mother in Wanganui. He was not well at this stage as he had a growth in his throat and his heart "was playing up a bit" but he still managed to go into Wanganui on pension day and to meet up with his mates but would be unwell for days after.
The best saying Ernie had that I remember, was his quoting from Robbie Burns and it went something like this: "Its a gift to see ourselves as others see us" and I think that would be true for all of us. My grandfather made quite an impression on my life - it was a pleasure to have known him. The family photo below was taken after attending Gert's funeral at Wanganui.