"Ladymoor" Waitohi
Timaru Herald, 12 December 1878: TO CONTRACTORS AND BUILDERS. SEPARATE TENDERS are invited for the ERECTION of a DWELLING HOUSE for Mr W. Benbow, Waitohi, in Wood and Concrete. Plans and Specifications to be seen at Messrs Lyon and Harrop's Store, Temuka. Tenders, endorsed, to be sent in not later than SATURDAY, 14th inst. The lowest or any tender not necessarily accepted. W. BENBOW, Waitohi.
Two stories - the upper floor had six bedrooms upstairs, sitting room down, bathroom and a very large parlour with an open fireplace and a coal range and a large pantry. The stairs feature a carved stylised tulip.

Mary brought bulbs, seeds and cuttings from England and she was to sell the first flowers to the first florist to open a shop in Timaru - spring bulbs, 6 shades of tulips, irises, snowdrops, crocuses and others. William started the first orchard in the Waitohi and Rangatira Valley, planting apple pips and fruit trees. The family used Clydesdale horses to work the farm and when the days dusty work was done, all would gather in the large kitchen at night - the air thick with the smoke from the open fire and range. The beams of the ceiling were used to hang the hams from, for they slaughtered their own pigs and after curing with salt peter and ordinary salt the sides and hams were hung and the only smoking they got was from the clay tobacco pipes in the dim lighting from the hurricane lamps but upstairs they had candles.

The little sod cottage was not pulled down but utilised as a storage room for potatoes, swede turnips, fruit lined the shelves and precious seed was kept in tins away from rats. The native rat was a nuisance. There was also a spot for wood and coal.
In the new house too there was a big pantry with a large padlock on the door. Mary kept a strict eye on that door and she wore a belt round her waist on which hung a ring and there the pantry door key hung. She alone issued out the rations, tea, sugar, cereals, biscuits etc, she was obviously very economical but they did live quite well. It must have gladdened Mary's heart to be able to bring out all her little treasures, nice china, glassware, silver etc, a few pieces still exist among the family. No doubt the whole family felt rewarded for all their hard work, tolerance, patience and caring, love kept them together and happy.
(Catherine Lincoln - Written 1974) When last seen the sod cottage was papered in places with old newspapers, torn, borer eaten, but still readable. The war cry, the salvation army magazine was better preserved than others, a piece of the "Otago Witness" dated Wednesday, November 29th 1911. Established 1851 was clear. An advertisement for Marshall & Son & Co., Gainsborough, England, selling engines (traction) vertical horizontal, fixed engines and saw benches etc. Also part of an ad for Andrews & Beavan, Christchurch, for Crushers, Seed Cleaners, Chaff Cutters. It seemed everything was available for the pioneering farmers.
A large part of the cottage has been taken away to make room for a small shed and outside loo. The fireplace filled in and the chimney taken off the roof. William built good solid stables for the horses with hay lofts up above, and some of the grandchildren remember sleeping up there, when there was extra visitors in the big house to stay. Of course there was the usual hay barn and machinery sheds to protect machinery, hay binders etc.
As the family grew up and married there were weddings at "Ladymoor", christenings and grandchildren came along, even wedding anniversaries. They would all come to the family home in their gigs and traps, a line up of tethered horses munching grass, the harness being draped over the gigs etc. What a round up it must have been to harness them all up again, but of course with years of practise they were adept at it.

The golden wedding of William and Mary was celebrated in 1898 at "Ladymoor" with all the family there and a host of grandchildren.

Today "Ladymoor" is still there in very good condition, but no garden and most of the lovely trees have gone, fruit trees too. It was eventually sold to the Talbot family, a neighbour and another pioneering family. The strong gusty northwest winds have always been very cruel to the trees in Canterbury, naturally sturdier trees had to be grown for wind shelters. Williamís favourite apple was the Rustic~pippin - a white flesh apple with green skin mostly covered with an almost sandpapery coat but very sweet and juicy inside - one never hears of it today.

In 2012, Alan longtime current resident of Ladymoor, kindly sent these photos. Place cursor on each to enlarge.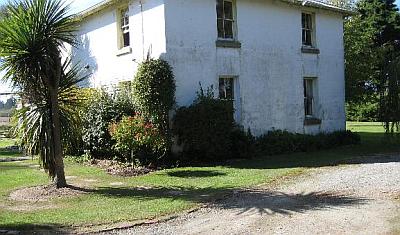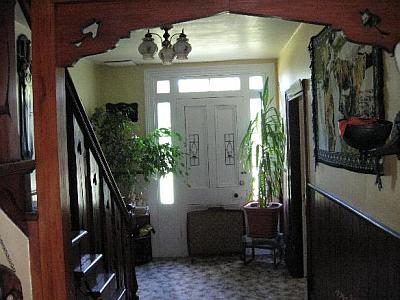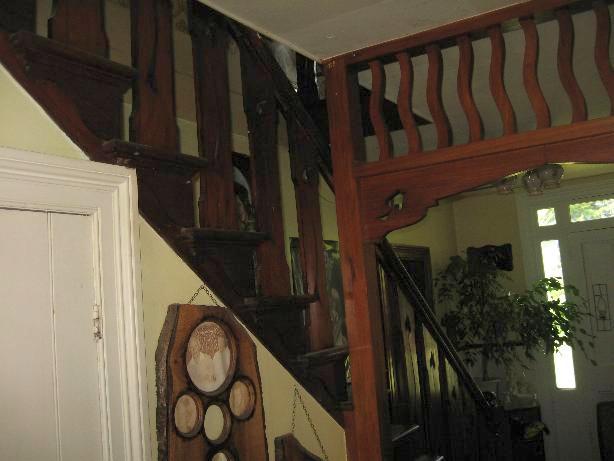 Ashburton Guardian, 29 April 1911: Land Sales. Messrs Guinness and LeCren, Ltd., Timaru: Properties sold during the past month:ó Mr James Benbow, his "Ladymoor" farm at Temuka, containing 418 acres 3 roods and 33 perches, with fine homestead and buildings, to Mr David J. Young.

View the home of William and Mary Benbow

March 10, 2013

on Waitohi Road, Temuka