Daniel, Tottie, Lucy and Archie McInnes (abt 1900) Place cursor on image
Lucy Harriet Benbow was b: 1st May 1868 at Mt Pleasant, Waitohi - the last of William and Mary Benbow's two children born in New Zealand. Early years, education meant a walk of 6 miles over rough, bullock tracks with several creeks to cross, but as roading improved, families joined to provide transport for their children.
1876 Timaru Herald, 17 February 1876, Prize list: Temuka school: Good conduct - Lucy Benbow
After leaving school, Lucy and some of her sisters, became involved with the Salvation Army where she met Daniel McInnes, a soldier with the church. They mar. 8th September 1891 at at the residence of her parents, 'Ladymoor' at Waitohi. Dan was 24 and Lucy 23 years of age. Daniel's brother, Malcolm McInnes and Lucy's sister Henrietta Guilford were the witnesses.
Daniel was born 25 Sep 1866 in Rothesay, Bute. The McInnes family decided to immigrate - John (occ. carter) and Mary McInnes, with their children, Malcolm 20 (blacksmith) Daniel 16 (Joiner) Christina (known as Teenie) 13 yrs and John Jnr aged 11, and Johnís brother Neil aged 50.
Daniel had been apprenticed to the trade of carpenter and joiner before leaving Bute, Scotland. From Milton where his father settled, he moved to the Temuka district where he owned a timber and joinery business and quickly established himself as a builder and contractor and many buildings in the area became landmarks and examples of his craftsmanship.

The Temuka Town Hall, King Street, Temuka was built in the 1890s by Daniel McInnes (in 1951 this became the Elite Cinema operated by South Canterbury Picture Co. Ltd. as a single screen cinema with a seating capacity of 553 - since 1970 it has been a second hand shop

- admire the ceiling!)

He managed such constructions as the Dominion Theatre and shops, The Salvation Army halls, the Catholic school, Bank of Australasia, Presbyterian Sunday School, the Empire Hotel, and many other buildings in Temuka, Timaru, Fairlie, Waimate, Pleasant Point and the Geraldine districts. Daniel built a house of white rough cast for Leslie Benbow in the area called Sod Town (this later became Maude Street in Temuka) and built his own family's home in Denmark Street. His finest house was a two storey brick and wood Andross House which was between Geraldine and Winchester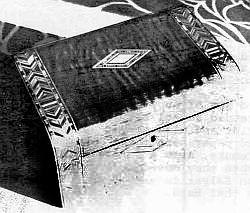 built for his brother John McInnes.

Benbow Bk P105: "Lucy evidently became interested in fine woodwork and selected pieces of wood, possibly left overs from Daniels building materials and made them into craft objects. Lucy must have had an artistic and specific nature to do this sort of work, crafting a wooden box with in-laid grained woods, really delicate work and beautifully polished. (The author Catherine Lincoln, who then owned the box, passed it on to Lucy's grandson Herb McInnes).

Lucy and Dan were very much involved with The Salvation Army and attended the Temuka Corps (church) as did all of their children. In their early years the boys all learned to play brass instruments and played them in the band. Lucy and Dan were devout Salvationists and Lucy was very committed until her death several years after Daniel.

Family Portrait 1912: Lucy and Dan McInnes with their four children.

At back: Flora Tottie (b: 1892) and John Archibald (b: 1896) Front: Victor Benbow (b: 1902) and Wilbur Malcolm (b: 1911)
Daniel was a member of the Temuka Council for 24 years and served extensive terms as either member or chairman of various boards and committees such as the South Canterbury Hospital and Charitable Aid Board and was Mayor from 1907 till 1912 during the period of time New Zealand was declared a Dominion and In the field of sport Daniel was an enthusiastic bowler and Past President of the Temuka Bowling Club and the President of the Temuka Football Club.
| | | |
| --- | --- | --- |
| | Lucy Harriet McInnes | |
1 Jun 1914: OUTBREAK FIRE AT TEMUKA. About 9 o'clock last evening a fire broke out in the factory of Mr D McInnes, builder, at Temuka, and a quantity of machinery, was damaged. A fairly, large amount of timber was saved, and owing to the efforts of the Fire Brigade the fire was prevented from spreading to the timber stack. The building was gutted. The insurance on the factory was £450 in the New Zealand office.

Daniel subsequently became a staunch advocate for the first high pressure water supply in the borough. (This scheme from Winchester was a gravity supply of water piped to Temuka and the pressure developed, was sufficient for the Fire Brigade to direct a jet of water on to the Clock Tower of the Catholic church which was opposite the Borough Council Chambers.)

1917 - NZ Gazette Entries 1917 ; McINNES Daniel; Place Temuka; Occ: Justice of Peace;

Danielís life was a very busy one and his committment to local politics was to the detriment of his family. He always had meetings to go to at night and sometimes two, and a good part of his day was similarly occupied. This meant his business which at one time was considerable, succumbed to the results of his absence and the situation was not helped with rising prices for materials during the First World War, and the depression which followed.

Daniel died on 18th July 1932 aged 64 yr at his residence in Denmark Street, Temuka. The funeral service took place at the Temuka Cemetery, conducted by Major Simpson of the Salvation Army in Christchurch. The Mayor Mr A W Buzan, was present, as well as representatives from every walk of life in Temuka.

Lucy remained in Temuka but moved to Auckland to live with her son Wilbur and his family. After suffering from heart failure for a number of years, she died from cerebral thrombosis, followed by pneumonia on 25 January 1955 aged 86, at the residence of Wilbur in Mt Roskill, Auckland. She was bur: Waikumete Cemetery Location B02.26