nbsp;
Records of the Humphris family are found in the Gloucester Cotswolds. The Domesday survey of 1086 ordered by King William the Conqueror recorded 24 tenants in Sevenhampton, 39 villagers, 5 smallholders, 6 male slaves, 5 female slavesPloughland: 5 lord's plough teams. 29 men's plough teams.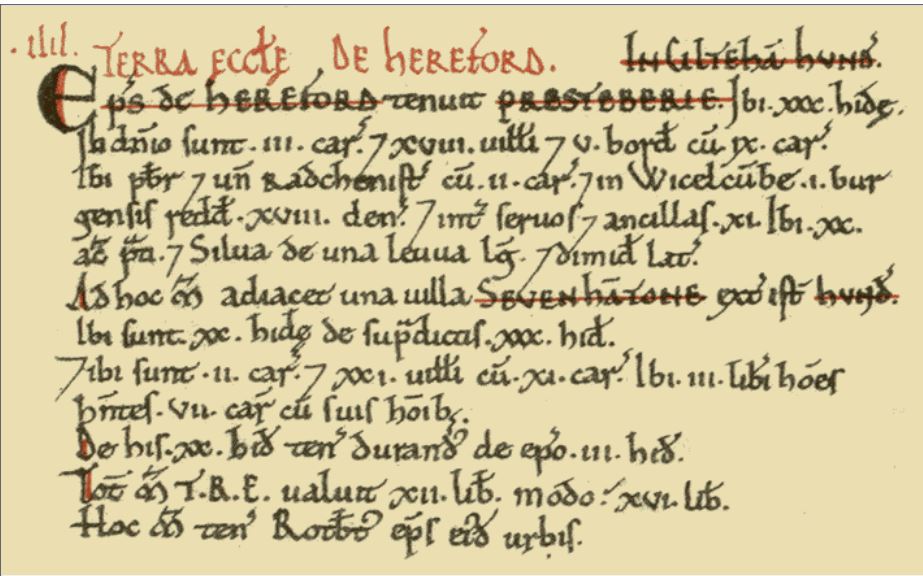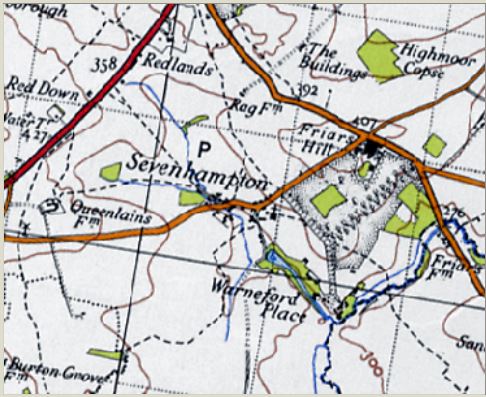 In 1531, the river Coln called Senhampton brook, cut a narrow valley through the centre and above it's valleys, the land rises steeply to over 280m. and in the far west it reaches 310 m. near the highest point of the Cotswold escarpment. Settlement in the parish was scattered, with several clusters of cottages in the Coln valley and a number of isolated farmsteads on the higher downs. The parish name of Sevenham was first recorded in 1086 and with later variants including Senhampton and Sennington, indicates seven settlements. Some of the isolated farmsteads cover Roman sites and there were several small hamlets or farmsteads in the west of the parish in the early Middle Ages.
The Sevenhampton parish in the later Middle Ages included a number of open fields and commons and, in the west, extensive woodland centred on the valley at Puckham and here in the later Middle Ages, an income was derived from sales of wood and undergrowth.
SRC: Parts of the parish were depopulated in the early 14th century (fn. 42) and 21 persons in Brockhampton and Sevenhampton were assessed for a subsidy in 1327. (fn. 43) There were said to be 20 households in the parish in 1563 (fn. 44) and the number of communicants was estimated at 140 in 1551 (fn. 45) and 125 in 1603. (fn. 46) A hearth-tax return for 1672 named 24 householders in Sevenhampton and Brockhampton. (fn. 47) The parish's population, which c. 1710 was reckoned at 180, (fn. 48) increased in the 18th century (fn. 49) and was 349 in 1801. After falling slightly in the first decade of the 19th century, it resumed its rise and in 1851 it stood at 553. In the later 19th century the population declined and in 1901 it was 400. The boundary change of 1935 was only partly responsible for a further decline from 422 in 1921 to 308 in 1971. Thereafter the population rose to 376 in 1991. Cotswold
Churches in Gloucestershire where our ancestors worshipped: St Andrew's Church at Sevenhampton; St Mary's Church at Charlton Kings; St Mary's Church at Cheltenham
RICHARD HUMPHRIS Bapt: 07 Jun 1724 in Winchcombe, Gloucestershire - his parents were EDWARD HUMPHRIS and MARY
CLOSE; he d: . He mar: 25 Oct 1753 to SARAH GREENVILLE (GREVILLE) in Charlton Kings, Gloucester, England
.
Children of R
ICHARD HUMPHRIS and SARAH (GREVILLE) are:
i. S
ARAH HUMPHRIS (Bapt: 23 Feb 1754, Charlton Kings, Gloucester, England.
ii. JOHN HUMPHRIS
(Bapt: 1 May 1757 Charlton Kings, Gloucester, England; Died: 06 Feb 1848 in Hawling Burial: 08 Feb 1848 Sevenhampton, Gloucester, England) mar. 29 Dec 1791 by licence at Charlton Kings, Gloucester to MARY LEE (LEA (Baptism: 10 Aug 1760 Charlton Kings, Gloucester, England; d: 22 Apr 1852 in Hawling Bur: 24 Apr 1852 Sevenhampton, Gloucester, England)
iii. Mary Humphris (Bapt: 10 Aug 1760 Charlton Kings, Gloucester, England)
iv. Richard Humphris (b: Abt. 1762 in Charlton Kings, Gloucester, England; d: abt 02 Jun 1765 in Charlton Kings, Gloucester; Bur: 04 Jun 1765)

vi. William Humphris (Bapt: 14 Dec 1766 in Charlton Kings, Gloucester, England) mar: 13 Apr 1803 to Elizabeth Higgs (
Bapt: 14 Dec 1766 Charlton Kings, Gloucester, England)