JOHN d: 16 Apr 1861 aged 69Y late of Whitehall Farm, Sevenhampton, Gloucesterand where he was buried.
John mar: 5 Feb 1816 in Sevenhampton, Gloucester to MARY MATHEWS, daughter of RICHARD MATHEWS and HANNAH MANCELL.
Mary was Bapt: 13 Apr 1794, Sevenhampton, Gloucester, and d: 22 Apr 1851 in Sevenhampton, Gloucester where she was buried.

From the early 1800's, the majority of families in the Sevenhampton parish were employed in agriculture. In 1851 in the parish, the 780 acre largest farm, employed 31 men and children - John and Mary Humphris and family living at Whitehall were one of 4 tenant farmers in the 500 acre range who employed 10 or more labourers. In 1861 his son Thomas is running the farm and John's brother William is living close-by at Puckleham Farm (450 acres)
Monumental Inscription Sevenhampton; "John Humphris, late of Whitehall Farm, died April 26th 1861 aged 60 years. Mary wife of John died April 12th 1851 aged 54 years, Also son Elisha died March 6th 1851 aged 18 years"
Their children:
1 John Humphris (b: Abt. 1811 in Sevenhampton Occupation: Farmer, Condicot, 200 acres Died: Mar 1880 in Cheltenham, Gloucester) Mar: 20 Nov 1849 in Cheltenham, Gloucester to Mary Anne Smith (b: Abt. 1831 in Cutsdean, Worcester, England Father: William Smith Mother: Hannah)
2 Henry Humphris (b: 17 Jan 1812, Living with parents 1851)
3 Edmund Humphris (b: Abt. 1820; d: 21 Jul 1837 in Pukham Farm, Sevenhampton, Gloucester, England) mar: Emma Williams on 31 Oct 1833 in Charlton Kings, Gloucestershire
4 William Humphris (b: 1821)
5 Thomas Humphris (Bapt: 24 Jun 1824 Charlton Kings, Gloucester, England) mar Diana Hopkins
6 Elizabeth (Bess) Humphris ((b: 1827 in Sevenhampton) Mar: 1853 in Sevenhampton Parish Church, Gloucester to James Bee (Bapt: 27 Dec 1826 Shipton Ollife Parish Church, Gloucestershire Father: John Bee Mother: Harriett Ruck) Family are:
a Frederick John Bee (Bapt: 28 May 1854 Sevenhampton Parish Church; Bur: 26 Oct 1854 Sevenhampton)

b Elsie Mary Elizabeth Bee (Bapt: 02 Sep 1855 Sevenhampton Parish Church)
7 James Humphris (b: 1829 in Sevenhampton)
8 Henry Humphris (b: 1831)
9 Elisha Humphris (b: Abt. 1833; d: 06 Mar 1851 aged 18Y in Northleach, Sevenhampton, Gloucester)
10 Hannah Humphris (b: 1835 in Sevenhampton, Gloucester, England mar: 1862 to Albert Boyce)
1841 Census below: Whitehall Farm, Sevenhampton Gloucestershire (The ages of people over 15 years old were usually rounded down to the nearest 5 years. Eg. someone actually 24 years would have their age listed as 20, and someone 27 years old would have their age listed as 25.) John Humphris, Head, age 45Y, wife Mary 40Y; children John 20Y, William 20Y, Thomas 15Y, Elizabeth 14Y, James 12Y, Henry 10Y, Elisha 8Y; Labourers: Richard Laite, carter 30Y Male Servant; Ceach Collect, female Servant; Thomas Davey 40Y Ah labourer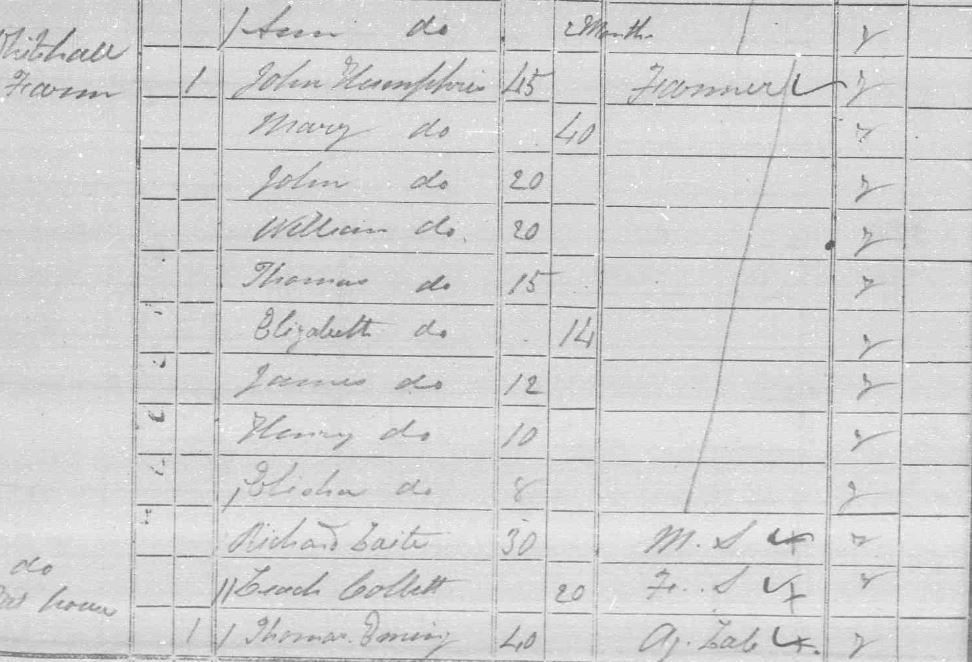 1851 Census below: Name appears as Humphries, Address Whitehall Farm, Sevenhampton Gloucester, farmer 550 acres; John Humphris, head, married, age 50Y, farmer 550 acres amploying 2 labourers, born Gloucester, Charlton Kings; wife Mary 53Y; William 30Y; Elizabeth 24Y; James 22Y; Henry 20Y; Hannah 16Y; John Haile Servant 23Y; William Holland servant 27Y.
1861 Census below: John Humphris - b: abt 1791; widow; age 70Y; Charlton Kings; residence Cottage, Ampney St Mary, Gloucestershire Widower; Occ retired; occ: Agricultural; living with unmarried daughter - Mary Ann aged aged 29Y
Monumental Inscription: Sevenhampton - John Humphris, late of Whitehall Farm, died April 16th. 1861 aged 69 years. Mary, wife of John, died April 12th 1851 aged 54 years Also son Elisha died March 6th, 1851 aged 18 years