Press F11 to limit top toolbar
Press again for toolbar to return
Thomas Charles Barnard in New Zealand

Pioneer jeweller and watchmaker of Christchurch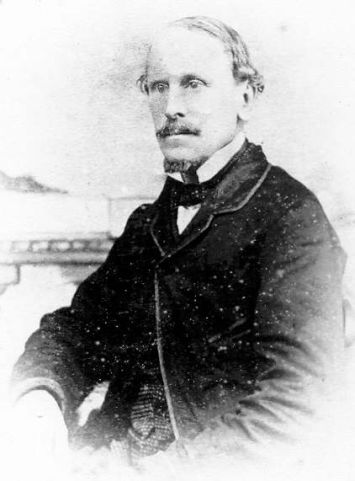 The 543 ton ship "The Surge" arrived at Wellington on December 16th 1856 and after a stop-over, the it went on to Lyttleton where it discharged the remaining 23 passengers on January 28th; among them; Thomas Barnard aged 37 yrs watch/clockmaker; wife Maria, aged 29 years, Charles Thomas,age 10, William, aged 8; daughters Sarah 6, and Emma 3 years and their son Edward aged 4.
Thomas Barnard had applied from London to Provincial Secretary for sections in Christchurch and as early as 1854 had advertised in the Lyttelton Times his intention to set up business as a watch and clockmaker, so he was able to start work in his premises at Cashell Street immediately after settling into accommodation above his first shop..

Below: Drawing of Cashel Street (REF. "Old Christchurch" Pg 398)

Thomas's business as a watch and clockmaker was in Cashell Street opposite Anderson Foundry - a relation William David Barnard, auctioneer was next door.
Thomas was elected on the first committee of the Christchurch Mechanics Institute. Not everyone had the opportunity to attend school, and teaching took the form of a mixture of work related lectures - maths, engineering drawing, accounts, basic science etc and also political and philosophical talks. As an originator, Thomas would have been with other men in like trades who had education and saw the advantages. It was manned by various teachers, political activists and even clergy. They were financed by the pennies from wages sometimes with a philanthropic boost from a rich benefactor. Below - Meeting Record book - Mechanics Institute - for-runner to ChristChurch Library.
In June 1857 Thomas was President of the Society of Oddfellows. and hosted the outgoing president. Over the years he was called upon to help open Canterbury Oddfellowfellowship lodges in outlying towns like Rangiora, Akaroa and Kaiapoi.

1859: At the end of May 1859, Thomas Barnard advertised to let - A Seven-Roomed House furnished, pleasantly situated in Christchurch. For particulars, apply to T C Barnard, Cashel Street, Christchurch

Thomas's name is recorded on the Christchurch Militia List 1860; Cashel Street, Christchurch, Watchmaker. The militia was a compulsory 'home guard' of European settlers, which, in emergency, could be called out for local defence. All able-bodied European men between the ages of 18 and 60 living within 15 miles from the Land Office, at Christchurch were listed in response to the outbreak of hostilities in the north and could be called for training or actual service within forty kilometres of their town.

Later Thomas had his shop further along Cashel Street between Columbo and High Street.

Columbo Street Christchurch in 1865 "On this part of the roadway was often seen carts and horses stuck until they were dragged out of the quagmire by a team of horses. If a horseman was not careful how he negotiated the street, he would soon find his feet were on the ground, though seated in his saddle".
REF. R E Green - Reminiscences "Columbo Street in the Early 60's"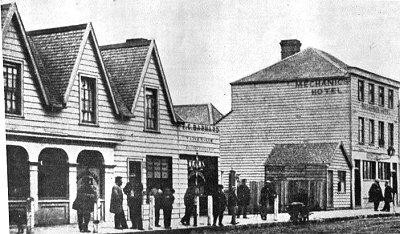 Can you read "T C BARNARD" above his shop? (Slightly left of middle!) My g-g-grandfather put it there! Maria and Thomas had three New Zealand born children Joseph Cooper, Albert and Anthony John.
| | |
| --- | --- |
| Maria and her youngest son Anthony John | Maria with son Joseph |
Thomas went into partnership with Marcus Sandstein. The business was now called Barnard and Sandstein but the partnership was dissolved in May 1865.
There were some heated advertisements showing their acrimony and ended with Sandstein stating " The business will be conducted as heretofore under my own personal supervision."
(LT 29/7/1865) Marcus Sandstein was of German Jewish background a watchmaker, jeweller and he later became a Christchurch City councillor)
Burkes Manuscript - Some of the Pilgrim boys about Christchurch in the fifties were .............. Two young radicals were sons of T.C. Barnard, watchmaker, founder of the (later) Sandstein business.

The run Fernside close to Rangiora was cut up into cropping farms in 1866. Thomas Barnard had bought one of the 50 acre holdings at Moeraki Downs. It was freehold and was farmed by son Charles Thomas in 1869/70.

Thomas Charles Barnard moved to Rangiora and had the Rangiora Arms Hotel 6/8/1869. The conduct of hotels was governed by the " Public House Ordinance 1863" and among its many lengthy clauses it states - "Anyone who shall wilfully and knowingly suffer any unlawful games or gambling or whatever therein, or knowingly permit or suffer prostitutes or persons of notoriously bad character to meet together and remain therein, shall, for every such offence, forfiet and pay a penalty not exceeding £10". The ordinance also required the provision of a "lamp giving a good and sufficient light, affixed over the front or principal door of his house or premises, and to keep the same burning from sunset to eleven o'clock." It was forbidden to permit any wages to be paid in or upon his house or premises, save only the wages of persons employed as servants therein." The licensee was required to keep a visitors book to be produced to all visitors and lodgers and have a stamped quart measure for oats - both these items were supplied by the Provincial Government.

Joseph William Papprill was the first owner and licensee of the Rangiora Arms in May 1859, and then leased to William Baugh, who added a public assembly room to the hotel in 1866. This detached hall proved a useful addition to the town's limited assemblies and many entertainments, balls, social evenings and public meetings were held there, as well as an occasional magic lantern diorama. But Baugh went bankrupt as did his successor, jeweller, photographer and watchmaker Thomas Barnard.
19/9/1868 This is an example of a business winding up and use of Rangiora Arms, Rangiora: Advert:
Barnard's Assembly rooms- Friday and Saturday September 25 and 26th Clothing! Clothing! Clothing! Without Reserve.
Mr Buss has received instructions to sell by PUBLIC AUCTION at the above-named place, mens and youth's clothing, waterporrf clothing, hosiery, shawls, dress stuffs, hats etc, blankets, prints, boots and shoes, nails, white lead and paints, lobsters, haddocks and herrings, anchovy sauce, mustard, walnuts, cane-seated chairs, hemp halters, earthenware, a quantity of grass seed and other articles too numerous to mention. Sale each day at 12 o'clock. Terms cash at fall of hammer Refreshment Wm Buss
The visit of the NZ Governor Sir George Bowen in Jan 1869 would have lifted local spirits - Rangiora got recognition at a time of gloom. Both the town and district gave the Governor a warm welcome - a brass band and a street parade led the Governor in his carriage and about 100 horsemen followed. The uniformed military volunteers formed a guard of honour. Sir George inspected the church of St John the Baptist, the only building considered worthy. The following week a number of residents gathered in the assembly room of the Rangiora Arms Hotel to consider the proposal that Rangiora be declared a borough and a petition was sent to the Governor.
Thomas had taken over as publican at a bad time when many businessmen were becoming bankrupt - there were disastrous floods and those losses of 1868 coupled with poor farm prices and depressed economy spelt the death knell to the enterprise. Both town and country was affected and there was a large movement of settlers off the land and widespread recession. Thomas suffered a forced auction February 1870

and afterwards the hotel deteriorated. It was reduced to a boarding house and the licence was allowed to lapse. Son William added to the stress at the same time.

1870: Newspaper LT 15/2/1870 Auction Rangiora Friday Feb 18, 1870 Insolvent estate of T C Barnard, Hotel keeper and Watch and Clockmaker. Sale of Watchmaker's shop, hotel and 3/4 acre in Kaiapoi.

Star , Issue 537, 8 February 1870, Page 2
MEETINGS OF CREDITORS TOMORROW. (Before the Registrar, at his Chambers.) Re Thomas Charles Barnard; at 2 p.m. Mr Joynt (Advertisment on left appeared 18th Feb 1870)

The family returned briefly to Christchurch and in 1871 Thomas, Maria, with children Joseph and Anthony left for Wellington and started again with a shop on Wellington's Thornton Quay this may possibly have been with the assistance of Wm Hooper Barnard, a relationship still not found.
1872: Thomas decided to move to Greytown, Wairarapa which had developed to be a thriving business community and by 1875 it had a population of 1000. It was served by a good variety of shops, and listed among these in1872 is T C Barnard watch and clockmaker. 1874 TC was joined by his son Edward and his wife who died the following year there.It was about this time Charles Leonard Barnard son of William Hooper Barnard of Wellington became apprenticed to T C. along with his youngest son Anthony at Greytown. Thomas Charles may have continued with his shop in Wellington as is still noted on business roll but not know if the same premises; in 1878 under Jewellers and Watchmakers - T C Barnard, Greytown, Waiararapa; and W Barnard at Thorndon Quay, Wellington
1879: Greytown was constituted a borough and successfull candidates elected Jan 7th were: T Kempton Snr, Mayor; Council: Dr. Smith, 93; Hastwell, 92; Fuller, 86; Kempton, jun., 77; Barnard, 75; Gallaher, 71 ; Udy, 65; Gray,64. Thomas served until 28th June 1880.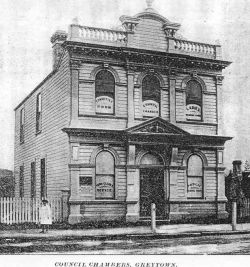 1879 - GREYTOWN. 28th January. The following were elected last night as tbe Greytown School Committee for the ensuing year :— Messrs. Hornblow, Barnard, Bock, Cowper, Wakelin, Jackson, and Fenton. Thomas opens an agency in Picton: BARNARD, T • PICTON. WATCH and CLOCK MAKER. ( Three doors from the Post Office. CLOCKS AND WATCHES REPAIRED. Charges to meet the times.
1881: TC opened a new watchmaker business in Carterton on 22 February. This building was replaced in 1888 only to be burnt down shortly after. (Thomas requests newspaper advertisement.)
1882- Return of the Freeholders: Thomas Barnard; Watchman, Carterton; Borough Wairarapa West; Area 9 acres; Value £115
This photo of what was Thomas Barnard's shop in Carterton was taken in 1932 before alteration
885 Wairarapa Daily Times 13 May 1885
MASONIC: The installation of W. M. and investiture of officers of St. Mark's Lodge, Carterton, look place last evening, in the Carterton Assembly rooms, specially fitted up fpr the occasion. There was a very large gathering of the fraternity from all parts of the district, among those being Bro, W. Sellar, W.M., and officers of the Masterton Lodge, etc. The ceremony conducted by Bro, J, Smith, who installed Bro, H, McMaster as W.M" and invested the following brethren with the insignia of their respective offices, viz, Bro, G, Gardener, S,W; Bro. Baity, J,W; Bro. T. C, Barnard, Secretary; Bro. T. A. Weston, Treasurer; Bro, T, Brooks, S.D; Bro, W. Scales J.D; Bro Lindop J.G; Bro. G, Bowles,
1888 - TELEGRAPHIC NEWS.Hawera & Normanby Star, 13 February 1888, Page 3 CARTERTON, February 13. A large fire occurred this morning. The entire block from Gallies' corner to Catts, tobacconist, on the west Hide of High-st., was entirely destroyed. The fire originated in an unoccupied corner store, formerly occupied by Gallies, at about a quarter to one, and destroyed Wood's auction rooms ; Barnard's watchmaker ; Lindop's, chemist, the public hall, and Catt's fruiterers and tobacconist shop. The origin of the fire is unknown.
Evening Post, 13 February 1888, Page 2; CARTERTON, THIS DAY. At about 1 o'clock this morning a destructive fire broke out in the vacant premises at the corner of Belvedere road and High street, lately ocoupied by Mr. P. S. Macdonald. When discovered the flames were issuing through the side windows of the building. The fire spread with lightning rapidity to the adjoining building, Mr. V. H. Wood's auction mart and Mr. T. Barnard's recently-opened watchmaker's shop and proceeding on its course with unabated fury, it caught Mr. Lindop's chemist's shop, and the Town Hall, the latter having a shingle roof igniting at the same time. Mr. Catt's tobacconist's shop and bathrooms next to the hall, being the end of the block, were the last destroyed. The Marquis of Normanby Hotel, owing to the untiring efforts of the public, miraculously escaped. The hotel was several times alight, and it appeared at one time that human efforts would be of no avail. Fortunately there was little or no wind at the time, or the whoie town must inevitably have been consumed. The Bank of New Zealand at the opposite corner to where the fire originated was scorched and the windows cracked, while on the other side of the street Mr. Dobson's saddler's shop was much disfigured and was only saved by the strenuous exertions on the part of the owner and his friends. The Wairarapa Observer office had a narrow escape, the hotel on tho eastern side of tho building being quite flammable and a constant supply of water had to be applied to save the property. The shingle roof of Mr. Moriarty's shop facing the conflagration, was several times on fire, as were also Mr. Dellor's outbuildings at the rear of his butcher's shop. A number of sheds and the roofs of many houses in the vicinity took fire, but were instantly extinguished. The Carterton Fire Brigade, under the direction of Captain Rising, were quickly on the spot, but owing to the lack of necessary equipment, their efforts were of little avail. However, the public worked admirably,, especially in saving the hotel and removing stock from the places consumed. The origin of the fire is at present unknown, but appearances lead to the suspicion of incendiarism. The value of the property destroyed is estimated at large. Some of the sufferers are left homeless. The insurances, so far as can at present be ascertained, are :— McDonald, £400 in the Colonial Mutual and £200 in the New Zealand Insurance Company; F. H. Woods auction rooms, £200 in the South British; T. Barnard's shop, £100 in the South British; Lindop's chemist shop, £400, and stock £200 in the South British; the Town Hall, £500, office unknown; W. Catt, £250 in the South British. Mr. Backeridge's stock and furniture was considerably damaged by water and removal. There is no danger of farther destruction unless a stiff breeze should spring up and disturb the smouldering debris. The Carterton Town Hall is the property of the Volunteers, and the insurance policy expires on the 16th.
2 Nov 1888 The Spring Show Taratahi - Carterton Agricultural and Poultry Association was held in the Carterton Lyceum yesterday. The array of fruits and vegetables were fairly creditable for this time of the year, and flowers were well represented. Amongst the awards of prizes were Lettuce—T. C. Barnard, 1 ; D. Booth, 2. Radishes —A. King, I; T. C. Barnard, 2; J. Kemp,3. The show was well attended yesterday afternoon and evening
1890 - the railway bypassed Greytown in the 1870s because of problems with floods from the Waiohine River. The town never recovered its former prominence. One benefit of the flooding was rich alluvial soils, and a pip-fruit, berry, and market garden industry was established in the 1890s and Thomas Barnard gave his occupation as farmer.
Thomas on the 1894 electoral roll is recorded having a nursery at Carterton (John Blomquist had a Nursery here in Carterton and provided trees for the Carter Home amongst other places...)
- so guess with health problems and because of his age, he opted for an outdoor life.In electoral rolls
1885 /86 and 1890/91 TC had a watchmaker premises in both Greytown and Carterton - son Anthony John is watchmaker at Greytown and Charles Leonard son of William Hooper Barnard was watchmaker at Carterton (by 1894 he is watchmaker at Manaia and Anthony is at Carterton). Thomas Charles would now be 73.
1899/1902: Thomas Charles; Carterton, Watchmaker, residential property 1902: Wairarapa electoral roll; living at Carterton, watchmaker

Wairarapa Daily Times, 15 October 1901, Mr T, C, Barnard, for over twenty resident of this town, is seriously ill with influenza, and his critical state of health is causing his friends much anxiety.

Thomas Barnard entered the Carterton Old People's Home in 1902 when it was newly built. (Carter Home in Carterton, was first built in Moreton Road for aged men, now rebuilt in town, the original is now a private home and beautiful.)
Thomas Charles Barnard died there 28th August 1903 and was buried the day following at the Greytown Cemetery.
Medical Report from the Carter Home, Carterton: During the months Mr. Barnard still continued very ill, the Doctor still attending him up to the 27th and on the 28th at five o'clock am. he died. of paralytic seizure. The Funeral took place on the 29th. signed. J. Stevens.

Newspaper Report: Mr T C Barnard who recently died at the Carterton Old Men's home, settled in Greytown in the year 1872 as a watchmaker. He was an illustration of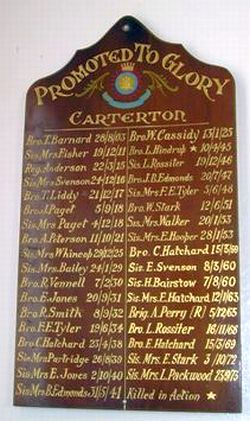 the adage that "a creaking gate lasts the longest." Thirty years ago he was a martyr to dyspepsia, yet he managed to reach the advanced age of 85. He was buried at Greytown 29/8/1903 in Block X, Lot 11 - he has no headstone.
Thomas Barnard's name is top left of the " Honor Board at the Salvation Army Citadel at Carterton - "Promoted to to Glory" with date of his death - August 28, 1903.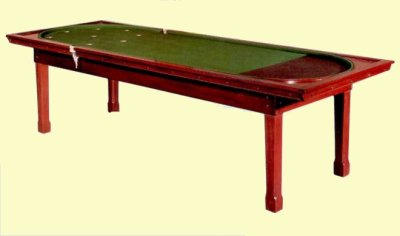 Thomas sold a bagatelle table at the Rangiora Arms hotel....

Please write if you would like to know more about the Barnard family or if you can assist with the documentation.