Press F11 to limit top toolbar
Press again for toolbar to return
George Barnard
.. +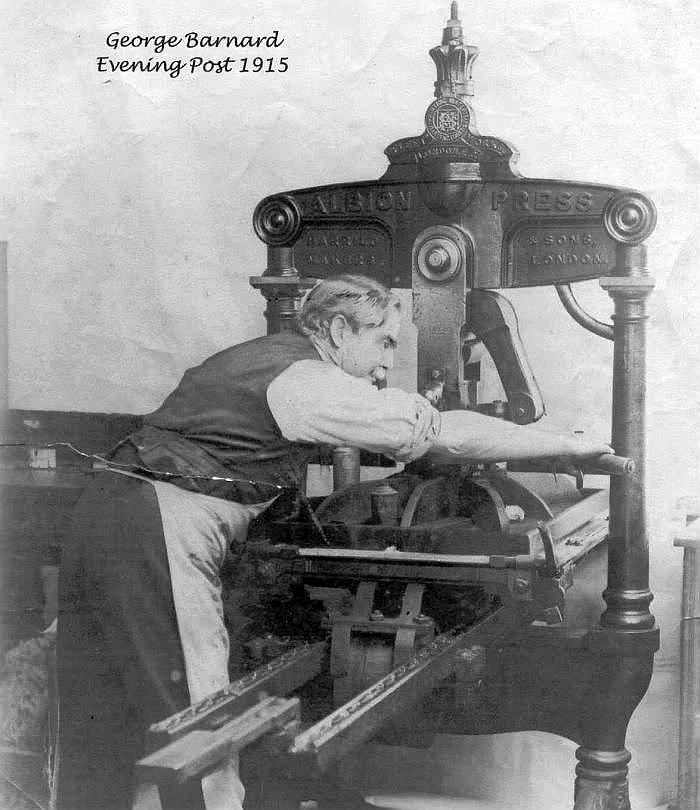 George Barnard was b: 28 May 1857 in Wellington where he d: 27 Feb 1923. His parents were William Hooper Barnard and Sarah Elizabeth nee Kemp. He d: 01 Mar 1923 at Sydney Street Cemetery, Wellington Plot 214/215.R Grid 1 11 04
George mar: his first wife on 25 Feb 1880. Emma Jane O'Meara was b: 11 Oct 1861 in Westbury, Tasmania. Her Father: Morgan Francis Omeara and mother: Mary Smith; Emma d: 17 May 1884 in Wellington; Bur: 20 May 1884 at Bolton Street Cemetery, Wellington Plot 214/215
*2nd Wife of George Barnard was Emma's sister, Lucy Wood O'Meara. She was b: 08 Feb 1865 in Porirua. George and Lucy mar: 05 Mar 1887 at the residence of Mr Billman, Cuba St, Wellington. She d: 09 Sep 1940 in Wellington Hospital; Bur: 11 Sep 1940

Sydney/Bolton St Cemetery, Wellington P 214/5R Photo Src:

Bolton St Cemetery: Alexander Turnbull Library photo. This grave of the Barnard family including an unnamed infant who died in 1923 at plot 214. was photographed in the late 1960s by the City Sexton, P J E Shotter, prior to its being dismantled to make way for the Wellington motorway. The headstones were removed to Karori cemetery.

Sacred to the memory of Emma Jane, beloved wife of George Barnard, died 17 May 1884 in her 23rd year; also George Barnard, died 27 February 1923 at 65. " Be thou faithful until death and I will give thee a crown of life."


Lucy Barnard, George's second wife, was buried 11th September 1940 at Bolton St alongside her husband and his first wife, her sister, Emma Jane Barnard.
LONG SERVICE RECORD Evening Post, 8 February 1915, LONG SERVICE RECORD
In the following list are given the names of members of the staff who have been In the service of the Proprietors of the Evening Post for ten years and over. Ten members have been employed for over thirty years, Heading the list is G. BARNARD, Stone Hand 43 Years
George Barnard was one of the earliest employees of the Wellington Evening Post newspaper printing department. He joined as an apprentice remaining with the firm for about 50 years. His occupation at time of death was Lino typist
Obituary - Mr George Barnard Evening Post 28/2/1923 Family Bible (P1) and (P2)

Mr George Barnard, one of the earliest employees of the "Evening Post" printing department and well known amongst old identities of Wellington, died at his residence, 37 Brighton Street, Island Bay, early last evening. Mr Barnard was taken ill on Friday and succumbed shortly after an operation for an internal complaint. He was born in Taranaki Street in 1858, and joined "The Post" as an apprentice, remaining with the firm for about fifty years. At the end of 1918, on medical advice, he gave up his position and he was pensioned off. His eyesight however, later improved sufficiently to enable him to serve at the Government Printing Office for a while. In his early experience on "The Post" he served under the late Mr John Blundell's father, and he was also a contemporary of the Hon. G W Russell, who was in the employ of the firm for some years.
The late Mr Barnard is survived by his second wife, who lives at Island Bay; Mrs H McKenzie, of Palmerston North, and Mrs Stewart Vickers, of Tasman Street who were the issue of his first marriage; and his other children are Miss H Barnard of Island Bay; Mr George Barnard of Tasman St and Mr J L Barnard of Hataitai. Another son Ernest was killed on active service in the late war. The funeral will take place at the Sydney Street Cemetery at 4 o'clock tomorrow afternoon.


Their family:

1
Winifred Alice Barnard b: 09 Dec 1881 in Wellington d: 20 Nov 1947 in Devonport Burial: 22 Nov 1947 Hillsborough married 21 Oct 1906 in Salvation Army Citadell, Vivian St, Wellington to Harold Falconer McKenzie who was born 15 Jun 1877 in North Shore, NZ to Father: William McKenzie Mother: Catherine McKenzie and was a salvation Army Officer. He died 01 Jun 1948 in Auckland Burial: 02 Jun 1948 Hillsborough Cemetery.

2
Edith Nellie Barnard b: 30 Mar 1883 in Wellington d: 18 Aug 1964 in Public Hospital, Wellington Burial: 20 Aug 1964 Karori Cemetery. Husband James Stewart Vickers was born 1884 in Wade, New Zealand - his Father: Leslie Vickers Mother: Catherine Stewart. They married 17 Apr 1907 in Hill Crescent Oriental Bay where James was a painter and he died 1965 in Wellington.

3 Son Barnard b: 17 May 1884 in Wellington d: 17 May 1884 in Wellington

George remarried to Emma's sister, Lucy Wood O'meara born 08 Feb 1865 in Poriruaon 05 Mar 1887 at the residence of Mr Billman, Cuba St, Wellington. Her Father was Morgan Francis Omeara and Mother: Mary Smith. Lucy died 09 Sep 1940 in Wellington Hospital Burial: 11 Sep 1940 Sydney/Bolton St Cemetery. Their children:

1
Alfred George* Gordon Barnard

b: 07 Jul 1888 in Wellington He was a jeweller and died 10 Feb 1962 in Wellington - on 13 Feb 1962 cremated Wellington Karori Cemetery. His wife Mabel Harvey born 29 Jul 1888 in Birmingham, England - they married 23 Jun 1920 in St Peters Church, Wellington. Mabel died 20 Sep 1979 in Upper Hutt Burial: 24 Sep 1979 Akatawera Cemetery, Upper Hutt.

2
John (Jack) Leonard Barnard b: 07 May 1890 in Wellington died 21 Aug 1960 in Christchurch where he was a grocer and married (1) on 11 May 1920 to

Murial Daisy* Edwards b: 02 Oct 1895 - her Father: John Edwards Mother: Mary Louisa Taylor She died 17 Oct 1938 in Wellington Burial: 19 Oct 1948 Karori Cemetery Wellington
.... *2nd Wife of John (Jack) Leonard Barnard was Dorothy Marie Aldis who was born 1898 in London, England They married 14 Dec 1940 in Presbyterian Manse, 35 Pirie St, Wellington. her parents Father: Henry Grandy Aldis Mother: Louisa Hanwell. Dorothy died 1957 in 126 Wairakei Rd, Christchurch. Cremated 22 Jan 1957.
3
Ernest Allan (Wink) Barnard b: 09 Jul 1896 in Wellington died WW1 on 27 Sep 1917 in Belgium Burial: Coxyde Millitary Cemetery
4
Hazel Frances Barnard b: 31 Dec 1905 in Wellington d: 08 Mar 1981 married Norman Leonard Laughton born 22 Mar 1908; Father: John Henry Algernon Laughton Mother: Mabel Eliza Ellen Dixon He died 18 Jul 1996 They married 26 Jun 1940