Moses Blyton & Rachel Barnard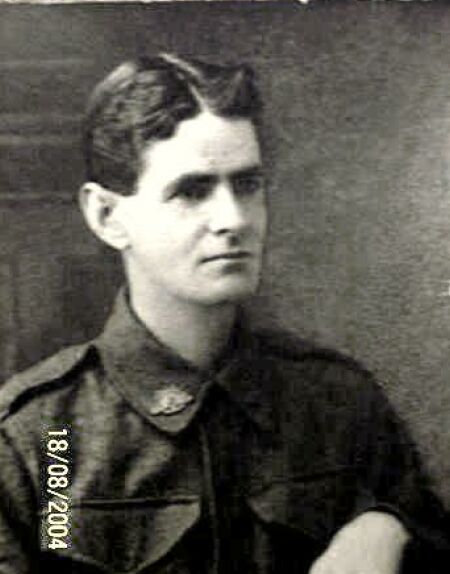 M

OSES BLYTON (TOZY) BARNARD was the son of Frederick Henry and Harriet (Annie) Blyton Chambers. He was born 27 Jul 1884 at Wood St, Ponsonby, Auckland, and died 25 Jun 1919 in Redbank, near Ipswich, Queensland. Moses was buried on 26th June 1919 in the Ipswich Cemetery in the Wesleyan Section - grave location is unknown and there is no record of any headstone.

Time Line for MOSES BLYTON BARNARD:

1890 admitted to Courtney Street School 24 June 1890 Central New Plymouth; address C% Post Office; last day 16 Oct 1890; destination Hawera

1899 Hawera & Normanby Star, 15 April: There was a large attendance of adults and children at the Wesleyan Church on Friday evening when a series of competitions open to Band of Hope children were held. The competitors acquitted themselves admirably and a most enjoyable evening was spent by all present. The following were the judges' awards: Recitations - Seniors: Master M. Barnard 1; Dialogue: Moses Barnard 2. Essay on " The Evils of Strong Drink," Barnard 2.

Wanganui Herald, 10 May 1904: PHARMACY EXAMINATIONS. Mr R: M. Gatenby, who is one of the Board of Examiners, wires us that the following candidates have passed the April pharmacy examinations: Section Section B - M. B. Barnard.

He married RACHEL DEY 23 Jul 1908 in Naseby, daughter of PETER DEY and MARGARET SMITH.

1908 Wanganui supplementary roll; living at Victoria Avenue; chemist with wife Rachel

1908 Wanganui Herald, 4 Nov 1908: Country People. I want your patronage. All orders accompanied with cash and above the value of 2s sent post free. Barnard's Push and Prosper Pharmacy, Avenue, Wanganui. (Elwyn Goldsbury kindly sent this photo of pharmaceutical bottle - his grandfather purchased it from Moses Barnard's Wanganui chemist shop)

Wanganui Herald, 8 Sept 1908: WANTED. An Educated Youth as Apprentice. Apply Barnard, Push and Prosper Pharmacy, the Avenue

Wanganui Herald, 21 May 1909: BUSINESS NOTES - PUSH AND PROSPER.

The above is Mr Barnard's motto, and he certainly is acting up to it. The price list inset in this issue is a revelation as regards reduced prices. Mr Barnard buys for cash, and sells for cash. We are asked to also call attention to his advertisement in this issue. The Push and Prosper Pharmacy is selling, at specially reduced rates, the well-known Cockburn's Unique hot water bags. These bags are well worth attention. They are made of the finest quality rubber, are covered, and Mr Barnard guarantees them, to last. Note address: Push and Prosper Pharmacy (near Newmarket Hotel).

1909 Evening Post, 27 Dec 1909: FIRES - WANGANUI, 26th Dec. A fire occurred early this morning in Mr. Barnard's chemist shop, the stock of which, valued at £800, was destroyed by fire and water. The Yorkshire Office held a risk of £550. The insurance on the building is not obtainable.

Wanganui Chronicle, 27 Apr 1910: Magistrate's Court: H. Jolmstone claimed from M Barnard £50 damages for alleged breaches of apprenticeship articles and £4 10s wages. The £4 10s wages was admitted and paid into Court with costs. After hearing the evidence of the plaintiff the case was settled by his solicitor accepting the amount paid into Court.

1911 - Post Office Directory: Barnard, Chemist, Bulls. Moses Barnard, chemist, employed his brother Herbert George Barnard as a traveller selling his patent medicines, and buying wool and skins

1915 -Wanganui Chronicle, 3 June: Business dealt with during the recent Supreme Court session: Moses Blyton Barnard applied for the dissolution of his marriage with Rachel Barnard, A. C. Martis being joined as co-respondent. A decree nisi, to be made absolute in three months was made, with costs on the lowest scale against co-respondent. Rachel remarried to Albert Charles Martis on 29 Jul 1918.
Family Group gathering abt 1914 - children front, 5,6 & 7 - Cynthia, Jean and Noeline.
1919: Moses lived with another woman but after he died in the flu epidemic, the 'stepmother' placed his three daughters - twins Cynthia and Noeline and younger sister Jean abt 1921in an orphanage in Victoria. The Salvation Army was able to locate them several years later and they were returned to family members to be cared for - Noeline was brought up by Daisy, Jean by Fred and Cynthia by Leonard.

i. CYNTHIA RACHEL BARNARD was a Twin: b. 24 Dec 1909, Wanganui; 13 Sep 1994, Taranaki Base Hospital, New Plymourth.

Cynthia lived with her Uncle Leonard but ran away and when quite young, went to work in the Eltham Hotel. and later worked in a Bank in Wellington.

Cynthia mar: 13 Sept 1930 at the Registrar's Office, New Plymouth. (1) William Spence Davis Occ. Carpenter(b: 1898 Chesterfield, Derbyshire, England - his father James William Davis and mother Polly nee Spence. )

Cynthia & William's son: JAMES DAVIS married (1) KATH MOUNT

Their children are: Craig, Kerry, Shelley and William Davis

James mar: (2) MARGARET WEASTELL.

Cynthia and William separated - Div. Decree Absolute 27 Feb 1938

Cynthia mar: (2) in 1941 to Edward William Turner (b: 1894 Hadley, Mdx; WW1 89656 - Army, he d: 1951) His 1st mar: was in 1924 at Wgtn to Jean MacBeath Forbes (b: 1894 Leith Scotland, Div; d: Petone 1970)

Cynthia mar: (3) 1953 Harold Vincent Dyke (b: 1911; d: 1993 (Div)

William mar: (2) in 1948 at Coal Creek to Elsie May McConnachie; he d: 7 Apr 1959 Alexandra.

Moses & Rachel's 3 daughters

Cynthia nee Barnard

ii. NOELINE MARGARET (BUNTY) BARNARD (Twin: b. 24 Dec 1909, Wanganui; Noeline was brought up by her Aunt Daisy; she d. 23 May 1979, Age 69; Crem: Taranaki Crem; Monumental/Inscription Waitara Cem.)

Noeline mar: 1930 to Leonard Arthur Newton Hoskins (b: 17 Mar 1904 in Waitara to parents, William Baird Hoskins and mother: Belle Greenway - Birth registered at Waitara by Frederick William Barnard; Leonard; Occ: Electrician; at Borthwicks freezing works, Waitara; d: 27 Jul 1980 in Waitara, Age 76Y; Crem: Taranaki Crem; M/Inscript Waitara Cem.)

Noeline and Leonard on their wedding day, Brides-maid is Jean Barnard and Best man Lew Nicoll

Above - Michael, David and Peter Hoskins

Their 5 children:

a PETER LEONARD HOSKINS (b: 22 May 1931 at Waitara; d: 16 Aug 2016 aged 85Y); he mar: Fay Joyce Allen.

Their children, Claire Lesley; Peter Bryon Maxwell (b: 17 Apr 1956; d: 14 Mar 2008) and Vicki Joyce Hoskins

b DAVID BAIRD HOSKINS (b: 10 Jun 1933; d: Hospital Thames 9 Dec 1914, Crem;) mar: 58 Yrs to Ngaire Ethel Bennetto

Their family: Margaret Lillian; Charles David; Patricia Ethel and Mark Ronald Hoskins

c JOHN MICHAEL* HOSKINS mar: Colleen Margaret Frethy

Family are Ian, Jon and Lee Hoskins

d. WILLIAM BARNARD HOSKINS mar: Carol Joy REID.

Their children: Sarah and Kelly Hoskins

e. NOEL ARTHUR HOSKINS (b. 02 Dec 1948, Waitara; d. 02 Aug 2001, Devon St., New Plymouth)

Above - Peter Hoskins and his mother Noeline

Right - Granny Isabella standing, Noeline is seated with Grandchildren Margaret and Charles

Above: Leonard and Noeline Hoskins - 1966

Below: at Tapu circa 1976

c. JEAN MARIE BARNARD was born 06 Dec 1911 in Wanganui, she was brought up by her uncle Fred - she died 2010. She mar: 1932 LEWIS MILLAR NICOLL (b: 28 Sep 1905 in New Plymouth Taranaki, and d: 29 Jul 1995 in Kawaroa Rest Home, New Plymouth)

Their family:

a DOROTHY MAY NICOLL was born at Waitara. She mar: GORDON COLVILLE. He was born in Coromandel Peninsula.

b JAMES (JIMMY) NICOLL 

Photo taken at Cynthia's funeral 13 Sept 1994 - (left to right) Colleen Hoskins; Dorothy Horgan, (nee Barnard); Colleen's daughter Lee; Michael Hoskins (Lee's Dad); Wm Turner; a long lost cousin and long-time friend (at one time step-son) to Cynthia; Peter Hoskins