Agnes Christiana Cone & Ivan Henry Barker
AGNES CHRISTIANA CONE was b: on February 08, 1902 at Inglewood to parents Frederick William Cone and mother Helen Bowie nee Wilson; She d: June 01, 1991 at Christchurch and is bur: at the Woodlawn Memorial Garden She mar: IVAN HENRY BARKER on Mar 19, 1930 in St Pauls Presbyterian Church, Christchurch. Ivan was the son of BEILBY BARKER and ELIZABETH ANN OLDRIDGE and was b: 1st Feb 1899 at Le Bons Bay, Canterbury, and d: Feb 27, 1965 in Christchurch.
Press, 24 March 1930: WEDDING: BARKER - CONE. At St. Paul's Presbyterian Church, crowded with well-wishers, the marriage was celebrated of Agnes Christiana, seventh daughter of Mr and Mrs F. W. Cone, Langdon's Road, Papanui, and Ivan Henry Barker, Le Bon's Bay, eldest son of Mr and Mrs B. Barker, Belfast, late of Gough's Bay. The church was beautifully decorated witfr evergreens, hydrangeas, and pink flowers by friends of the bride, and the ceremony was performed by the Rev. W. Bower Black. The bride, who was escorted by her father, wore an ivory georgette model gown, made with long tight-fitting sleeves, net yoke and fitting bodice, finished with a double basque and buckle of diamante and pearls at the waist, while the flared skirt, hemmed with net, was longer at the back. Her embroidered veil, lent bv her sister, Mrs A. E. Cree, fell from a coronet of diamante, and she carried a sheaf of lily-roses and pale pink carnations, with white tulle and satin ribbon. The two bridesmaids. Misses Phyllis and Freda Cone, sisters of the bride, wore frocks of delphinium blue georgette, made with long sleeves and two-tiered skirts., Their hats to tone were of stitched georgette, and they carried bouquets of pink flowers, with pink and blue streamers. The bridegroom was attended bv his two brothers, Mr Clarence Barker as best man, and Mr Jack Barker as groomsman.

After the ceremony the reception was held at the residence of the bride's parents, where the apple shed was artistically decorated with greenery, flowers, and pink and blue streamers. The mother of the bride wore a cedar colour silk marocain gown, with hip yoke, and pleated skirt, a smart raffle, and hat to tone. She carried a bouquet of gold flowers. The bridegroom's mother wore a frock of black crene do chine, with georgette collar and vest, and three-tiered accordion pleated skirt. She wore a black hat, and carried a bouquet of red flowers. The bridegroom's grandmother, Mrs Oldridge, wore a black crepe de chine dress with a vestee of fawn, and a black hat, and carried a bouquet of mauve flowers. The bride left for the wedding tour wearing a model gown of beige georgette over Bhell pink, with ecru lace appliqued at waistline and hem; a Russian sable fox fur. the gift of the bridegroom, and saxe blue coat and hat to match.

Ivan's father, Beilby Barker, was a coach proprieter at Duvauchelle's Bay. He had been b: at Decanter Bay in 1859 and was educated at Little Akaloa. In 1874 he entered the service of Mr S. Lee, coach proprieter of Christchurch and Akaroa. Beilby's father, purchased Lee's line of coaches and young Beilby was brought up with the business. The road was opened to Akaroa from Christchurch in 1872 and the first coach was run through by Messrs Mitchell and Burton. In 1881 the railway was opened to Birdling's Flat and the coach ceased to run to Christchurch; and then in 1881 the railway extended to Little River.
Beilby Barker afterwards purchased the two lines of coaches from Akaroa to Little River and Pigeon Bay, and ran both lines regularly as advertised.
Bielby, ever at home in the box seat, was the only man that drove a four-in-hand to Okain's Bay and Little Akaloa. He was a man who was ready to help any cause in the district and his fellow colonists - chairman of the school committee, a church warden, an active member of the sports committee and the Jockey and Trotting Clubs. He married in 1891 and he and Elizabeth had two daughters and their son Ivan Henry Barker, born in 1899, married Agnes Cone.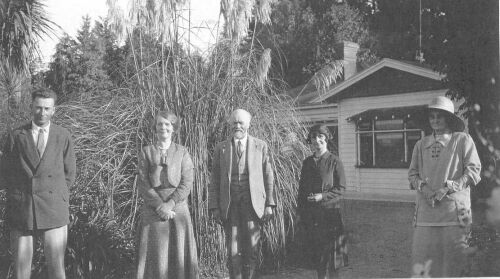 IVAN HENRY BARKER and AGNES CHRISTIANA nee CONE had a son: BRUCE BEILBY BARKER, b: at Christchurch where he mar: PETREA ANN LEE, the daughter of ANDREW LEE and MONA BARNES. Their Christchurch born family;
i. GRAEME IVAN BARKER mar: SIOBHAN JANE MANGLES b; at Lyttleton, the daughter of Allan Henry Mangles and Joan Noeling Horgan. They have two children - Zachery Allan and Holly Lee


ii. STEPHANIE JANE BARKER mar: RICHARD KEITH ALDERSON who was b: at Christchurch to Lawrence Shaw Alderson and Vivienne Ellen Casey. Their daughter is Casey Lee.

Images and data used in this site copyright - ©


Descendant input to up-date family pages is very welcome - more detailed information available on request