Caroline Cone, Widow, Remarries Alexander Webb 1858
Caroline Adams was the second daughter of Thomas Adams of Harkstead Hall, Suffolk. I have been unable to learn anything about her parents. She stated in the Whatfield census of 1851 taken just prior to the family's departure for new Zealand, that she was 36 , the same age as her husband William Cone. On her marriage certificate seven years later, 9 Aug 1850, she said that she was 38, the same age as her second husband Alexander. NZ BDM says she was aged 49 when she died Dec 1864.
Less than a year following their marriage, William decided to sell and immigrate to New Zealand and William, Caroline, and the four children left from Gravesend, London on the sailing ship "Bangalore" on the 9th May 1851. Emigrant ships became known as "fever ships and disease was rife on board. Although the conditions on the Bangalore voyage in 1851 were not crowded, water and food quality played a large part in the high incidence of diarrhoea and despite the medical officer having to certify that the passengers were free of contagious disease, it is likely all four Cone children suffered from Hooping Cough on the voyage and nobody would have escaped seasickness due to the bad weather. (Diary ChCh Museum)
Doctor's Notes record Caroline's misery during the voyage;
17 Jun: Caroline Cone 36 General debility accompanied with swelling of the legs. A woman of rather delicate constitution, she has not been well since she first came on board. She now appears to suffer a great deal from general debility and a swelling of both legs. I have described for her a gentle aperient as her bowels have not been open for some days and recommended her to keep her legs at a level with her body and also to apply flannels to them constantly.

18 Jun: Caroline Cone The aperient has had the desired effect. She is now taking Sulp Quinine.She is also allowed 1 pint Porter daily.

19 Jun: Caroline Cone Slightly improved - continues the Mixture and applies hot fomentations to her legs twice a day.

21 Jun: Caroline Cone Very much improved. Still continues to take her Mixture and Stout

22 Jun: aroline Cone Daily improves, She still takes the Bark mixture and Porter.

24 Jun: Caroline Cone Improving rapidly

3 July: July Caroline Cone Improves daily. She is still obliged to continue the mixture and porter.

4 July: Caroline Cone Continues to improve rapidly in her general health

6 July Caroline Cone Her health is very much improved. She still continues her medicines steadily.

7 July: Caroline Cone She still continues to improve very much. She finds the porter of the greatest service to her.

9 July: Caroline Cone Daily improves in general health. She finds it still necessary to continue her Quinine mixture nad her porter.

11 July: Caroline Cone Convalescent
Arrival at Lyttelton on Thursday, 21st August 1851, after a voyage of 104 days would have been greeted with huge relief for all Bangalore passengers. After a short time at the immigration Barracks at Lyttleton the Cone family crossed the Bridle Path to Ferrymead but their time togther in their new country was short when on 2nd of June, 1852, a Wednesday evening, William Cone had almost completed his journey from Lyttleton over the Bridle Path riding the horse he had just bought when it shied and threw him - the fall broke his neck, an accident when he was almost home. He was aged 37 years,
After the death of husband William Cone, stepmother Caroline took over the care of his children William 13, Fred 11, George 9 and Sarah Ann 7. Concerned family in Whatfield invited the widow to take the children back to England. Caroline kept in touch then all correspondence stopped with the passage of time and distance - possibly after she married.
Very little is known of the next six years - the family continued to live on in the house at the Ferry. It is presumed the widow had sufficient money to carry on and as the boys got older, they went to work from Ferrymead. From their father's estate they received a team of horses, probably 2 or 3 with which they did contracting. With more immigrants arriving, their availability for cartage would have been in demand with labour required making roads.
Caroline was said to have lent £500 to Alexander Webb, who on the electoral rolls of 1856, was noted as being a wharfinger, leasehold (one who has charge of a wharf.)
Alexander Webb was the son of Alexander Webb of Bouloque House, Arundel, Sussex. He came to New Zealand aged 30 years on the "Sir George Seymour", as a "steerage - free or assisted passenger". This was one of the first four ships to arrive at Lyttleton and Alexander's name is recorded in the pioneer plaques in Cathedral Square, Christchurch. He gave his trade as a gardener.
Caroline and Alexander married on Oct 6 1858 - the Cone sons believed that he had married her for her money.The wedding took place in a hall which was hired for the celebration and this was termed a Temporary Church, Christchurch - and the walls were decorated with red and blue paper. Daughter Sarah Ann was photographed in her new silk dress made for the occasion and Webb lived in the same house William Cone lived in.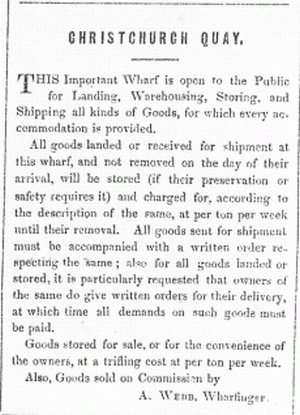 Three days following his marriage to Caroline, Alexander Webb advertised his Christchurch Quay in the Lyttleton Times.
The children now had two step-parents. Things went well for a time, the boys working for the stepfather and Sarah for her stepmother. Webb and his wife proceeded to live in style. They kept a married couple as servants - the wife being employed to do the cooking. The cook used to get Sarah Ann to open the bottles and serve the drinks at the table for meals as Alexander liked his tipple. In the evenings, Webb would play cards and drink with his visitors and an unhappy Sarah had to wait on them at the frequent parties.
In 1859, the year following the marriage, the three brothers took up a separate house on Ferry Road and Sarah Ann now 16, went and keep house for them until first, William married in 1861 and her own marriage took place in 1862 at Rangiora.
The family story is that Alexander Webb was not much good and after spending and wasting any money his wife had been left, he deserted her and that she had a hard time.
Little has been discovered about the years following - the advent of the railway line put paid to Alexander's business of river freight, but it is known that he visited family in Rangiora years later.

Src: "Paintings of Canterbury" 1840-1890 by John Oakley. The picture shows the vaste empty plains as the Pilgrims saw them on reaching the summit of the hils. The Heathcaote ferry can be seen in the bottom right-hand corner. The Ferry road leads to a few houses and in the distance is Christchurch in 1851.












Images and data used in this site copyright - ©

Descendant input to up-date family pages is very welcome - more detailed information available on request